Chicken Parm Bake With Roasted Broccoli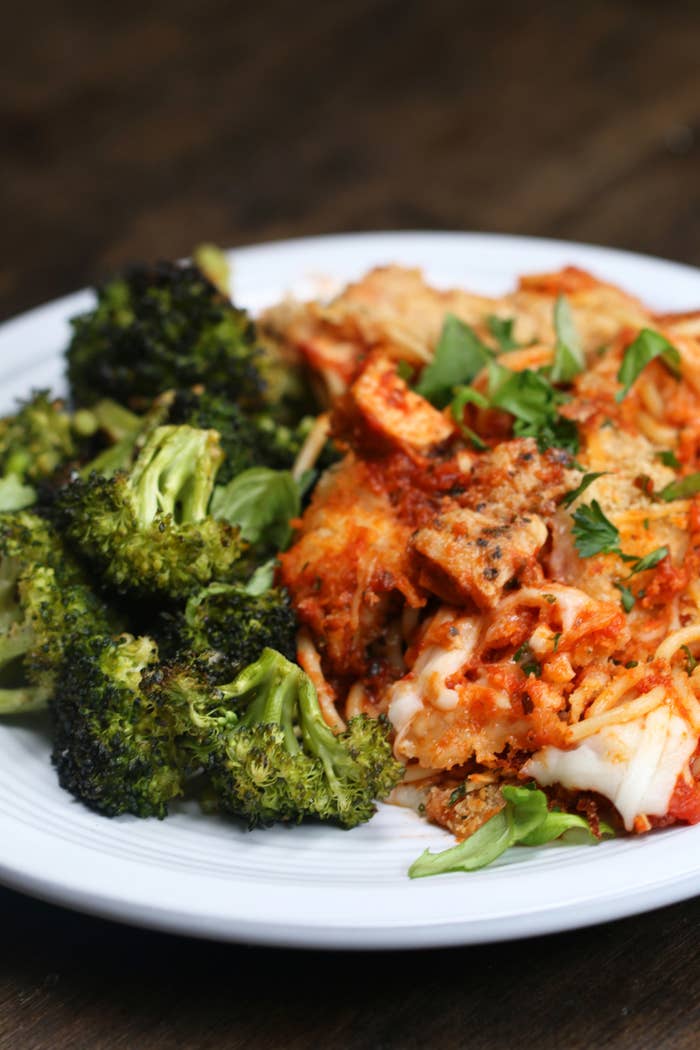 INGREDIENTS
Serves 8
Bake
6 boneless skinless chicken breasts
Salt, to taste
Pepper, to taste
1 tablespoon garlic powder
1 tablespoon onion powder
2 tablespoons dried oregano
2 tablespoons dried basil
½ pound spaghetti, cooked al dente
4 cups marinara sauce
2 cups mozzarella cheese, shredded
½ cup parmesan cheese, shredded
1 cup Italian bread crumbs
Broccoli
4 cups broccoli florets
¼ cup olive oil
Salt, to taste
Pepper, to taste
PREPARATION
1. Preheat oven to 400°F/200°C.
2. Season both sides of chicken breasts with salt, pepper, garlic powder, onion powder, oregano, and basil. Sear in an oiled pan over high heat until the outside is brown and crisp, about 5 minutes per side. Transfer chicken to a cutting board and dice.
3. Place spaghetti in a greased 9x13 glass baking dish. Spread 2 cups of marinara over spaghetti.
4. Layer on the chicken, remaining marinara, mozzarella, parmesan, and bread crumbs.
5. Bake for 35 minutes.
6. In a bowl, combine broccoli, oil, salt, and pepper. Place on a baking sheet, and bake 15 minutes.
8. Enjoy!
Inspired by: http://www.adashofsanity.com/2014/10/chicken-parmesan-pasta-bake/
Want BuzzFeed Tasty right in your inbox? Sign up for our newsletter!