Blueberry Peach Slab Pie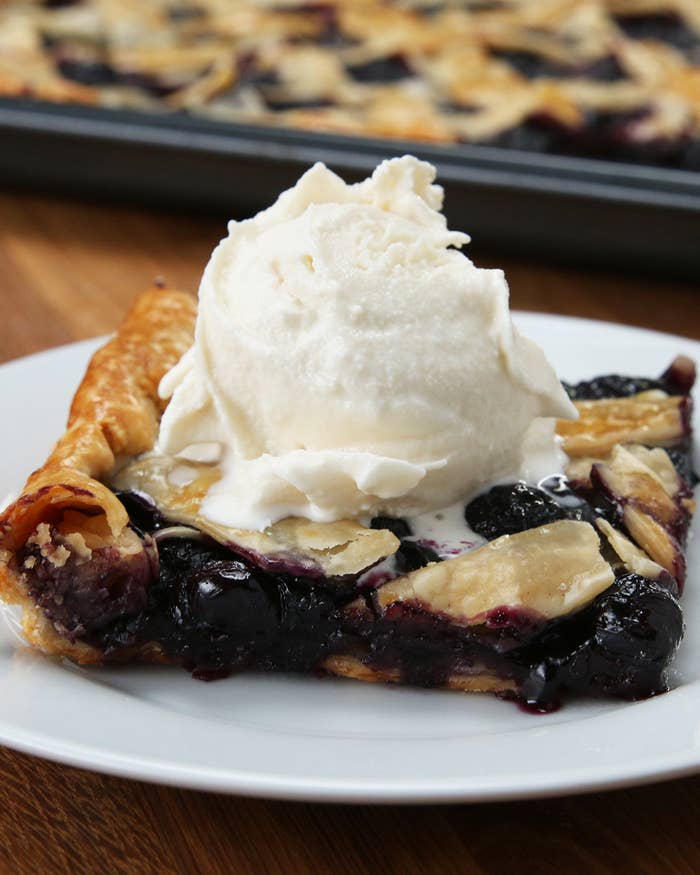 INGREDIENTS
Servings: 12
4 8-inch refrigerated pie crusts
5 cups fresh blueberries
¾ cup sugar
3 tablespoons cornstarch
½ teaspoon cinnamon
Pinch of salt
1 teaspoon lemon zest
PREPARATION
1. Preheat oven to 400°F/200˚C.

2. In a bowl, mix the blueberries, sugar, cornstarch, cinnamon, salt, and lemon zest. Set aside. 

3. On parchment paper, stack 2 pie crusts on top of each other. Roll out to 17 inches by 12 inches. Cut diagonally into strips. 

4. Roll out another 2 pie crusts. Place in a 15 inch by 10 inch by 1 inch baking sheet.

5. Spread out blueberry mixture into the crust, then form a lattice top with the pie crust strips.  Tuck the crust inward around the edges, and bake for 35 minutes.

6. Serve warm with ice cream. 

7. Enjoy!
Want BuzzFeed Tasty right in your inbox? Sign up for our newsletter!