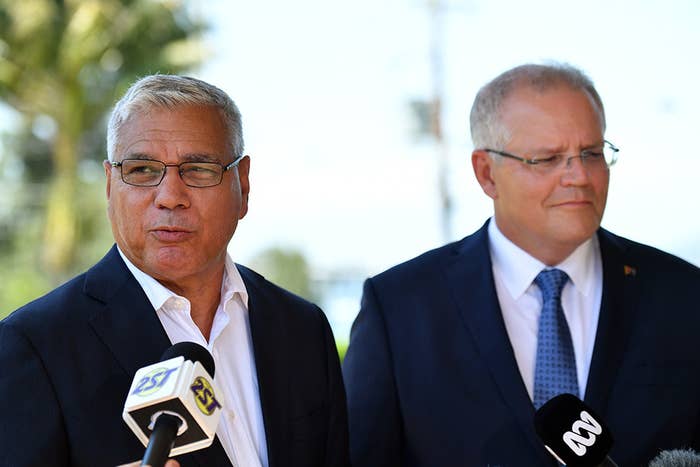 The government decided to contribute funding to a Sky News show hosted by Warren Mundine after Mundine approached the office of Indigenous affairs minister Nigel Scullion, Senate Estimates heard on Friday afternoon. The Senate also heard there was no clear measure of the show's success when deciding to double the funding for a second season, to an overall total of $330,000.

BuzzFeed News revealed in January that the Coalition government gave Mundine's company $220,000 in 2018 as a grant towards funding his show, Mundine Means Business, on the cable TV news network, following an earlier award of funding in 2017.
In Jan. 2019 Mundine was announced as the new Liberal candidate for the marginal NSW seat of Gilmore, replacing the previously pre-selected candidate Grant Schultz.

Scullion and officials from the Department of the Prime Minister and Cabinet (PM&C) were questioned over the decision to fund the show in a Senate Estimates hearing on Friday.

Assistant secretary Clare Sharp told the Senate committee that Mundine approached Scullion, proposing the idea to his office in writing. Scullion's office then put the proposal to the department for consideration.
Scullion denied that the idea for the program originated in a conversation with Mundine, or that he or his office came up with the idea.

Mundine told BuzzFeed News that the idea for an Indigenous business show dated back to 2012, when the-then CEO of Indigenous employment campaign organisation Generation One proposed the idea to Sky News, shortly before Mundine took over as CEO. The idea was rejected because of the cost, but Mundine said he improved the idea and got the backing of businesses and Sky's CEO Angelos Frangopoulos in early 2017.
"To cover the cost we spoke to numerous potential sponsors and I also approached PM&C and Minister Scullion's office on the idea and whether PM&C might be a sponsor," Mundine said. "They were interested in the show being produced and I applied for funding under an [Indigenous Advancement Strategy] grant."
In June 2017 the department awarded a $300,000 (or $330,000 with GST) contract to Mundine's company Nyungga Black Group, one-third of which was to contribute funding to the Sky News show. The remaining funding was to provide advice on remote economic development. The contract was issued a month later, with the funds paid under the department's Jobs, Land & Economy program, under the Indigenous Advancement Strategy. .
Sharp confirmed the contract was the result of a "direct approach", rather than an open or closed tender process.
"A very strong part of our Indigenous Business Policy is the importance of celebrating Indigenous success," Sharp said.
"The department advised the minister that Mr Mundine should be selected on the basis of his high profile and his extensive business connections within the Indigenous business sector, because of the nature of the work we needed done, which was to have a strong Indigenous business leader to represent us internationally."

A spokesperson for Scullion told BuzzFeed News that any suggestion the funding of the program was political was "incorrect". The program highlighted success in Indigenous business in support of the Indigenous Business Sector Strategy, the spokesperson said.

The spokesperson added that the program was funded during the prime ministership of Malcolm Turnbull, of whom Mundine was a "critic". The spokesperson pointed to reports from 2017 in which Mundine was quoted as saying Turnbull was the only prime minister he had worked for that lacked a genuine interest in Indigenous affairs.

"While the minister does not agree with that point of view at all, any suggestion that there was political favour in this funding is clearly undermined by the chronology of events," Scullion's spokesperson said.

"It is also not supported because as the department made clear, it independently recommended the funding to support and highlight the growth of Indigenous business."
The department doubled its funding of Mundine's program for its second season, granting Mundine's company $220,000 (GST inclusive) on Jun. 18, 2018, which made up 15% of the show's production cost. The second grant was also a direct approach rather than a tendering process, Sharp said.

Mundine told BuzzFeed News that the show was "very expensive to produce" because it involved travel around Australia, including to remote locations, and that while government funding covered some of the cost the "vast majority" came from sponsors.

Labor senator Patrick Dodson asked whether there was an "evaluation made of the effectiveness of this blockbuster performance by Mr Mundine" before deciding to fund the second season of Mundine Means Business.

"I understand we looked at a number of things like how many people would this go out to, what sort of people would listen to this," Scullion said. "It was targeted at business, it was targeted at people who would be interested."

Dodson asked how the program's success was measured.

"It is a difficult question to answer, senator, but we made that decision," said Scullion.
"Has any other Indigenous business person been offered the opportunity to receive government funding to have a television program?" asked Labor senator Jenny McAllister.
"I suspect not," replied Scullion.
"You can see the problem, though, can't you?" asked McAllister. "What has taken place is that a person who is known to be very close to the prime minister, is sitting on the Prime Minister's Indigenous Advisory Council, receives a direct grant which no other person was able to apply for, to develop a television program to raise his profile, and then that person nominates as a candidate for the Liberty party. I think the use of public resources in this way is totally unacceptable."

Scullion said he could not see the problem, emphasising that neither he nor the department would have had "any possible insight" that Mundine would end up joining the Liberal party or standing for election. "We had no knowledge nor could we be expected to have any knowledge" of what would later happen, he said.

Mundine was the president of the Labor party in 2006, but resigned his party membership in 2012. He spent four years as chairman of the Coalition government's Indigenous Advisory Council.

In response to McAllister's comments, Mundine told BuzzFeed News he had long since stopped chairing the council when the funding was provided and that anybody could have applied for a grant to fund an Indigenous business show.

"I had the idea to do this – I had it for a long time and I made it a reality," Mundine said.

As well, he said that when he was producing the show he was out of politics and was happy working on the show and running his businesses. "Going into parliament was not on my agenda at all," he said.

"I was approached by the [prime minister] in late 2018 to consider it," Mundine said. "We agreed in early 2019 and then made the announcement. The show and funding had been already advanced prior to any conversations about standing for parliament."

Scullion's spokesperson emphasised that Mundine was not a Liberal party member when the funds were awarded.

Mundine said in February that he would divest all business interests before election writs are issued, to avoid contravening section 44 of the Australian Constitution. "I've got several months to clear that up," he told the Sydney Morning Herald. "I've already spoken to my QC and lawyers. We're divesting in that business. By the time the election is called I will divest in all my business activities."

It was also revealed in Friday's Senate Estimates hearing that Mundine will step down as chairman of RISE Ventures, a company which has government contracts to provide Indigenous employment services.
BuzzFeed News is not suggesting any wrongdoing in the awarding of the contract and grant. Both were made well before Mundine became a Liberal party member, and when Malcolm Turnbull was still prime minister.

BuzzFeed News has contacted the prime minister and Sky News for comment.