More Than 50 Casual Student Workers At This University Were Told You're Fired, We're Shutting Down Tomorrow
They've since been given extra shifts and compensation.
Hersha Kadkol, a second-year history student at the University of Sydney, has been working as a fundraiser for the university since March. Her job involves calling alumni and supporters of the university, and, in one phone call, asking them four times to donate.

But on Friday afternoon last week, Kadkol and over 50 other students working in the call centre received an email telling them that, as of that weekend, they no longer had jobs.
The email was from the US company Ruffalo Noel Levitz, the contractor operating the Sydney Telephone Program. The email told the students the call centre would be closing for "operational reasons", and that the next day would be the final day of calling. The employment of all student callers and supervisors would terminate "effectively on that date".

The email came just over two weeks after Pave the Way, the university's two-day major fundraising drive for the year, when students say they were encouraged to work extra hard.
"I was shocked. I started nervous laughing," Kadkol, who worked five or six shifts a week, told BuzzFeed News. "To be sacked by email is bad enough, but then the fact that it was within 18 hours of the last shift is pretty appalling. Being given no time to find an alternate source of income, you just feel used."
BuzzFeed News understands that the call centre has a budgeted number of hours per year and those hours were completed earlier this year than they had been previously. On Sept. 26, RNL informed the university that only 350 hours remained and that calling would end on Oct. 6. The next day, the university asked RNL to communicate the date to students as soon as possible. However, RNL did not let the students know until Oct. 5.
A spokesperson for the university told BuzzFeed News the university was concerned that the notice period was "too short", even though it was compliant with the call centre employment contracts, and that it was working with RNL to help affected students. As casuals, their contracts also allowed the students to quit their jobs without notice.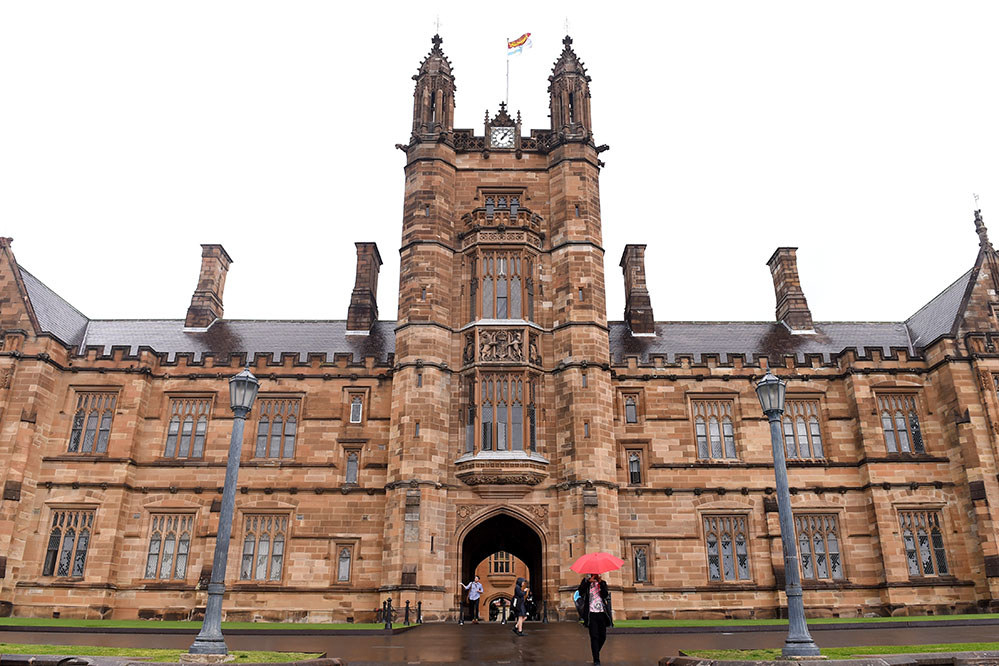 Ivy*, a second-year medical science student, said the job was her sole source of income. She is travelling over the Christmas break and had planned to use her call centre earnings to pay for the trip. While she is looking for other work, she isn't optimistic that she'll be able to find a job to bridge the gap until December.

On Sunday, following outcry from the student employees, RNL offered a number of new shifts until Oct. 23, where instead of making calls the students will be writing thank you cards to donors. A number of students have told BuzzFeed News that other employees have posted in their Facebook group that they have missed out on shifts.
Late on Wednesday evening, RNL wrote again to the students, telling them that "active employees" (those who worked at least one shift in the last month) would receive one week's average pay as compensation.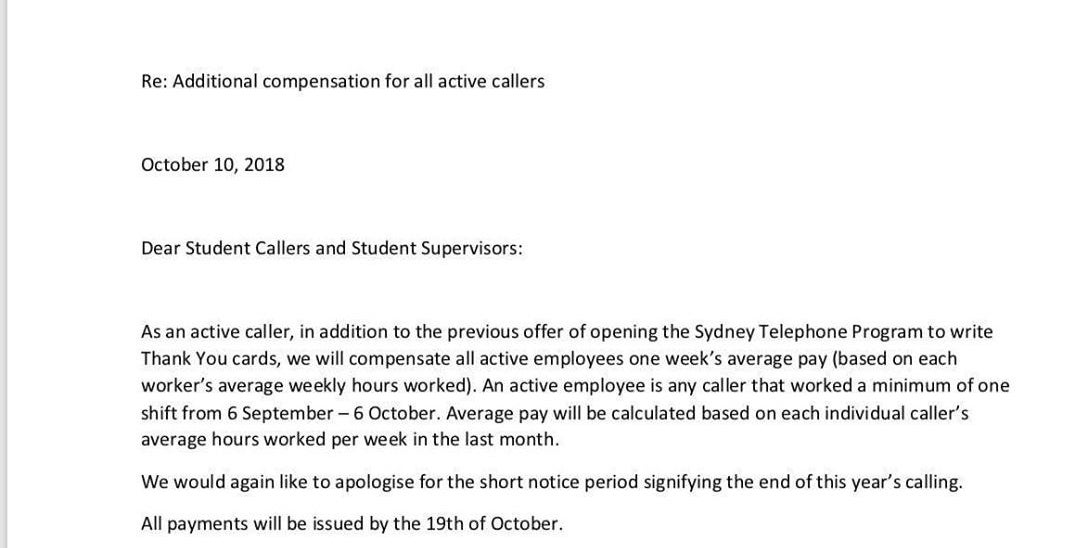 This followed a letter sent on Tuesday by the National Union of Workers — which represents call centre workers — to RNL, asking for a week's compensation to be provided and arguing that the termination breached the requirement under the award to consult with workers on major changes likely to affect them.

Kadkol described the latest offer as a partial victory: "The only reason we got this as well as the [extra] shifts has been because of continued pressure we've put on RNL and the university. We'll continue to demand that callers be reinstated as in-house workers."
The National Tertiary Education Union has criticised the outsourcing arrangement, which means students are employed by RNL and not the university.
"Ultimately this is work that's being done for the University of Sydney, it's being done by University of Sydney students, and we therefore think that there's no good reason that it wouldn't be done by those students being employed by the university," said the branch president Kurt Iveson.
The university spokesperson told BuzzFeed News its annual review would consider all options, "including how staff are employed and if bringing the program in-house might be feasible next year".

The students had previously been told that the phone appeal would run until approximately mid-December, that they had to work at least six shifts per month, and that they were encouraged to work three shifts per week.
A number of student employees told BuzzFeed News they did not understand why the call centre was closing. At a meeting for staff on Saturday morning, Kadkol said RNL representatives told students there was a lack of "operational resources".
RNL did not respond to BuzzFeed News' requests for comment.

* Not her real name.