This Is What It's Like To Be Strip-Searched In Prison When You're A Teenager
The NSW prisons watchdog has found that juvenile justice centres routinely strip-search kids, and use too much force and confinement.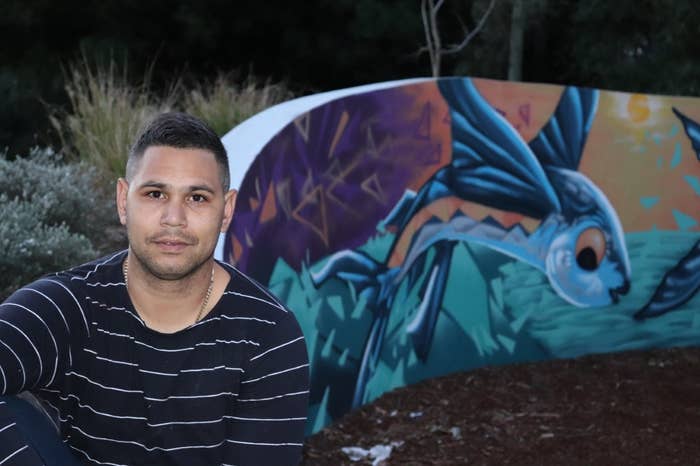 Keenan Mundine was orphaned as a 7-year-old after his parents died 18 months apart.
Mundine grew up in Redfern in inner Sydney, the youngest of three boys. After his parents died he was sent to live with family in La Perouse, about 13km away, but ran away when he was 13 to seek out his two older brothers, who he says were "heavily involved" in the criminal justice system by that time.
He ended up homeless and with a heroin addiction, and was sent to the youth version of prison when he was 14. Now 31, he has spent more than half his life behind bars.
Seventeen years after he entered the juvenile justice system, he still gets emotional talking about his experiences of being strip-searched.
"Like with anything, once you get through the first time it becomes easier," Mundine told BuzzFeed News.
"But, man, taking your clothes off at 14 years old in front of two adult males that you don't know, you've never seen them before, you don't know their names, you don't know what they're going to to you.
"I was really frightened as all hell, I was scared. I was homeless; I was coming down off heroin; it was my first time in custody, and not one of [the officers] checked in on me."
A report by the state's prisons watchdog, published last week, found that NSW Juvenile Justice is still routinely strip-searching children when they're admitted to a centre, or when they come back after going to court or hospital, as well as after contact visits with family.
Fiona Rafter, inspector of Custodial Services, found that strip-searching can be "humiliating and distressing for young people", and recommended that it only be used to target trafficking contraband, instead of on a routine basis.
Rafter found that force was used in juvenile justice centres in some situations where "alternative strategies of de-escalation" would be more effective.
She found that confinement – holding children in their rooms – was the most prevalent punishment used in juvenile justice centres. "This is despite there being no evidence that supports the use of confinement to effect positive behavioural change," she said, recommending that its use be reduced.
"No child should be forced to remove every item of clothing in front of strangers, or subjected to the harm of isolation," Ruth Barson, director of legal advocacy at the Human Rights Law Centre, told BuzzFeed News. She urged the NSW government to introduce legislation prohibiting "cruel practices" including solitary confinement and routine strip searches.
The report found that Aboriginal kids make up 47% of the population of juvenile justice centres, but they made up 63% of those subject to confinement between mid-2015 and 2016. Like Mundine did, the majority of young people in custody have come from backgrounds of significant disadvantage, including involvement with the child protection system and experiences of homelessness and trauma.
Mundine now runs an organisation, Inside Out Aboriginal Justice Consultancy, dedicated to helping Aboriginal people, including kids, avoid contact with the criminal justice system. He also campaigns for reform to the system, including raising the age of criminal responsibility from 10 to 14.
"These people need love, guidance and support, and they need the people that are working in these institutions to be compassionate and understanding, not to be stern and police them," he said.
"These are effectively our most vulnerable children and they're going to grow up to be either predators or nice men and young women who go out there and look after our kids and are respectful people in the community."