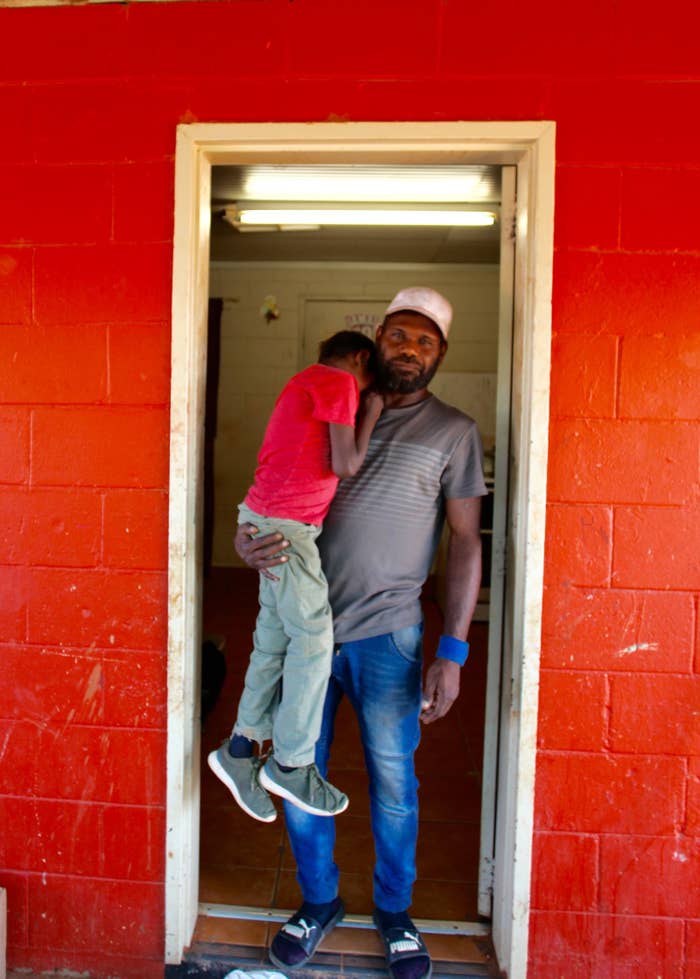 In the remote community of Santa Teresa, 80 kilometres from Alice Springs, Charlie and Tina have lived for years with their four children in a two-bedroom house built in 1967.

Charlie and Tina (whose surnames have been withheld) like living in Santa Teresa — but the house is making their youngest child sick.
Eight-year-old Tim (not his real name) has a congenital condition called Hirschsprung's disease, which means his intestines don't work properly and it's difficult for him to pass stools. He's very sensitive to gut infections. On several occasions in the last few years, he's had to be taken by flying doctor to Adelaide Hospital, over 1,500 kilometres away.
In March, his local paediatrician wrote to the NT Department of Housing and Community Development, asking it to consider repairs to his house that would reduce the risk of infection.
"At present, the toilet and bathroom are outside, whereas an inside bathroom would help [him] maintain a healthy and safe toileting routine," the doctor wrote. "The verandah currently floods, which promotes water-borne disease, especially as the house is unfenced and livestock wander through the yard, leaving their faeces behind."
Under a new housing framework introduced across the Northern Territory's remote communities in 2010 following the intervention, Charlie and Tina rent their house from the department, as do all 600 residents of Santa Teresa. As the landlord, the department is responsible for repairs.
Later in March, the department replied to Tim's doctor, saying that a team had visited his home and that it would be included in an upcoming program for modifications that might assist him. The department official also proposed setting up a meeting to get the doctor's medical advice on what could be done to improve Tim's living conditions for his health.
BuzzFeed News understands that the department did not contact the doctor about the boy again.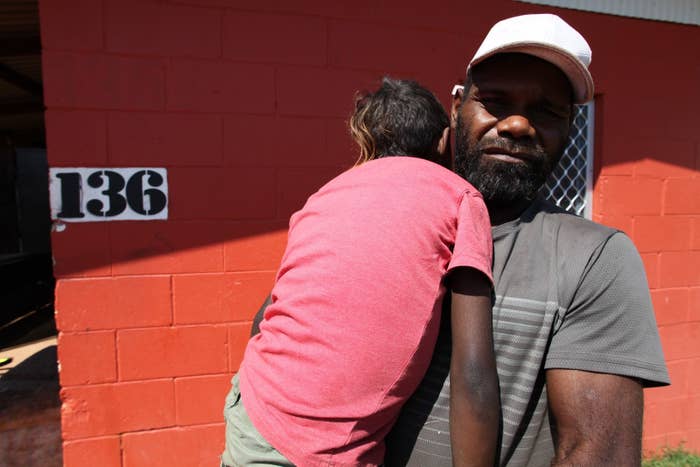 Eight months later, the problems her letter complained of persist.
When it rains, water leaks through the roof down into the kitchen and lounge area, as well as running down their verandah into the house. "The water gets dirty outside and comes in," Tina told BuzzFeed News. When a storm comes over Santa Teresa, the family goes to Tina's sister's house, which swells to 10 people.
While a fence was built around their house, it is broken, which means horses wander around their property leaving droppings. The bathroom is still outside.
Tina says she and Charlie are constantly worrying about their son's health. She has to help Tim when he showers or bathes, and when he needs to go to the toilet. "When he gets sick, he gets upset and cranky," Tina said.
"We've been sending papers off from the doctors but we still don't get a response back from [the government]. This is how we get stressed, you know," said Charlie in footage seen by BuzzFeed News. "We're trying to keep our kid safe and healthy and strong."
Tina and Charlie's lawyer, Daniel Kelly, says the government has "continually failed to meet the very basic standards of their own legislation", the Residential Tenancies Act. As a landlord, it has a responsibility to make sure their house is "safe and habitable", he said.
Early in 2016, Kelly and colleagues from Australian Lawyers for Remote Aboriginal Rights surveyed 70 houses in Santa Teresa. They identified more than 600 repairs and maintenance issues that needed attention. Some residents had been waiting years for their houses to be fixed.
"The simple fact is that there is a complete disregard for the state of housing and very little attention paid to the need for regular maintenance and repairs with housing stock that is aged and overcrowded," said Kelly.
Tina and Charlie, along with other Santa Teresa residents, are now suing the government and seeking to change housing conditions for people in remote communities through the NT.
The litigation, led by Australian Lawyers for Remote Aboriginal Rights and financially supported by the Grata Fund, was filed in the NT's Civil and Administrative Tribunal in 2016, initially seeking urgent repairs. The government took care of most of the repairs within the next few months — including some at Tina and Charlie's place, which Charlie describes as a "half-done job", and which happened before the paediatrician complained to the government. But the government also counter-sued, claiming tens of thousands of dollars in back-payments of rent.
Last month, the tribunal held a week-long hearing, where residents sought compensation for their repairs being ignored for years, and the government sought rent arrears and payment for damage they say the residents caused the properties. The tribunal is expected to make its decision in February.
Tim is not the only Aboriginal child in a remote NT community whose housing is affecting their health. While Hirschsprung's is rare, chronic gut infections are common, as are conditions like scabies and respiratory infections. Poor housing also affects the spread of diseases like meningococcal, kidney disease, and chronic ear infections, which can lead to hearing loss.
Such conditions can be linked to disrepair and overcrowding. Jason King, a clinic manager with Central Australian Aboriginal Congress in Alice Springs, says his organisation often sees health issues caused by leaking water, verandahs that are not high enough to stop water entering a home, and horses entering properties without fencing.
Another issue is the lack of "health hardware", according to Dr Bo Remenyi, the NT's only paediatric cardiologist, who is based in Darwin. That means functioning toilets, taps, fridges, and washing machines. (Neither King nor Remenyi is associated with the lawsuit.)
Both King and Reminyi cite overcrowding as a particularly important housing issue.
In Charlie and Tina's bedroom, there's a double bed and another mattress on the floor. Their daughter sleeps on the mattress, and Tim sleeps with them in the bed. Their older two sons share the second bedroom. Sometimes Tim sleeps on the couch in the lounge area.
Remenyi says that in the communities she sees, "it's not unusual to have 20 or 30 people living in the one house". And overcrowding increases the risk of kids getting infectious diseases, she says. "If you're living in overcrowded conditions, infections spread like wildfire."
Remenyi specialises in rheumatic heart disease, a preventable disease that starts with a common infection of the skin or the throat but can end with open-heart surgery. The condition has largely been wiped out in the rest of Australia, but more than 3,000 people in the NT have it, and they are mainly children.
"It's directly the result of poor housing, of overcrowded conditions and passing this germ back and forth," she said.
"There are families where kids have had two, three, or four open-heart surgeries for this condition, and yet the kids go back to exactly the same living standards as where they got the disease, and catch the same infection again."
Overcrowding and disrepair are also linked: Overcrowding can put stress on a house, meaning it needs repairs more frequently.
In some cases, poor housing conditions can put children at risk of being removed from their families and communities and placed in out-of-home care. (There is no suggestion that Tim is at risk of removal.) A common reason for removal in the NT is "neglect".
"For any kid with complex medical needs, the housing environment and hygiene are really important because they're much more likely to come down with infections compared to a normal child," said Remenyi.
"So if you have a child with complex needs and parents are unable to deliver medications that they need and a local solution cannot be found then it sometimes leads to children being removed."
In a statement, Territory Families said the best interests of the child were always its priority. "There are many factors which can impact a decision to be removed from their family including, but not limited to, a family not being able to care for them, illness or death of a parent or abuse or neglect," the spokesperson said.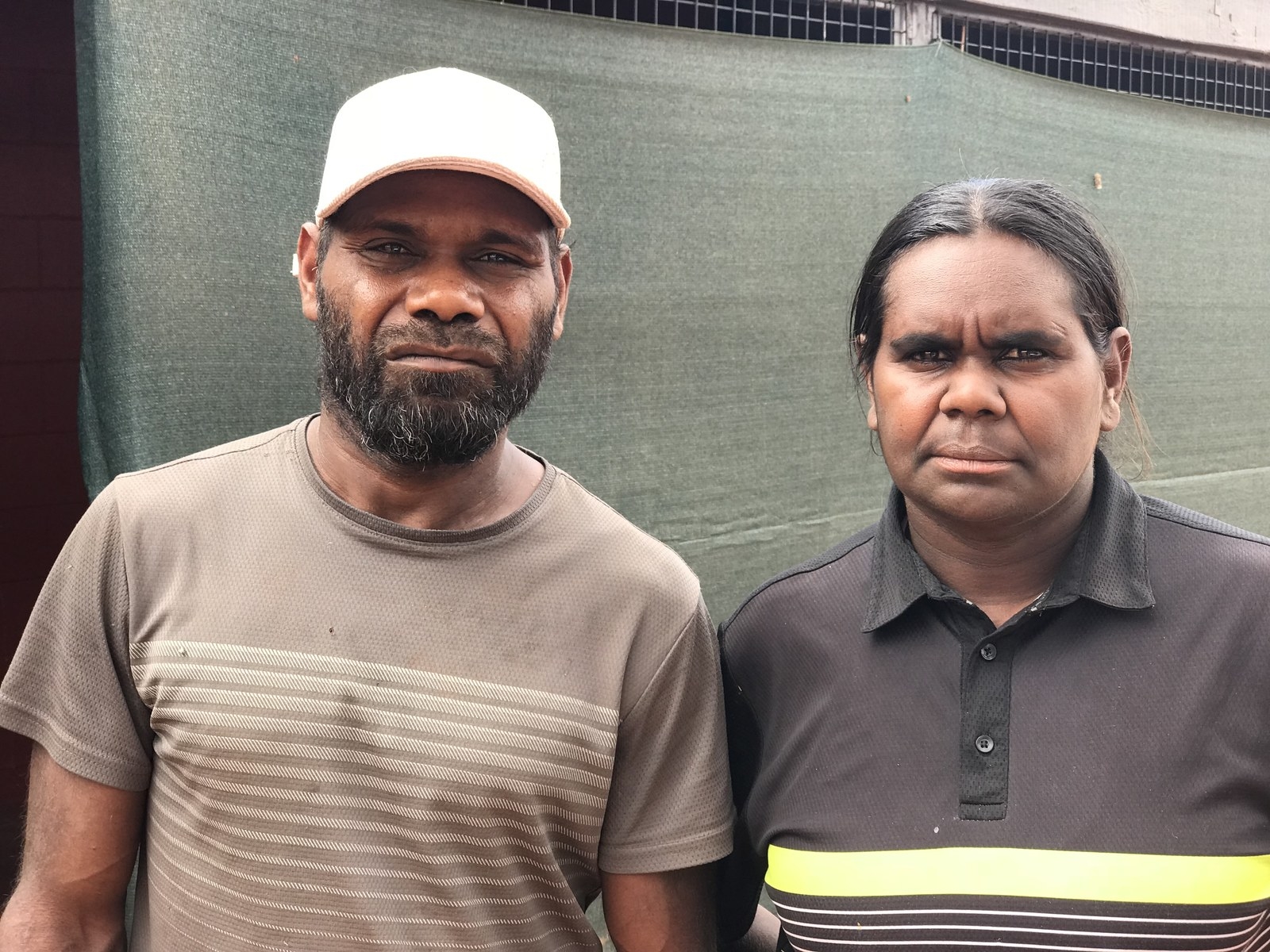 While the repairs they're after would help their son, what Charlie and Tina really want is a new house.
Tina claims that the government has said it'll add an extension to the house in February, but she's not counting on it. She says the government makes "sweet promises" but nothing happens.
"We go with him to Adelaide, come back to this little house, then go back again, then come back to this little house," Tina said.
The NT Department of Housing and Community Development declined to comment on Tim's case, saying it would not be appropriate to comment about specific community residents. However, a spokesperson said that Santa Teresa was one of the communities that would benefit from the government's remote housing program Our Community Our Future Our Homes, a $1.1 billion program for remote housing that started last year.
Asked if they will stay in Santa Teresa, Tina says she doesn't know. They'll have to wait and see what happens with Tim's health.
"We are waiting, waiting, waiting," said Charlie. "We get frustrated. We need a better house to live in for our sick kid, to help him grow stronger.
"How many kids have to get sick for the government to start listening and help people?"