Detention Guards Never Passed On An Email. It May Have Cost Him His Refugee Case.
"To them it's nothing. I'm just one of the numbers," the man told BuzzFeed News.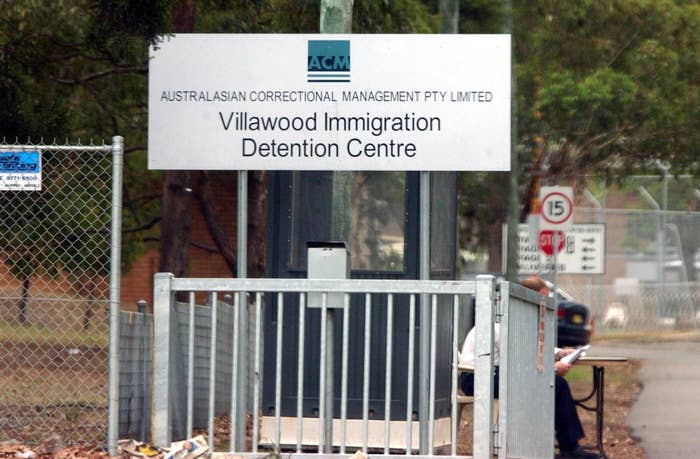 A man has lost his refugee case and been hit with a $1,764 bill after a tribunal sent a crucial email to the wrong address and immigration detention guards failed to pass it on to him.
The incident comes shortly after the same Sydney immigration detention centre, Villawood, came under fire for repeatedly failing to bring detainees to their hearings on time.
Jason (a pseudonym), 30, says he feels "broken" and "shattered" after the email stuff-up. "It's been terrible and I lost confidence in the whole process," he told BuzzFeed News.

Jason says he fears persecution from his father's political enemies if he returns to his home country of Zimbabwe, and asked the Administrative Appeals Tribunal to find that he was a refugee.

But when he received the decision rejecting his application, he was shocked to read that the tribunal had written to him to put "adverse information" about his claim to him, and seek his response to concerns over his credibility.
"The applicant did not respond to the tribunal," the Nov. 21 decision said. But Jason never received the email.
"I was totally unaware," he said.
While the tribunal had sent previous emails to his personal address, as he had requested, this one went to a generic visitor bookings email address for the detention centre where he was held.
And although the email requested Serco, the security contractor operating Australia's immigration detention centres, "arrange for the immediate hand delivery" of its correspondence to Jason, its officers failed to pass it on.
In its decision, the tribunal said it rejected the refugee claim because it had "numerous credibility concerns" over Jason's claims.
A key reason for the concerns was the evidence of Jason's father, which "failed to corroborate" one of Jason's key claims, and was inconsistent with his evidence. His father gave evidence by telephone.
"The tribunal considers that the various inconsistencies are significantly undermining of the applicant's overall credibility and his key claims for protection," tribunal member David McCulloch wrote.
In the three-page letter sent via email two weeks after Jason's second hearing, the tribunal asked Jason to respond to five bullet points outlining evidence from his father that was inconsistent with Jason's claims.
It said the tribunal had not made up its mind about the information, but it could be a reason for rejecting his claim. It also explained why the information was relevant and contradicted Jason's own evidence.
The letter gave Jason a week to respond, or to ask for an extension of time.
After reading the decision, Jason spoke to both the tribunal and Serco to figure out what had happened. The tribunal then sent him the email it had sent to the generic Villawood address, and the letter attached to it. A Serco manager then confirmed they had received the email, but failed to give to Jason.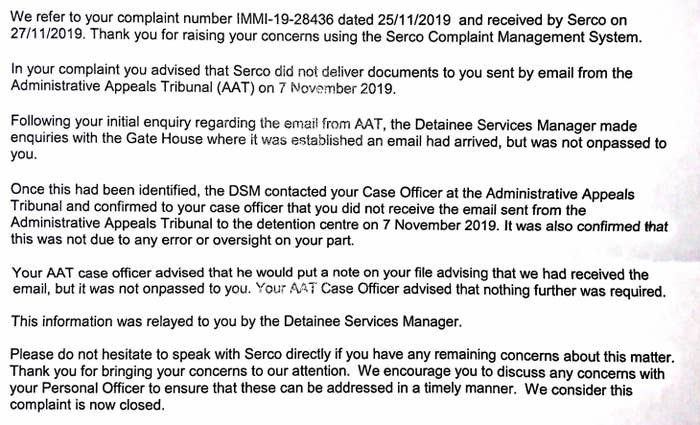 Ten days after formally complaining to Serco that the email had not been passed on to him, Jason received written confirmation from its compliance department that it had received the email but neglected to give it to him. Serco said it had confirmed to the tribunal that "this was not due to any error or oversight on [Jason's] part".
He has not received an apology. He also had to chase up the tribunal to receive a copy of the reasons for his claim being dismissed, after they weren't attached to his rejection.
Now his only option is to appeal to the Federal Circuit Court, and then go back to the tribunal. He could wait up to a year to get a court hearing.
"It's just time that's gone," he said. "The fact that I'm going and then coming back [to the tribunal], it's going to cost me time."
Jason has been held in Sydney's Villawood Immigration Detention Centre for four months. The detention centre was recently criticised by a tribunal member for repeatedly bringing detainees late to their own hearings.
Jason said if he had seen the letter he would have been able to gather evidence that his father was an alcoholic and was drunk when he appeared before the tribunal.
He was not represented by a lawyer at the tribunal.
He said that when a Serco manager explained the mistake to him verbally, she told him that the printer probably hadn't been working or the officer forgot. "I don't know how to explain this to you, it's just human error," he recalls her saying.
"To them it's nothing. I'm just one of the numbers. They don't realise how it's costing me mentally, as well as financially," Jason said.
Jason has now been hit with a bill for $1,764, which he says he cannot afford to pay. The invoice sent by mail says that an outstanding debt can affect future visa applications.
The tribunal's invoice is dated Nov. 28, 2019 and requests payment by the next day "to avoid any follow-up action". Jason received it on Dec. 7.
The AAT told BuzzFeed News that fees are payable when a refugee application is unsuccessful.
Jason appealed to the tribunal after a delegate of the immigration minister rejected his refugee application in August 2018.
The AAT said it could not comment on specific protection cases, but that the procedure for communicating with parties in detention was to fax or email the correspondence to the detention centre.
"If a protection (refugee) applicant does not agree with their AAT decision, they can appeal it to the Federal Circuit Court, but only on a question of law," the spokesperson said.
Serco, Australian Border Force and the Department of Home Affairs did not respond to a request for comment.