Alex, a 21-year-old living in Canberra, has spent most of the last four years seeking employment. Recently, he's been looking into being a hotel room attendant, which "looks fun", he told BuzzFeed News.
At the end of last year, Alex finally found work as a kitchen hand. "It was the greatest thing for me, because it was like the first proper thing I feel like I'd ever done," he said.
While he was a "bit overwhelmed" with the work, he said it was going well and he was doing a good job. But a month into the role, he mixed up his dates and was fired after missing a shift. "I was absolutely devastated," he said.
Although he estimates that he applies for 10 or 15 jobs every fortnight, he doesn't often hear back. His search is made more difficult due to medical issues. He suffers from epilepsy, and can't lift heavy things because of arm injuries.
His only formal qualification is a Certificate II in hospitality. Alex also doesn't have much job experience, apart from a stint in the federal government's Green Army program, which trained young people in environmental work.
Alex is not alone in finding it tough. Low-skilled, entry-level jobs like the ones Alex is looking for are forming an increasingly small proportion of the job market, according to a new report from Anglicare Australia.
The Jobs Availability Snapshot, published this morning, suggests that for every entry-level job advertised there are at least four jobseekers without qualifications or recent experience competing for it. In May 2018 14% of advertised jobs were entry-level.
Looking for a job is even harder for people in Tasmania, South Australia and Western Australia. In Tasmania, 12 people with barriers to work are competing for each suitable job, and in South Australia the ratio of jobseekers to suitable jobs in this category is 8:1.
Based on the scarcity of entry-level jobs, the report calls for a "major overhaul" of the employment services system so that job providers "work in partnership" with jobseekers. It also questions the assumption that it says underlies Australia's approach to social security: "that there is enough suitable work available and people who are unemployed and accessing income support could get a job if they tried hard enough".
"The Coalition Government recognises that the best way to help people get work is to build a strong economy that enables employers to be more productive, more competitive, more innovative and to create more job opportunities," minister for jobs and industrial relations Kelly O'Dwyer told BuzzFeed News.
"Anglicare's report is another indication that there are persistent underlying challenges in the labour market, including the relentless challenges faced by entry- level job seekers," said shadow employment and workplace relations minister Brendan O'Connor. "[Prime minister Scott] Morrison and his Liberals won't even acknowledge this issue, let alone come up with a plan to address it."
Jennea Kitt, a 32-year-old Cairns woman, is eight months into her first job, as an administration officer with Queensland's Department of Natural Resources, Mines and Energy.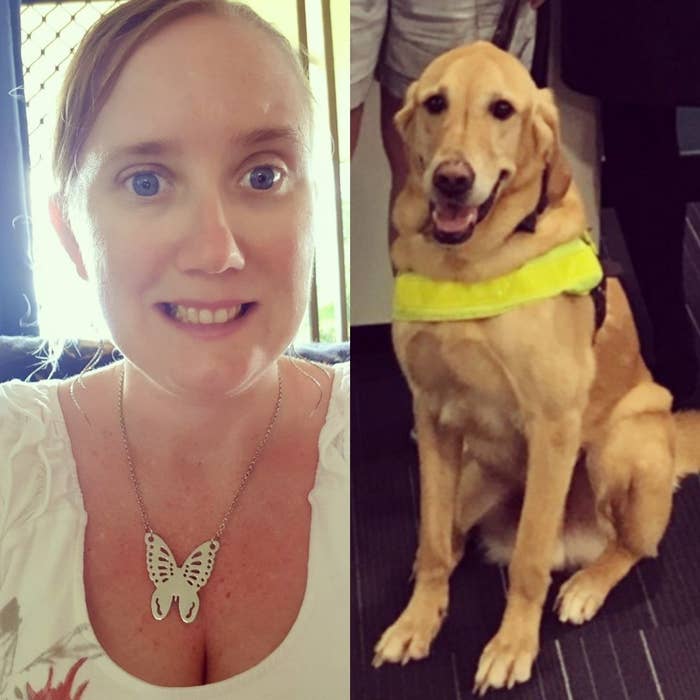 Like Alex, she had previously found it difficult to find work. Before starting with the department, she says she was putting in applications every week. "I was just getting knocked back," she said. "I was just putting in applications online all the time, supplying my resume, cover letters and just hoping for the best. Sometimes I wasn't hearing back at all."
Her visual impairment made it hard to find work. "Employers and businesses are really hesitant in employing someone with a disability," Kitt said. She also attributes her difficulties in getting work to her inexperience. "Because I'd never had a job before, I didn't have that experience," she said.
In the report, Anglicare recommends that job providers should also support people who have been long-term unemployed once they start new jobs. This is part of its recommended "person-centred model" of employment services, with job providers working in partnership with jobseekers and acknowledging their individual strengths and situations.
Alex says it would have "really helped" him to have individual support once he landed the kitchen hand job. "I'm bad with times and numbers," he said.
"To land a job would mean a lot to me, because it would just be more of a stable income and so I can get a house of my own and stuff like that," Alex said.
Kitt has been working with an employment service that does offer follow-up and on-the-job support, such as providing assistive technology.
"They came to check up on me just to make sure that everything was fine and that I was OK," said Kitt, whose initial three-month contract has been extended to a one-year role.
Anglicare's report also recommends increasing government support payments Newstart and Youth Allowance, with an independent commission to set rates. The report argues that policymakers should investigate models for a universal basic income and a job guarantee.