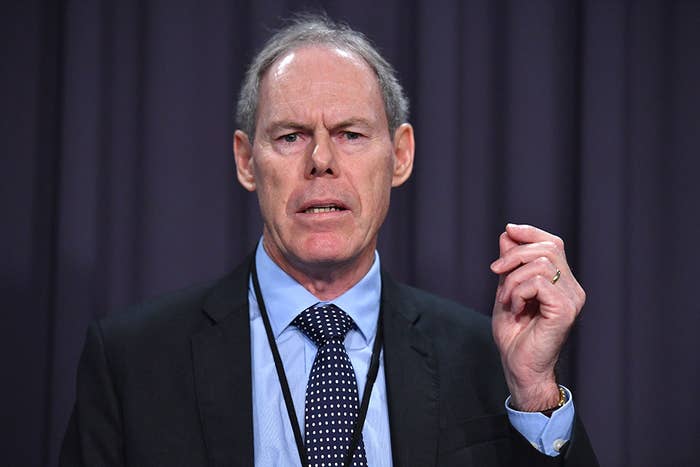 The man in charge of regulating Australian charities, Gary Johns, has accused Indigenous affairs minister Nigel Scullion of "poor form" and of including "numerous errors" in a letter, as Johns digs in his heels over his controversial views on the acknowledgement of country.
Johns, head of the Australian Charities and Not-for-profits Commission (ACNC), has also claimed that "very senior legal sources" and Aboriginal friends support his view that including the standard-form acknowledgement of country in commission staff's email signatures could open the commission to claims of bias.
Johns told his staff last year that they should not include the standard Australian Public Service acknowledgement of country in their email signature blocks, which begins "we acknowledge the traditional owners and custodians". Johns argued that because the commission oversees both Indigenous and non-indigenous charities, the acknowledgement opened it to accusations of bias.
Documents obtained by BuzzFeed News under freedom of information laws reveal that over the last year Johns has stood his ground on the issue even in the face of a chorus of advice — including from Scullion — that the acknowledgement does not raise bias concerns.
Following Johns' Oct. 2018 Senate Estimates appearance, when he faced sceptical questioning on the issue from Labor senator Jenny McAllister, Scullion wrote and assured him that acknowledging country raised no perception of bias.
But in a blistering response, Johns charged Scullion with discourtesy and mischaracterising Johns' directive to staff.
In a reply dated Dec. 20, Johns accused Scullion of "poor form" because he had tabled his letter with parliament two weeks before it reached Johns. That meant BuzzFeed News published its contents before Johns had read it.

"More troubling is that your letter contains numerous errors," Johns went on. He insisted that his staff were "free to make a personal acknowledgement" — using the personal pronoun "I" instead of "we" – which meant he had not ruled out acknowledgements entirely.

Johns also explained why he was so concerned about appearing biased. The phrase was an acknowledgement of Elders, not just country, he wrote. Aboriginal Elders could be "responsible persons", the technical term for people responsible for governing a charity.
Acknowledging that group of people could be read as the commission "holding a favourable view of such persons", he said.
"I have tested the bias proposition with very senior legal sources, with Aboriginal friends, and with a CEO of an Aboriginal charity on my register. They each agree: the acknowledgement could clearly be perceived as demonstrating bias on the part of the Commission."

In a Senate Estimates appearance last month, Johns said Scullion's advice "does not carry any weight in my decision".
Johns declined to comment, including on the identity of those who advised him that the acknowledgement could show bias.
Shadow charities minister Andrew Leigh told BuzzFeed News the "petulant letter" was "a perfect demonstration of why he is so poorly suited to run the Australian Charities and Not-for-profits Commission".
The documents also reveal that Johns had made his directive to staff despite being advised by the Australian Tax Office (ATO) that the acknowledgement of country presented no issue.

The ACNC is an independent regulator but sits within the ATO.
In April 2018, a representative from the ATO's People division responded to a telephone inquiry from Johns, saying that the "ATO and [Australian Public Service] perspective is the signature block is a cultural acknowledgement and not an endorsement of any kind that might imply preferential treatment".
The ATO saw the signature block as an important element of its Reconciliation Plan, the official said.
In his reply, Johns noted that the official had not advised him of any rule that would stop him from instructing staff to remove the acknowledgement, so he would do so.
The official wrote back saying that Johns was empowered to make that direction, but it was the "strong and [recommended] preference of the ATO to permit and support staff to use the signature block".
Later that month, Johns asked the commission's IT team for a list of staff who used the acknowledgement.
In Dec. 2018, following publicity around Johns' decision, the chief operating officer of the ATO, Jacqui Curtis, wrote to Johns, asking him to reconsider.
It was the ATO's "strong preference" that ATO employees working at the ACNC have the choice to use "ATO-approved acknowledgements" in their signature block, said Curtis, adding that the practice was common across the public service.
Curtis emphasised that ACNC staff were technically ATO employees under their enterprise agreement.

Johns' reply email? "Thank you for the information."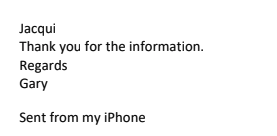 A letter from the Community and Public Sector Union (CPSU), and a subsequent meeting between the union and Johns, also failed to change Johns' mind. In a letter on Dec. 5, a CPSU official wrote to Johns, conveying the union's "serious concerns" over the directive. In his estimates appearance last month, Johns stood by his position.
"CPSU members feel this instruction is inconsistent with the ATO's Reconciliation Action Plan," the letter said. CPSU members wanted to continue using the pronoun "we" and asked Johns' to withdraw the instruction.

In his letter to Scullion, Johns said that five out of 100 ACNC staff members chose to make a personal acknowledgement in their email signatures.
Johns has previously denied that critical comments he made about Aboriginal people and charities before his appointment raise bias concerns. In 2015 he said Aboriginal women were "used as cash cows". He has also criticised Indigenous not-for-profits, including the constitutional recognition campaign group Recognise, which he described as "the officially sanctioned propaganda arm of the Australian Government".
Scullion did not respond to a request for comment.