Erin Brockovich Is Still Fighting Contaminated Water — This Time In Australia
Time to make Erin Brockovich 2?
Remember Erin Brockovich? From the film Erin Brockovich?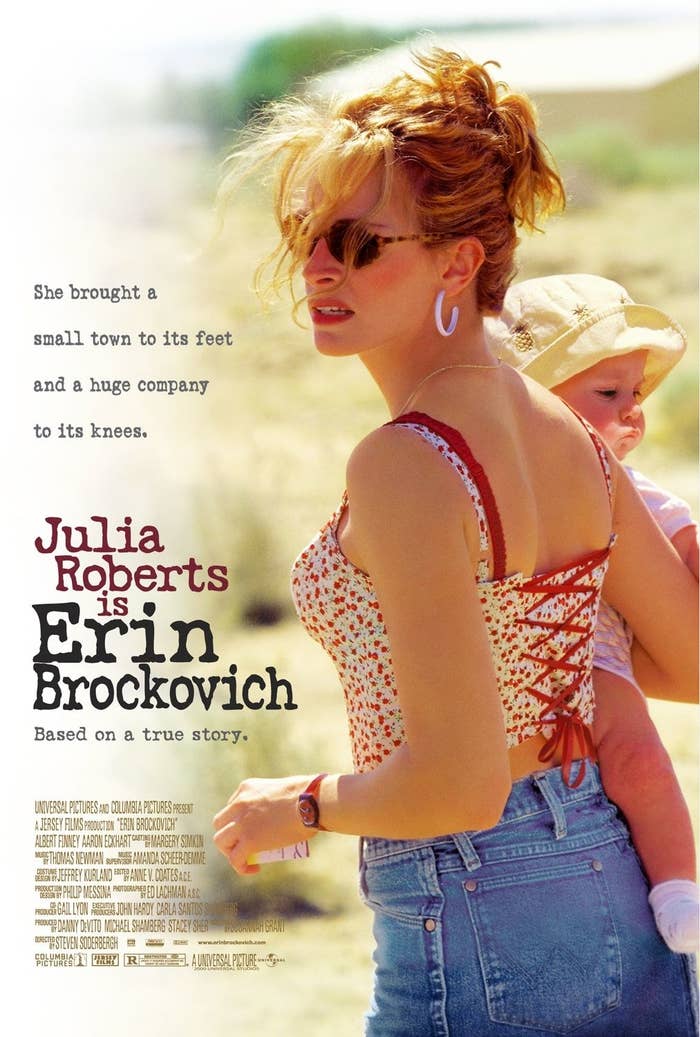 As a refresher: Brockovich was a paralegal who fought against a big business that had contaminated the water of a small town in California, and won the residents a settlement worth hundreds of millions of dollars.
She's here to help draw attention to the impact of a group of chemicals that she says "could lead to an entire country's water demise".
The chemicals are called PFAS (per- and poly-fluoroalkyl substances), which Brockovich calls "the largest leading emerging contaminant today".
From the 1950s, PFAS were used in household products, industrial processes and in firefighting foam. They're slow to break down and can enter soil to contaminate water, accumulating in the bodies of animals and humans.
Brockovich says they can cause health effects, naming testicular cancer, thyroid cancer, kidney cancer, excessively high cholesterol, reproductive issues and other diseases.
"So we know that we have a chemical that's difficult to remove from the environment and your body and that we know causes health effects," Brockovich told BuzzFeed News. "And yet it is emerging everywhere. And this is where I'm very concerned here in Australia."
The firefighting foam was used on Australia's Department of Defence's bases, including the RAAF Base Tindal which is just outside of Katherine in the Northern Territory. Defence phased the foam out from 2004.
PFAS have been detected in Katherine's ground water. Defence is giving out bottled water to certain residents and water restrictions have been imposed. Defence has installed rainwater tanks and installed a water treatment plant to remove PFAS from the bore providing water to Katherine residents, with two more to be installed by mid-2019. Residents have also been advised not to eat fish from certain areas.
In December, the government announced a $5.7 million "community support package" for Katherine, including a voluntary blood testing program, an epidemiological study and dedicated mental health and counselling services.
But the Australian government doesn't agree that PFAS have the kind of adverse health effects that Brockovich says they do.
In May, an expert health panel organised by the government found that there was "no current evidence" that PFAS increase the risk of cancer, and there is "mostly limited or no evidence for any link with human disease". But they also said health effects couldn't be ruled out, and recommended further research. The National Health and Medical Research Council is going to be looking into the human health effects of PFAS over the next four years.
Brockovich is critical of the government's response, likening it to similar experiences in the US: "In both countries, the government sends inconsistent messages and can be extraordinarily slow to respond. There's almost a false sense of security where we just assume the government has our back and then we're pretty upset when we find out that they don't.
"I'm not sure why the Australian government wants to rewrite the science. It's already out."
Brockovich is an ambassador for Shine Lawyers, which filed a class action in the Federal Court on behalf of Katherine's residents earlier this month. There are similar lawsuits already underway for the people Oakey in Queensland and Williamtown in NSW, both of which have defence bases where the same firefighting foam was used. In Williamtown, Fairfax reported 50 cases of cancer have occurred in 15 years along a 5km stretch of road.
"People feel absolutely trapped," Shine lawyer Joshua Aylward said of his clients in Katherine. "They can't leave. They don't have the finances to sell their properties and up stakes and move away. They just have to keep living in these areas where they will continue to be contaminated daily."
Aylward is seeking damages for his clients from the government for the impact of PFAS on properties, businesses and the environment.
A defence spokesperson told BuzzFeed News that based on the available evidence, the government was not considering a land purchase program as a result of PFAS contamination.
"Defence will continue to work with the Katherine community and the Northern Territory Government as it investigates, and implements strategies to reduce, PFAS exposure."
"I've been doing this for 25 years," Brockovich says. "What is consistent is the coverup, the arrogance, the ego, the money factor and so be damned the people and the water and the environment."
But she is optimistic.
"I will always believe that when people know more and are more informed they do better, they can make better choices and they will rise."