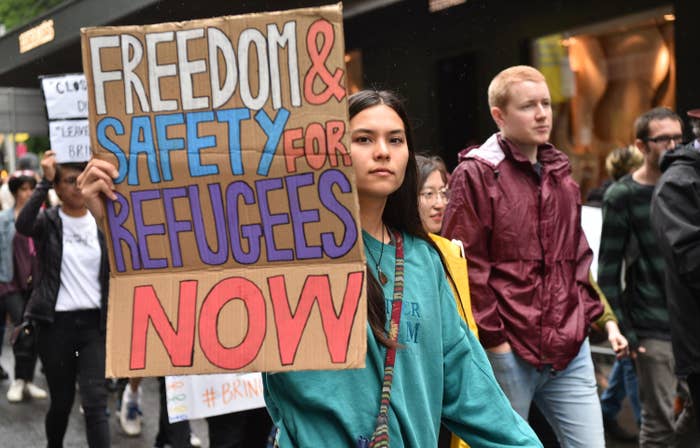 Eighteen asylum seekers who had been held incommunicado for five months in severe conditions in a Papua New Guinean immigration centre have been released.

In August, PNG detained 53 men in its new Bomana Immigration Centre, forcing them to surrender phones and medication. The men had previously been held in Australian offshore detention on PNG's Manus Island for years, and some had been approved for urgent medical transfer to Australia when they were imprisoned.
Most of the men held in Bomana accepted voluntary returns to their own countries, but 18 remained. These men, mostly Iranians, were released on Thursday and are now staying at a hotel chain in the Port Moresby suburb of Boroko.
Father Giorgio Licini, a Port Moresby Catholic priest, told BuzzFeed News he had seen one of the men on Thursday: "At least four of are extremely unwell. They are mentally very poor."
It was not immediately clear why the men had been released, but Licini suggested it could be because of their poor health. He said he was aware of only one visit the men had been allowed since August, from the Red Cross.
Shaminda Kanapathi, a refugee in Port Moresby, tweeted that he had met with some of the men, and that they had lost a great deal of weight.

Refugee advocate Anne Moon told BuzzFeed News she had spoken at length with one of the men on Thursday evening. After months without a razor, he had finally been able to shave his beard, he told her.
Earlier in January, the Guardian published leaked photos of the centre, which showed that it had no shade. Only one compound was air-conditioned and food was minimal, the Guardian reported.
In August, Australia's Senate heard that doctors and lawyers were unable to contact their patients and clients who were taken to Bomana.
Although Australia had sent the men to PNG, and helped to construct the detention centre, the Australian government denied any responsibility for the men's ongoing detention. The Department of Home Affairs has repeatedly said it is not involved in operations at Bomana.
Licini, who had advocated for the men's release, laid the blame for the centre's conditions at Australia's feet. "This type of detention practice by Australia is something that is inconceivable in the 21st century," he said.
"There are probably 10 or 12 people here that should be medically evacuated to Australia because of their conditions, first; and second, they are unlikely to be accepted by any other country now because of their health," Licini said. "The Australians ruin them, the Australians have to take them."
Greens senator Nick McKim, who had been vocal in his criticism of the men's detention, said the men were Australia's responsibility.
"We welcome their release, but they should never have been imprisoned and persecuted as they were," McKim told BuzzFeed News. "It's never acceptable to lock up innocent people, especially in inhumane conditions. Peter Dutton cannot wash his hands of blame for this scandal."
Hundreds of men who have been accepted as refugees are still in Port Moresby, where they are being moved between different hotels and serviced apartments.

BuzzFeed News has contacted Australia's Department of Home Affairs and PNG's Immigration & Citizenship Authority for comment.