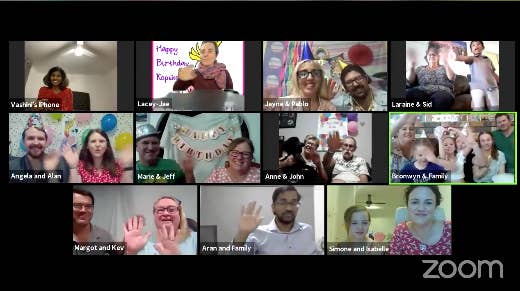 A 5-year-old girl who has spent months in immigration detention on a remote Australian island celebrated her birthday on a Zoom call on Tuesday night, with friends and supporters taking turns to wish her well.
The little girl, Kopika, is the eldest child of the "Biloela family" — the Tamil family who settled in the town of Biloela in regional Queensland, Australia, before being taken into immigration detention two years ago.
Kopika turned 5 on Tuesday. Her little sister, Tharunicaa, turns 3 next month. Both were born in Australia.
The #HomeToBilo campaign, which is calling for the government to let the family remain in Australia, organised the virtual birthday celebration for Kopika. Unable to make video calls from detention, the family dialled in to hear the wellwishers over audio.
"Happy birthday, Kopika, we hope you're having a lovely day," said Biloela resident Laraine Webster. "We love you so much."
One couple, Anne and John, gave Kopika "five big claps" to celebrate the milestone. Simone Cameron, who grew up in Biloela, and her daughter Isabelle had baked a rainbow cake for Kopika, one of several made in her honour. Isabelle blew out the candles on the call.
Isabelle also read Kopika an acrostic poem she had written. K was for "kind", O for "oh so smart", P for "pretty cheeky", I for "incredibly awesome", K for "kooky", and A for "already 5".
"Thank you!" Kopika called out excitedly as each person spoke to her.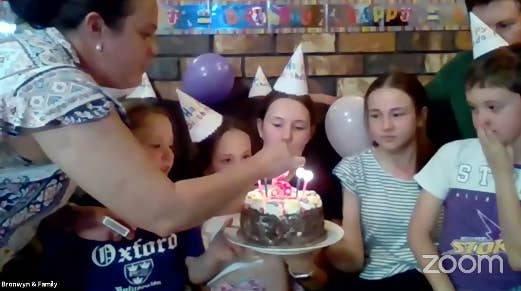 The 20-minute celebration was broadcast live on Facebook, with hundreds more supporters posting birthday wishes in the comments.
Kopika's parents, Priya and Nades, had sought asylum separately in Australia by boat, but their protection claims were rejected.

The government's attempt to deport the family in August 2019 was dramatically halted after the family won a court injunction while they were in the air. They have been detained on Christmas Island ever since. The family won a Federal Court victory last month, with a judge finding they had been denied procedural fairness.
The family are the only detainees held on Christmas Island. The government has spent millions of dollars on its attempts to deport them so far.
When everyone had wished Kopika happy birthday, Priya spoke on behalf of the family and thanked them all for celebrating her birthday.
"All of you are just like her mum and dad," Priya said in Tamil, interpreted on the call by a supporter, Aran Mylvaganam.
"Your love is the reason why we are able to survive our life in detention. Kopika will have a long life because of your love. One day I will meet everyone in person and we'll be able to thank you."
Cameron closed the call by asking supporters to make birthday cards for Kopika and Tharunicaa and post photos of the cards to Facebook, so friends could show them to the family. She then said supporters should post the birthday cards to acting immigration minister Alan Tudge.
"That's just a reminder to him that he can step in at any time and free this family who are so loved and so wanted back in Biloela," Cameron said.