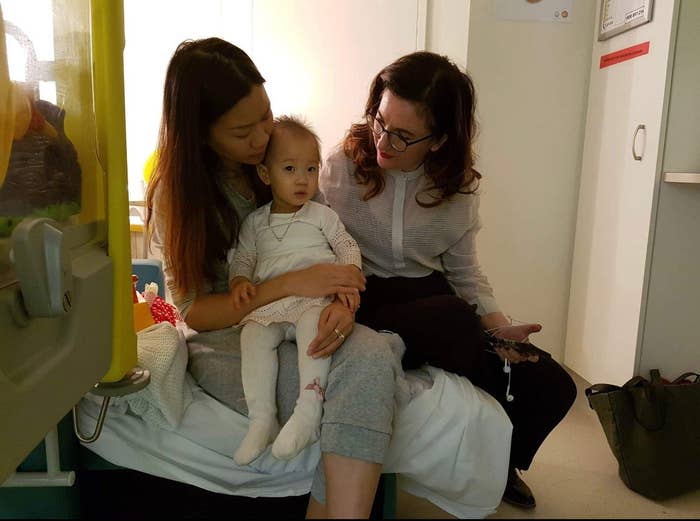 A 15-month old baby who has spent her whole life in immigration detention is being treated for the flu in hospital, with her lawyer accusing the government of breaching its duty of care.
Baby Isabella's mother Huyen Tran, a Vietnamese national, is detained at the Melbourne Immigration Transit Accommodation (MITA) detention centre in Melbourne.
Isabella has been receiving treatment at the Northern Hospital, Epping, since July 14. She has been diagnosed with Influenza A. Tran accompanied her to the hospital, and remains with her daughter.
Tran's lawyer, Alison Battisson of Human Rights For All, told the ABC that detention centre staff had previously ignored Tran's complaints about her daughter's fever. "It should not take somebody's lawyer calling ambulance services for a baby's temperature to be checked. It is just insane," she said to the ABC.
BuzzFeed News understands that Isabella had not had the flu vaccination.
The ABC reported that fear of persecution over her Catholic faith led Tran to flee Vietnam.
In a media release, Australian Border Force stated that the baby was not being detained.
"Her mother is detained and her father lives in the community. The infant has been living with her mother at her request, but may come and go from the facility and stay in the community with her family," the statement said.
Border Force stated that Isabella had previously become unwell on July 11. After being admitted to hospital, she was released without treatment. A governmental child wellbeing officer visited the family the next day and Tran reported Isabella was recovering, Border Force said.
Border Force also claimed that residents in detention have access to the same health and welfare facilities as the broader Australian community.
Freelance journalist and psychotherapist Rebekah Holt told BuzzFeed News she had tried to visit Tran and Isabella on Wednesday, but contractor Serco – which runs Australia's onshore detention centres – had attempted to stop her. "They have no right" to, Holt said. "They said that she was only allowed family visitors. This family knows me very well. I knew that that was incorrect because we'd had communication from the hospital that anybody could visit as long as the family wanted them to visit," Holt said. After hospital staff intervened, Holt was able to visit the family, she said.
Advocate group Mums 4 Refugees held a snap protest at the hospital on Wednesday "to show support for medical staff's decision to continue treating baby Isabella on site".

At the end of May, fewer than five children were living in onshore immigration detention. All were held in MITA.