"WTF Was I Meant To Do?" Australia's Former PM Spilled The Tea About That Phone Call With Trump In His New Book
Trump joked that Turnbull had "two thousand of the worst terrorists in the world locked up on a desert island" and had talked Trump into taking them.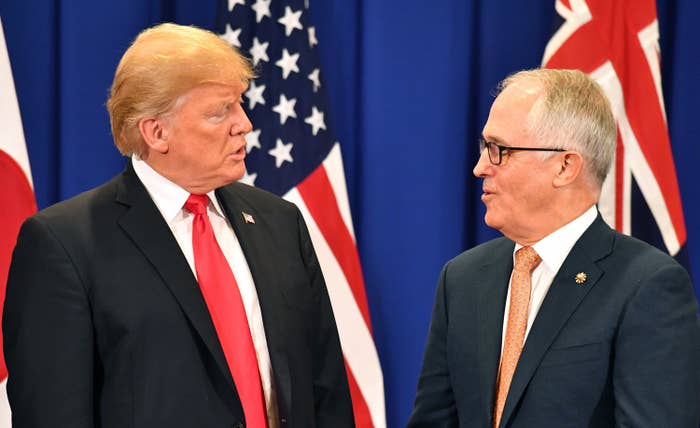 Remember the infamous first phone call between US president Donald Trump and then Australian prime minister Malcolm Turnbull?
"This is the most unpleasant call all day," Trump said, as he brought the January 2017 conversation to an end. "Putin was a pleasant call. This is ridiculous."
The topic of the call was the refugee swap deal between Australia and the US, struck by Barack Obama and Malcolm Turnbull, and later reluctantly adopted by the Trump administration.
Under the deal the US agreed to resettle up to 1,200 refugees Australia had held in offshore detention camps in the Pacific for years.
The deal survived Turnbull's August 2018 removal from office, and so far the US has resettled more than 700 refugees under it, with almost 300 more approved for transfer. Homeland Security staffers were in Sydney as recently as February interviewing candidates for resettlement.
Turnbull's tell-all book about his political career, A Bigger Picture, was released on Monday. Here's what it reveals about the deal he argued over with Trump.
Turnbull says that resettling refugees and asylum seekers was one of his "highest priorities" when he became prime minister
When Turnbull won the prime ministership from Tony Abbott in September 2015, there were about 1,800 people in offshore detention, on Nauru and Papua New Guinea's Manus Island. Finding a third country resettlement solution for these people was one of Turnbull's highest priorities, and he met regularly with then immigration minister Peter Dutton and foreign minister Julie Bishop about it in the early months of his term, he writes.
Turnbull and Obama agreed on the deal in January 2016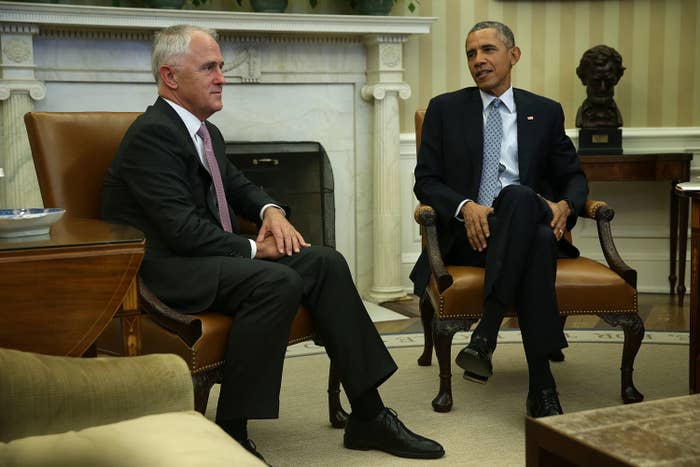 Turnbull said he realised early on that the US was the "best, and possibly only, realistic option" for resettling the refugees. He raised the issue in an Oval Office meeting with Barack Obama in January 2016, where the two made an in principle agreement.
Turnbull writes that he told Obama the offshore population of about 1,800 people, mostly from the Middle East, "weren't terrorists or criminals" and had been thoroughly vetted, but that if he brought them to Australia it would encourage people smugglers to start sending boats to Australia again. He said the largest single group was of Iranians, who were mostly economic migrants, but that Iran would not accept returned asylum seekers.
"I said, 'And we want to get them off those islands. So, can we do a deal where you offer asylum to them and we do the same with some of the people seeking refuge in the US?'
"The president described his nation's challenge: waves of unaccompanied children and youths crossing the border from Guatemala, El Salvador and elsewhere fleeing gang violence."
Australia and the US decided to hold off announcing the deal until after the 2016 presidential election
The deal was signed on Sept. 20 that year when Turnbull was in New York. Obama and Turnbull both agreed they should not announce it during the presidential campaign, "lest Trump seize on it and make an issue of it".
Australia agreed to take "complex cases" from the Americans
The text of the deal has never been made public, and it is not clear exactly what Australia's side of the bargain was.
"It was a fair deal: we were resettling people for the Americans, including some complex cases, as they were assisting us," Turnbull writes. Those complex cases may include three Rwandan men who were charged with murder over a massacre of tourists.
(A US official has said that Australia agreed to make efforts to take refugees fleeing Central America, and to take refugees from areas it does not normally take refugees from, but it was not a one-to-one swap.)
Australia was nervous that Fox News would criticise the deal
The deal was announced on Nov. 13 and American officials began interviews on Nauru in early December. "Naturally, we were anxious to ensure that the right-wing media in the USA, especially Fox News, didn't latch on to the deal and make it an issue, so we were careful to say as little as possible," Turnbull writes.
Jared Kushner helped save the deal when Trump introduced his travel ban
A December conversation with incoming chief of staff Reince Priebus gave Turnbull the impression Trump would stick with the deal, but then in January Australia heard of Trump's plans to ban refugees from majority-Muslim countries. "Frantic lobbying" from Australia followed. Dow Chemicals CEO, Australian-born Andrew Liveris, introduced Turnbull and Trump's son-in-law, Jared Kushner. Turnbull called Kushner and Trump's immigration adviser Stephen Miller to urge them to stick with the deal.
"They were sympathetic and assured me the new executive order wouldn't prevent the refugee deal going ahead," Turnbull writes.
Vice president Mike Pence and national security advisor Mike Flynn also assured senior Australian officials that the Trump administration would honour the deal. On Jan. 27, the executive order carved out an exemption for preexisting international agreements.
"Thanks, Jared!" Turnbull writes.
The Australians were told Trump would not honour the deal shortly before Trump and Turnbull got on the phone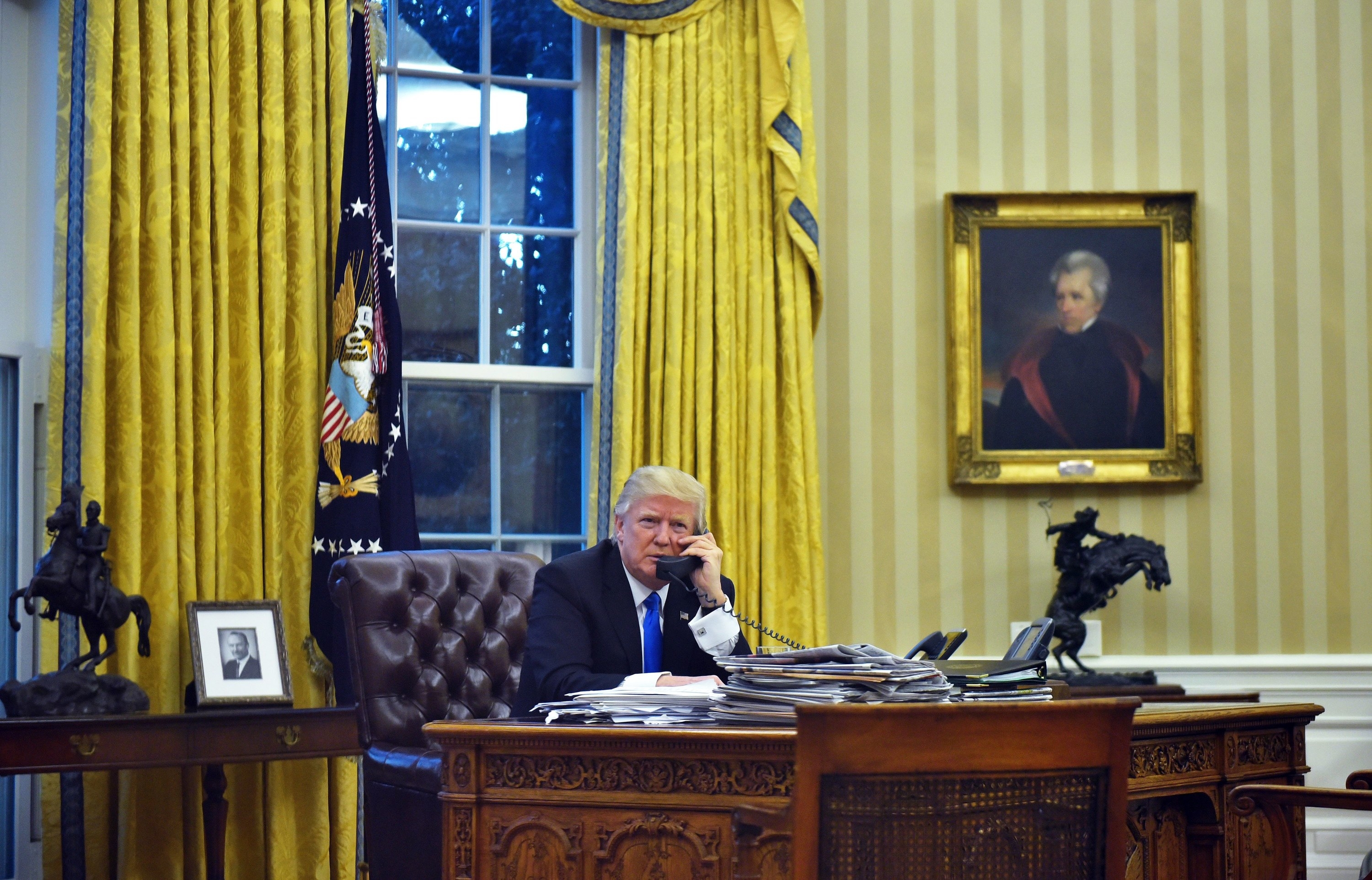 Just before Turnbull arrived at his office for his first call with Trump, Flynn and Pence called Australian counterparts to ask them not to even mention the deal on the call. Trump had changed his mind and he would not honour the deal.
Despite the tension on the call, Turnbull writes, "I reasoned with Trump and finally won him over".
Trump held a grudge against Turnbull after the call
Kushner told Turnbull over a month later that Trump was "still hurt" about the deal.
"'He hadn't expected you'd come on so strong, although we knew that was your reputation,'" Kushner told him, according to Turnbull. "I told him I didn't think the call was so bad. 'Malcolm, it was bad'."
Kushner urged Turnbull to be "low-key and deferential" towards Trump at an upcoming event, which Rupert Murdoch had persuaded Trump to attend.
Turnbull wrote in his diary that day: "It sounds like Trump felt he had been bested in the negotiation and was furious with himself and with me. Well, WTF was I meant to do? Anyway sounds like we have to play it by ear and the goal of the meeting is simply not to have a row or a diplomatic debacle like so many of his other international meetings."
Australia's ambassador to the US, Joe Hockey, was also worried that Trump might "nurse this grievance and want to pay me back". At one point, Australian diplomats suggested Turnbull offer Trump a concession on a tax treaty in exchange for honouring the refugee deal.
Turnbull was annoyed Australian journalists kept asking about the deal at White House press briefings
Turnbull's plan was to keep the deal "very low-key" and send the message that Trump didn't like the deal but had decided to honour it anyway. But the Australian media, particularly the Australian Broadcasting Corporation, "badgered the White House" for detail and did "everything they could" to make it a US news story, including raising the issue in the White House briefing room, Turnbull writes.
"I wasn't surprised they relished the prospect of embarrassing Trump and, if the deal fell over, my government as well," Turnbull says.
"But I wonder if the ABC's Zoe Daniel [then Washington correspondent] ever considered the refugees who stood to benefit from the arrangement."
Australia thought Steve Bannon was trying to undermine the deal
The Washington Post published details of the Trump-Turnbull call, including Trump's accusation that it was his worst call that day, on Feb. 2, 2017, less than a week after the call, and a few hours after this tweet:
"We assumed the leak had come from Bannon; his motive would have been either to produce enough heat to force Trump to renege on his commitment to me or, at the very least, to demonstrate to Trump's base that he'd agreed to the deal only through the most gritted of teeth," according to Turnbull.

Turnbull was happy details of the call were leaked
The deal had never been a big US news story — but the tense call was, and it had the opposite of its intended effect, Turnbull said. "Both fans of Australia and critics of Trump lined up to express their solidarity with us," he writes. "Trump and/or Bannon had overreached and now we had the upper hand."
Trump joked that Turnbull had "two thousand of the worst terrorists in the world locked up on a desert island" and had talked Trump into taking them
When Trump and Turnbull finally met in May 2017, Trump told his wife Melania: "Melania, do you know, Malcolm has two thousand of the worst terrorists in the world locked up on a desert island and that fool Obama agreed to take them. Can you believe that? And now Malcolm has talked me into taking them too! He got me to do something I promised never to do! He is a tough negotiator!" By this point, Trump knew that the refugees posed no security risks.
"Melania smiled, faintly and mischievously. 'Just like you, Donald,' she said," Turnbull writes.
New Zealand told Australia they would take 150 people per year, but they didn't want to take single men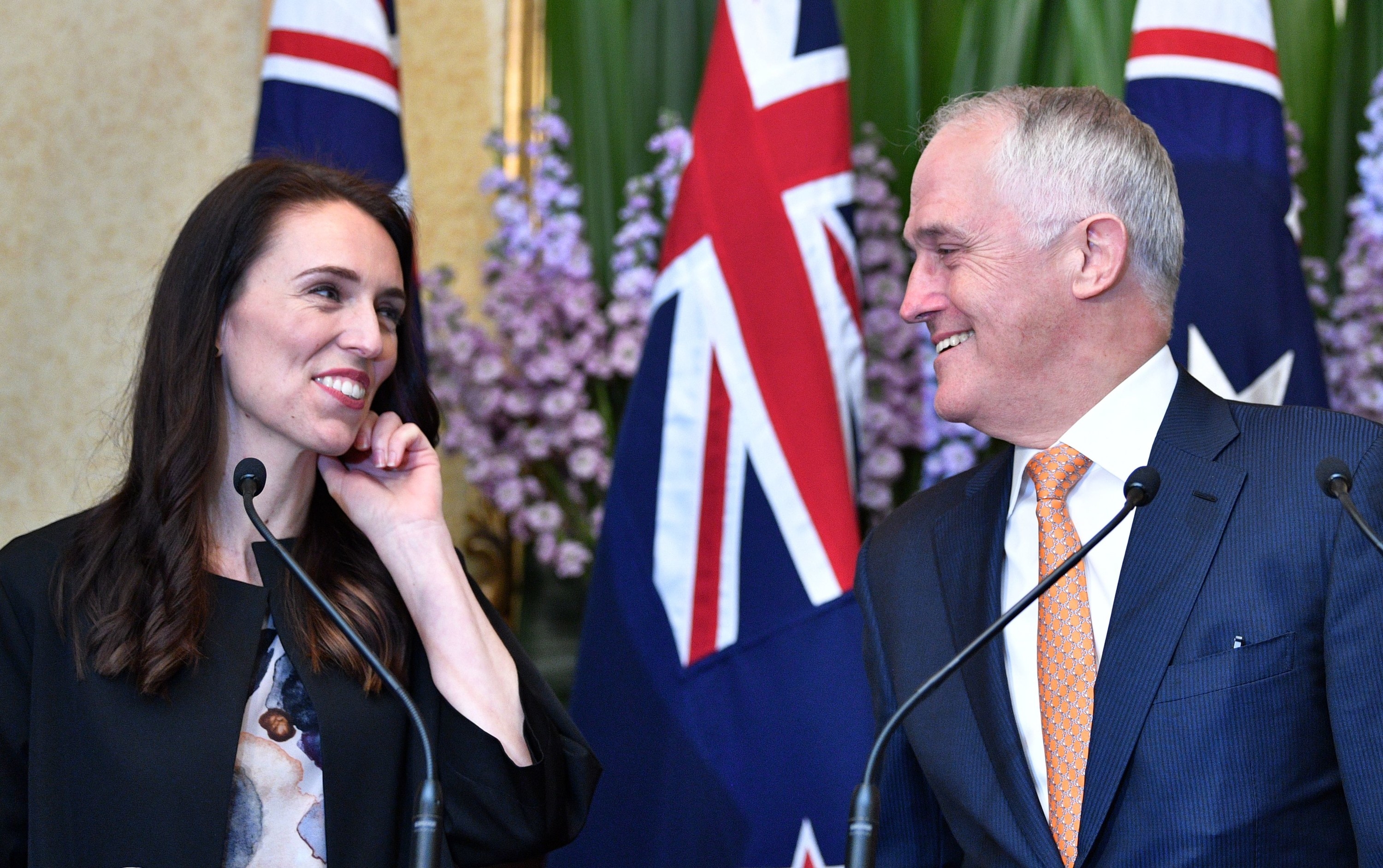 New Zealand has a standing offer to take 150 people from offshore detention. But, Turnbull writes, "they didn't want any single men (the bulk of the detainee population)", and Australia's agencies advised that people smugglers would exploit resettlement in New Zealand as being the same as settlement in Australia.
When Jacinda Ardern raised the issue with Turnbull shortly after she was elected New Zealand's prime minister in October 2017, he told her he wanted to complete the US deal first, he writes. "She was later to press me on this but wanted to prioritise taking women and children; as I pointed out, these were the most likely to get offers to go to the USA."
A spokesperson for Ardern has described Turnbull's account as fair, as New Zealand prioritises families, children, vulnerable groups and people with high protection within its refugee intake. However, the New Zealand government has also said its policy does not exclude men.
Turnbull regretted not getting everybody off Manus and Nauru during his prime ministership
"Of course, I left the prime minister's office with many things undone...while there was not one successful people-smuggling expedition to Australia during my time, I wasn't able to realise my goal of resettling all the asylum seekers in PNG and Nauru," Turnbull writes. Nevertheless, Turnbull cites signing the deal and getting it underway even with Trump as one of his proudest achievements.