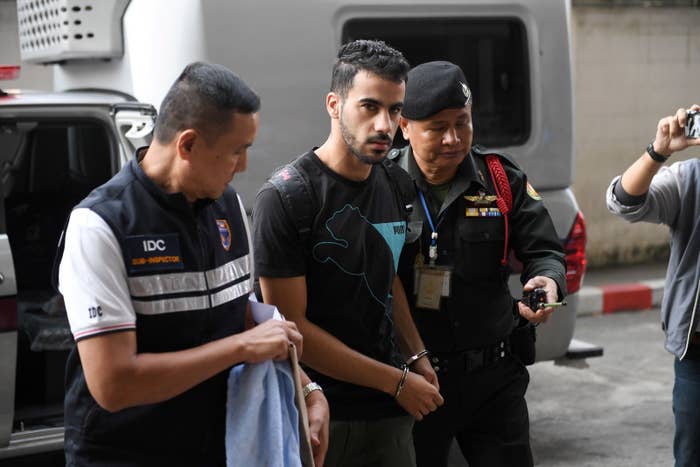 Australian foreign minister Marise Payne has declared she will use a meeting with her Thai counterpart to push for the release of a refugee footballer who has been detained in Thailand since November.
Hakeem al-Araibi was granted permanent residency in Australia after being recognised as a refugee, fleeing persecution in Bahrain. He has lived in Melbourne for four years, where he plays football for Pascoe Vale FC.
In November, Al-Araibi and his wife travelled to Thailand. He was arrested at Bangkok airport and remains in detention, and he faces possible extradition to Bahrain. He has been convicted of a vandalism offence in Bahrain in his absence, which he denies. He remains in detention in Bangkok while his extradition proceedings unfold.
In a media release on Wednesday, Payne said she would use a trip to Thailand on Thursday, where she will meet with Thai foreign minister Don Pramudwinai, to advocate for Al-Araibi's safe return to Australia.
Payne's arrival in Thailand follows international scrutiny on Thailand's treatment of Rahaf al-Qunun, an 18-year-old woman from Saudi Arabia. Al-Qunun barricaded herself in an airport hotel room after Thai officials stopped her at Bangkok's airport last weekend, where she was trying to make her way to Australia, and threatened to send her back to her allegedly abusive family in Kuwait.
After Al-Qunun's live-tweeting garnered significant attention, Thailand agreed not to deport her and allowed UN officials to interview her to assess her claim to refugee status. Al-Qunun has now been given refugee status, and the Australian government has said it will consider giving her a visa.
"The Thai authorities did the right thing by a young Saudi woman in agreeing not to forcible remove her and pledged to respect the rule of law," said Human Rights Watch's Australian director Elaine Pearson today. "The Thai government also needs to realise the grave dangers facing Hakeem al-Araibi if he is returned to Bahrain, and Thai authorities should immediately release al-Araibi, who is recognized as a refugee in Australia, and ensure that he's not extradited to Bahrain in violation of international law."
Al-Araibi's detention in Thailand was particularly controversial because it was the result of an Interpol "red notice", which flags a person for arrest, despite his refugee status. Australia's Department of Home Affairs confirmed the Australian bureau of Interpol was responsible for the notice being issued.
The campaign to free Al-Araibi is receiving growing support from the footballing community. Over night, FIFA released a statement calling for a "humane and speedy resolution" to his case.
UPDATE
A spokesperson for the Department of Foreign Affairs and Trade told BuzzFeed News that embassy officials in Bangkok "continue to monitor Mr Al-Araibi's health and welfare, including through regular visits", but declined to give further details of the case for privacy reasons.