Friends is an iconic show for many reasons. I mean, we've got SO MANY classic one-liners, a wild amount of famous guest stars, "The Rachel," and "Smelly Cat."
But who can forget the fashion of the show?? Every time I watch it, I am completely transported to the '90s. For your viewing pleasure, I have compiled a list of the most '90s fashion moments on Friends.
1.
This oversized acid wash denim vest over an acid wash button up.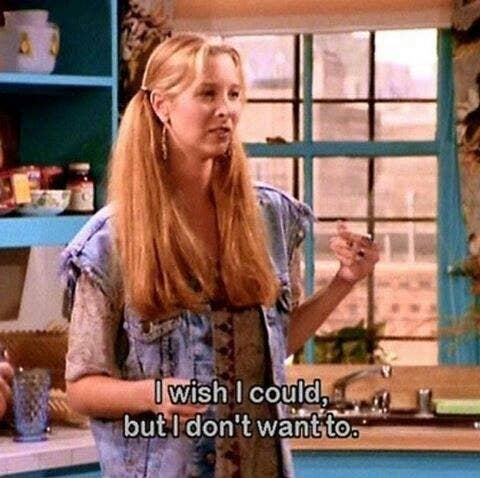 2.
This flower sheer sweater vest and barettes: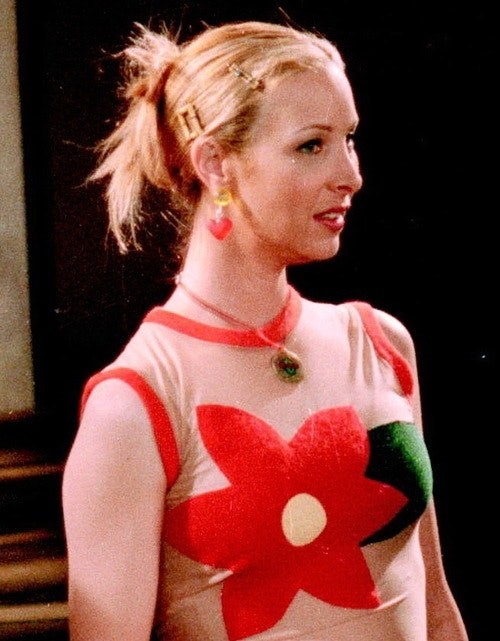 3.
This grandpa sweater, rhinestone barette, yellow shirt, and low waisted jeans combo:
4.
This kilt, sweater, and high socks combo:
5.
This tank top over a T-shirt: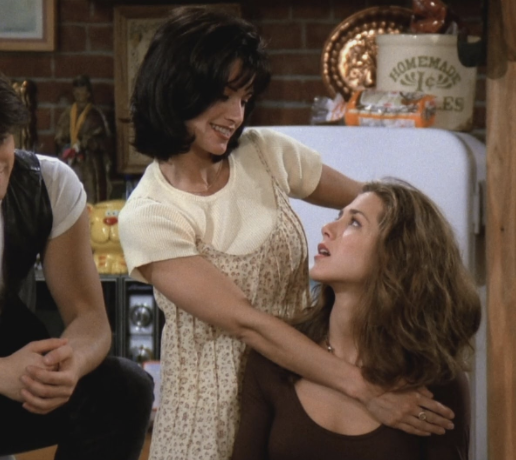 6.
This structured brown leather jacket over a turtleneck.
7.
This bandanna and bright T-shirt over a daisy print long-sleeve.
8.
These grandma sweaters: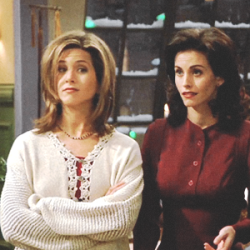 9.
This massive corduroy jacket.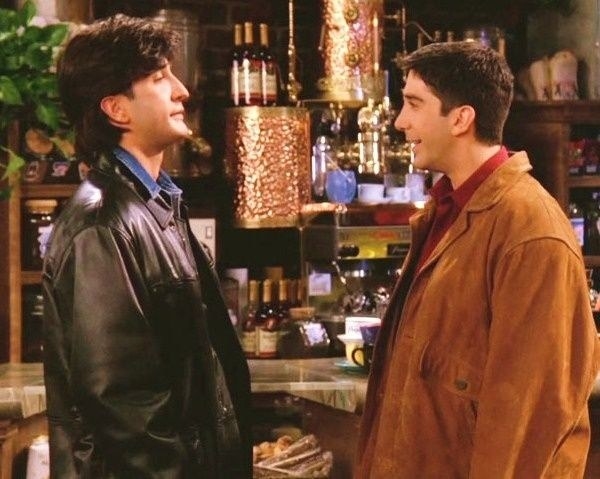 10.
This plaid shirt and gelled hair combo:
11.
The first of many overalls on this list.
12.
This fuzzy top with pink cheetah print pants: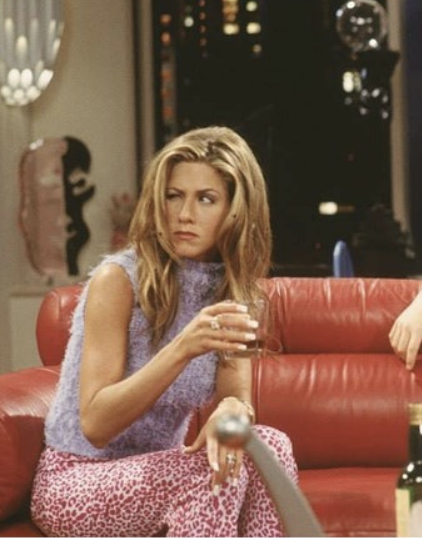 13.
This button-up tied into a belly shirt: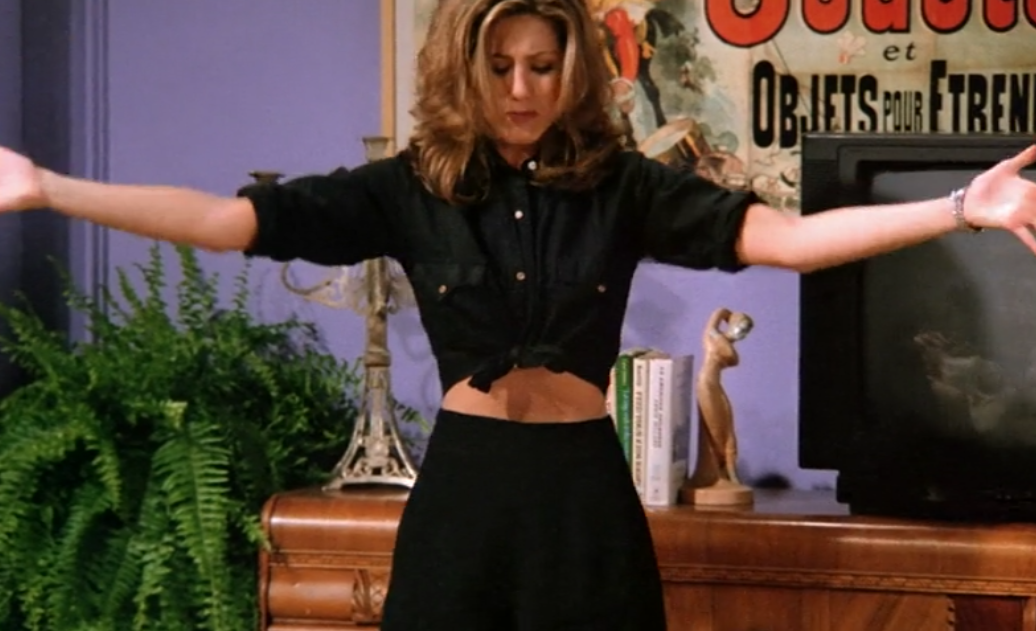 14.
Another bright printed shirt and chunk necklace: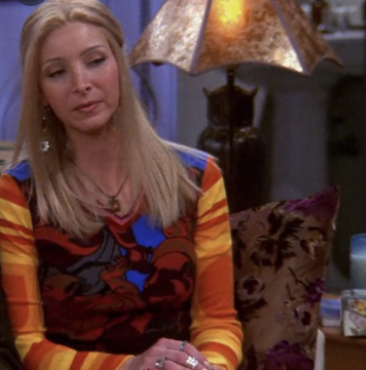 15.
Joey's tight high neck short sleeve shirt tucked into his jeans: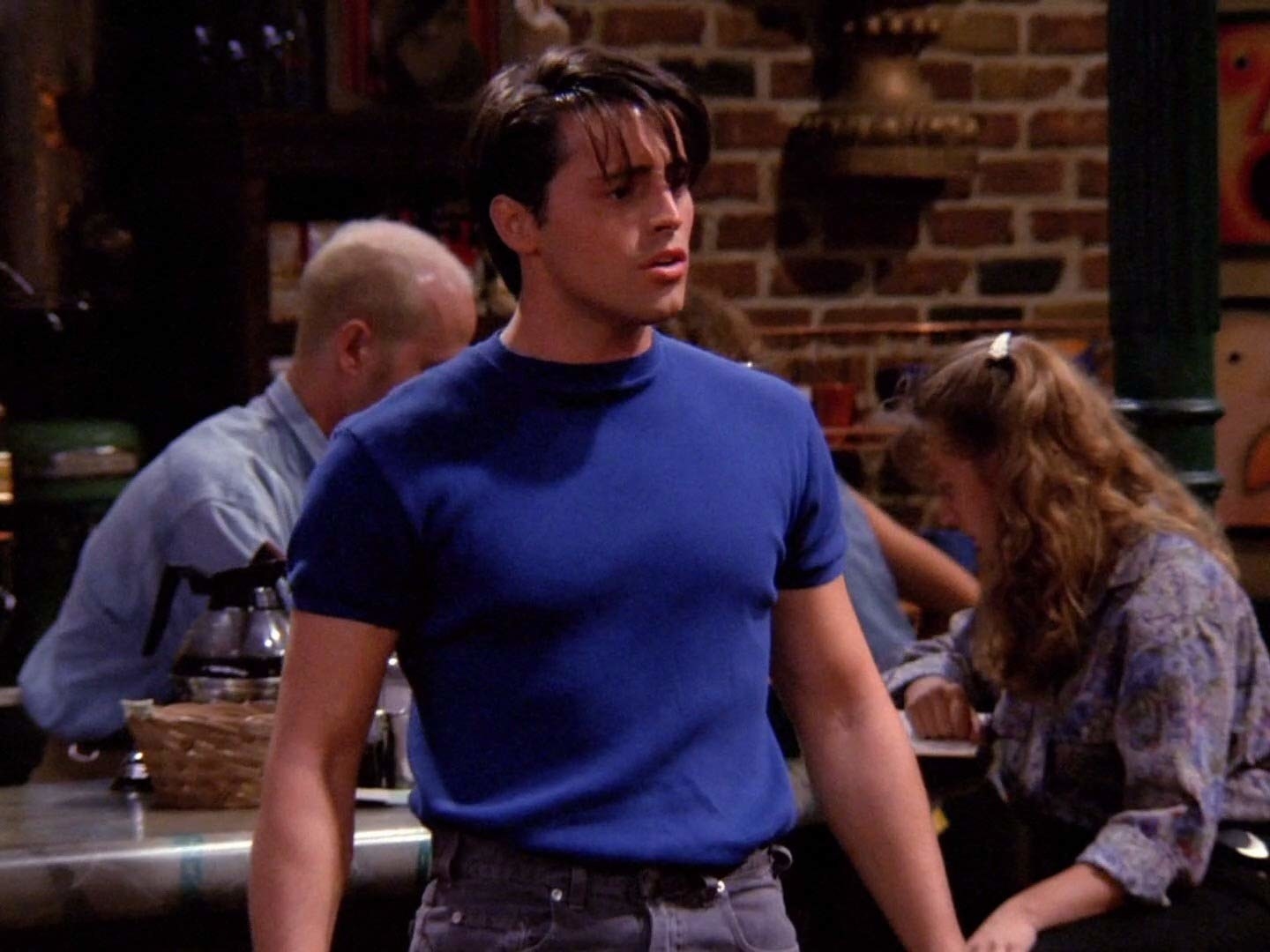 16.
These suspenders and khakis: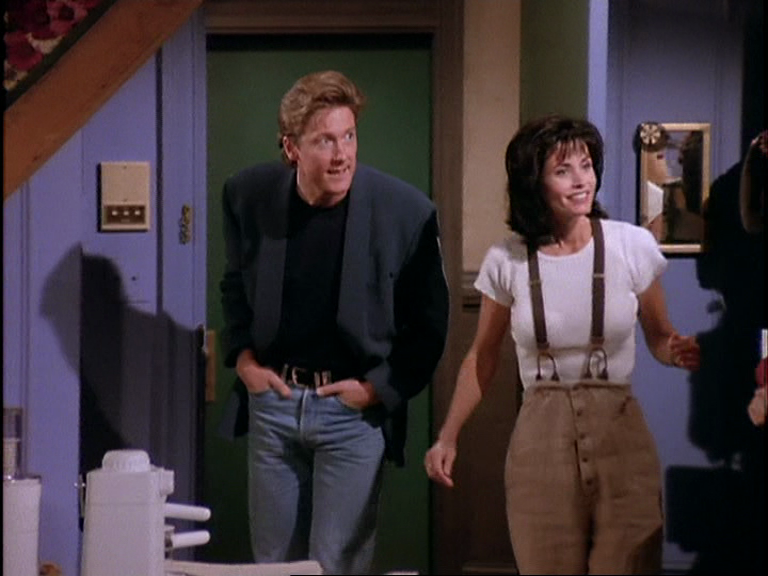 17.
This USA shirt paired with tights and high-waisted shorts: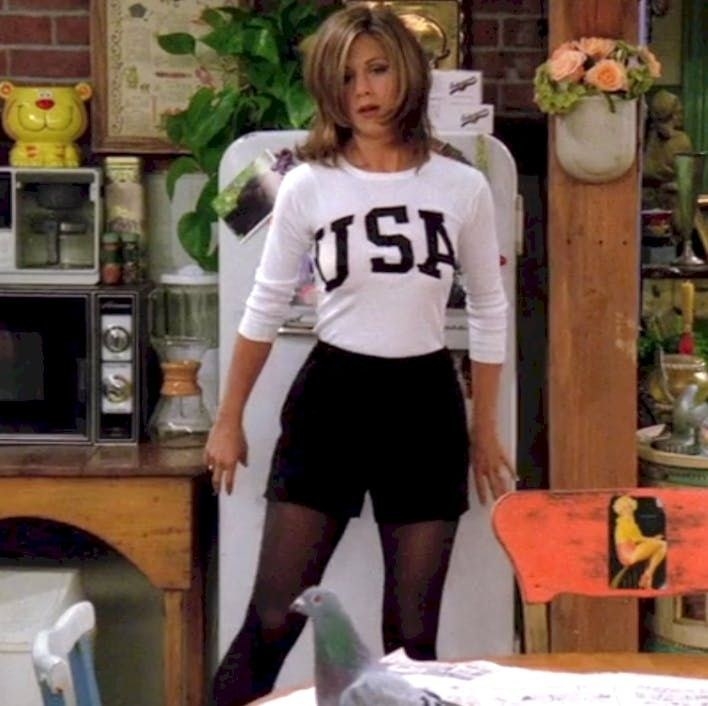 18.
Another pair of overalls: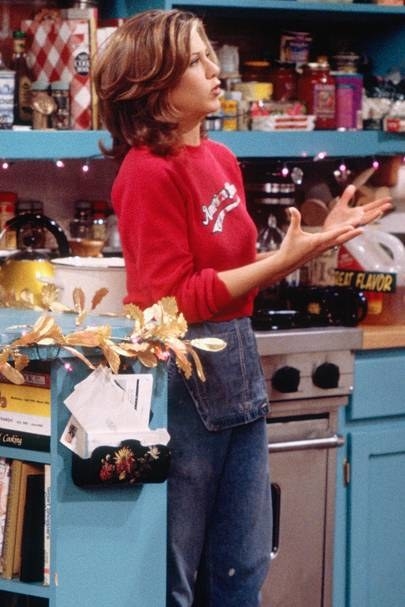 19.
This oversized sweater, long necklace, and long skirt: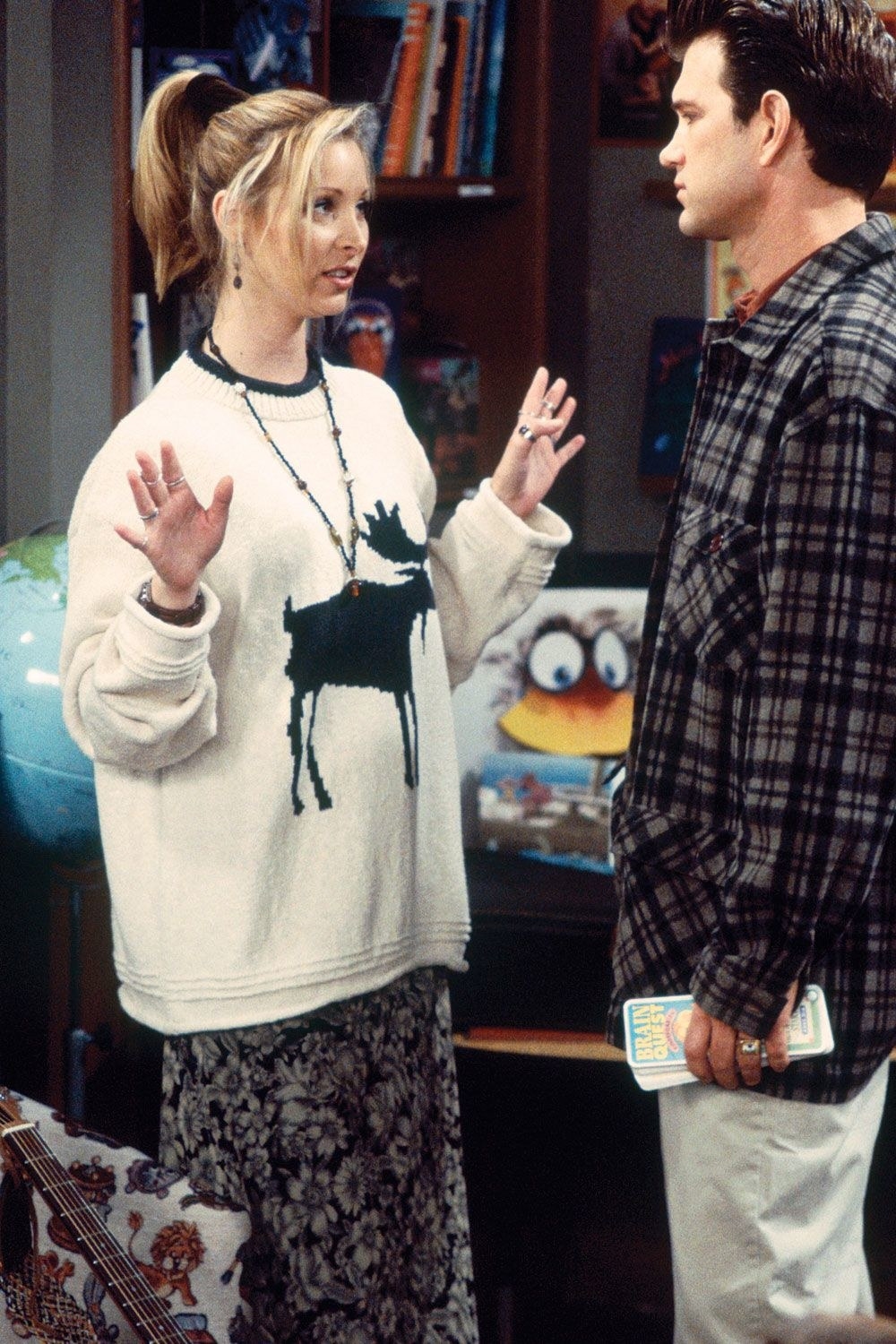 20.
Monica's long paisley puff sleeve dress: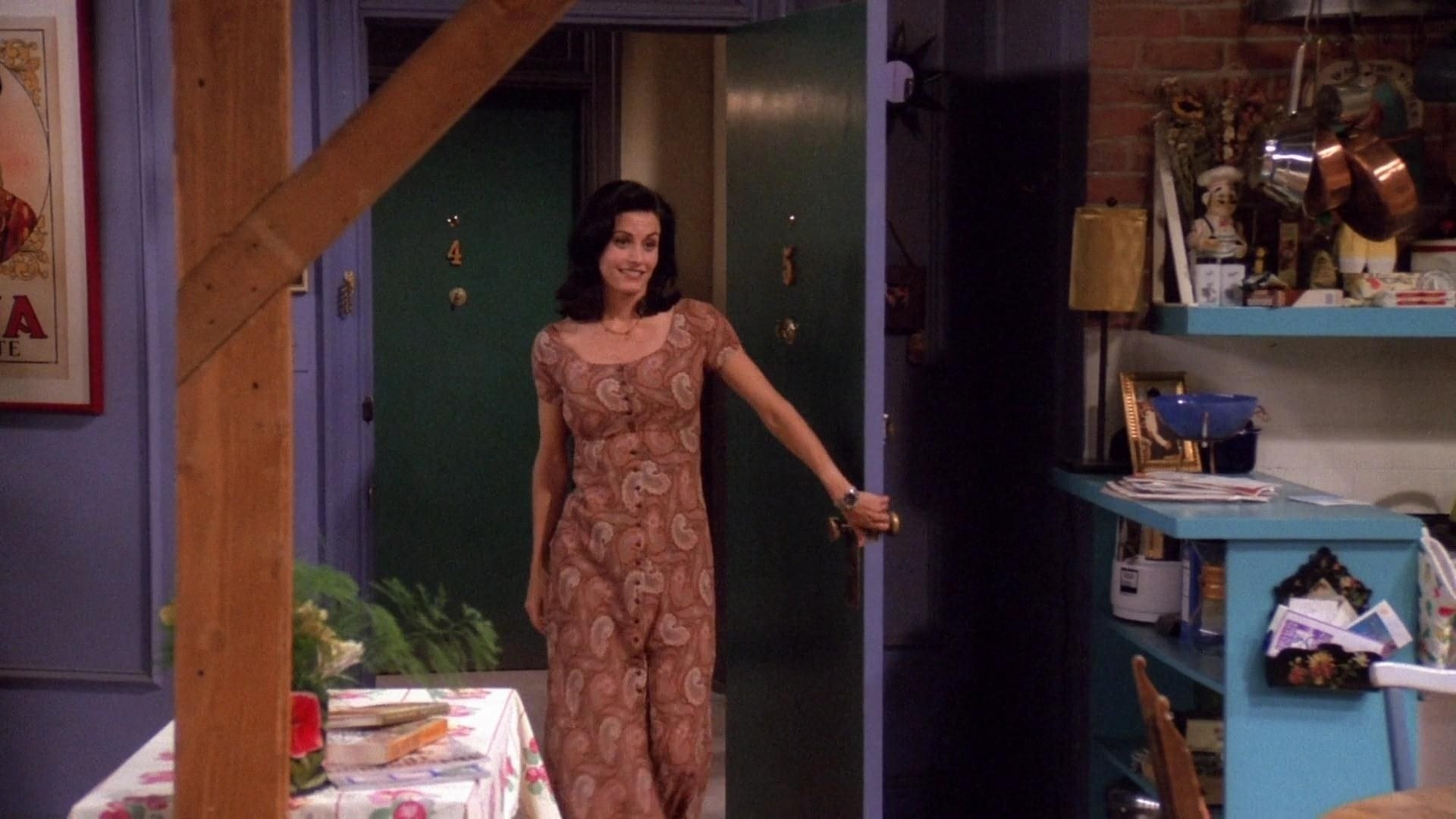 22.
The second of MANY jean vests on this list: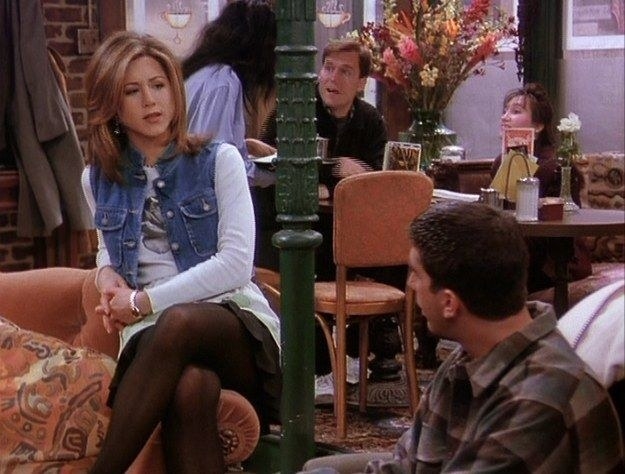 23.
Aaand the first of many vests on Chandler: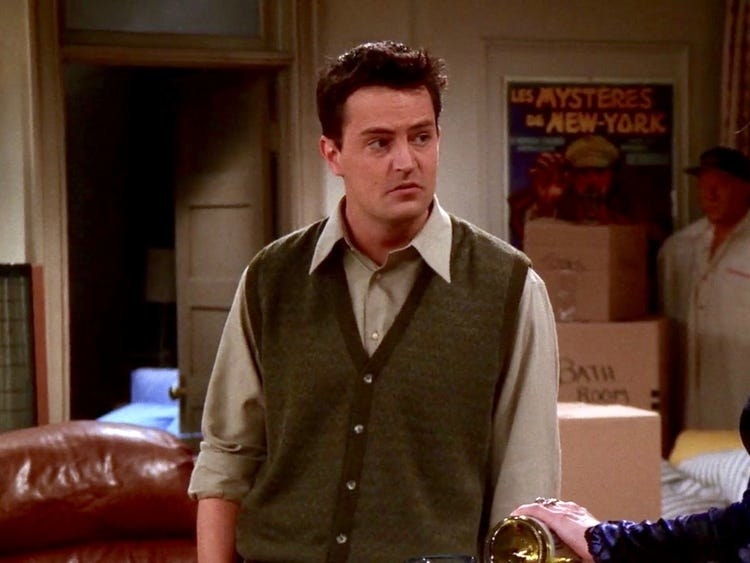 24.
AND the first of many velvet dresses.
25.
This long yellow dress paired with a large flower necklace:
26.
This gray camo v-neck (a trend that unfortunately continued into the 2000s):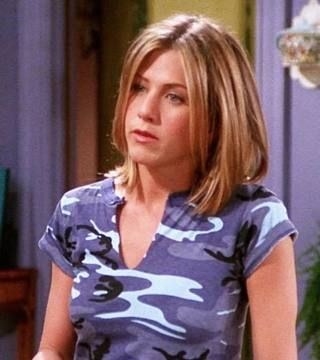 27.
And yet another long dress over a long-sleeve: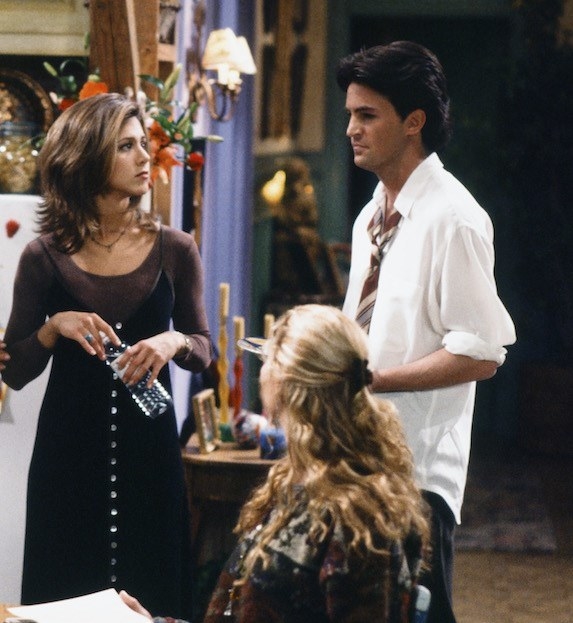 28.
This red tank top paired with mom jeans: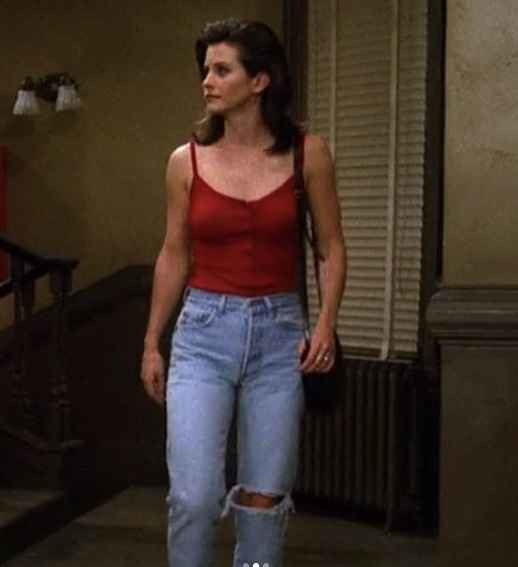 29.
And another pair of overalls!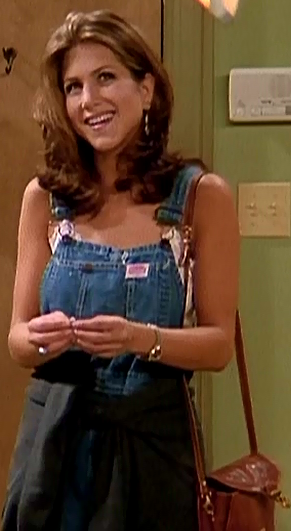 30.
And another denim vest. :(
31.
This sweater that I'm pretty sure one of the kids in Harry Potter wore: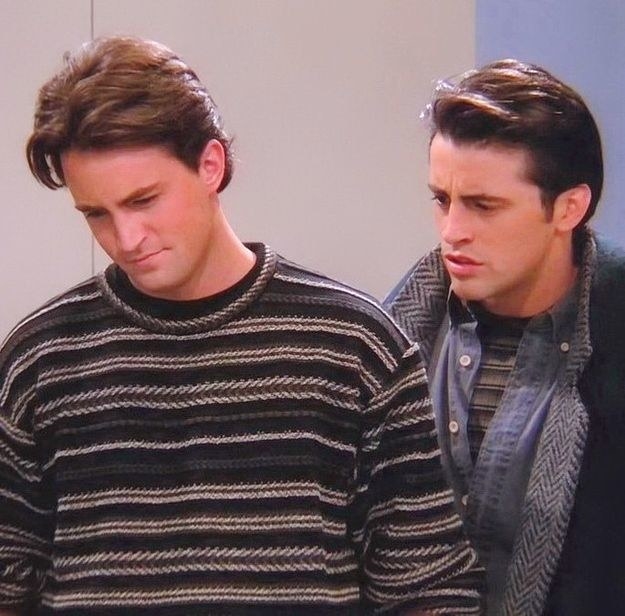 32.
This crop top with high-waisted loose striped pants: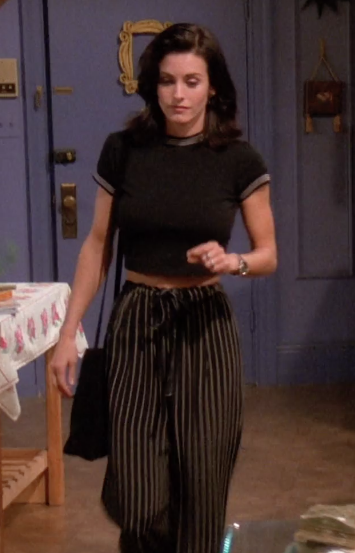 33.
ANOTHER. VEST.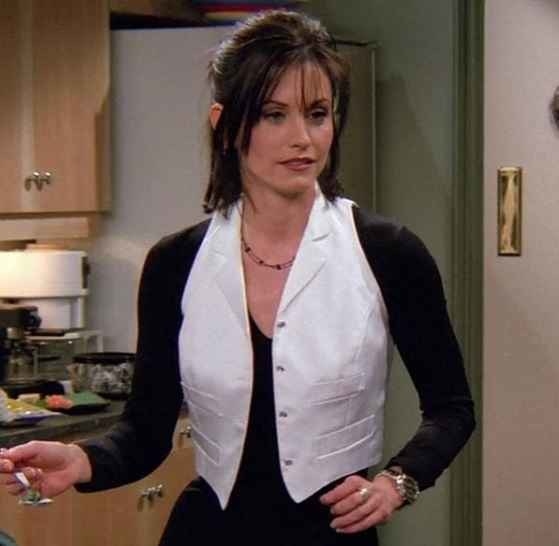 34.
This wedding dress: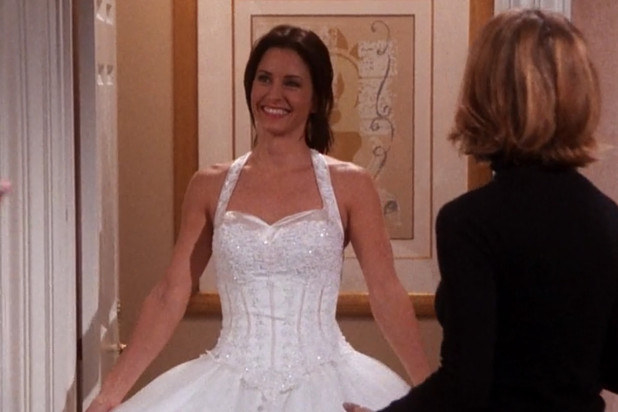 35.
This fringe vest Phoebe wore: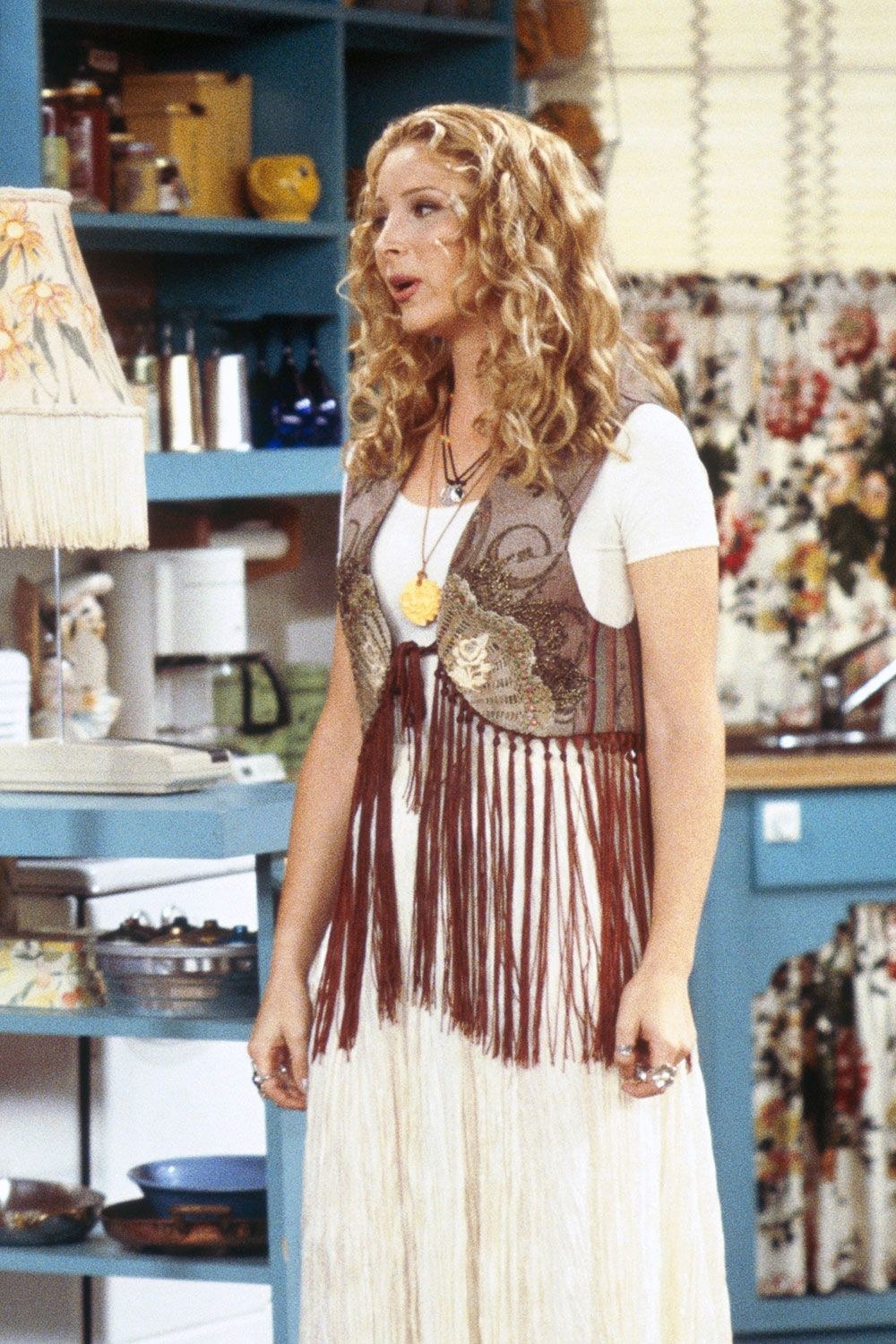 36.
And this turtleneck with a button-up dress over it: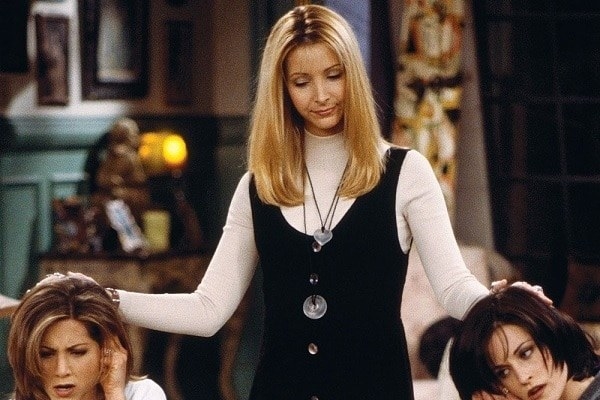 37.
Another vest from Chandler. :(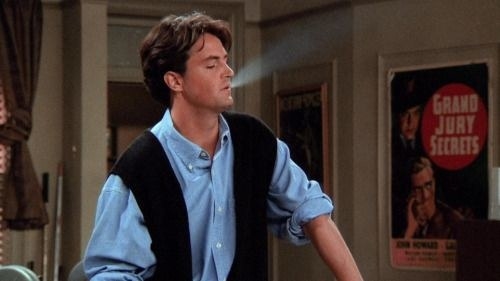 38.
This sleeveless plaid button-up tied into a crop top: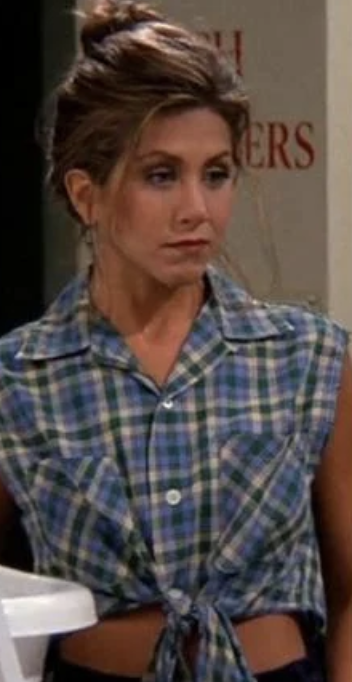 39.
This oversized sweater Monica wore: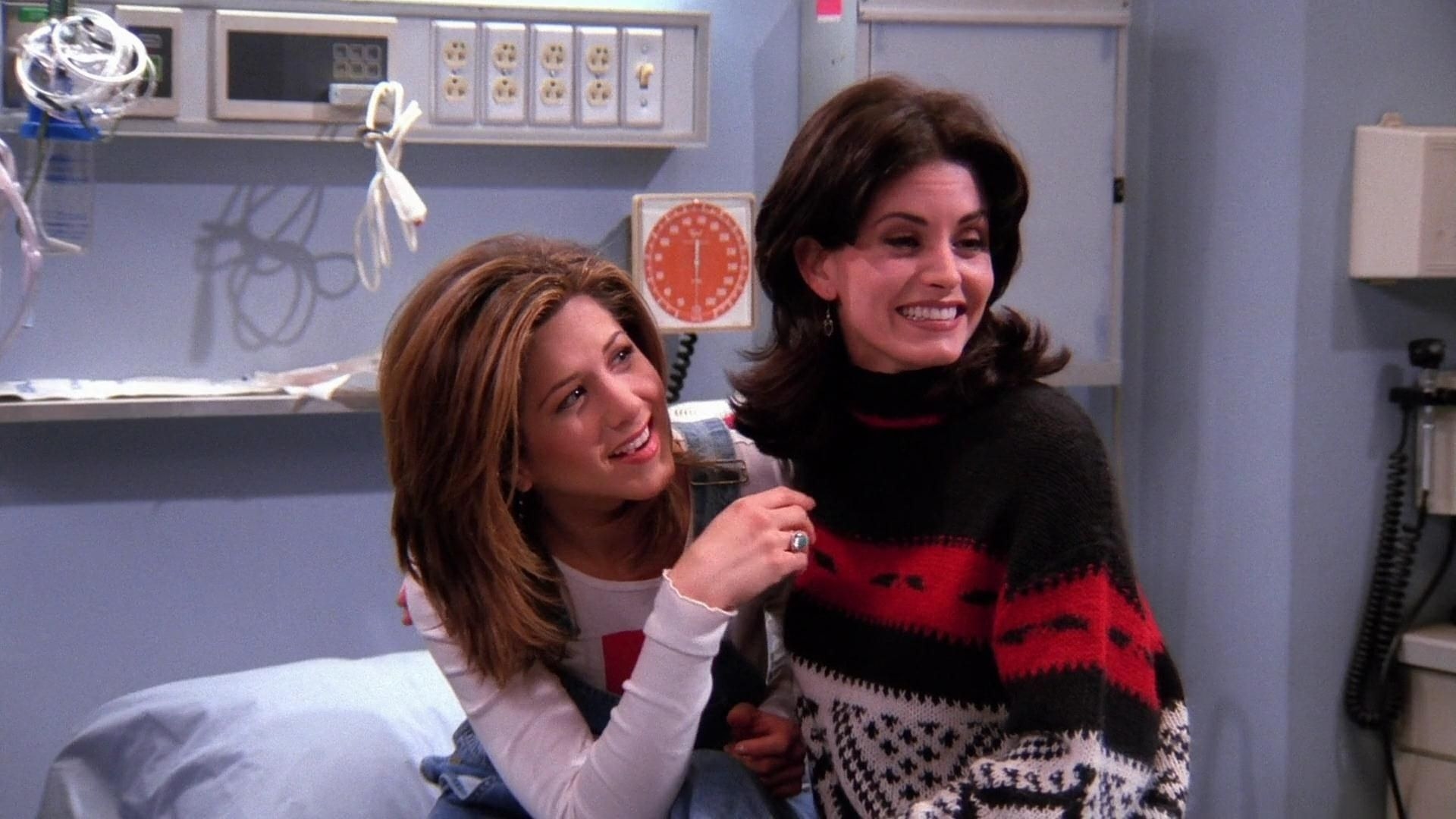 40.
This oversized vest and button-up Phoebe wore: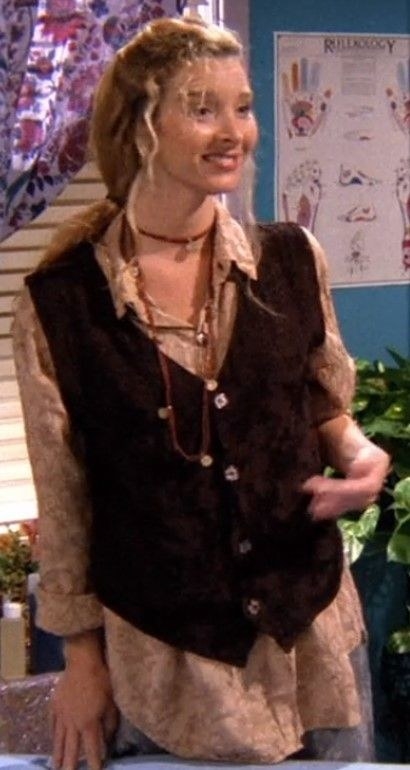 41.
Phoebe's velvet dress: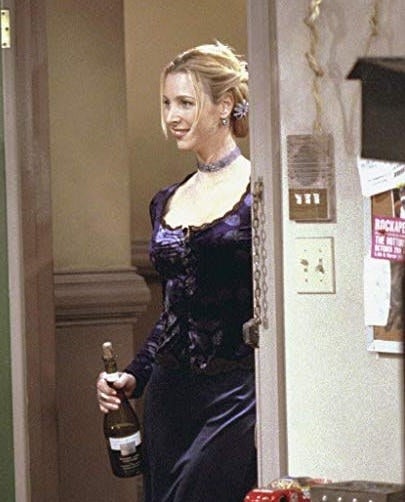 42.
This strapless dress Rachel wore: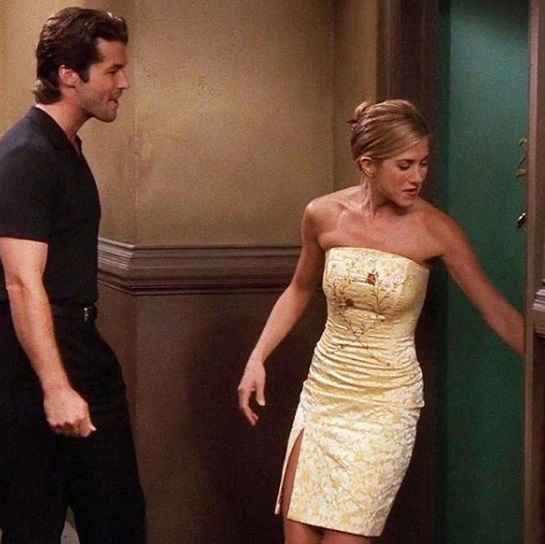 43.
This skirt that looks like the print of the water in Bikini Bottom: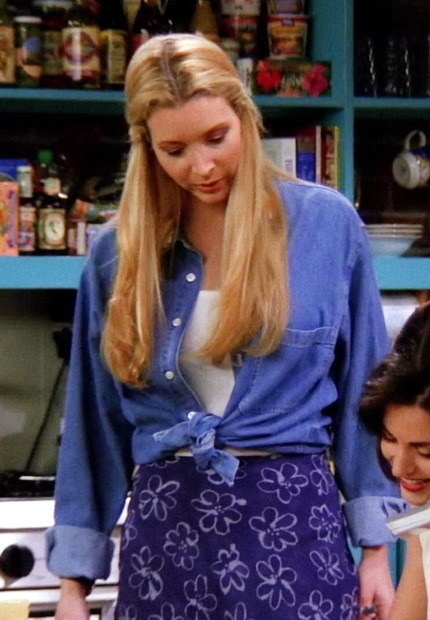 44.
Joey's turtleneck and hair: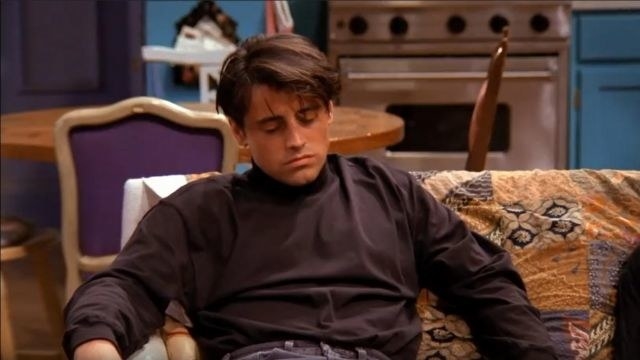 45.
This scrunchie, layered necklace, dress-over-a-loose-top lewk: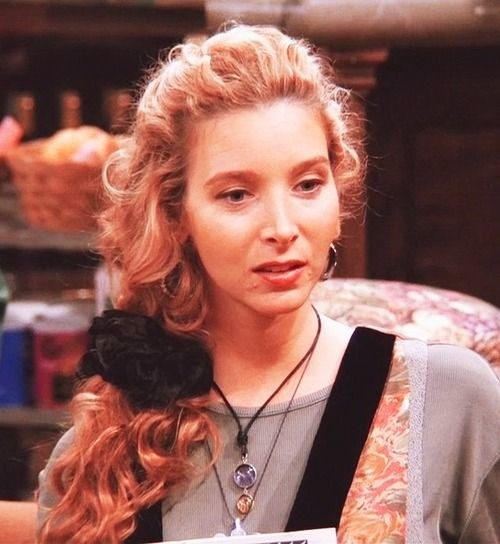 46.
Another pair of overalls: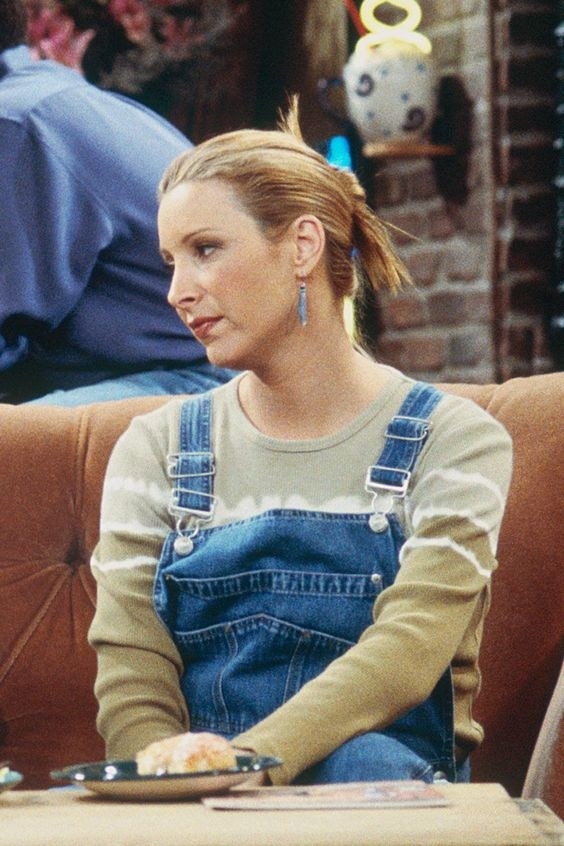 47.
This low waisted pleated skirt, high boots, and nylons combo: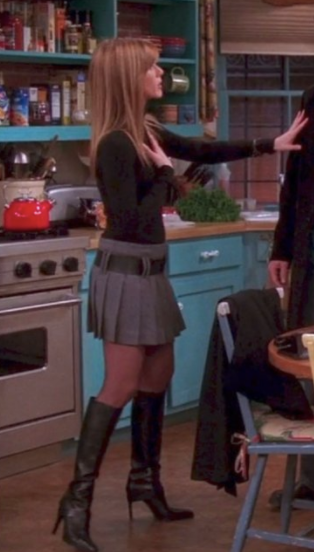 48.
This long sleeve see-through top and trousers.
49.
This maxi dress and crochet vest: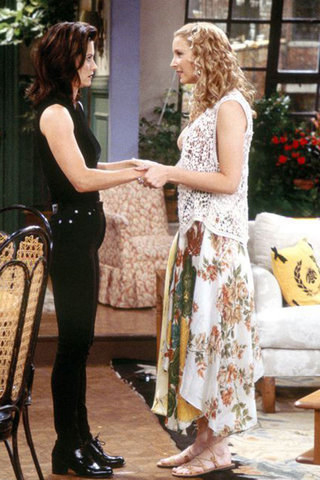 50.
And finally, whatever is going on here: