Everyone lovessss to argue about Damon and Elena vs. Stefan and Elena on The Vampire Diaries.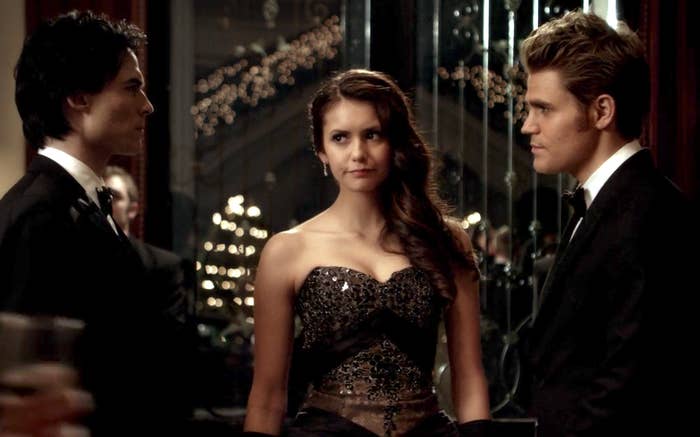 But honestly, I think we're ignoring the real relationship of the show: and that's Damon and Stefan.
Here are 21 moments that prove Damon and Stefan's brotherhood was WAY more important and interesting to watch than either of their relationships with Elena.
1.
In Season 1, Damon helped Elena save Stefan's life, then went out of his way to assure Stefan he had zero guilt in Damon's actions.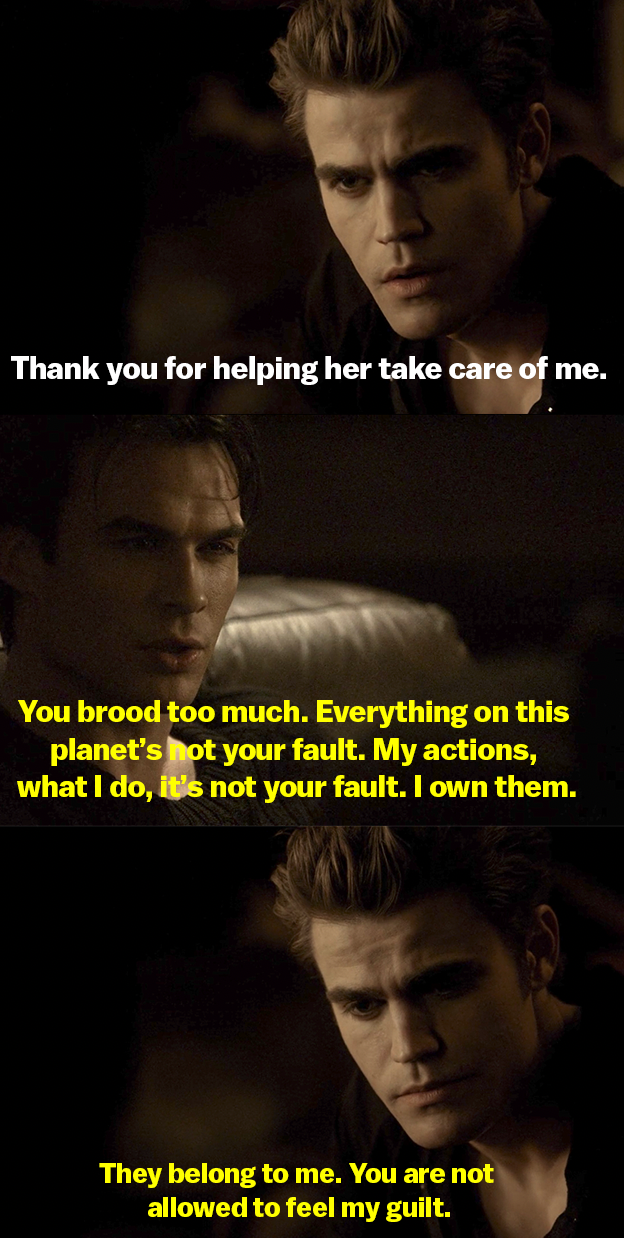 2.
And then when Stefan was in a vulnerable position again in Season 3, he chose to be the one to turn Bonnie's mom so that Stefan wouldn't have to deal with the guilt.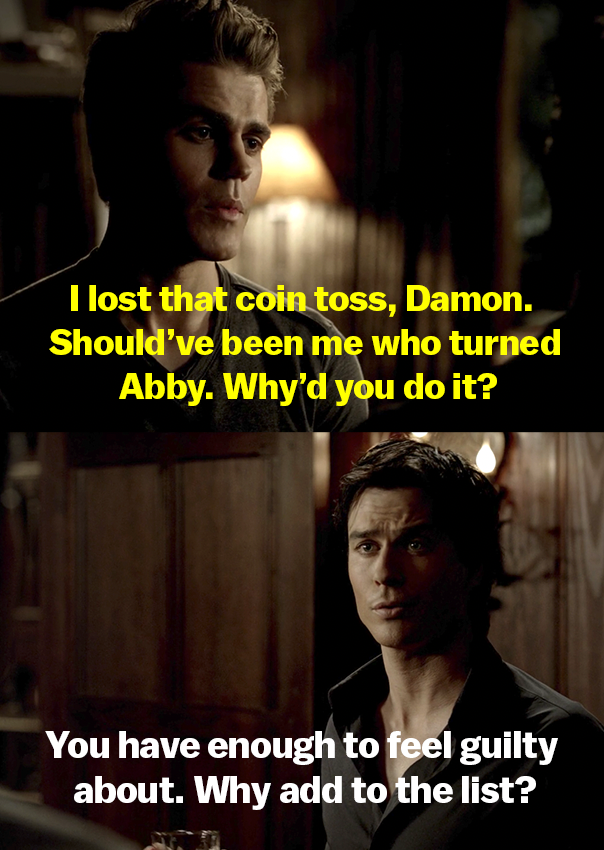 3.
And then AGAIN, after Stefan was in a guilt spiral over killing Enzo in Season 8, Damon encouraged him not to punish himself, telling Stefan instead to be with Caroline and be happy.
4.
Stefan was furious at Damon after he fed Elena his blood before Klaus's ritual in Season 2. But he still refused to let Damon give up on himself...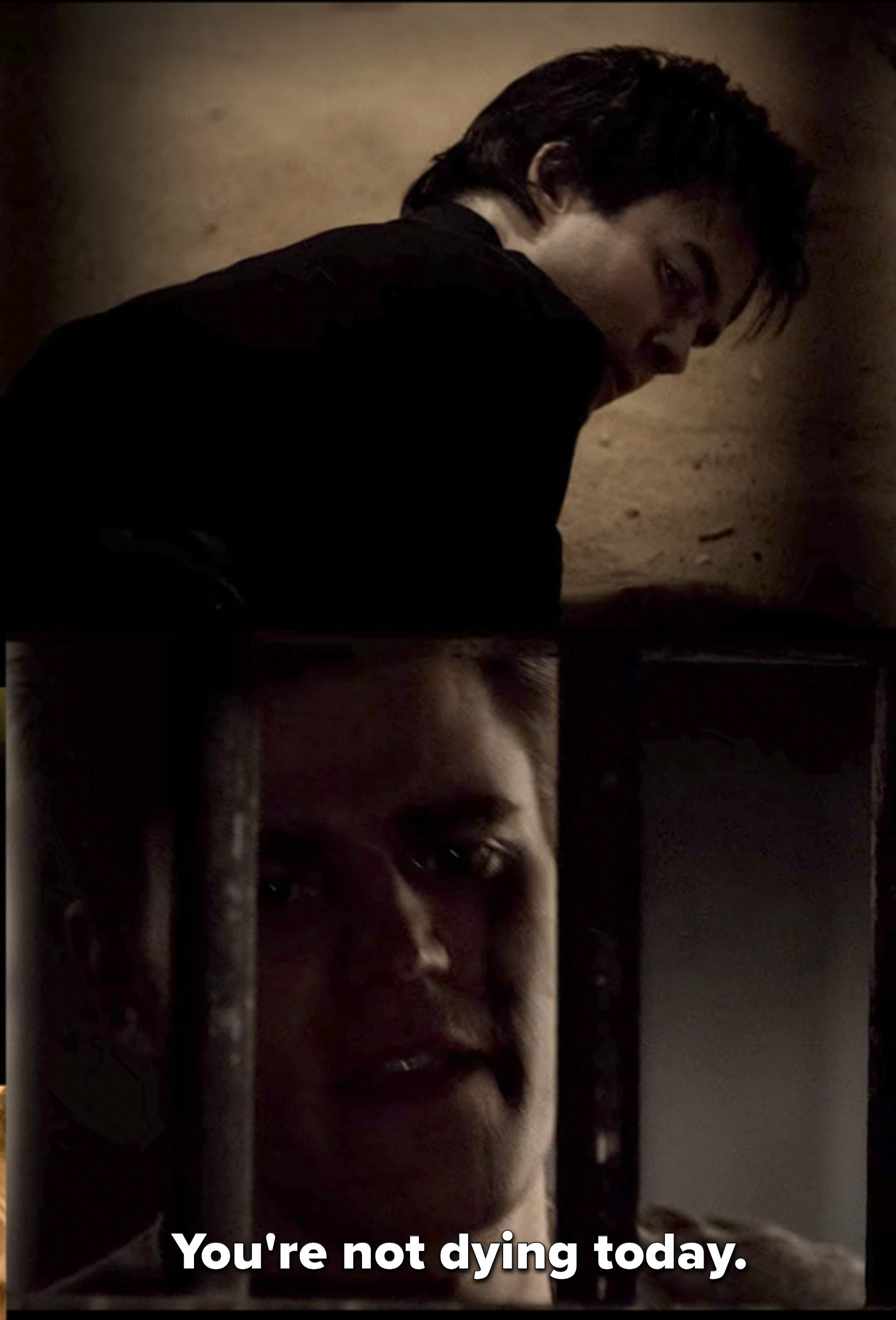 5.
...And even encouraged Elena to talk to him and make up with him since he could die.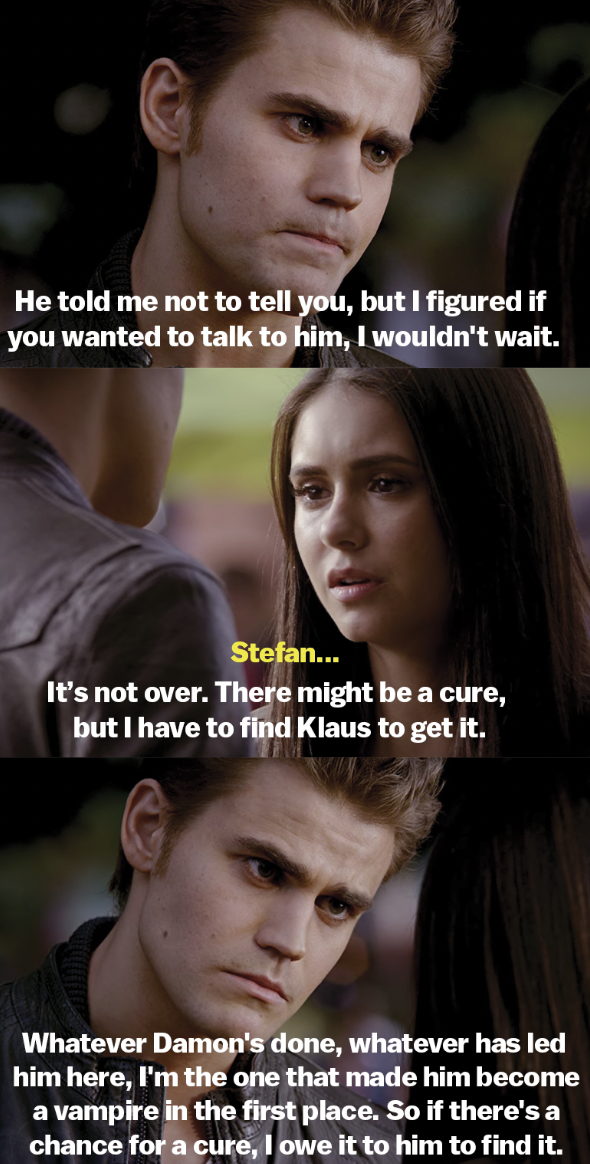 6.
And then Stefan literally gave up his entire life to Klaus so that Damon could live!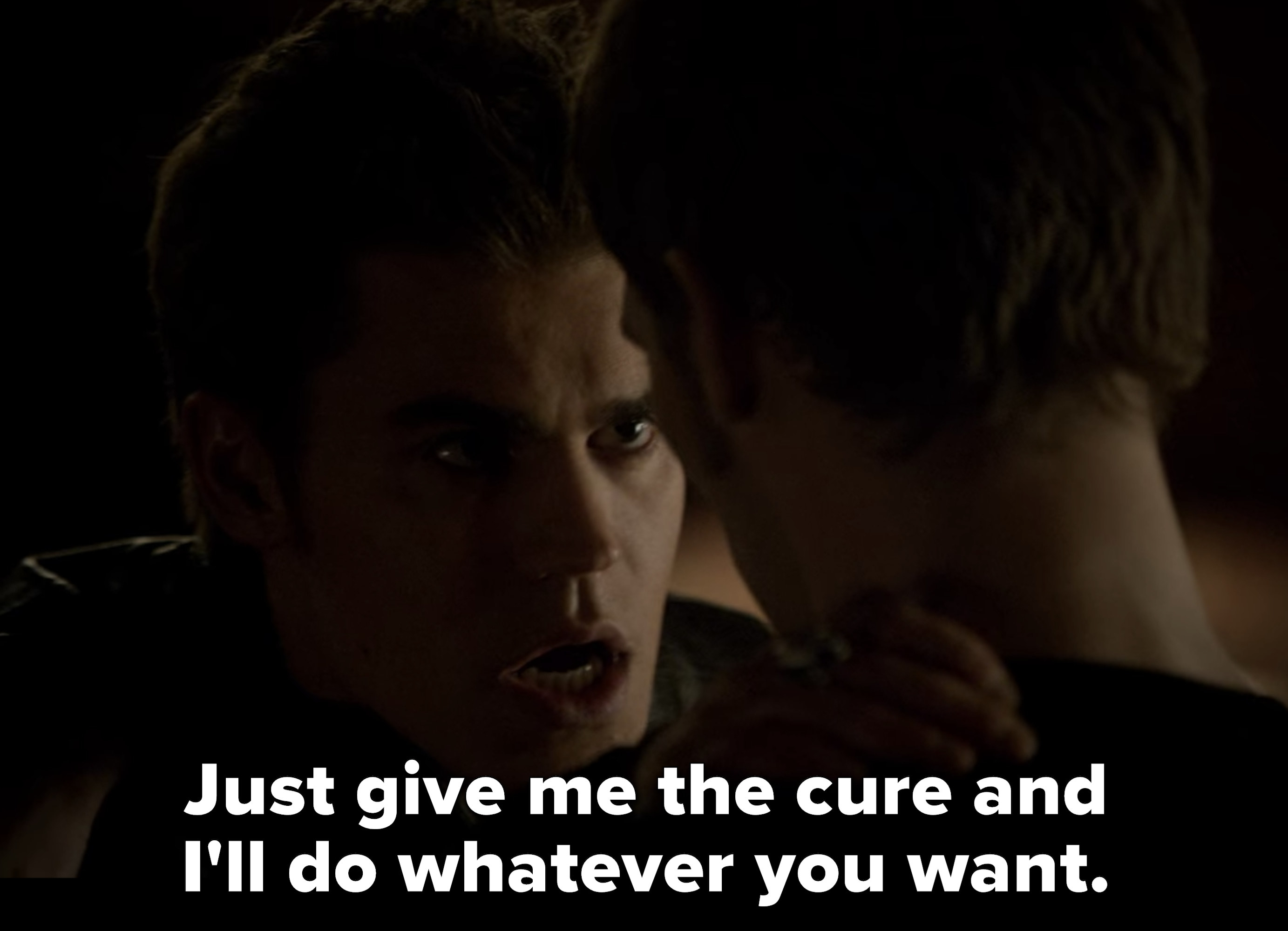 7.
And before you come at me saying Stefan was the better brother — Damon did the same for Stefan when he asked his Commander for leave when Stefan needed him! Remember the dream/flashback from Season 7?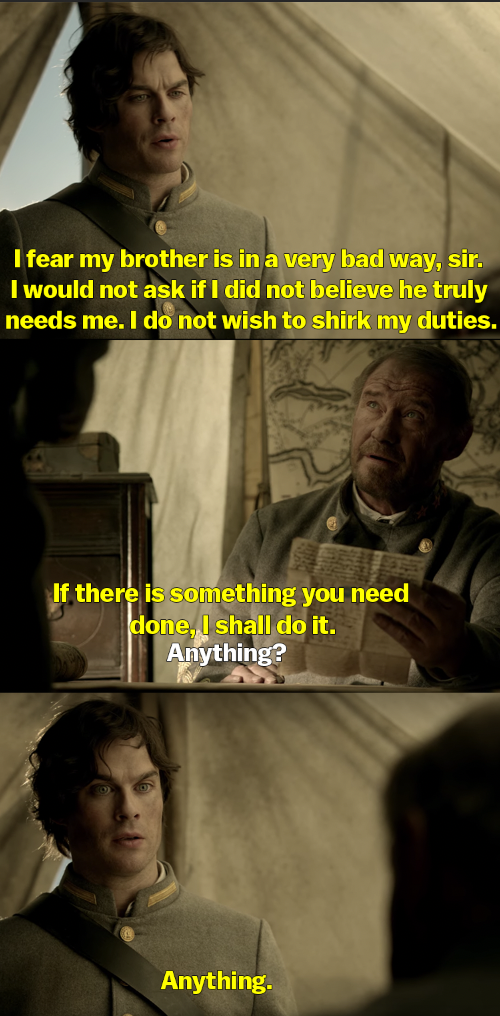 8.
In fact, the Salvatore brothers constantly offered to sacrifice themselves for the other. Like when Cade tried to make Damon choose between Stefan and Elena in Season 8, and Stefan offered himself up.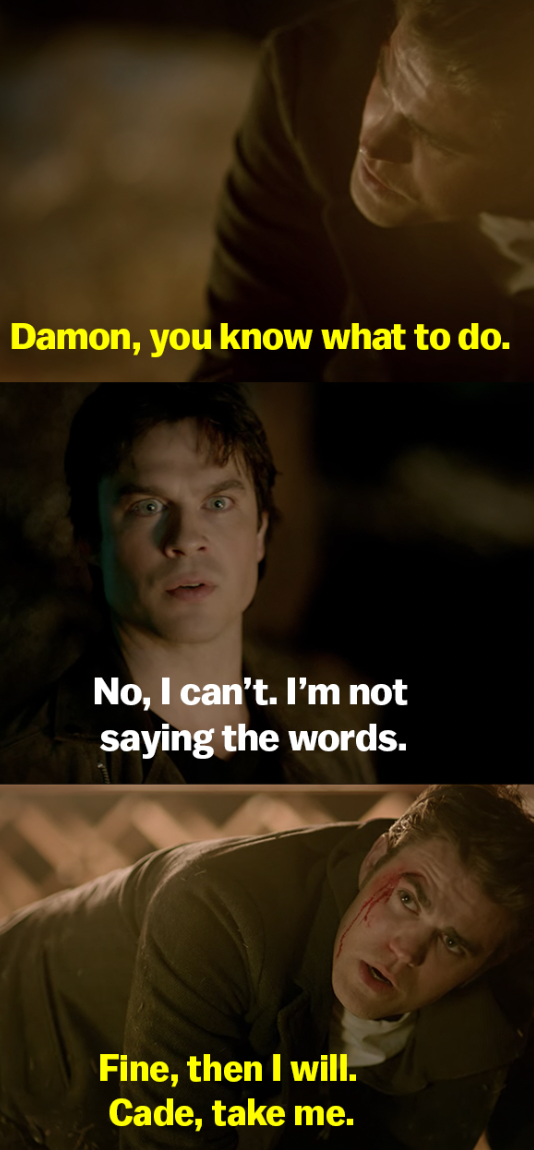 9.
...And then Damon said no, and offered HIMSELF up instead, so that both Stefan and Elena could live.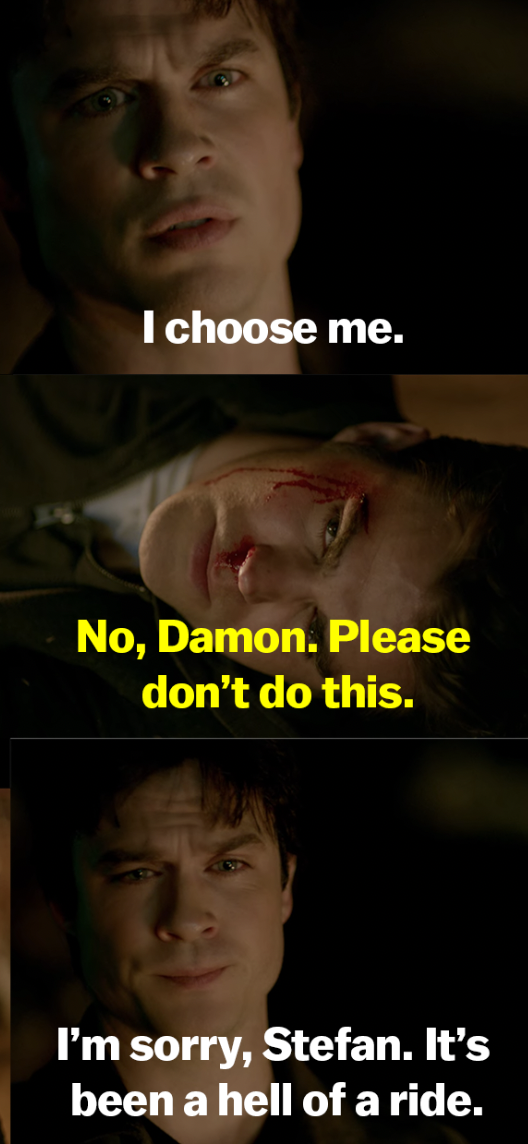 10.
This whole "die for each other" thing culminated in the series finale, where they had to decide which of them would stay with Katherine to ensure Hell was blown up.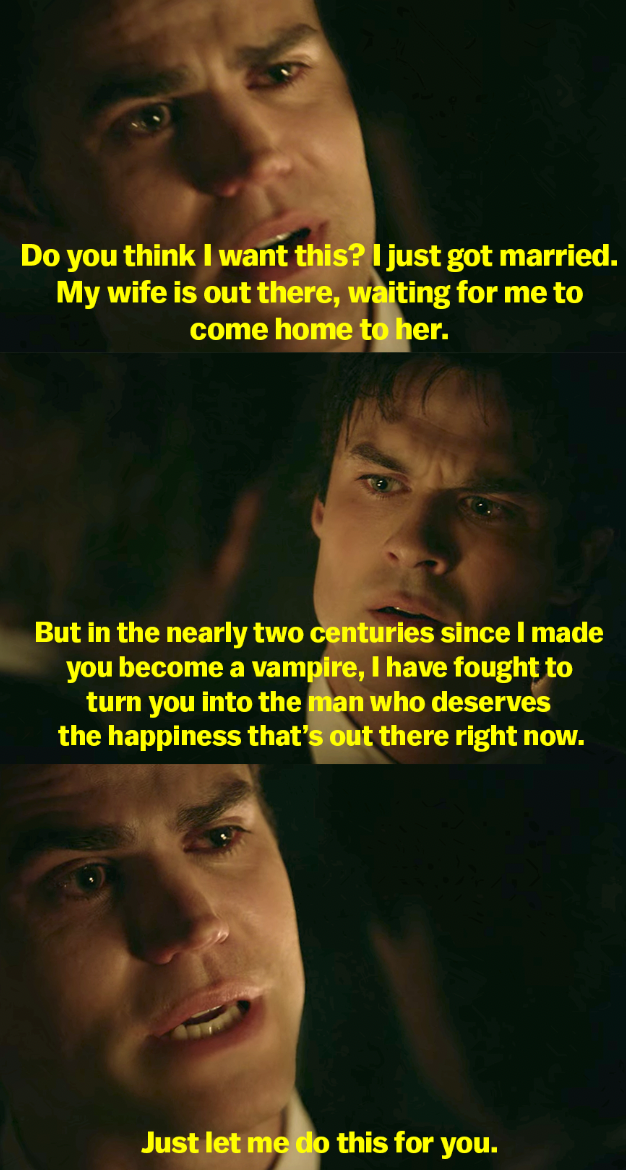 11.
Of course, Damon didn't let Stefan sacrifice himself: he turned into a protective older brother and compelled Stefan to leave him so he could die.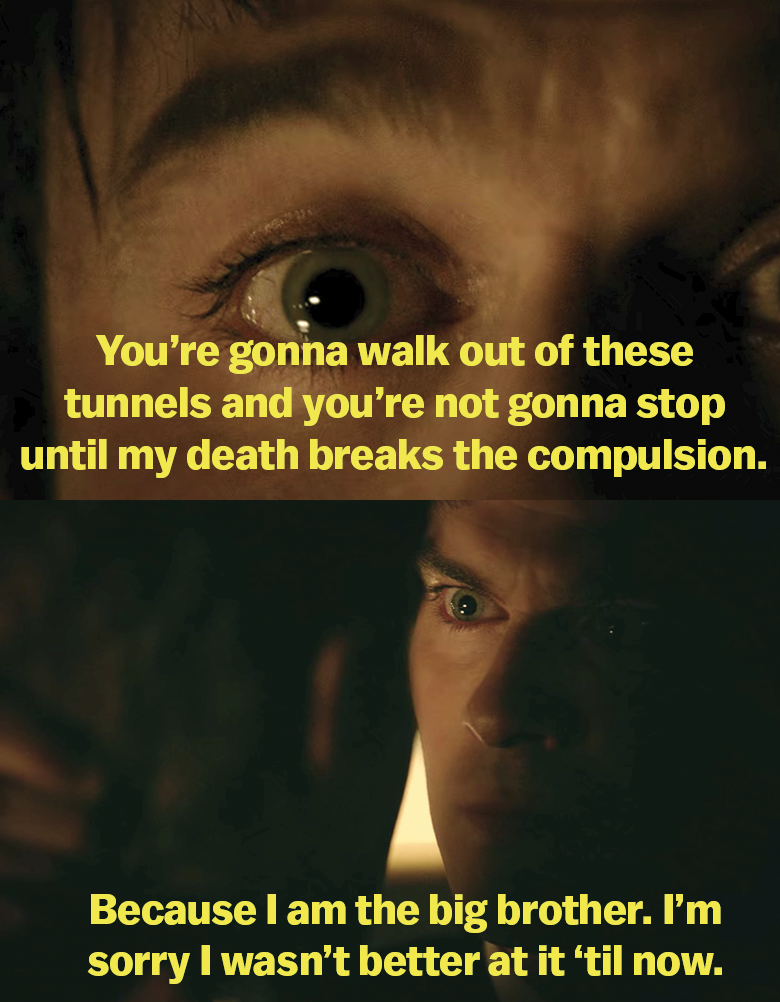 12.
Which...did not work. Stefan died anyways, and in his last moment with Elena, he told her THAT DAMON WAS THE MAN SHE DESERVED!!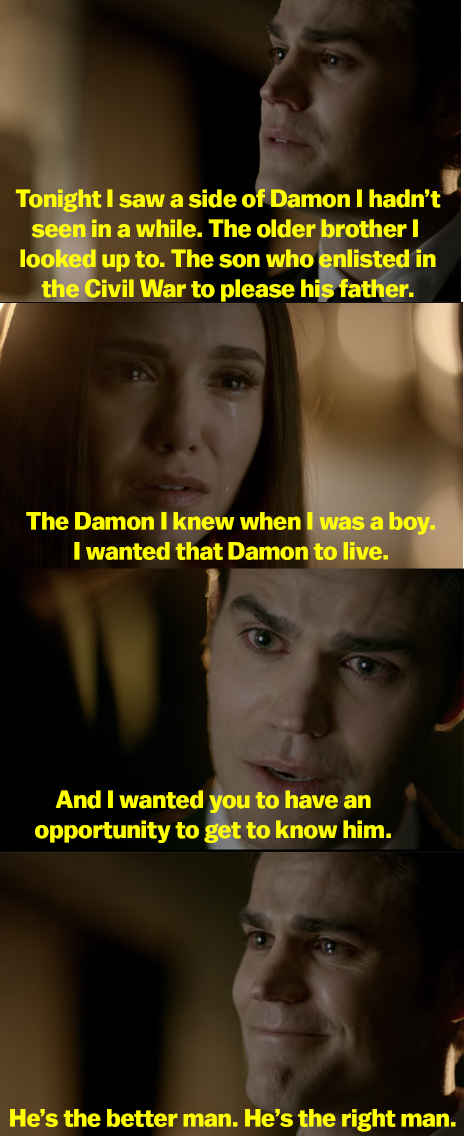 13.
Speaking of...Stefan was SO MATURE about Damon and Elena. In the Season 6 finale, he admitted Damon meant more to him that Elena, and that he was grateful to Elena for her role in helping Damon become better.

14.
He even took on that role for Elena after he was gone in Season 7, pushing Damon to be the brother he deserved. Like when Damon decided to desiccate in a coffin:

15.
...And again after Damon woke up, when he called him out for his lack of responsibility.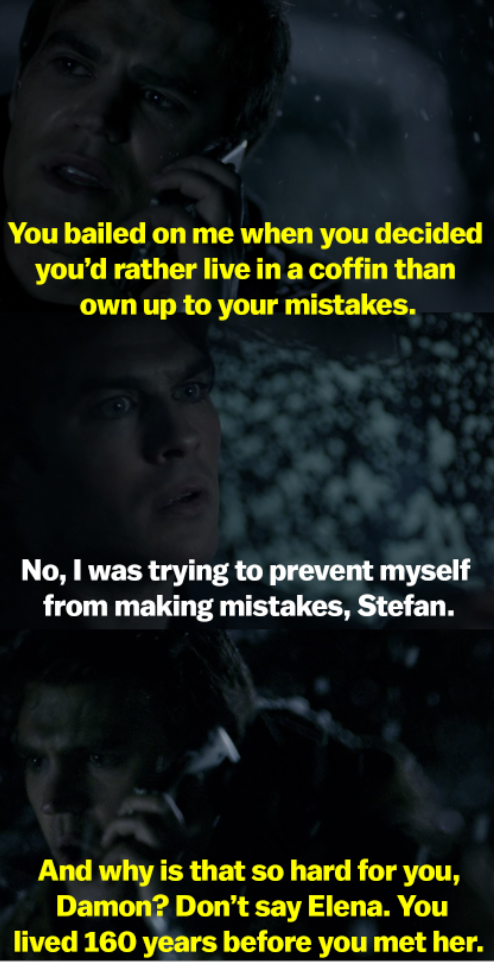 16.
It actually worked, too. Damon was able to take more personal responsibility than he ever did with Elena. Like when he apologized for abandoning Stefan in the Season 7 finale, and told Stefan to let him go.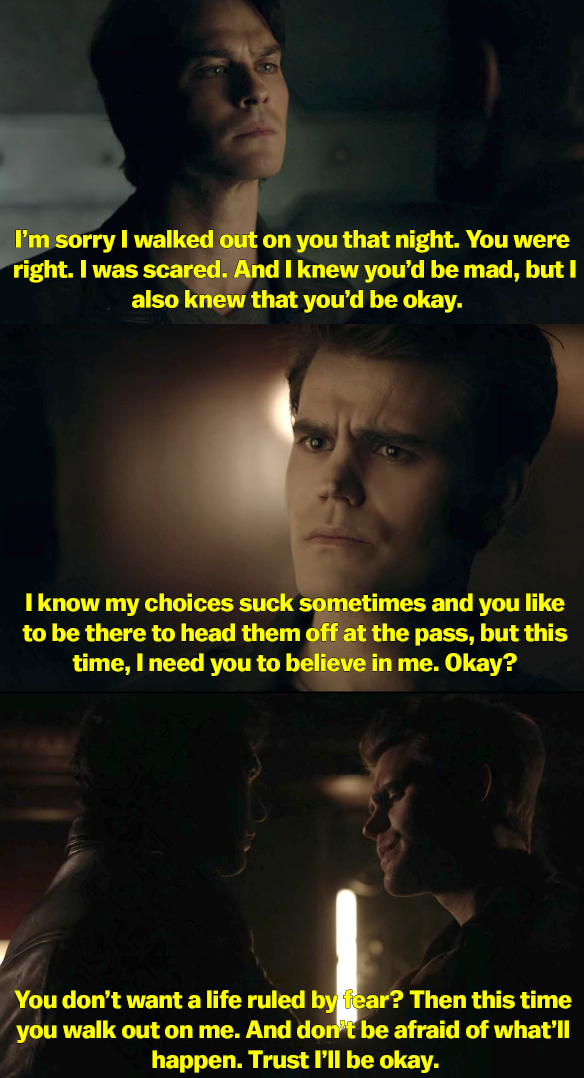 17.
But it wasn't just Damon who needed Stefan. Stefan needed Damon, too. Remember when Damon died and Stefan became a total dick at the start of Season 6, then went to his family crypt to talk about how lost he was?

18.
Or the time in Season 6 when Damon put his own feelings about their mother aside to convince her to lie to Stefan so that he'd get his humanity back.

19.
Or when he refused to let Stefan give up as he lay dying in Season 7, "confessing" to being selfish and not caring so that Stefan would be angry enough to get up and keep walking.

20.
In conclusion, Damon and Stefan were there for each other from the start. They had SO MUCH history together...

21.
...And in the end, when Damon died, he didn't find Elena in the afterlife. He found Stefan.