It's been 12 years, and A Very Potter Musical is still one of the funniest things on the internet. And I'm done keeping quiet about it.
I would know — I recently decided to rewatch it, and the entire thing had me in stitches. Here are 93 (yes, really, 93) of the absolutely funniest moments!
1.
When Harry was optimistic about the upcoming year: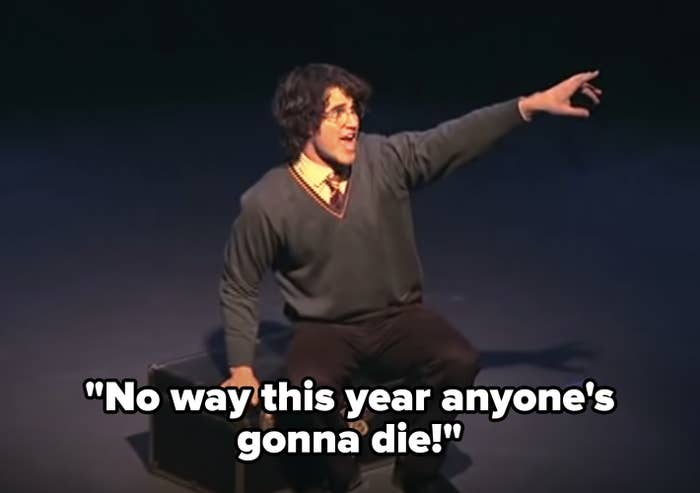 2.
When the musical pointed out how messed up it was that the only Asian character was named Cho Chang: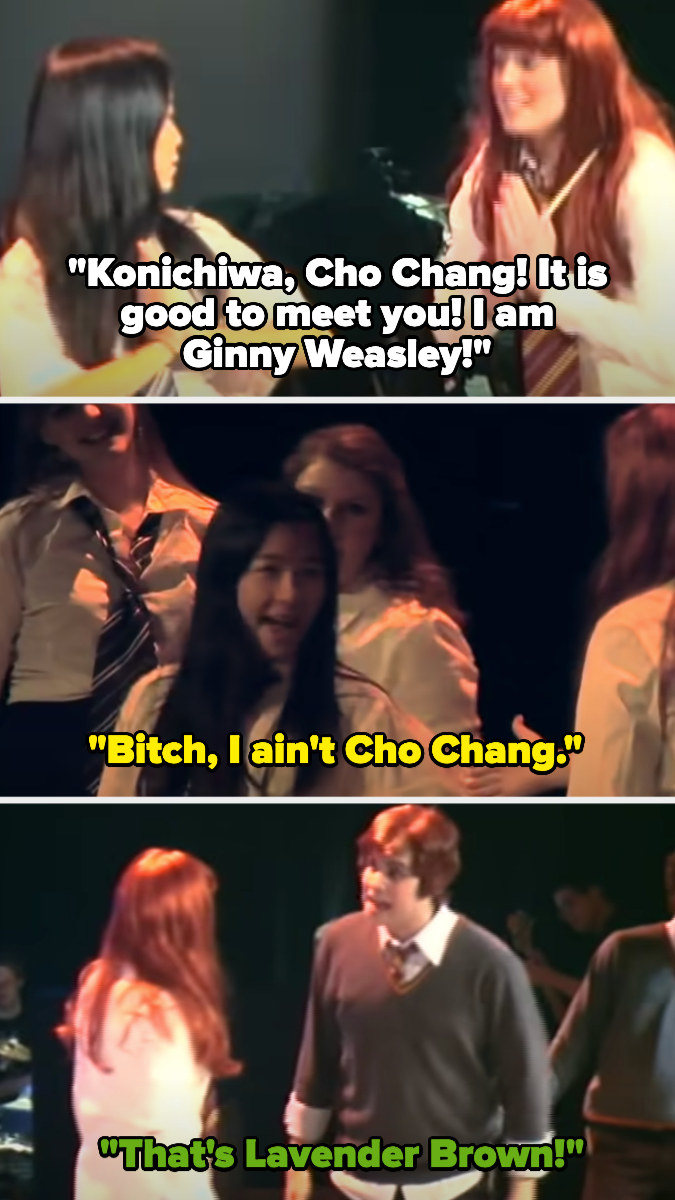 3.
When Draco was introduced in the best possible way: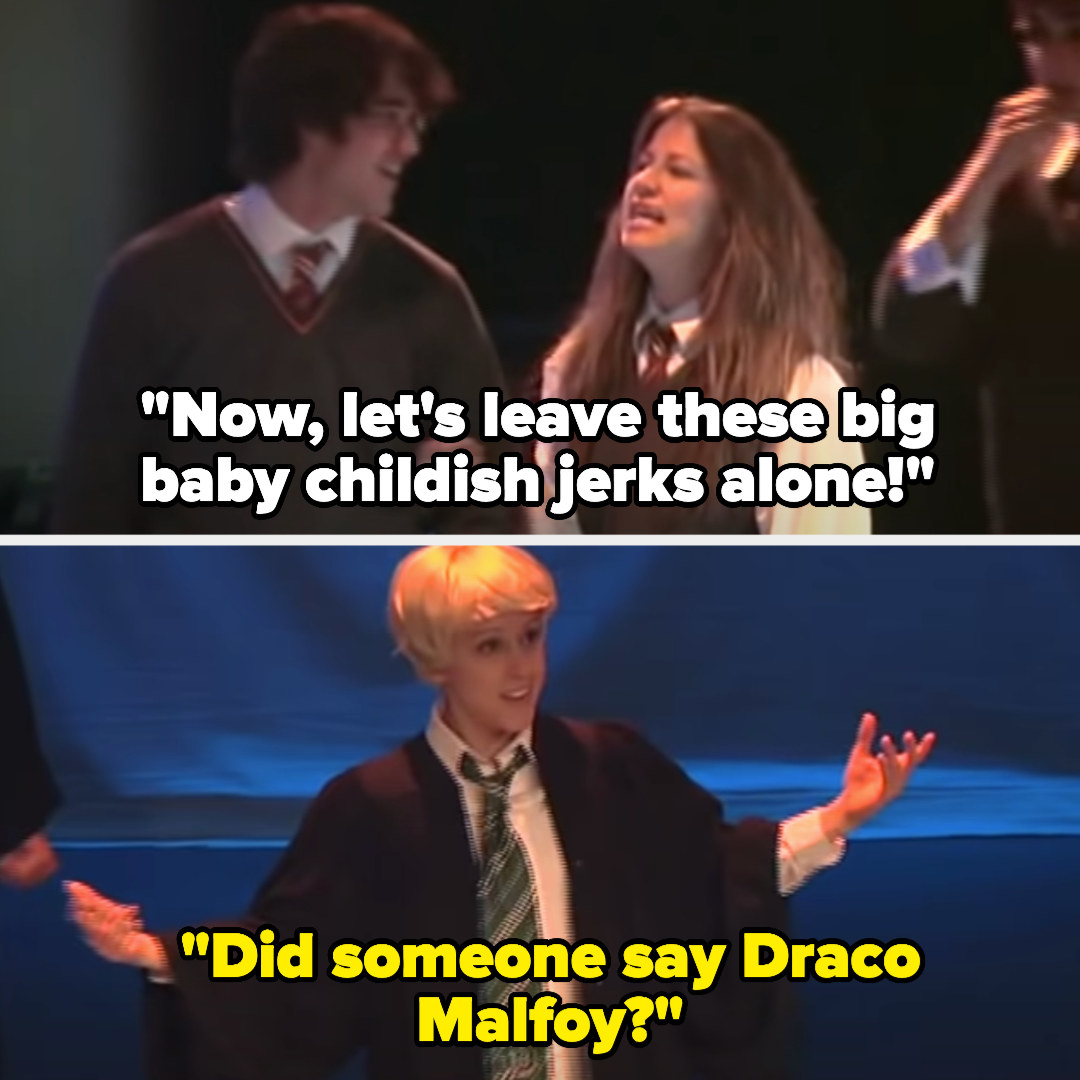 4.
And when he revealed his plans to transfer: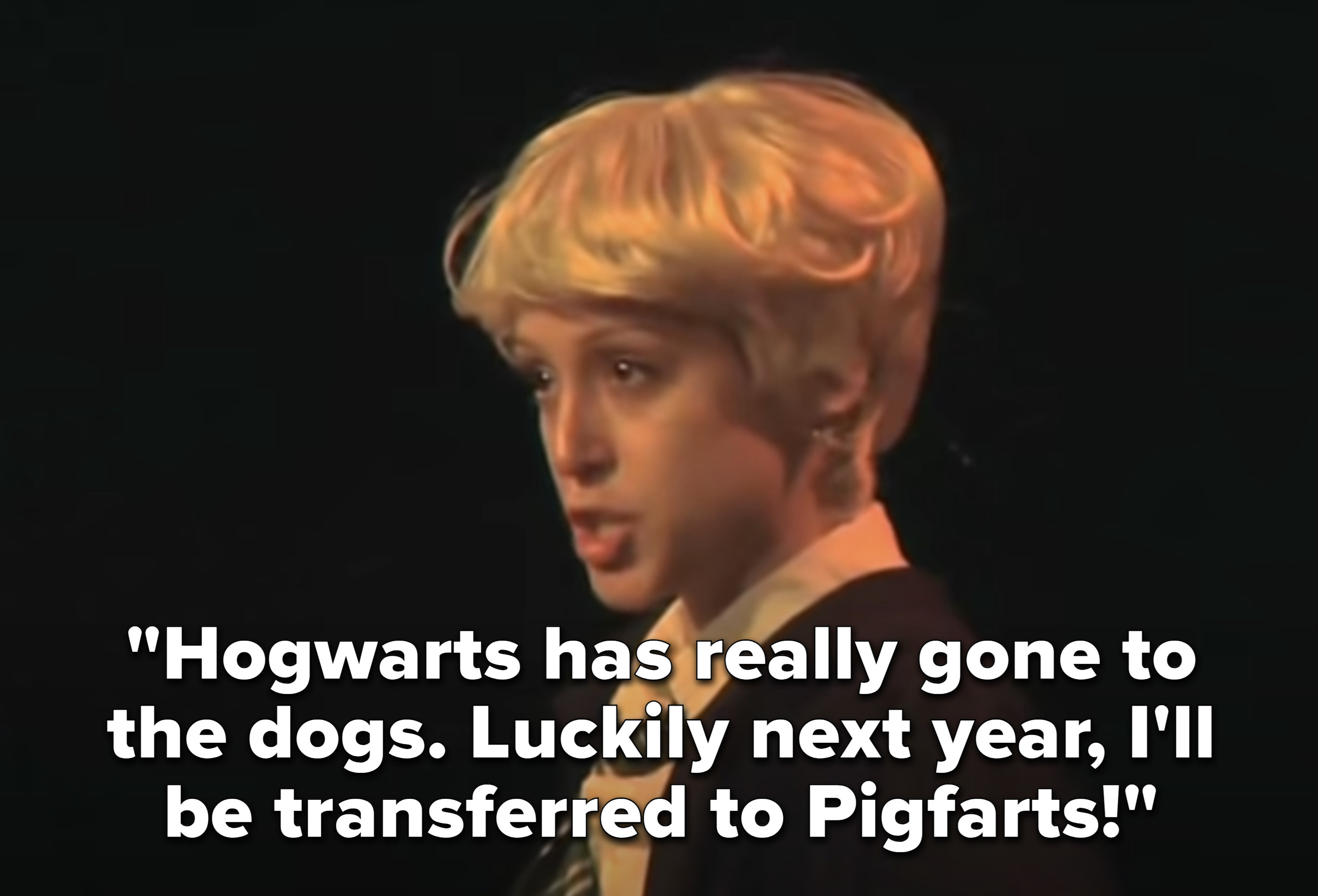 5.
When Dumbledore entered and threw candy canes: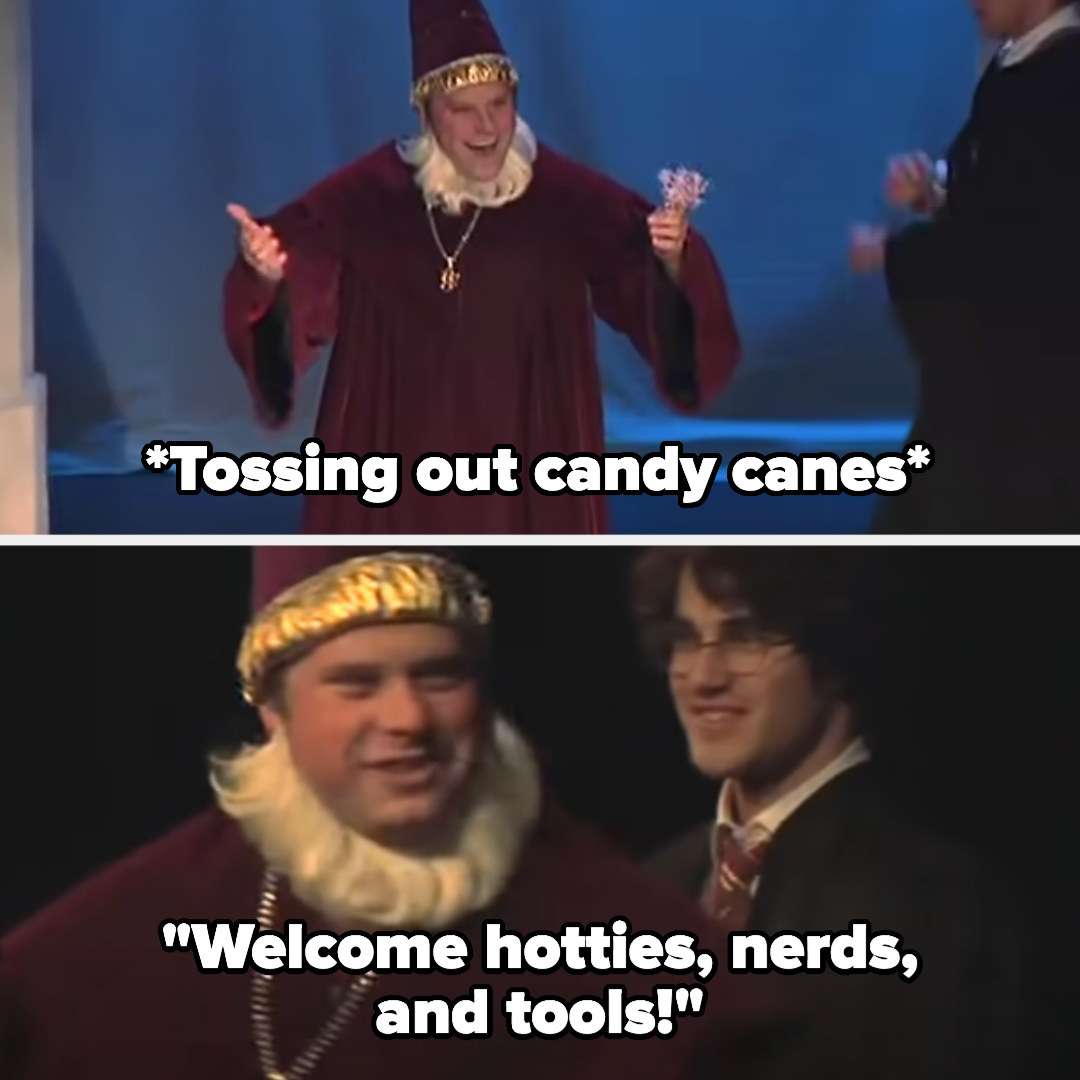 6.
And when he wasn't afraid to hide his favoritism toward Harry: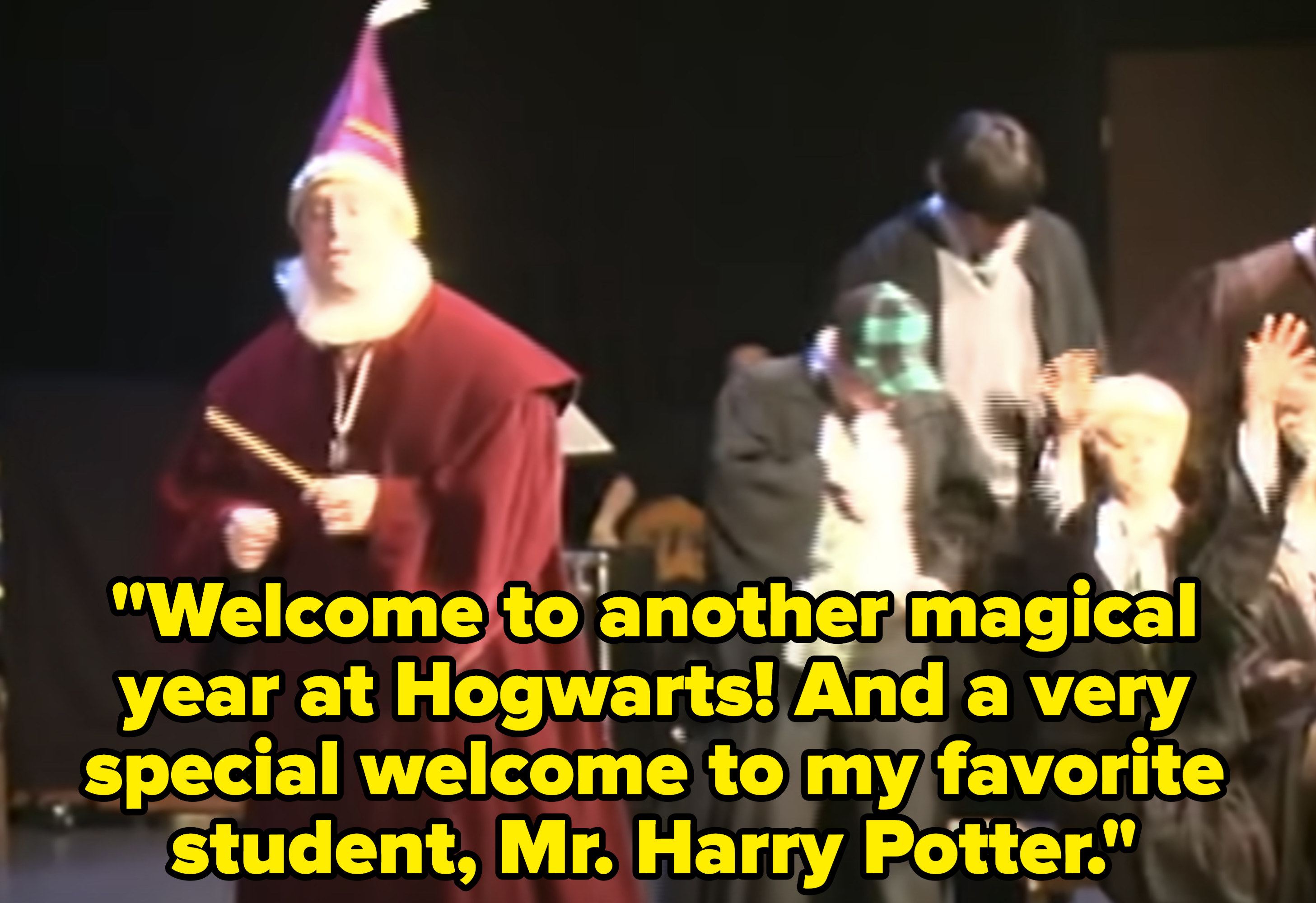 8.
When Dumbledore had a pretty simple sorting system: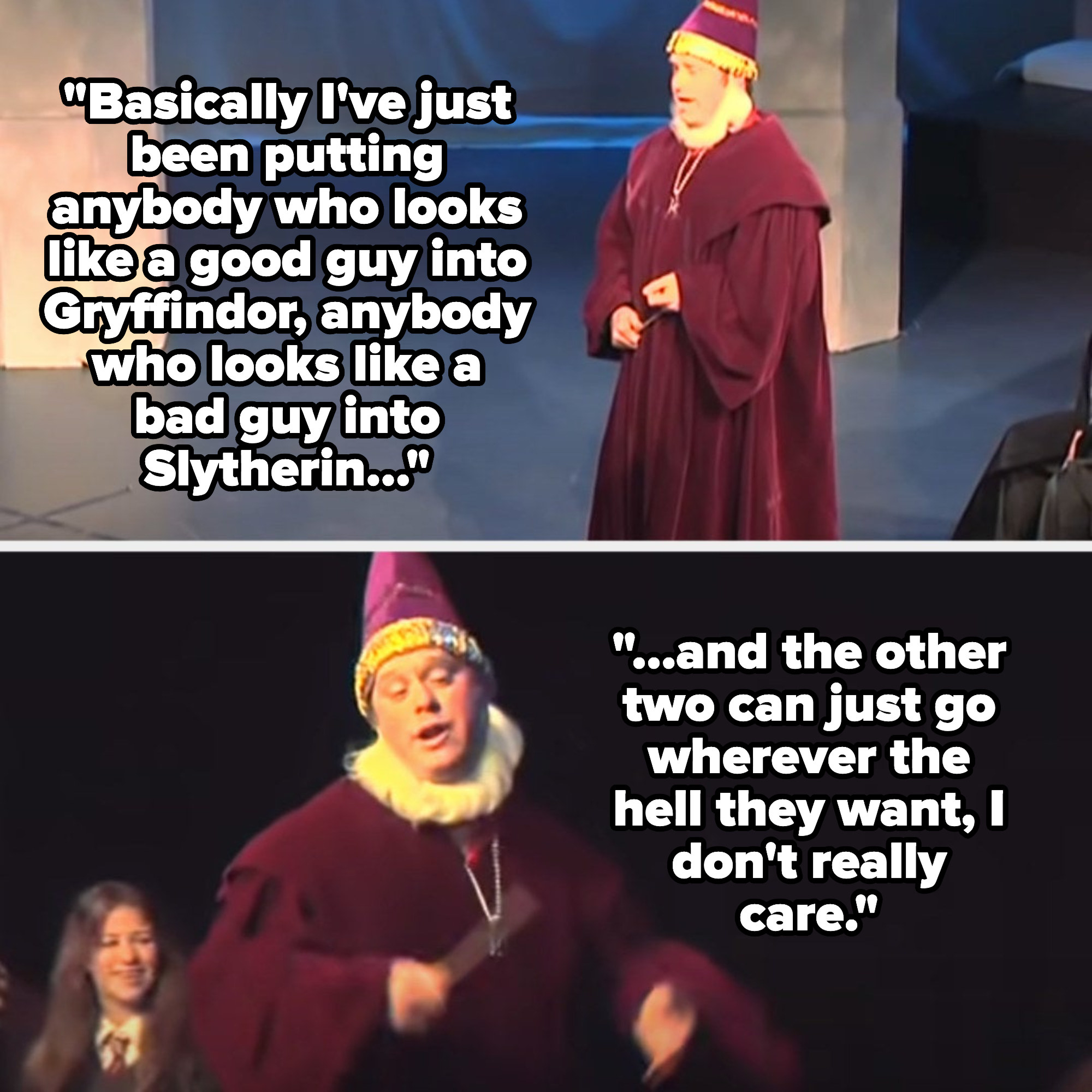 9.
When Snape did some foreshadowing that was not at all obvious: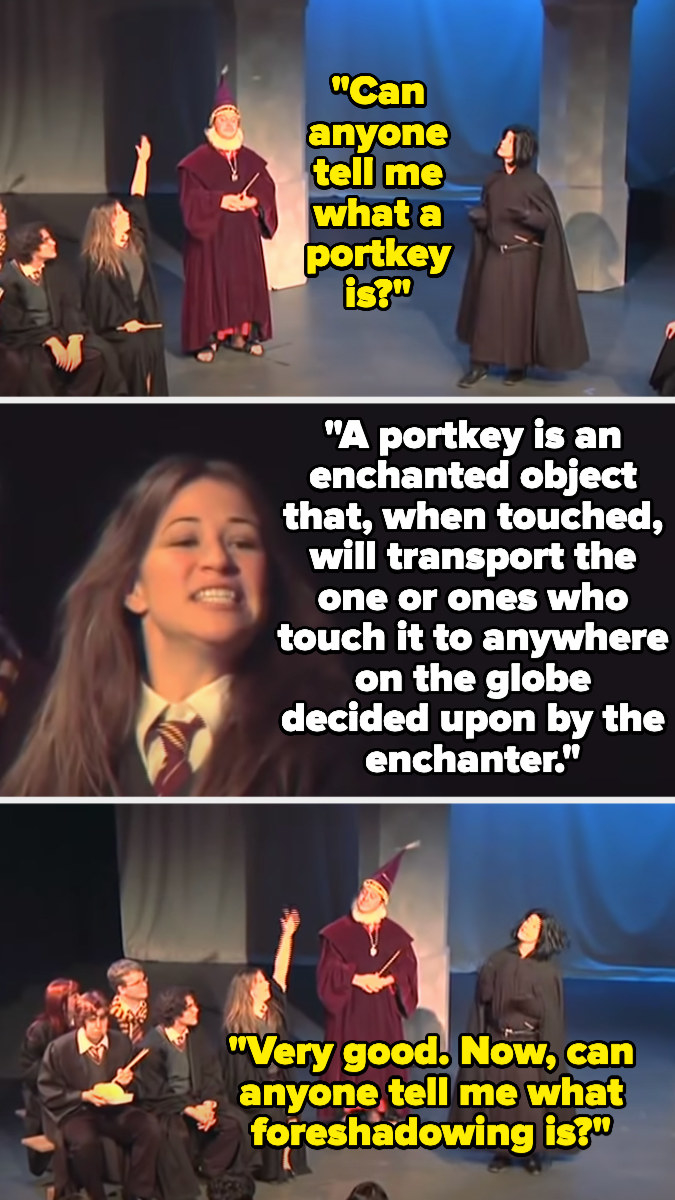 10.
When Snape made a pointed comment at Ron: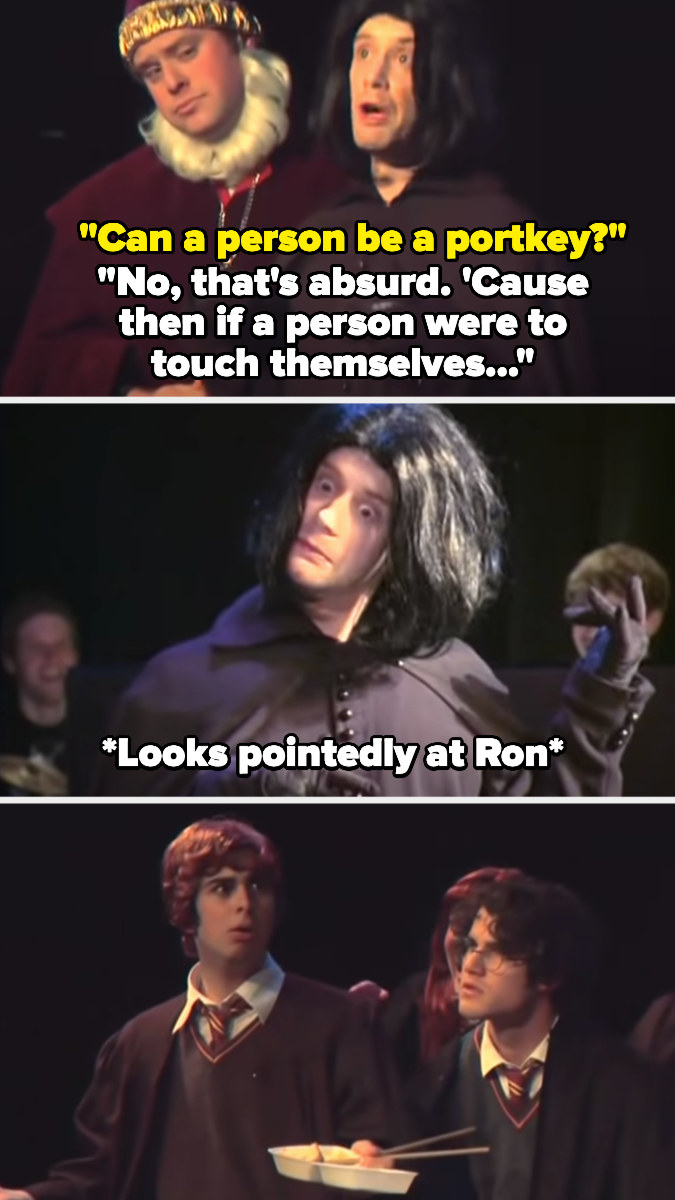 11.
When Snape mentioned horcruxes way too early: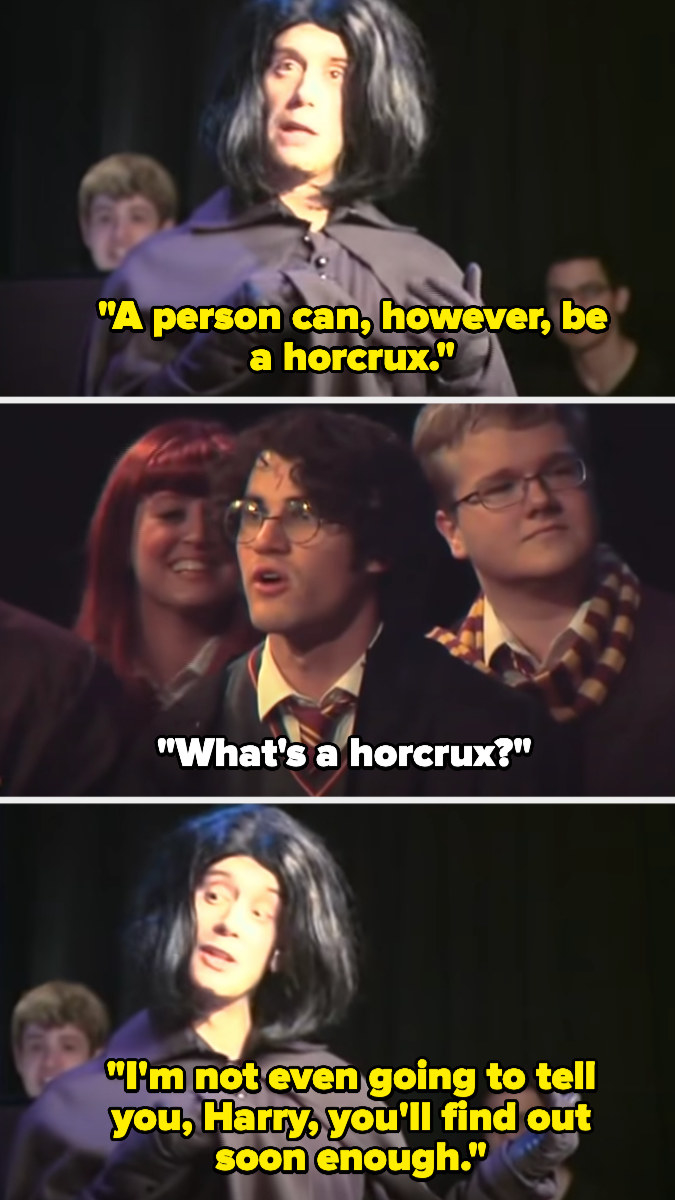 12.
When Quirrell shaded the plot of the entire fourth Harry Potter book:
13.
When Voldemort sneezed on the back of Quirrell's head: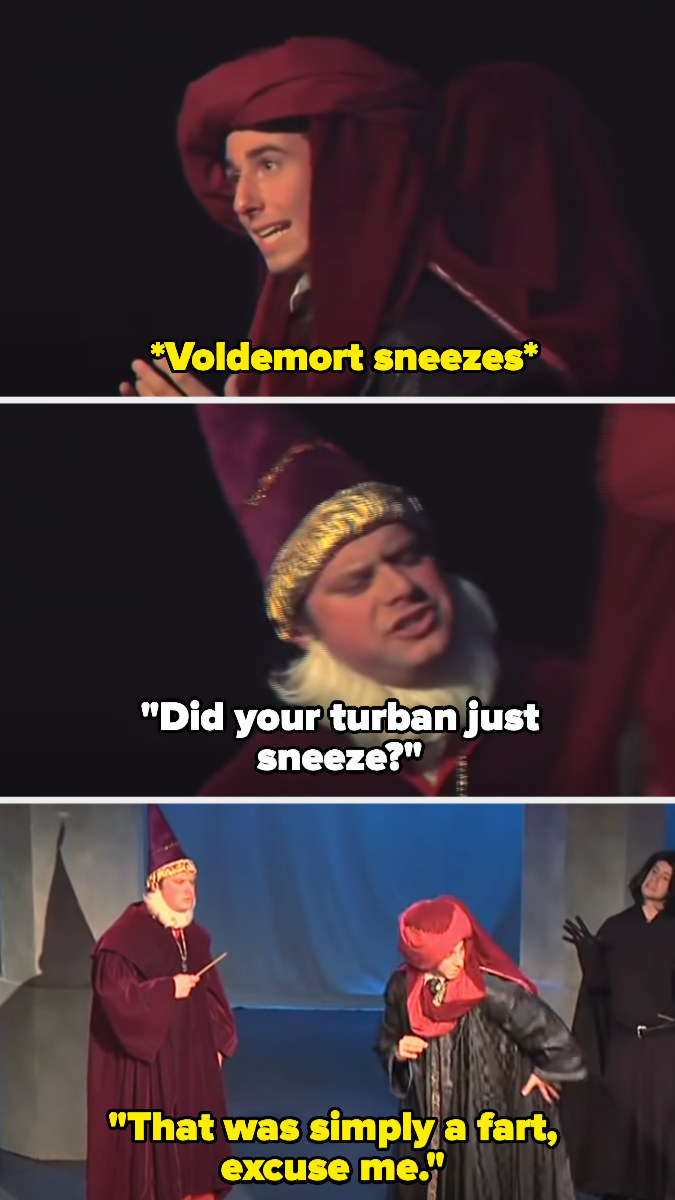 14.
When Harry had the perfect comeback for Hermione: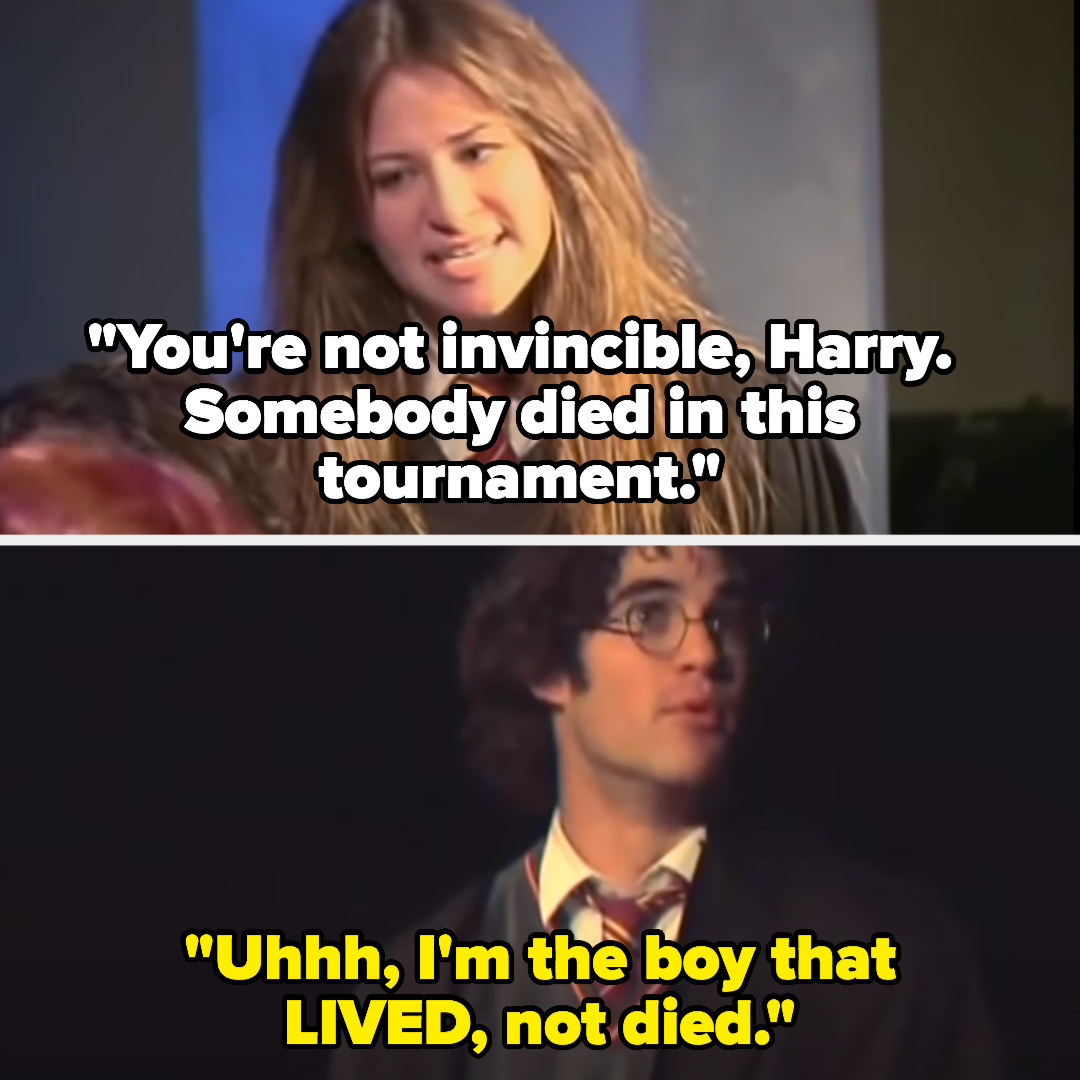 15.
When Harry was Dumbledore's man through and through: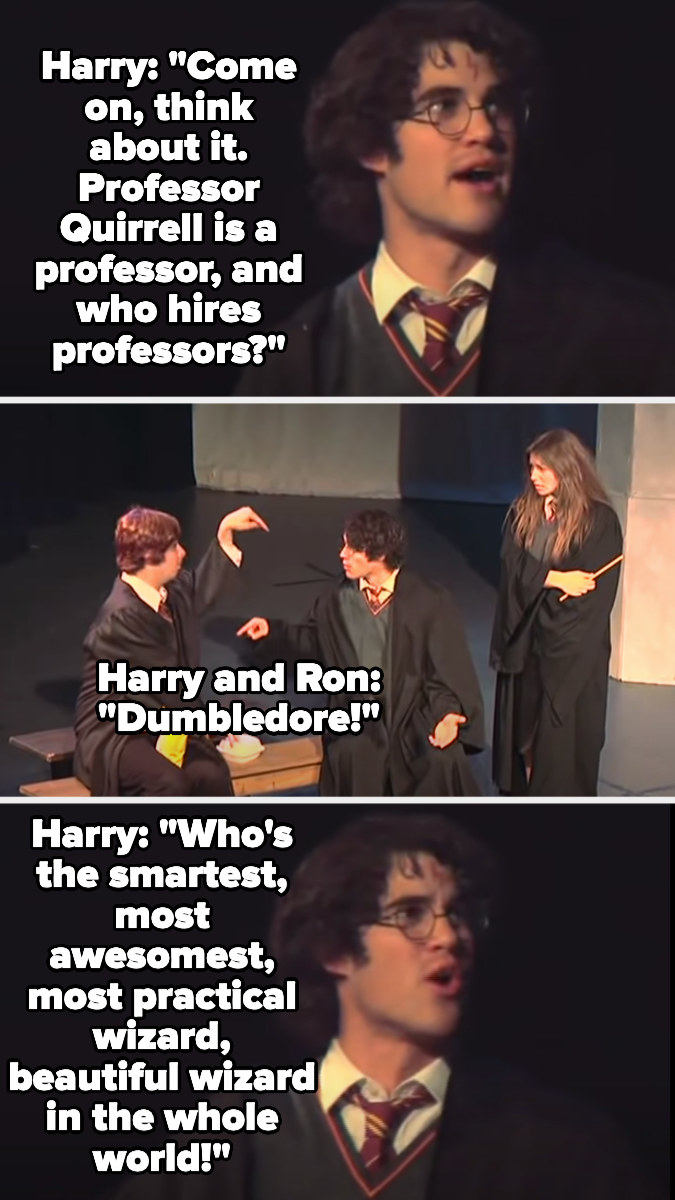 16.
When Hermione was suspicious of Harry's name coming out of the cup and meanwhile made a joke about the show's small cast: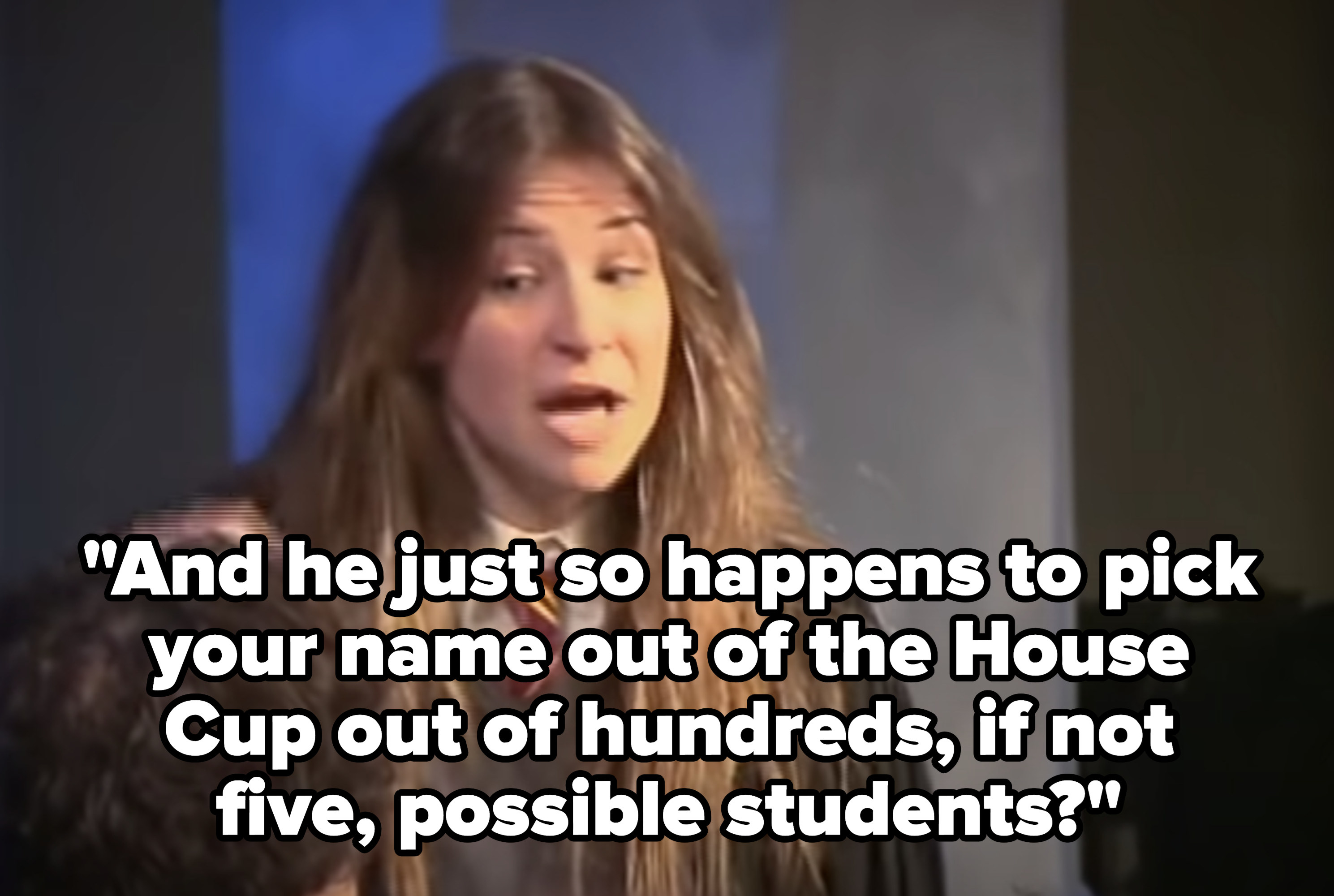 17.
When Ron called Neville "schlongbottom":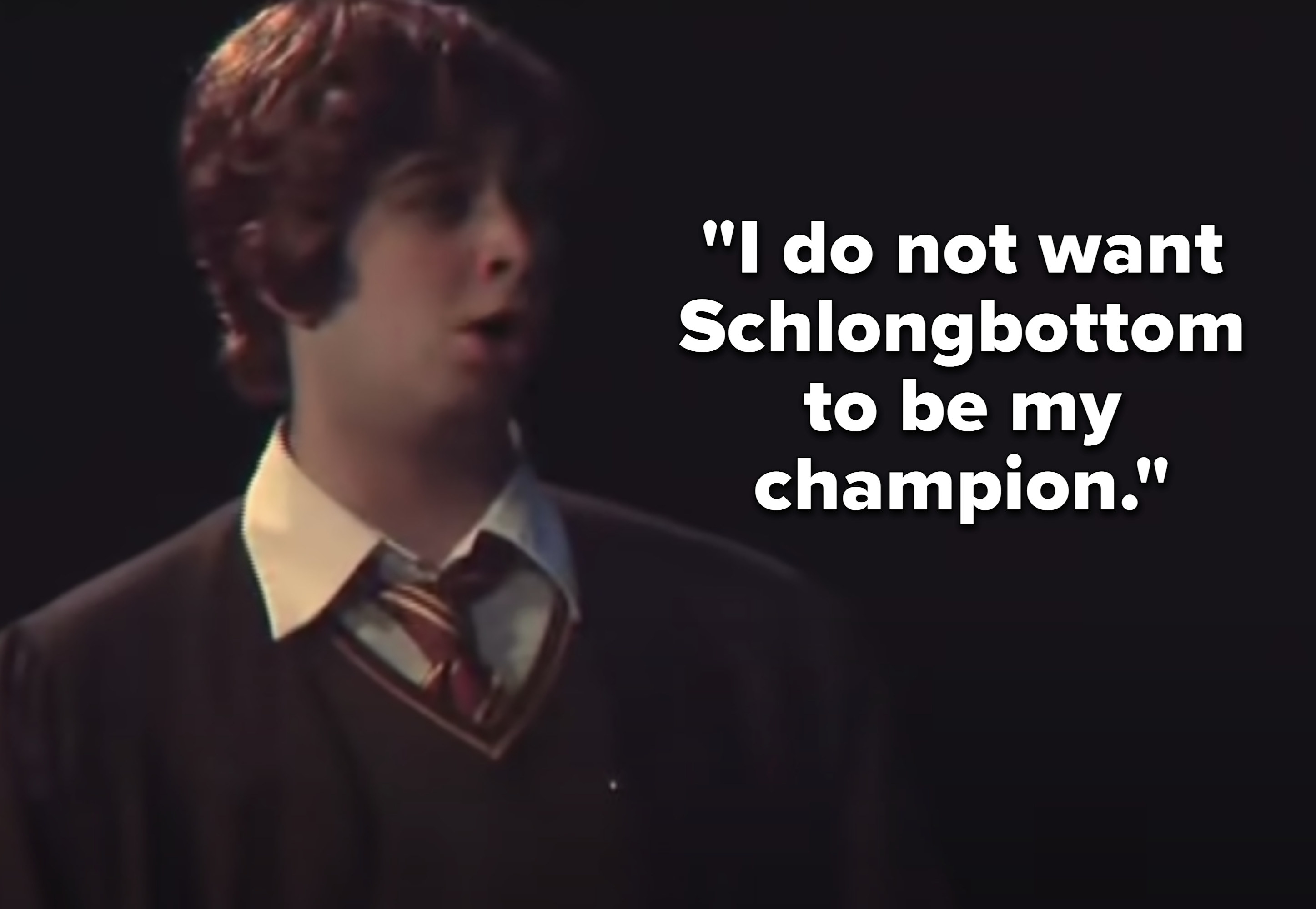 18.
When Hermione was trying to convince Dumbledore that Snape was trying to put Harry in danger, and Dumbledore wasn't having it: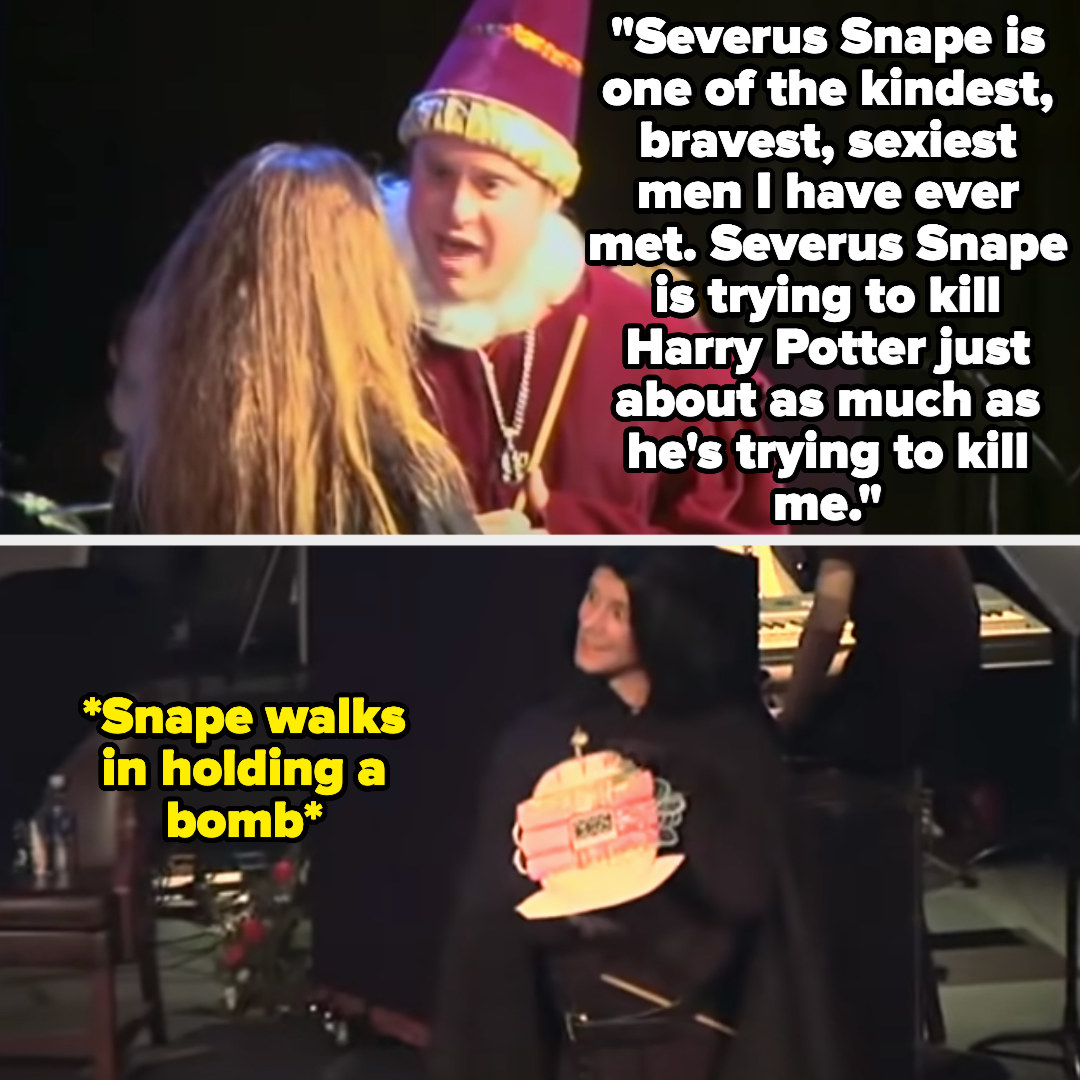 19.
When Dumbledore made this great pun: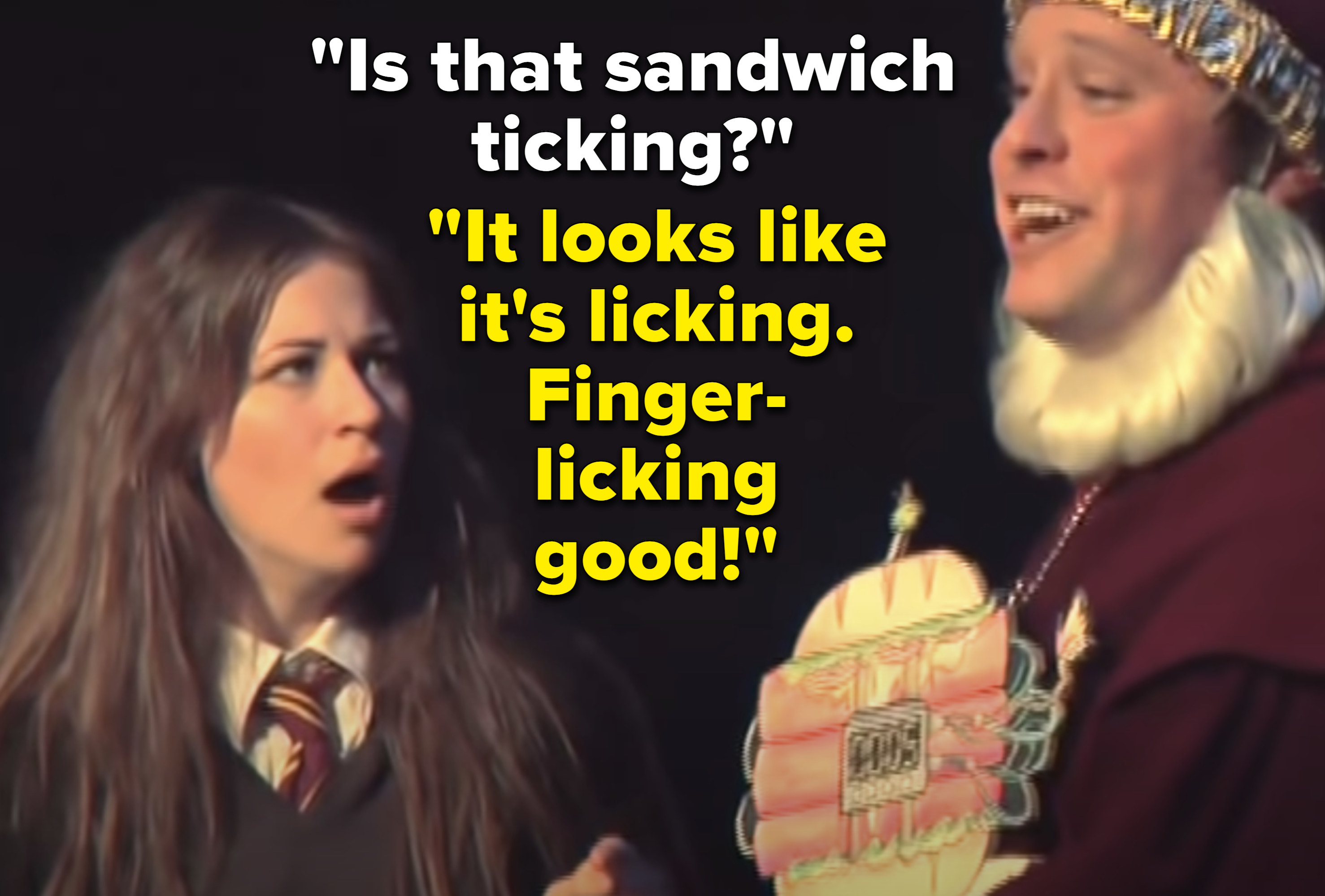 20.
When Hermione asked what would happen if Harry dropped out of the tournament (a question that wasn't answered in the books) and Dumbledore made an incredible Ghostbusters reference:
21.
When Malfoy entered like this: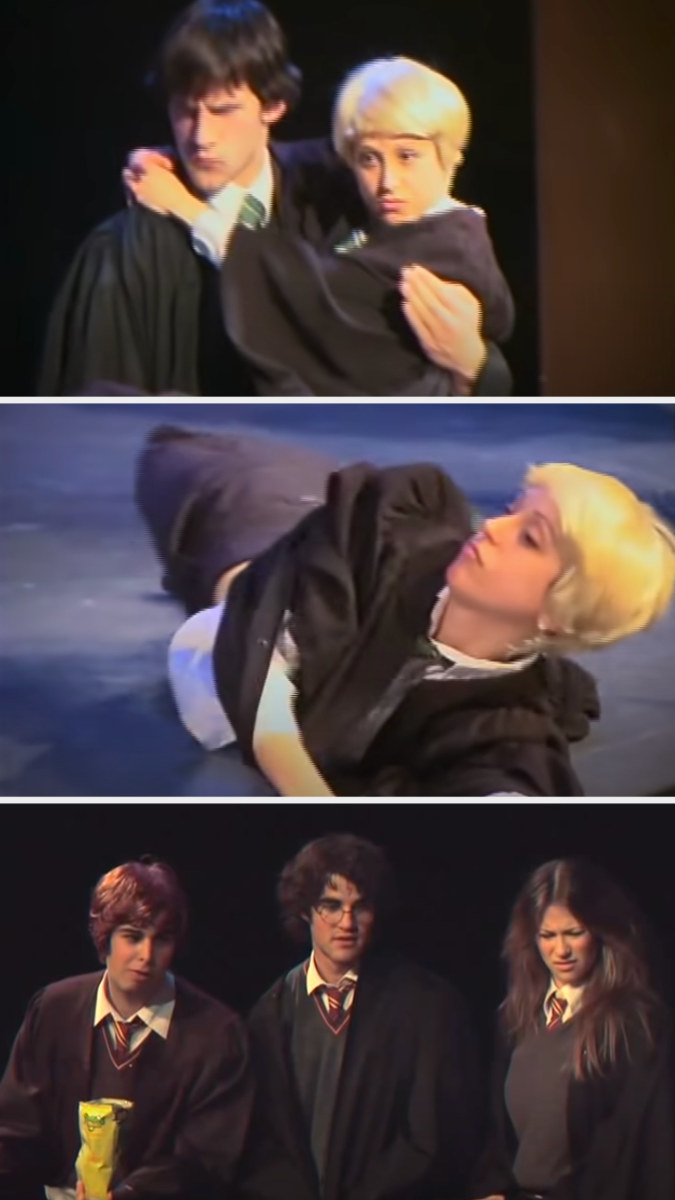 22.
When Malfoy was really brave: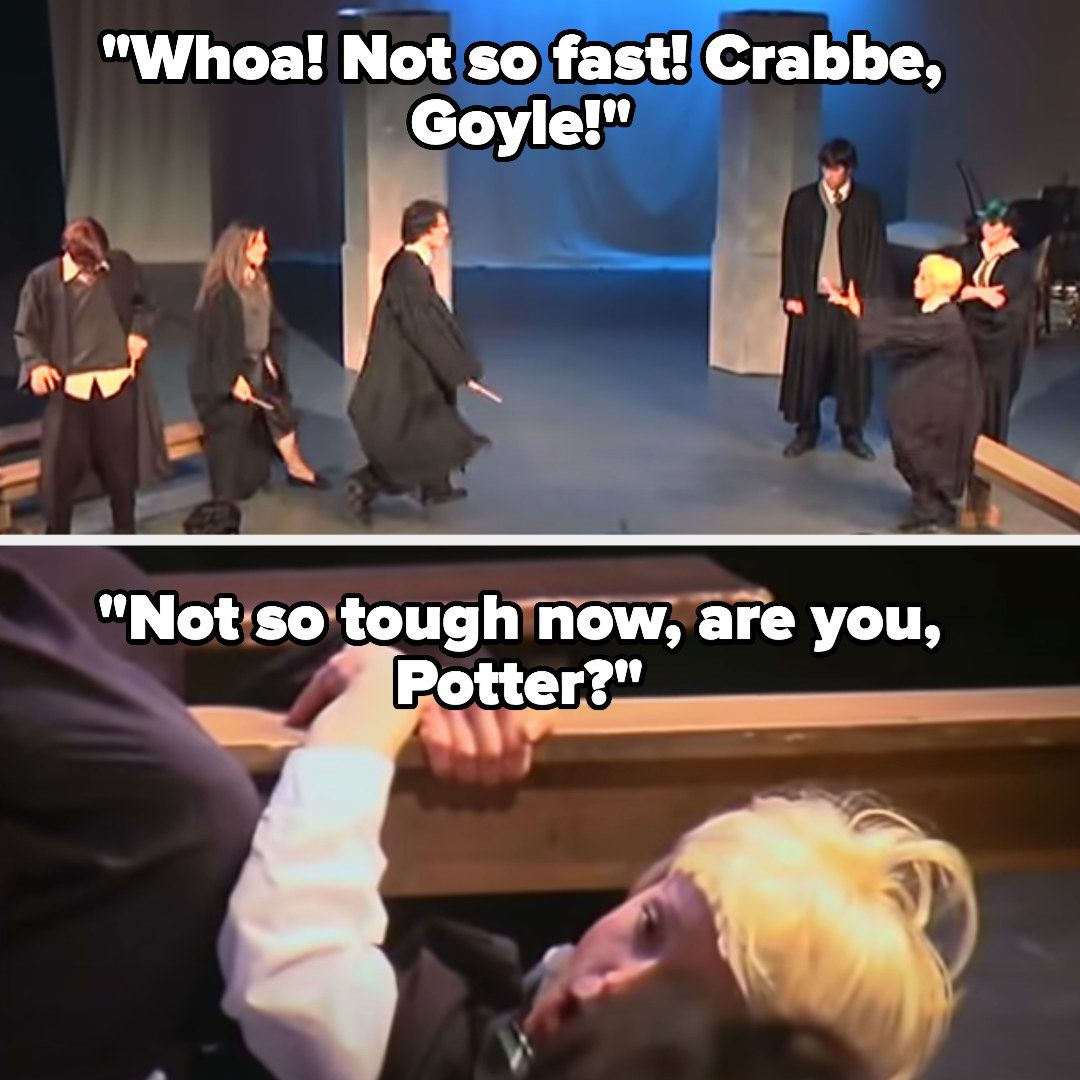 23.
When Hermione's curse was extremely literal: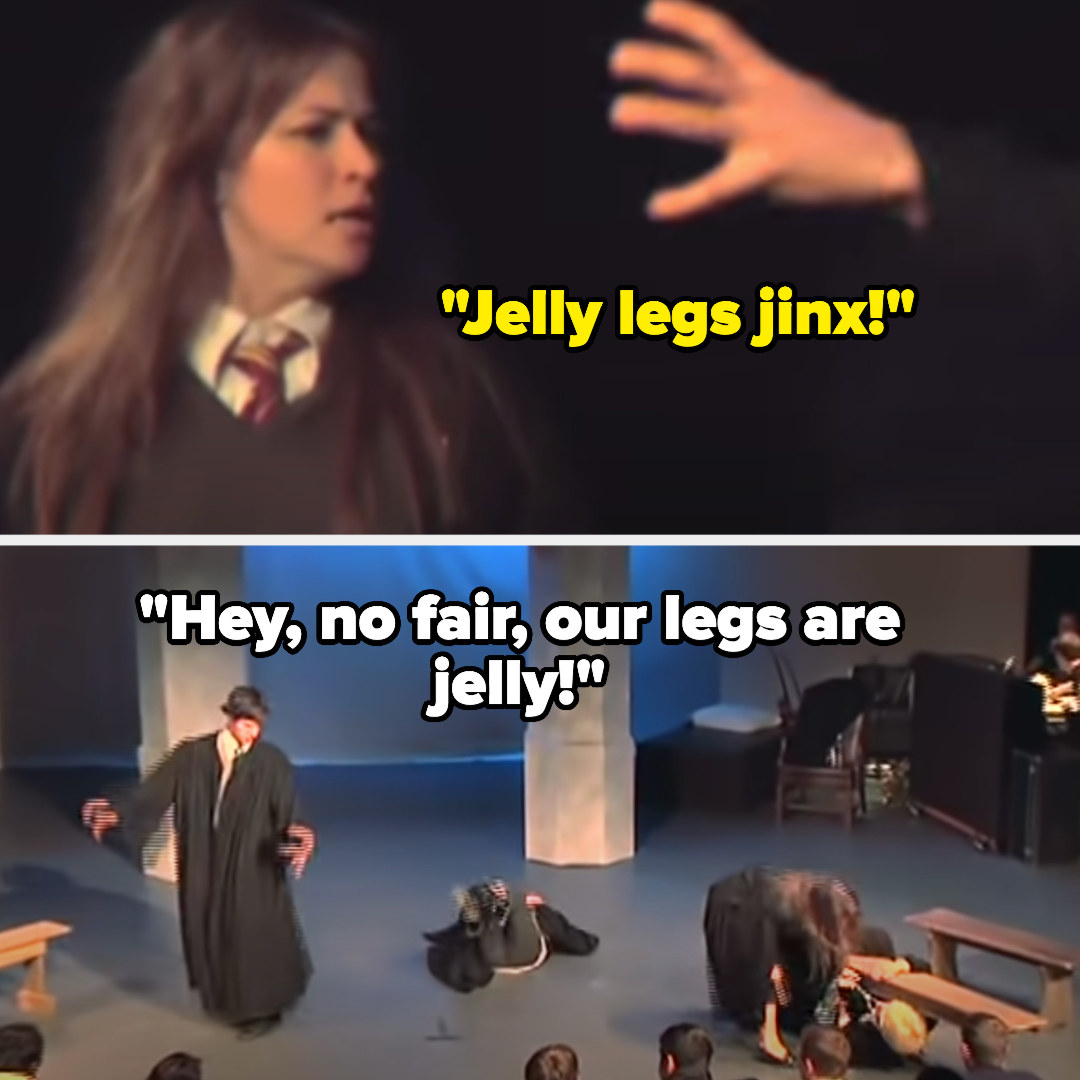 24.
When Ron wanted to set the record straight on him and Hermione: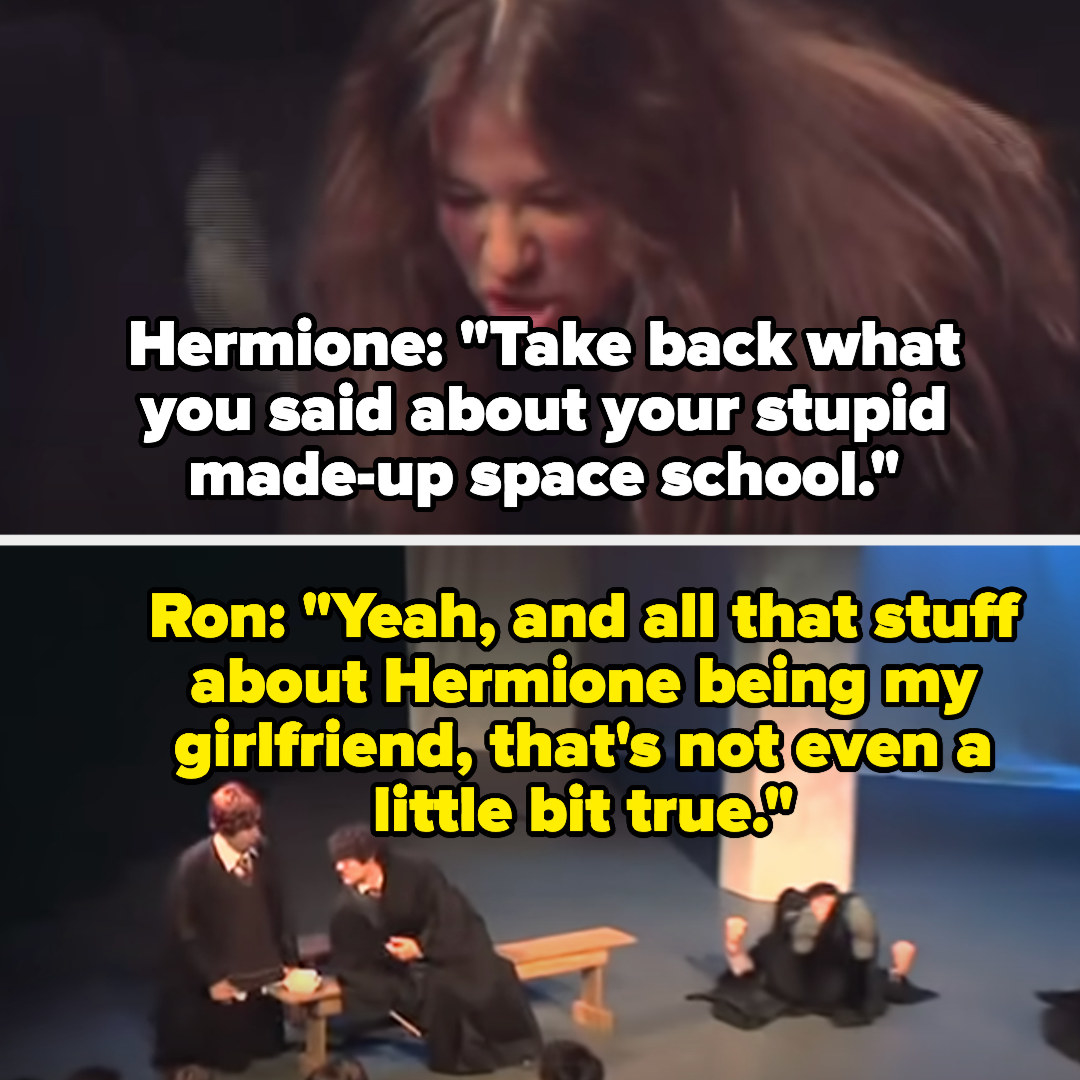 25.
When Quirrell tried to feed Voldemort water:
26.
When Voldemort needed some allergy meds: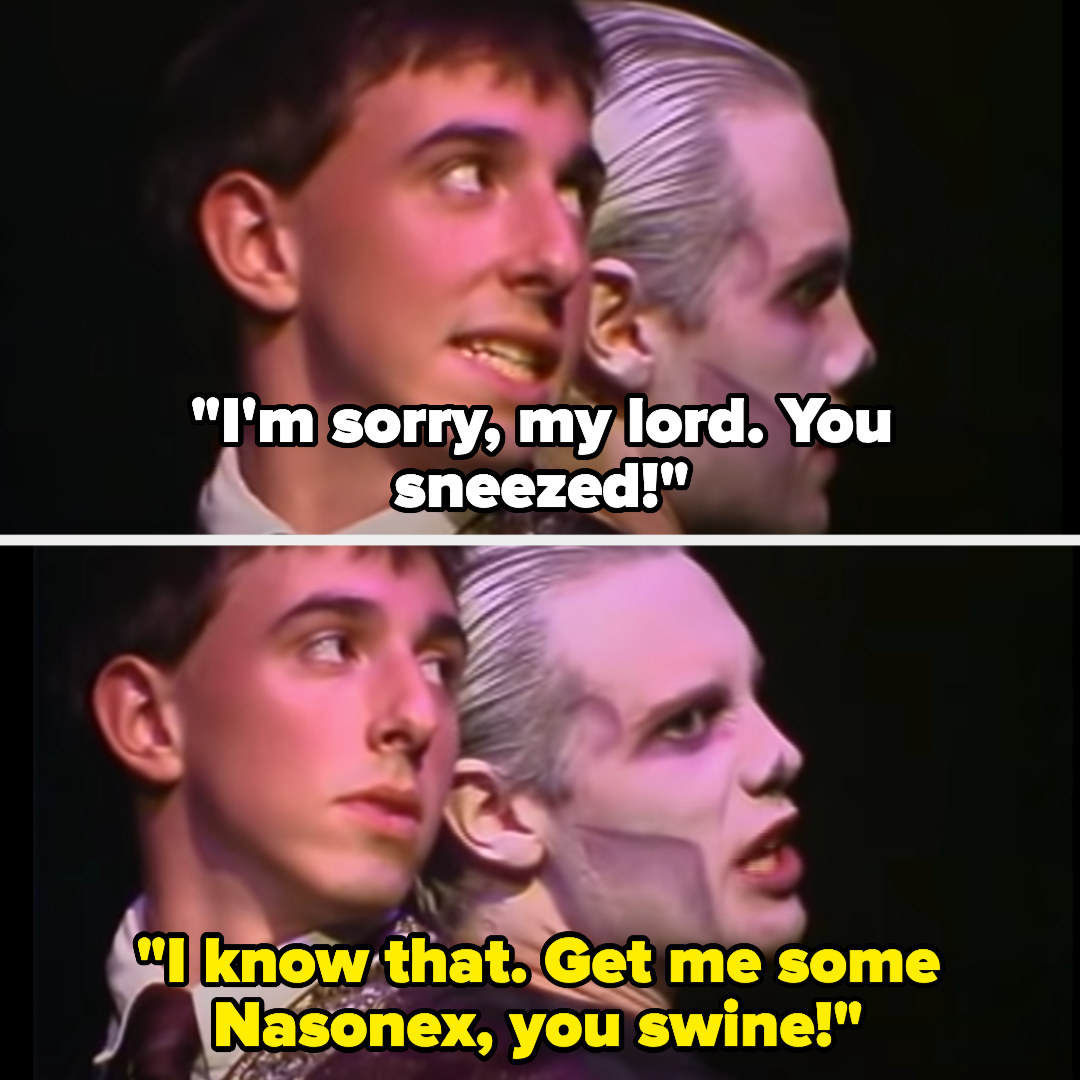 27.
When Voldemort decided they were past titles: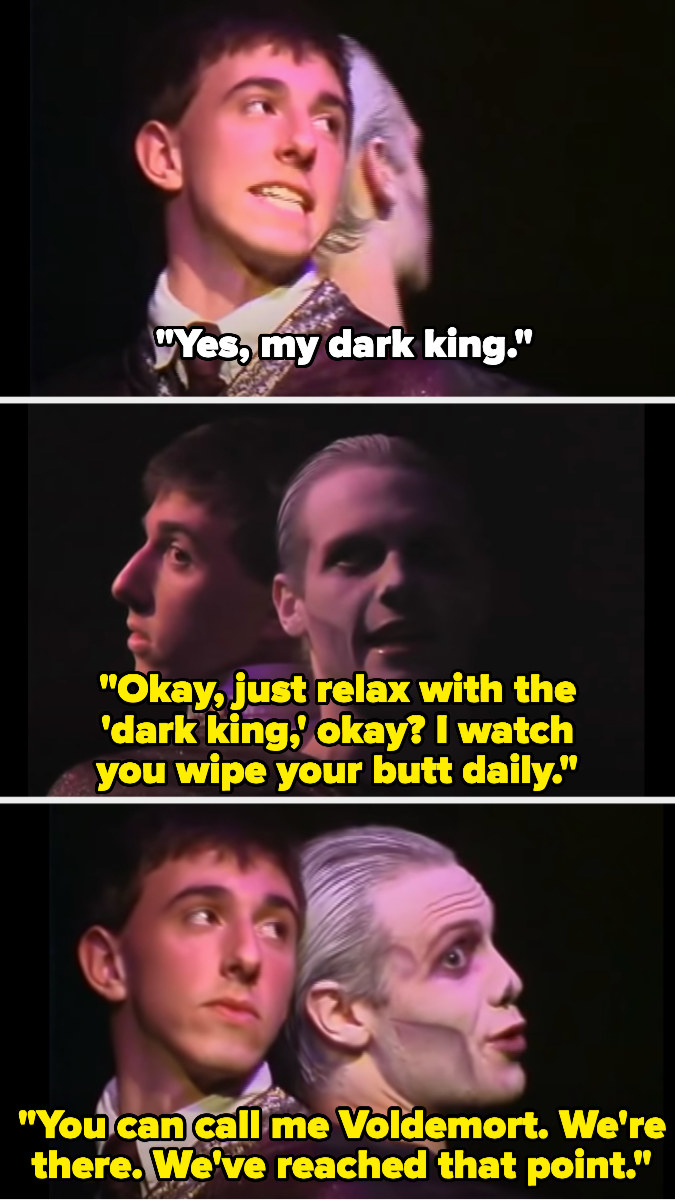 28.
When Voldemort was picky about his sleeping position: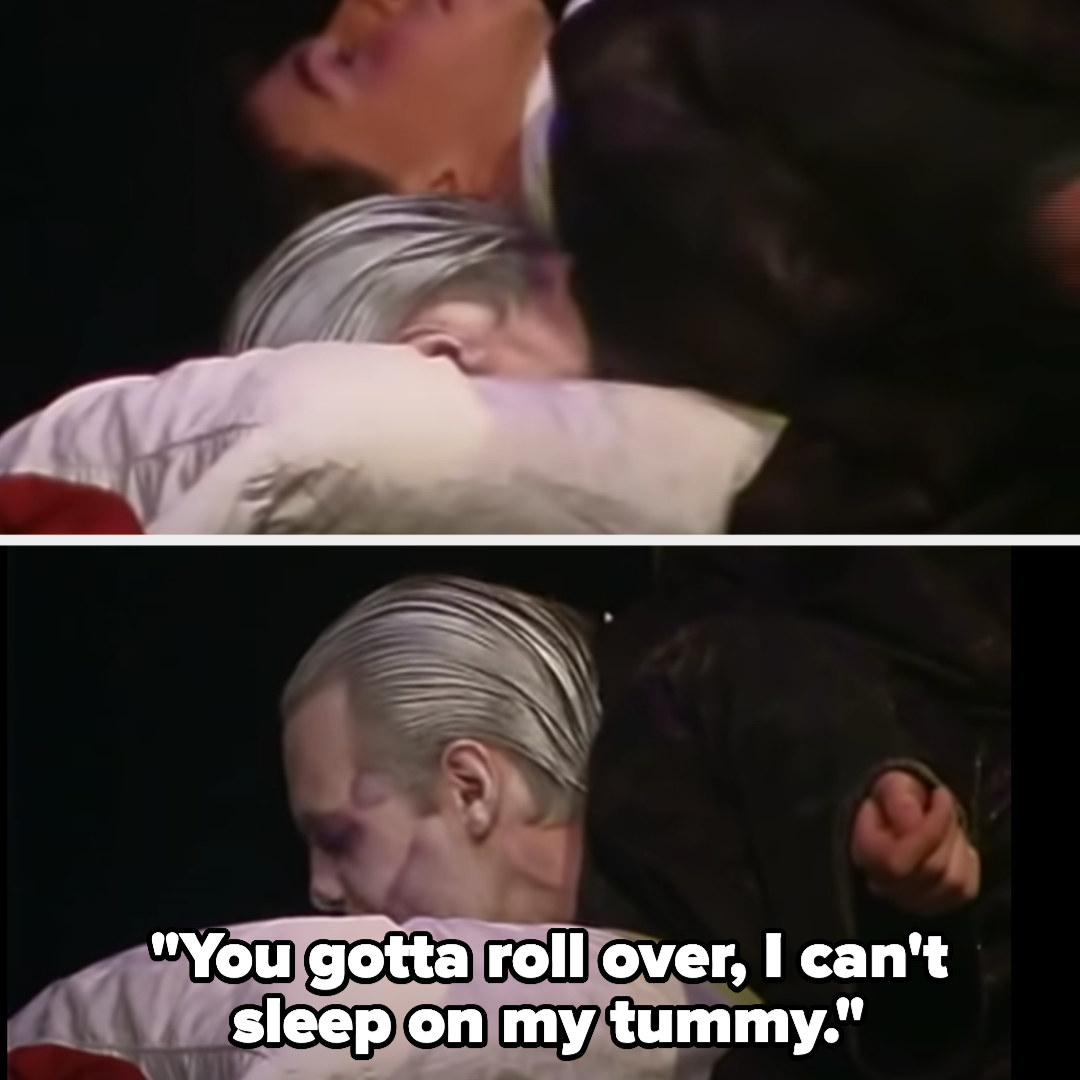 29.
When Voldemort was bothered by Quirrell's messy room: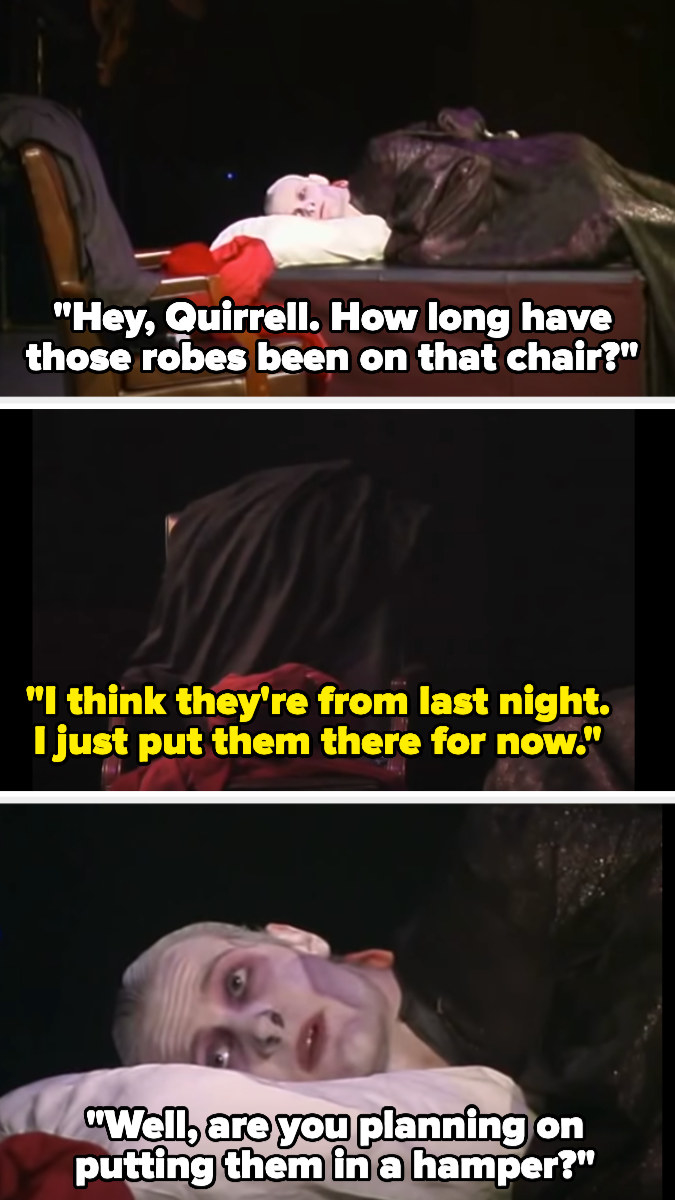 30.
When Harry didn't want to prep for the tournament: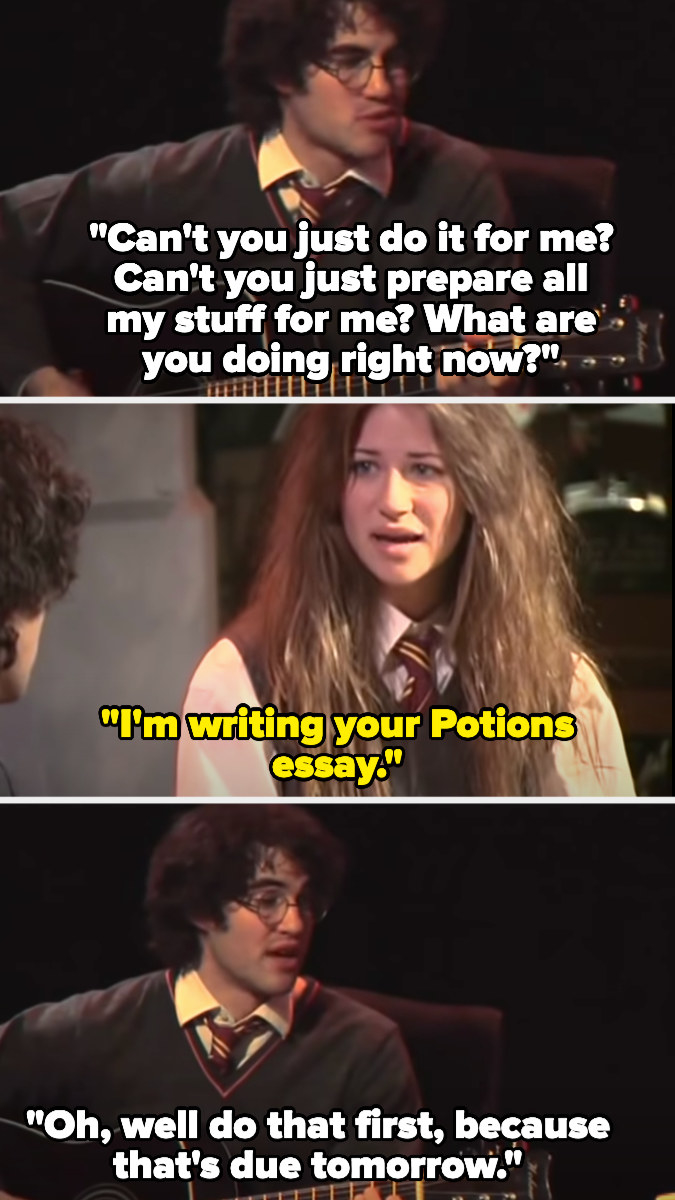 31.
When Harry decided to make his song for Cho informative as well as catchy: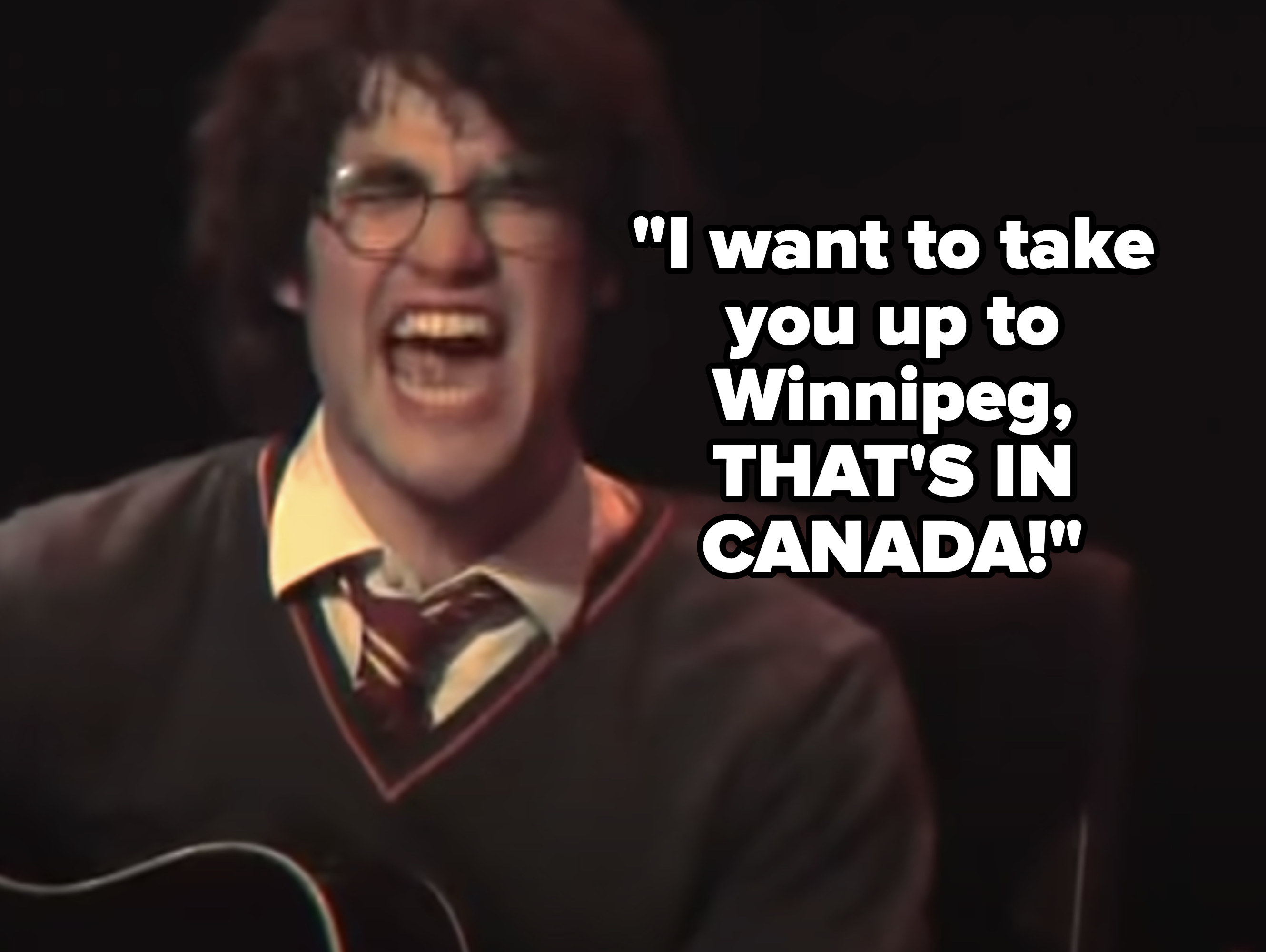 32.
When Harry was a little more specific than he needed to be about Cho: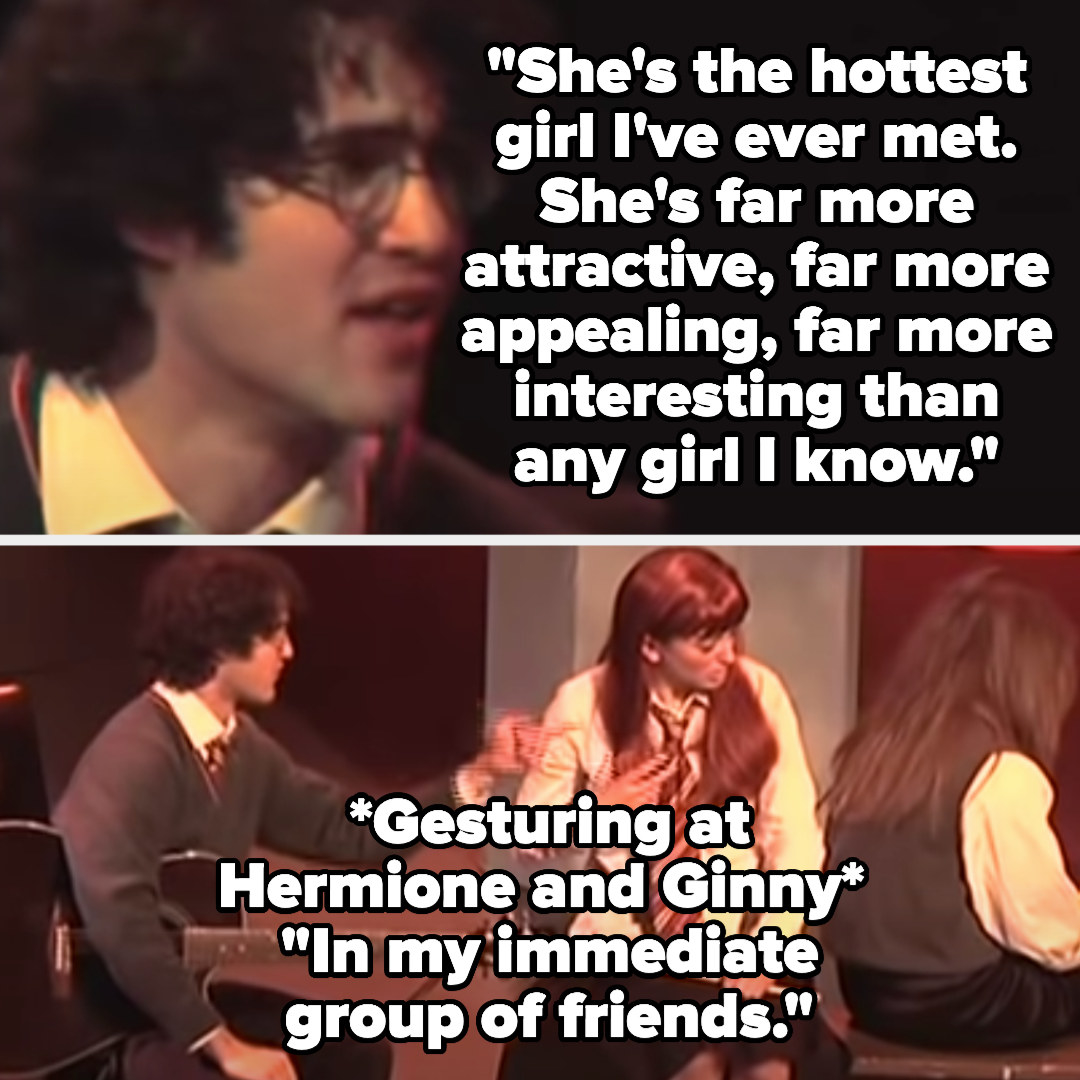 33.
When Ron broke the fourth wall: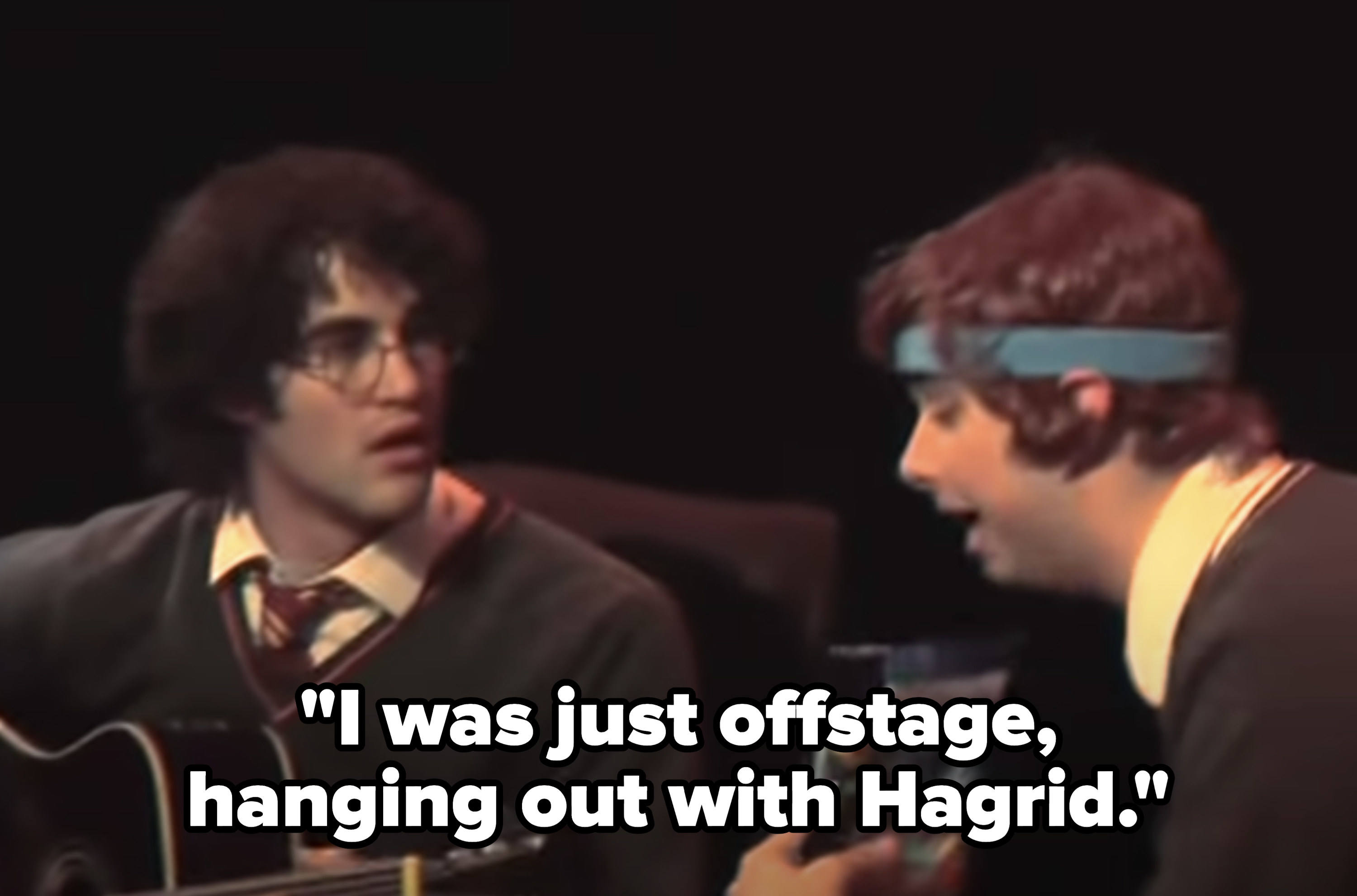 34.
When Harry made SURE we knew his dad was dead: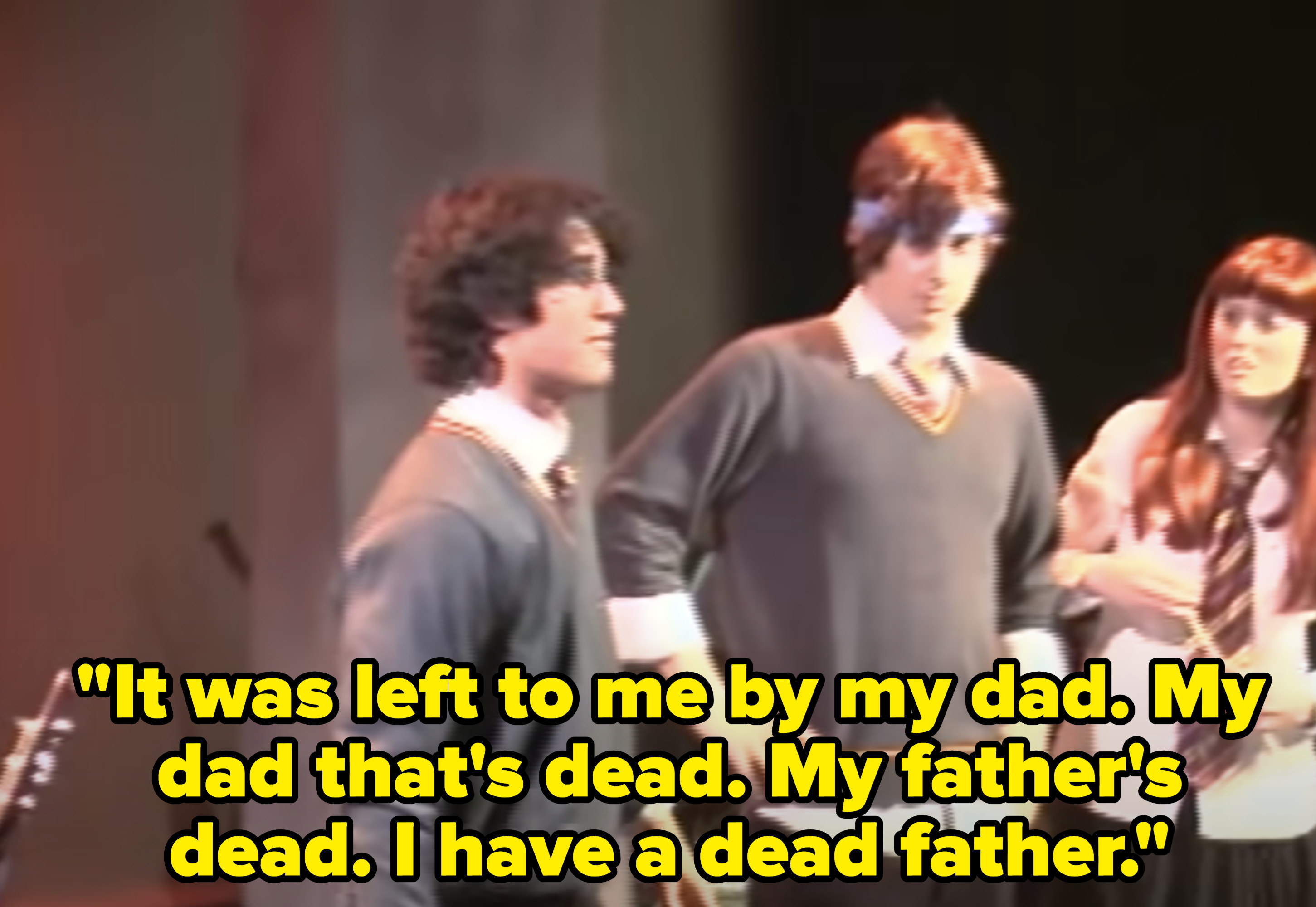 35.
When Voldemort encouraged Quirrell to have fun: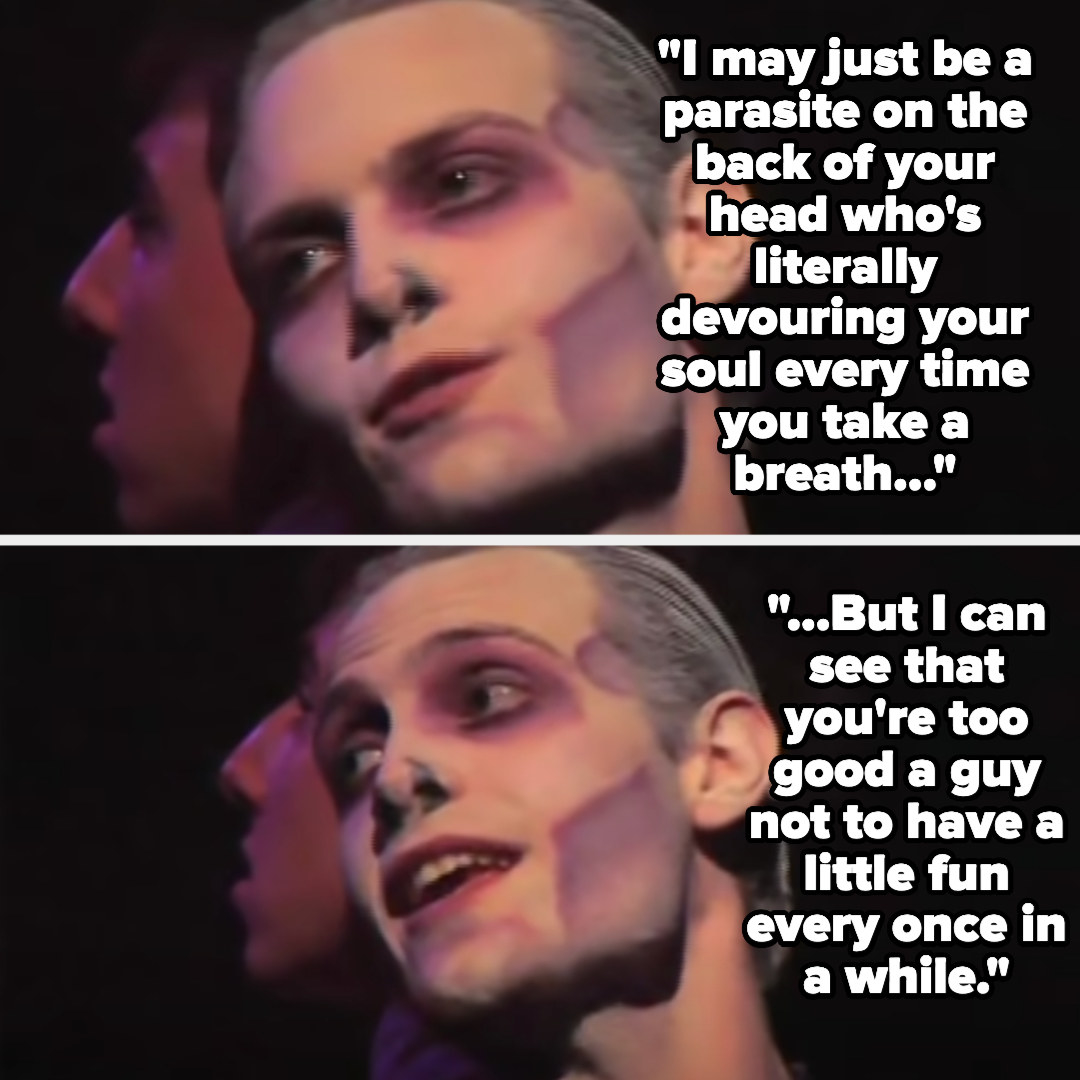 36.
When Malfoy was a little confused about his feelings about Hermione: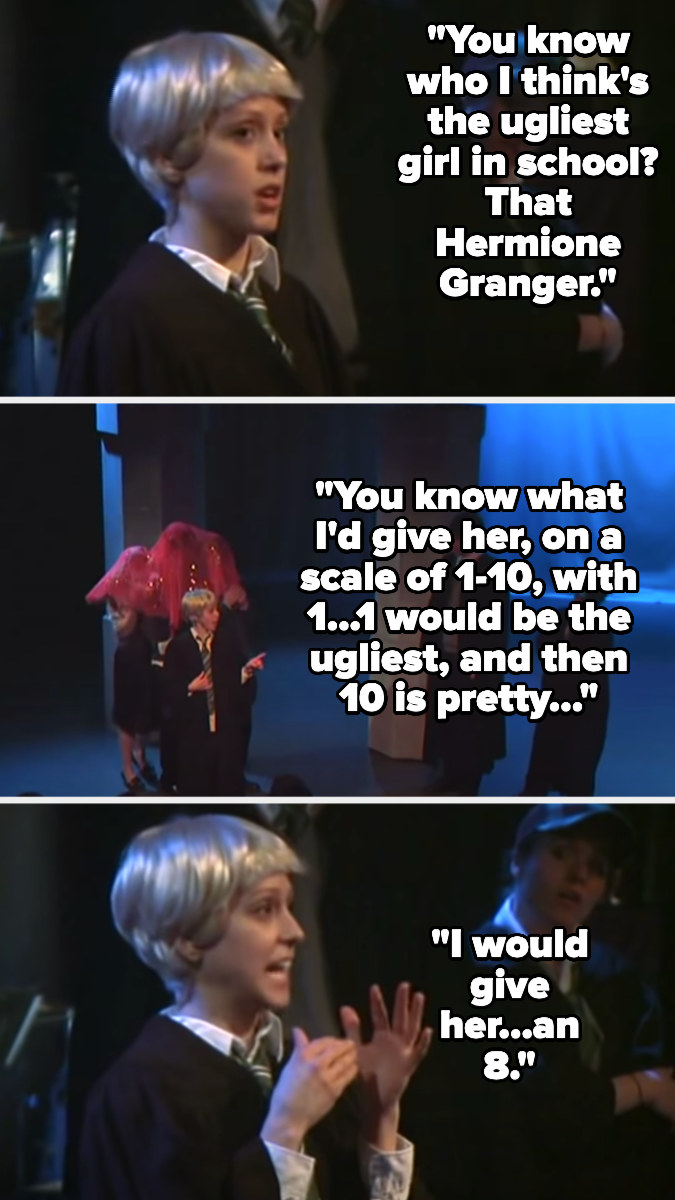 37.
When Harry, Ron, and Hermione were trying to figure out what the first task was, and Harry got worried that it was fighting a goat: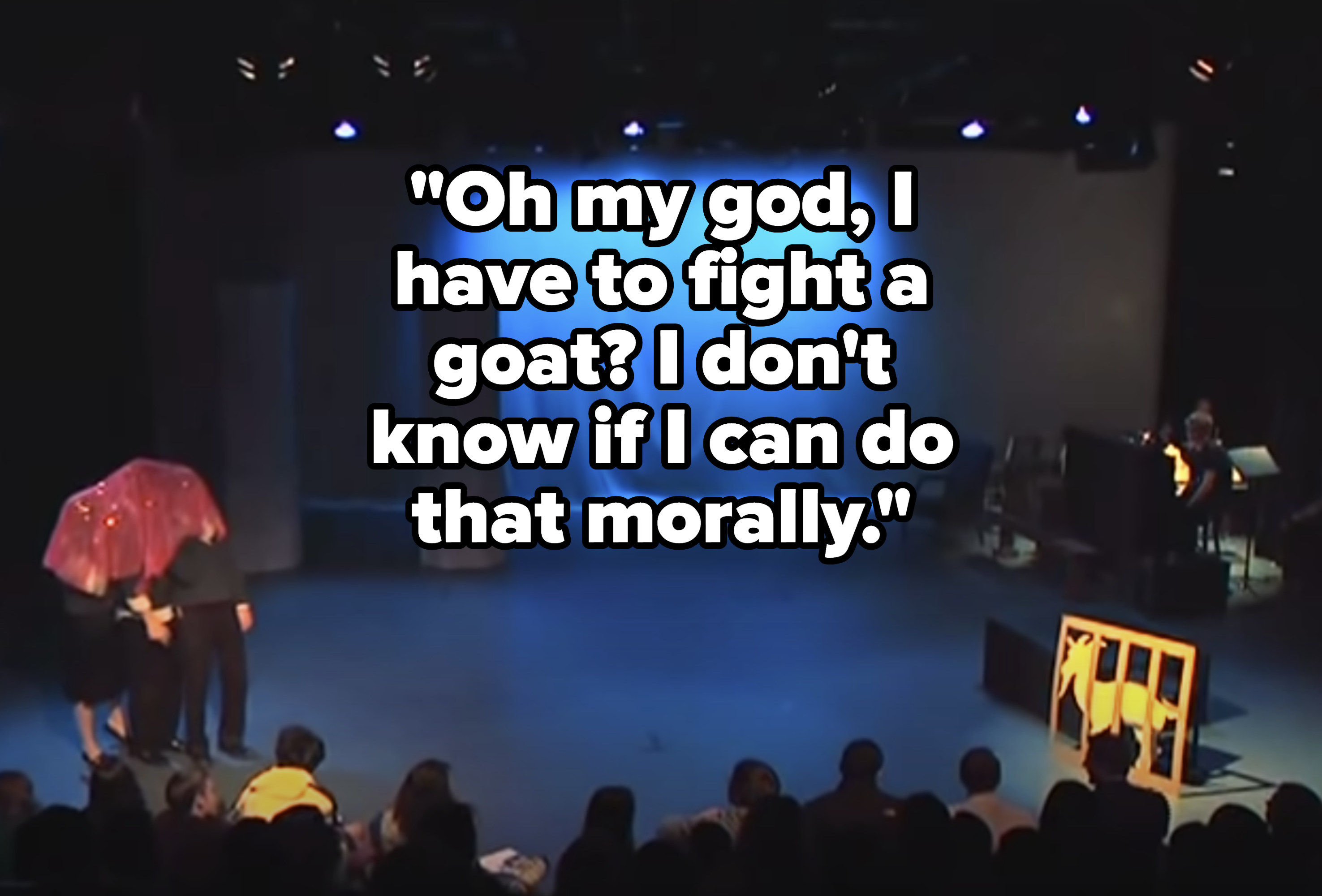 38.
When Ron reassured Harry about having to fight a dragon: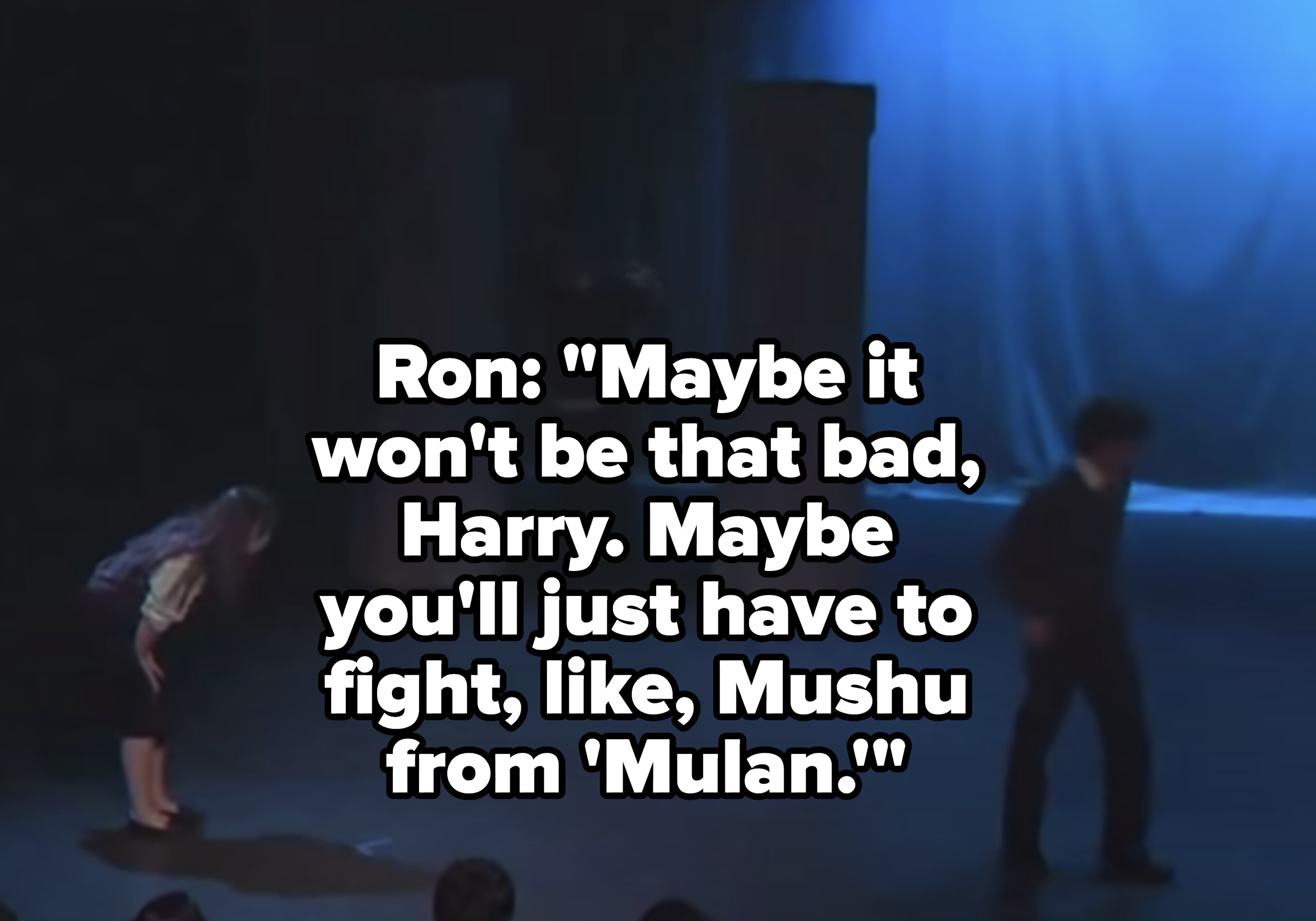 39.
When Quirrell had a genius idea:
40.
When Quirrell admitted his initial reaction to meeting Voldemort: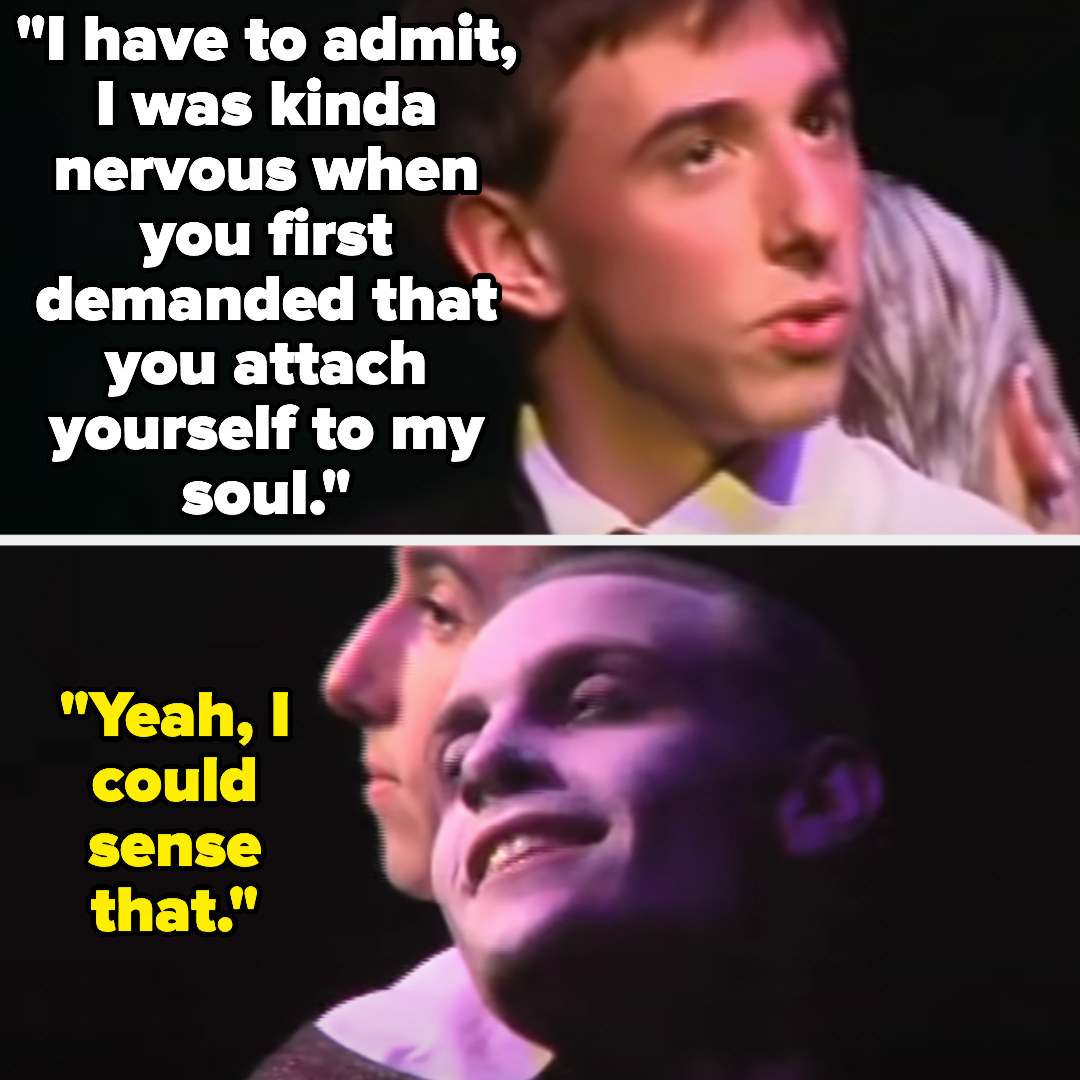 41.
When Voldemort came up with this impressive rhyme while drunk:
42.
When Harry, for the millionth time in his life, got dealt the worst hand:
43.
When Ron unsuccessfully tried to reassure him: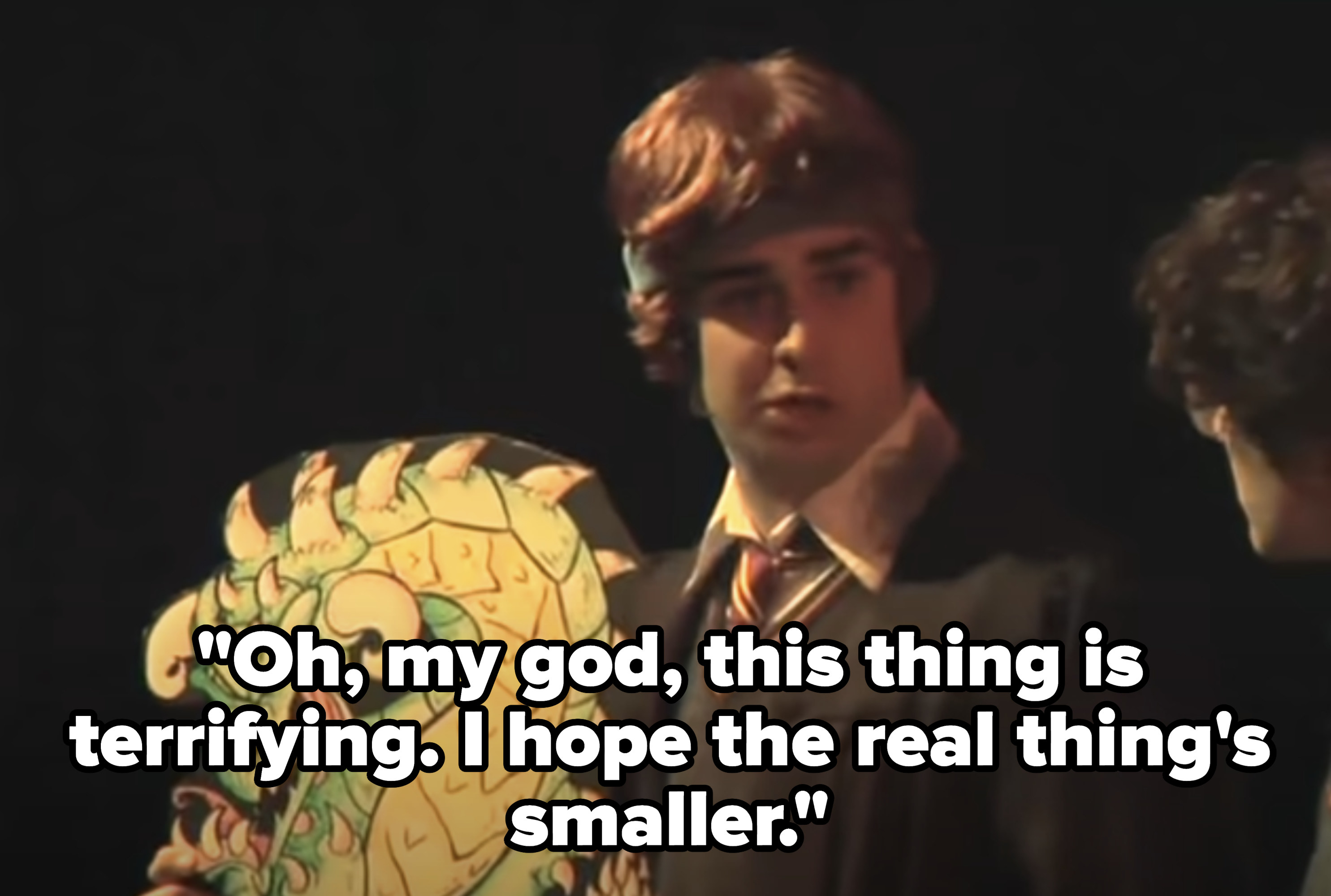 44.
When Harry tried to trade dragons with Malfoy and offered his Gushers: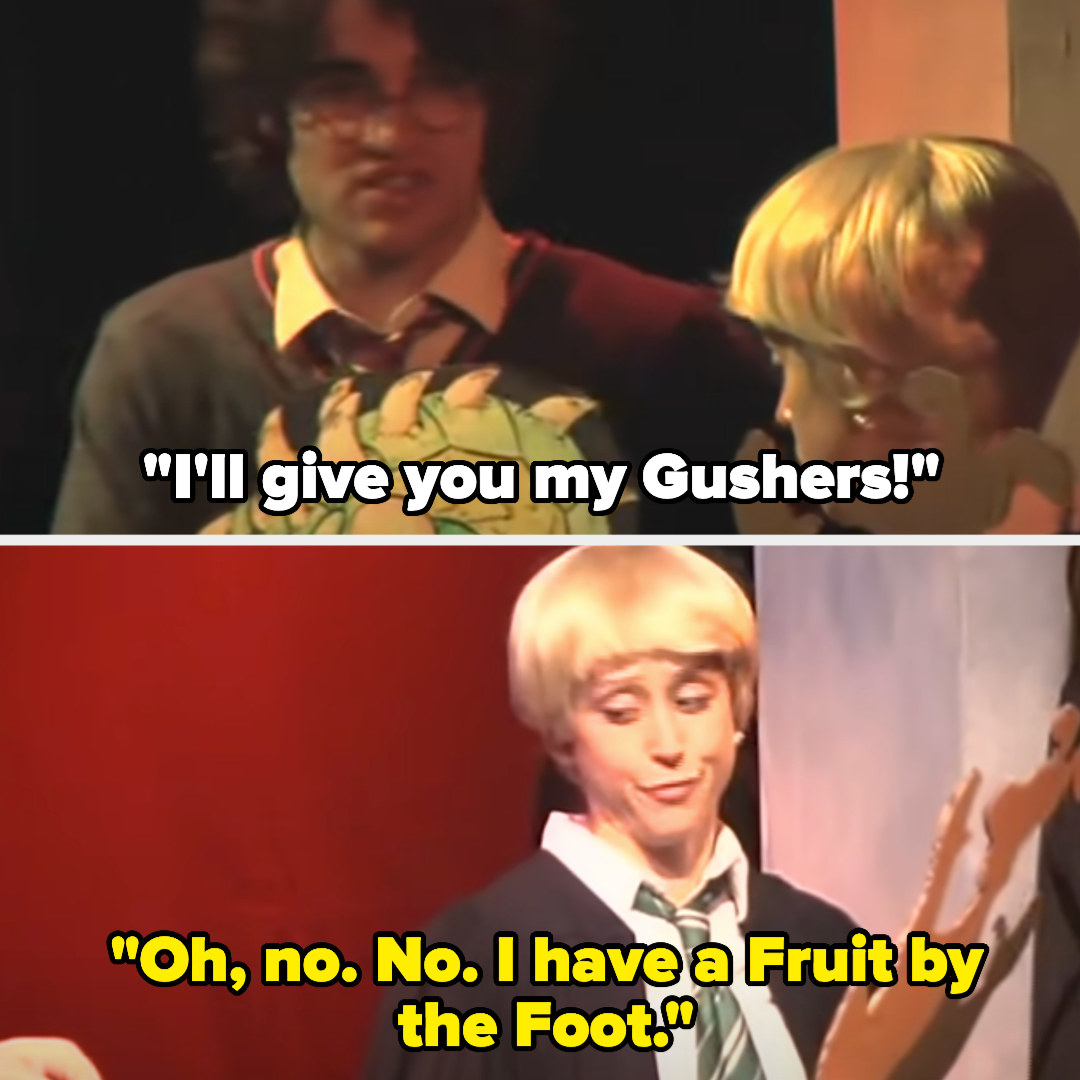 45.
When Harry wasn't willing to give up his Bugles: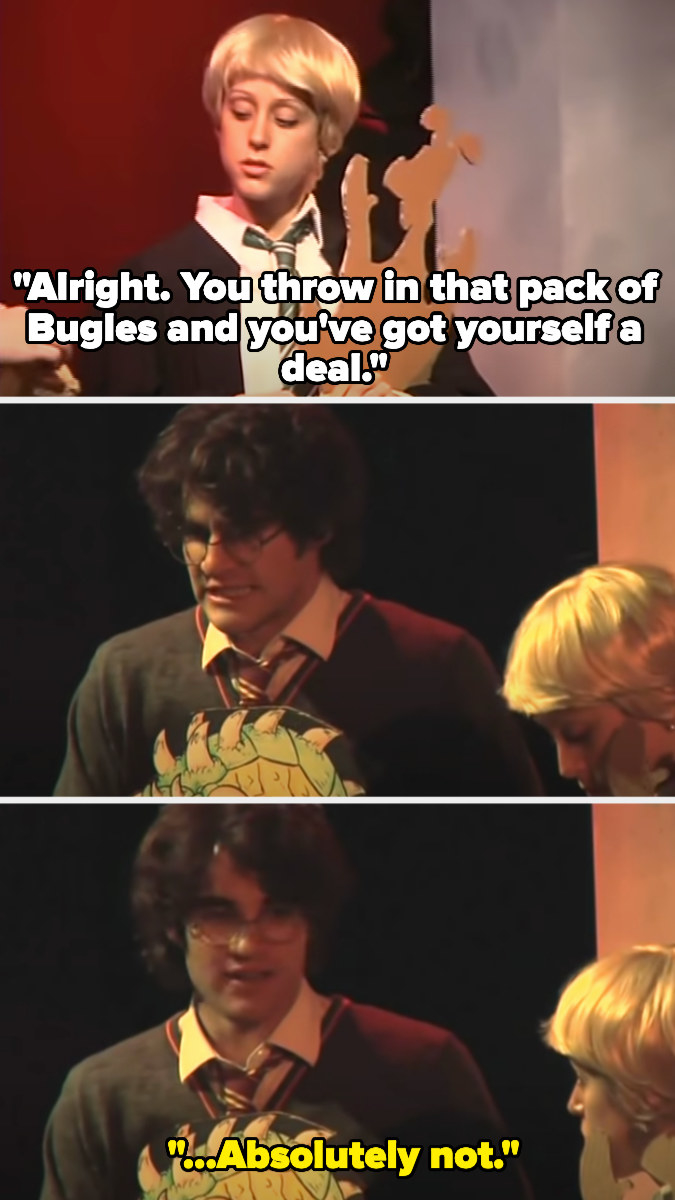 46.
When Harry took things a little too seriously: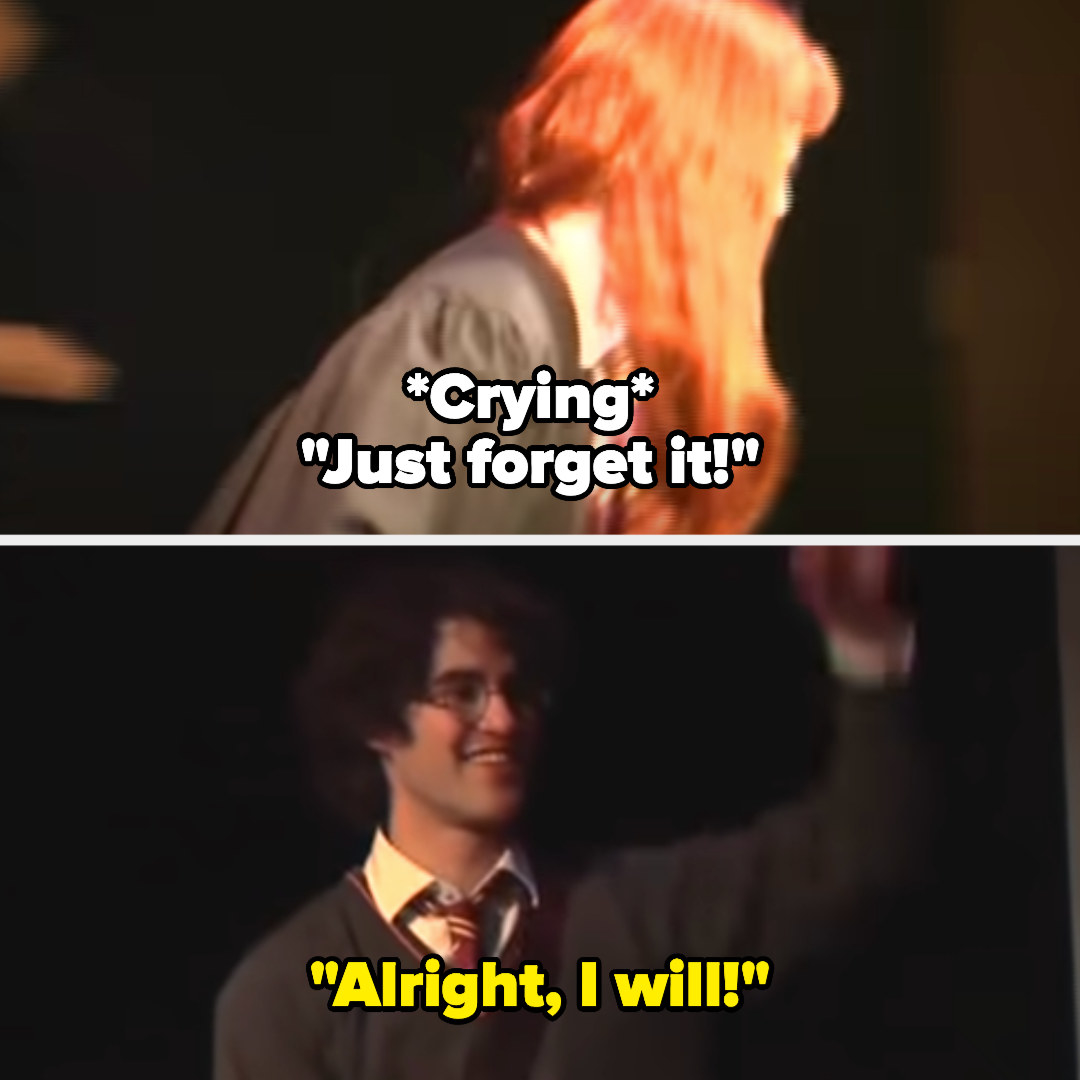 47.
When Ron forgot to be supportive for a second: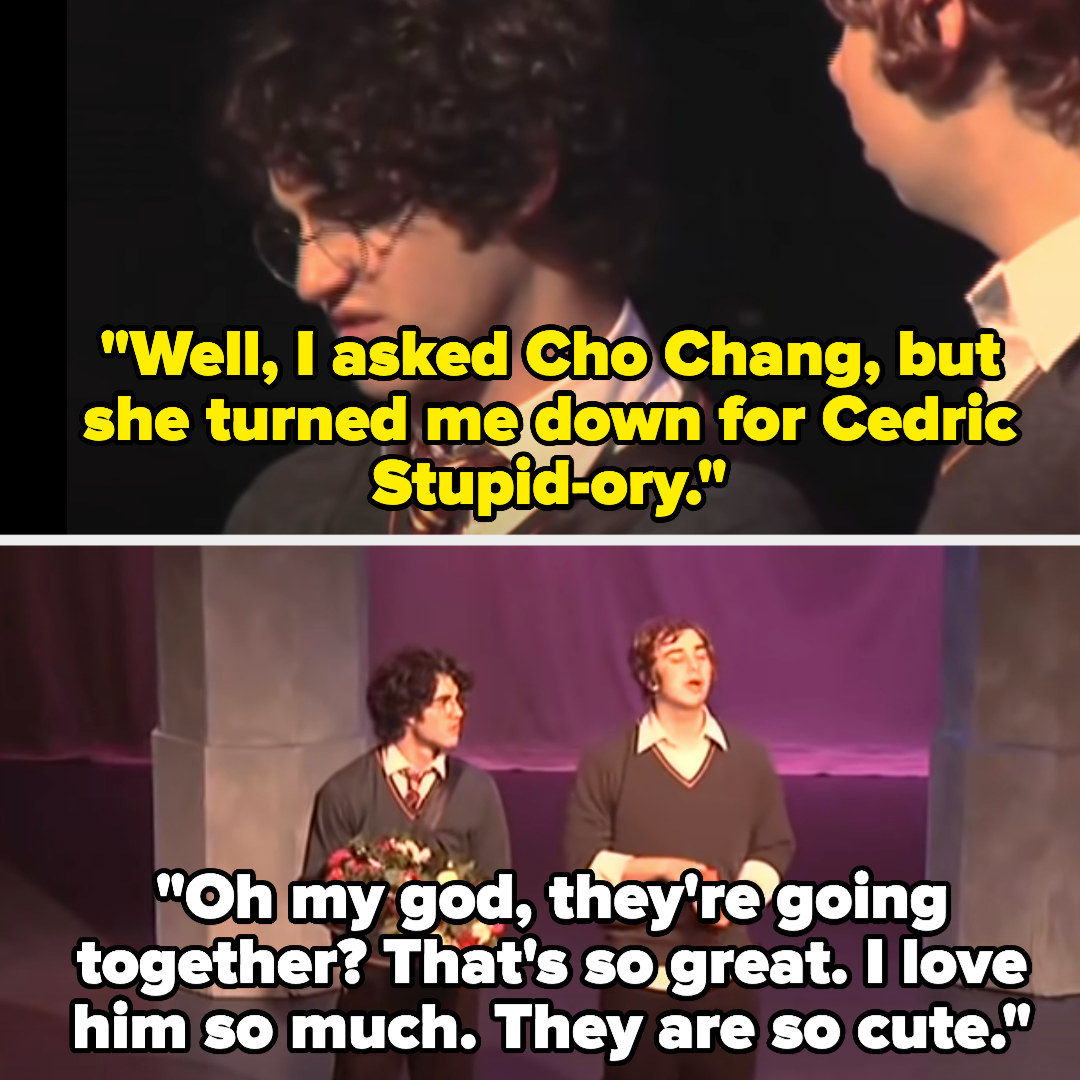 48.
When Harry and Ron couldn't see the very simple solution in front of them while wondering who to ask to the Yule Ball: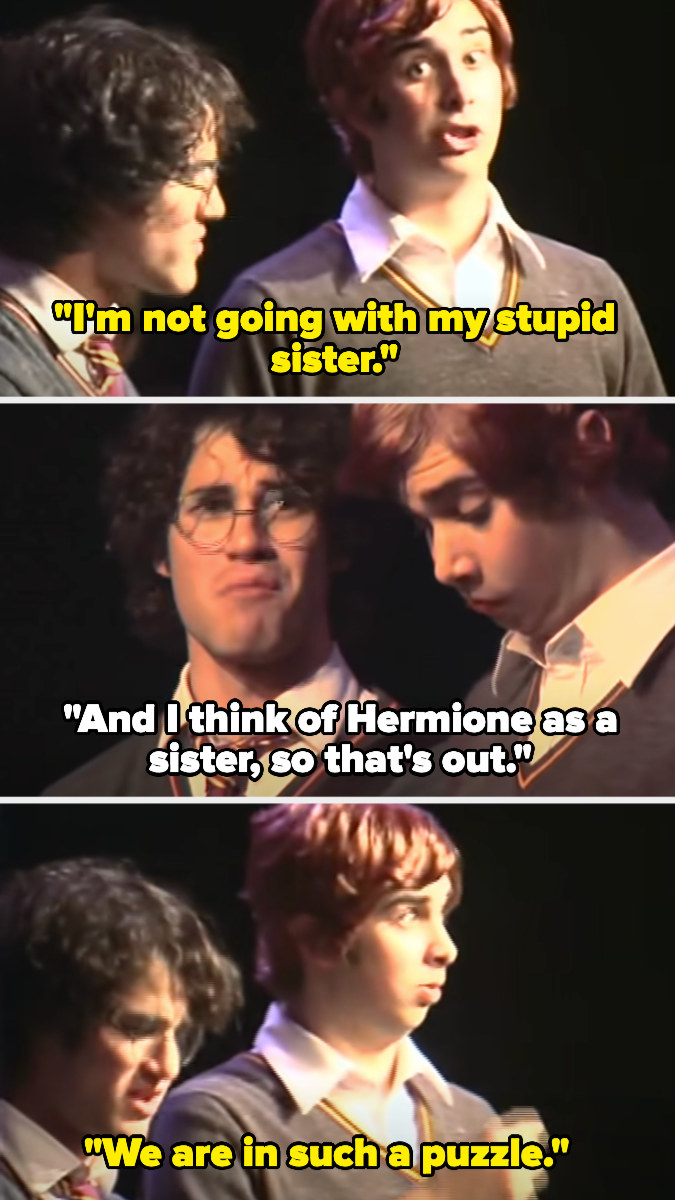 49.
When Voldemort made this great pun: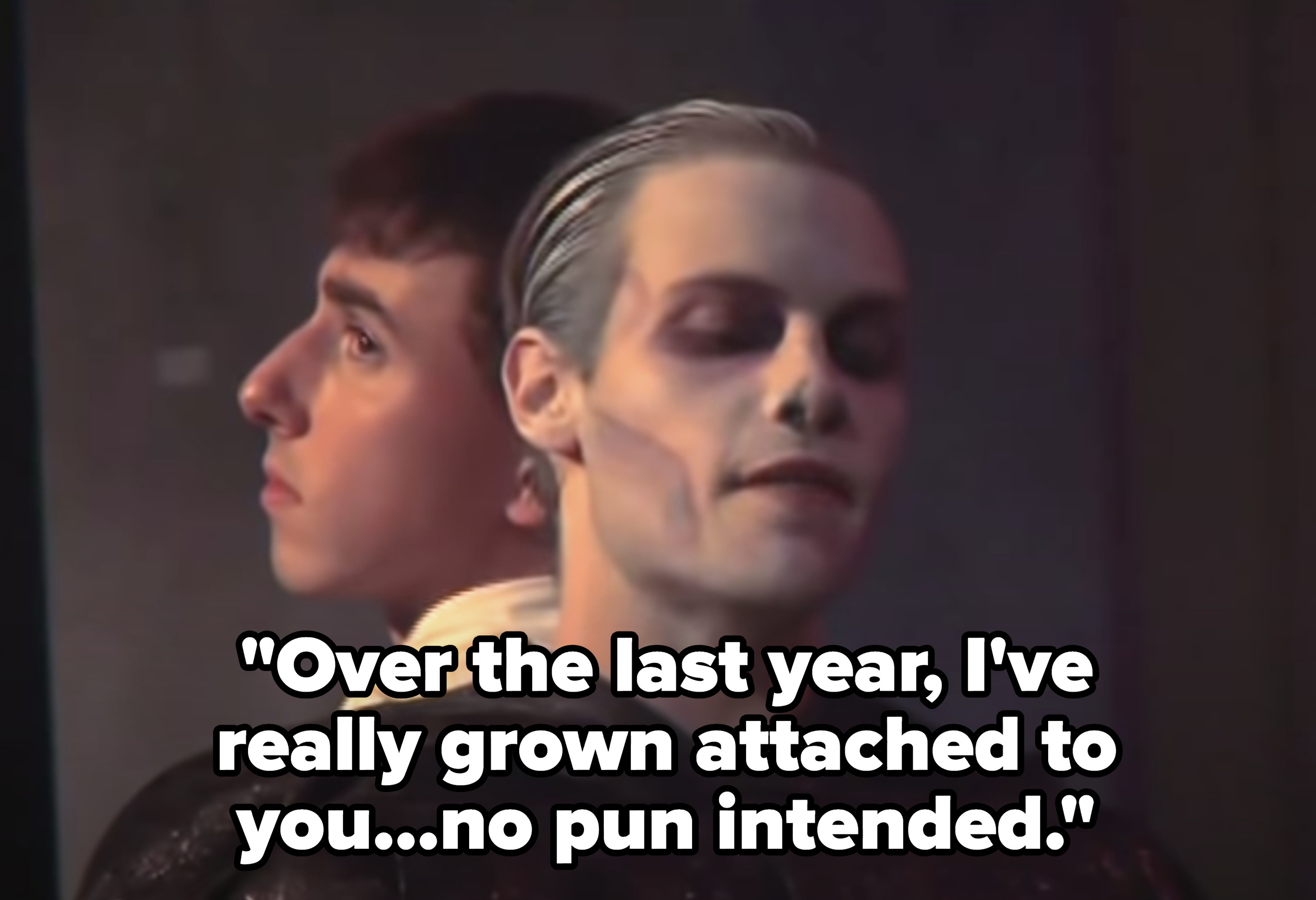 50.
When Voldemort wanted to hang out: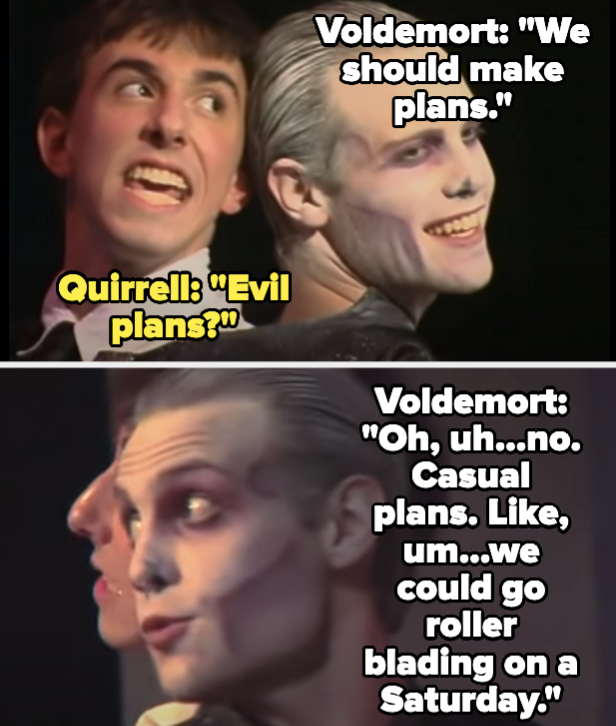 51.
When Harry couldn't stop calling Cedric a spare: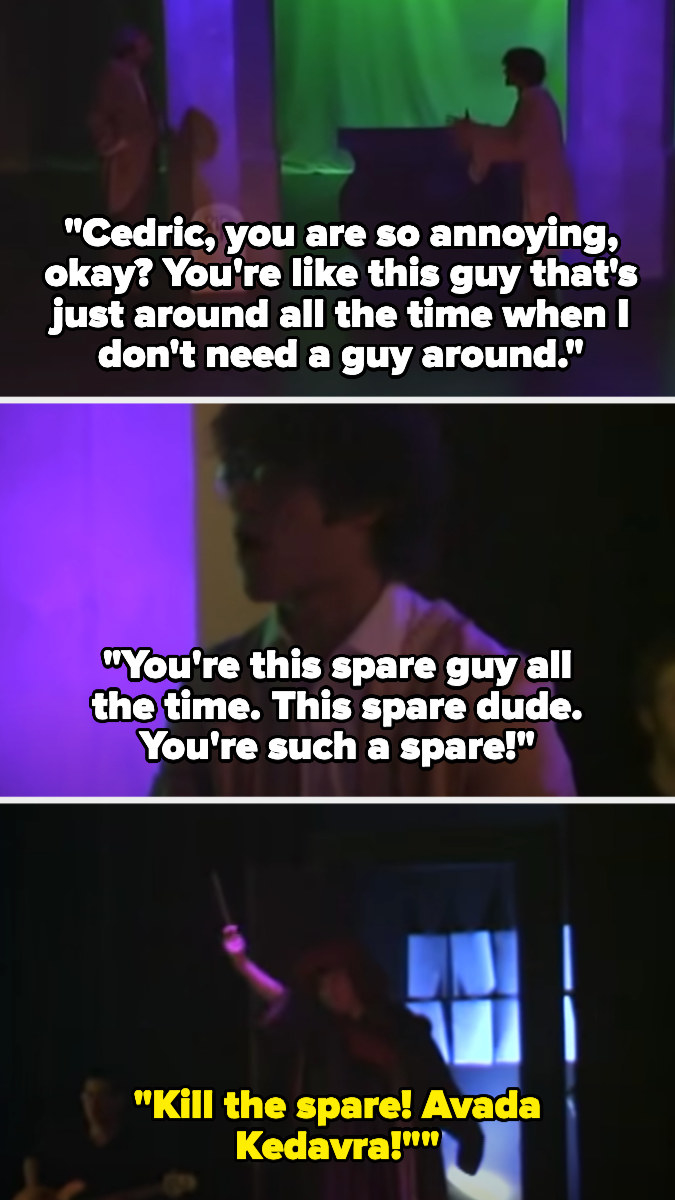 52.
When Harry still couldn't put two and two together and deduce that Snape was a death eater: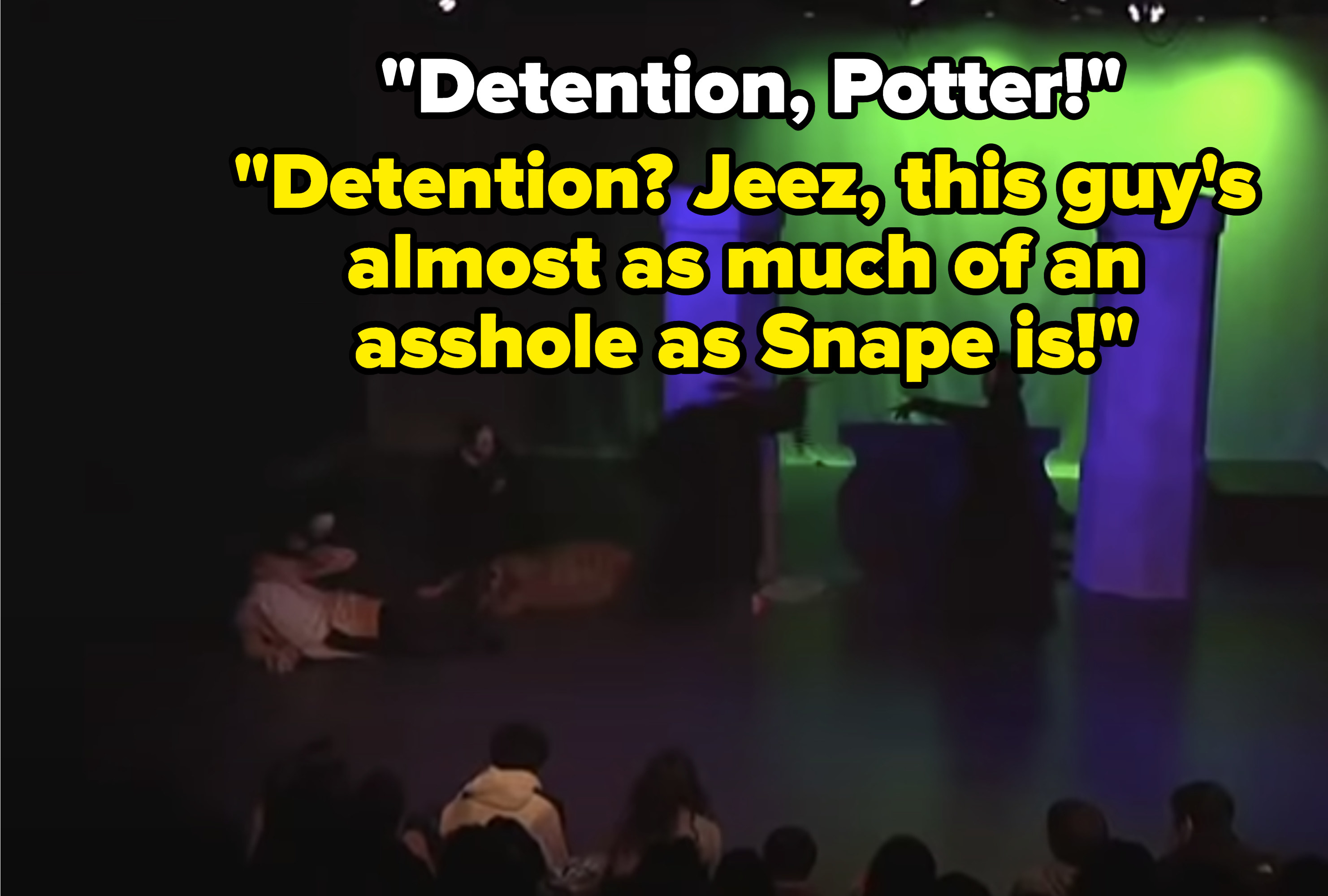 53.
When Voldemort got his body back and did a whole tap dance number, then used Imperio to make Harry dance with him:
54.
When Voldemort tried to explain his betrayal of Quirrell by comparing it to teen film She's All That: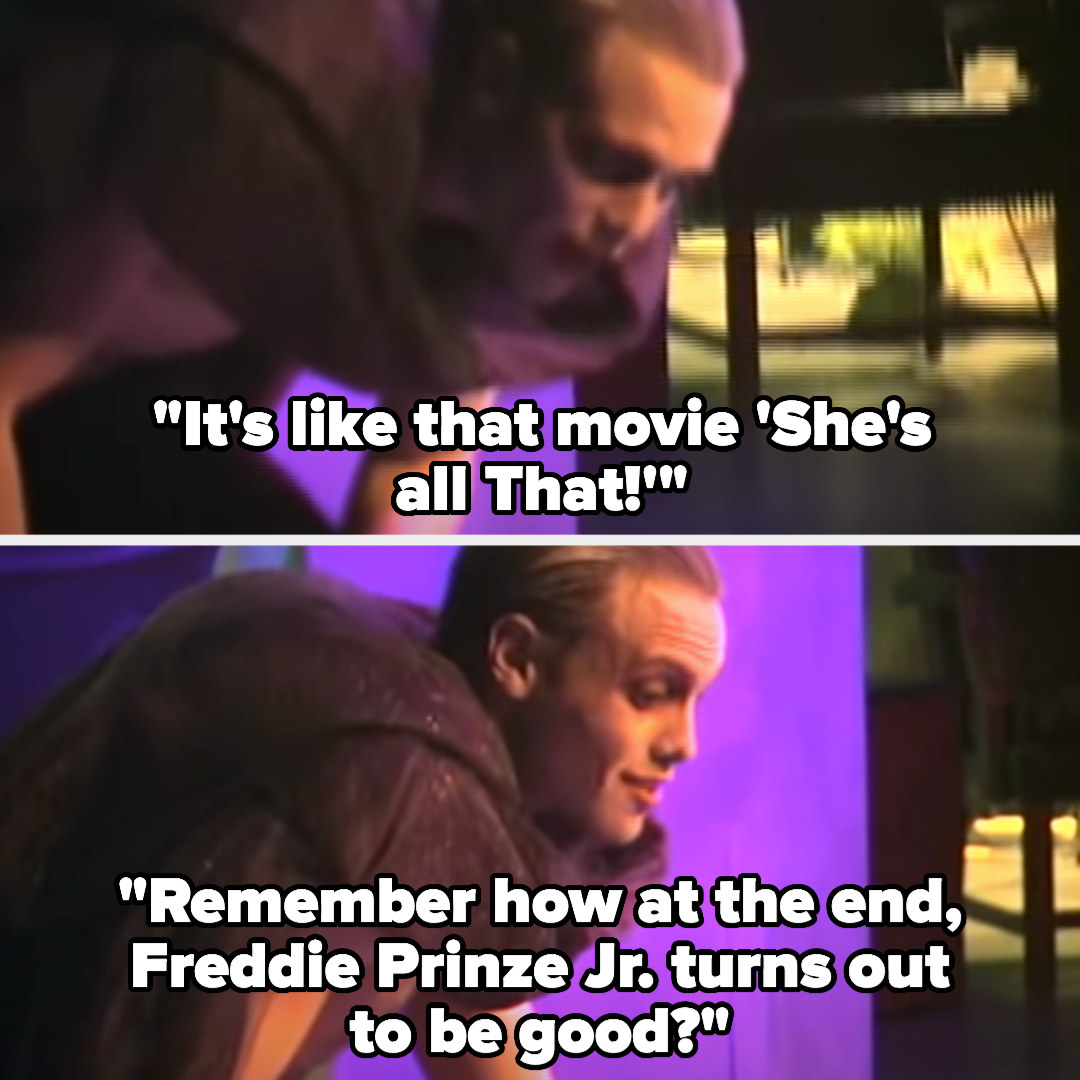 55.
When Ron just wanted to talk about Hermione, and was NOT here for Harry complaining about his Voldemort problems: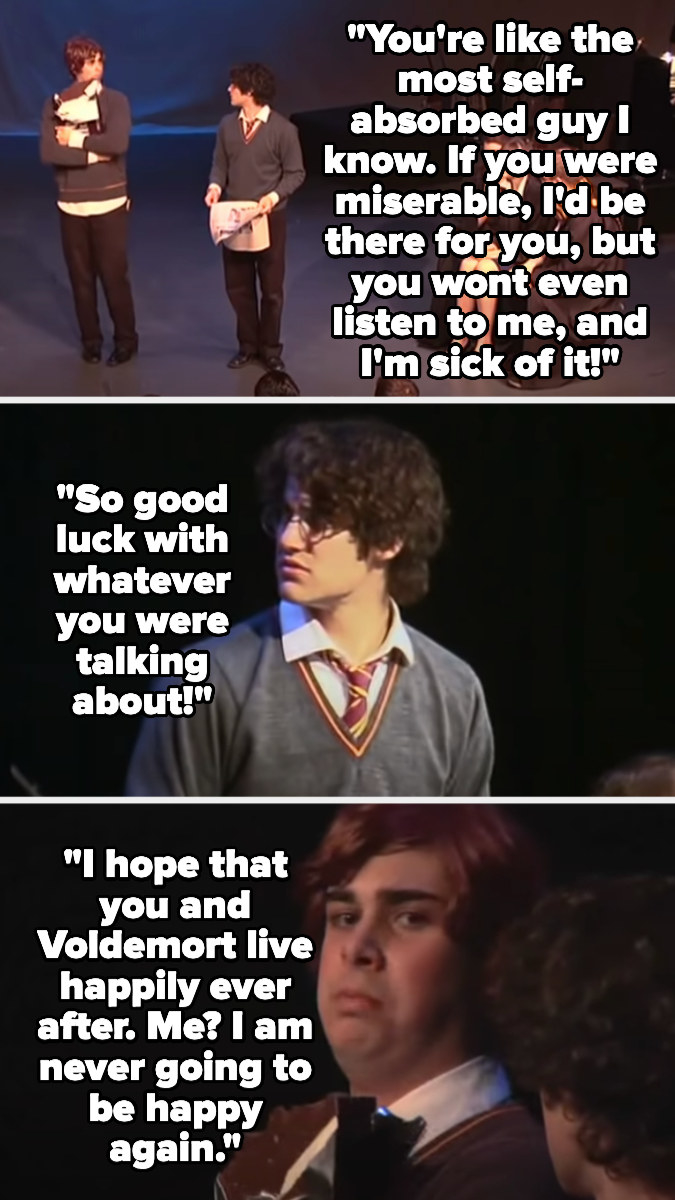 56.
When Hermione had this apt insult: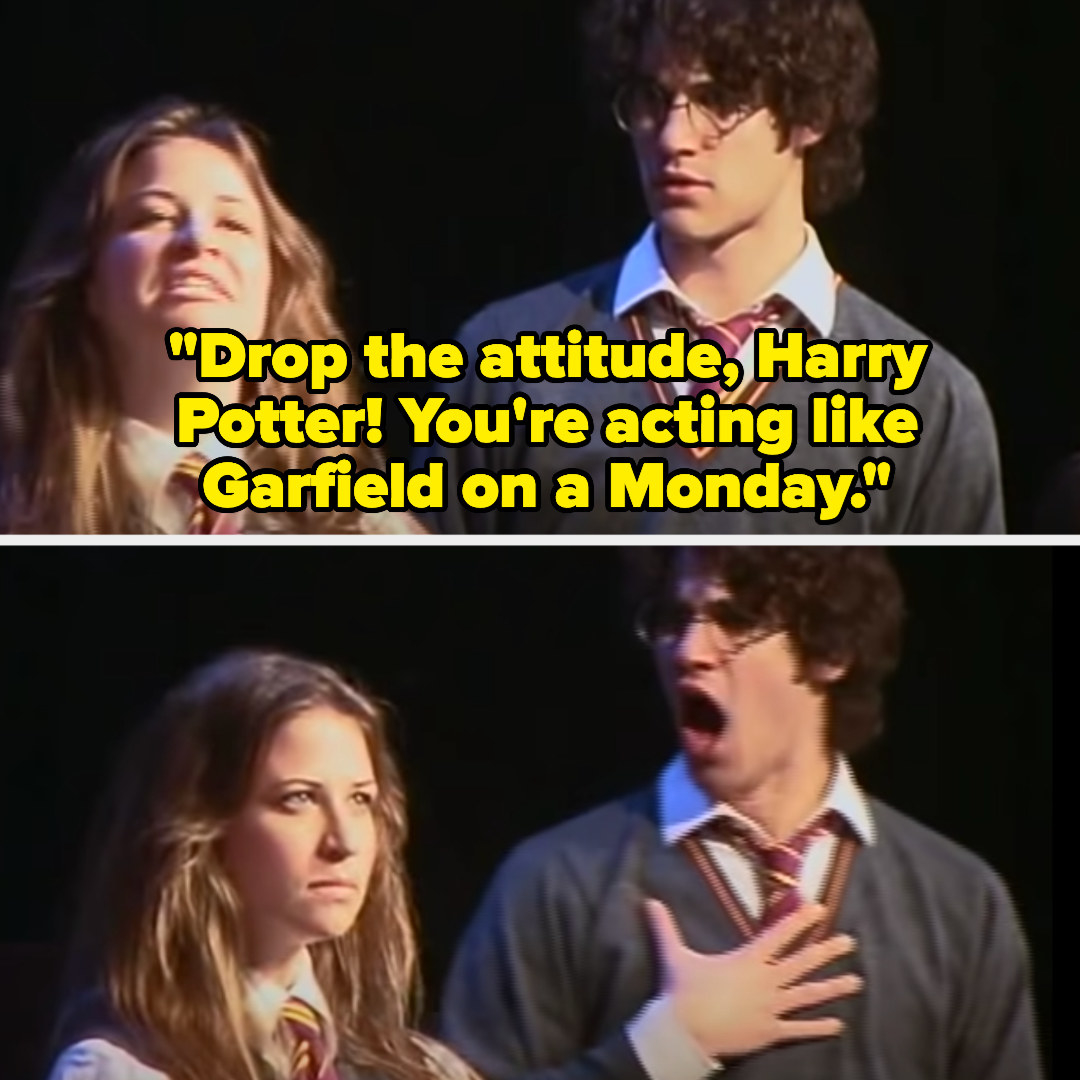 57.
When Harry was pretty blunt to Ginny: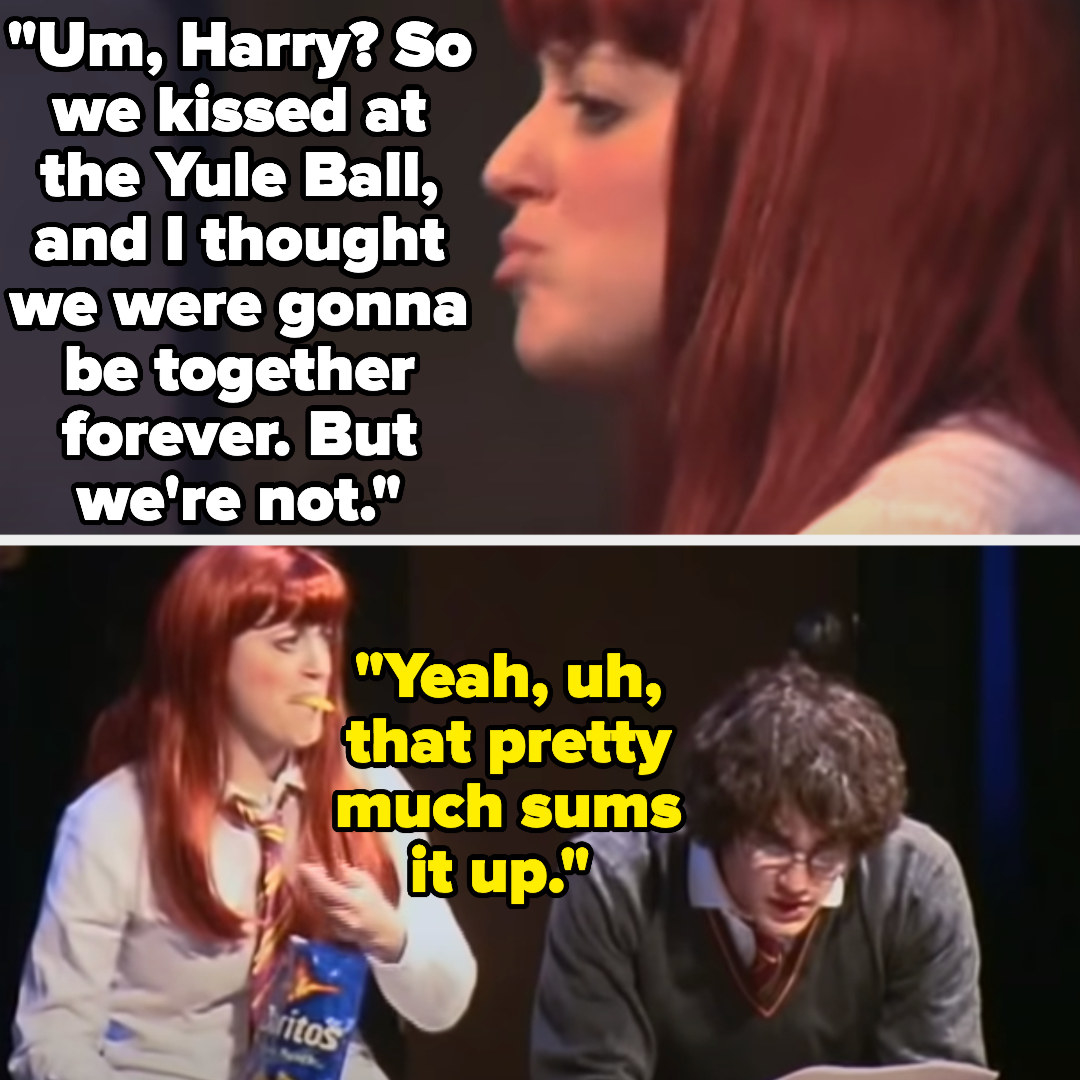 58.
When Harry tried to explain why he couldn't be with Ginny using the Spider-Man films: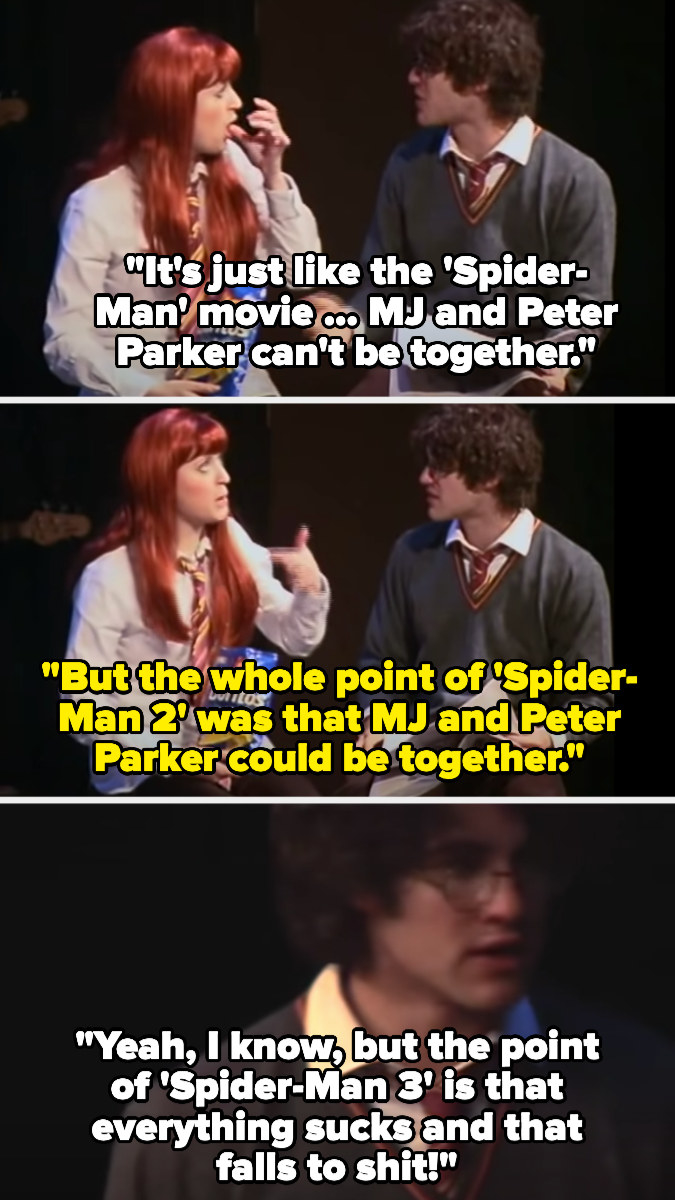 59.
And shared his true feelings about Spider-Man 3: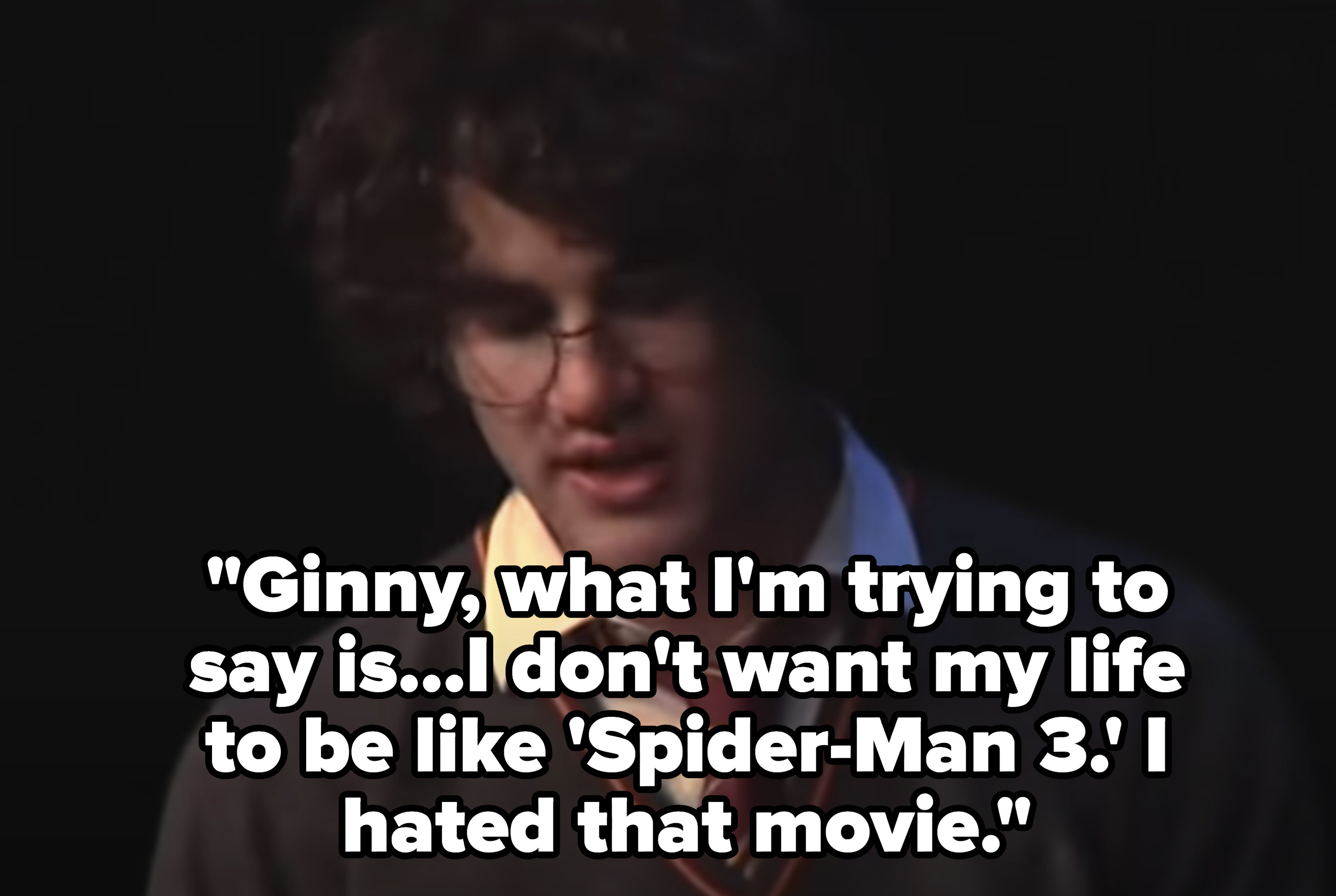 60.
When the death eaters were doubtful of Snape's loyalty: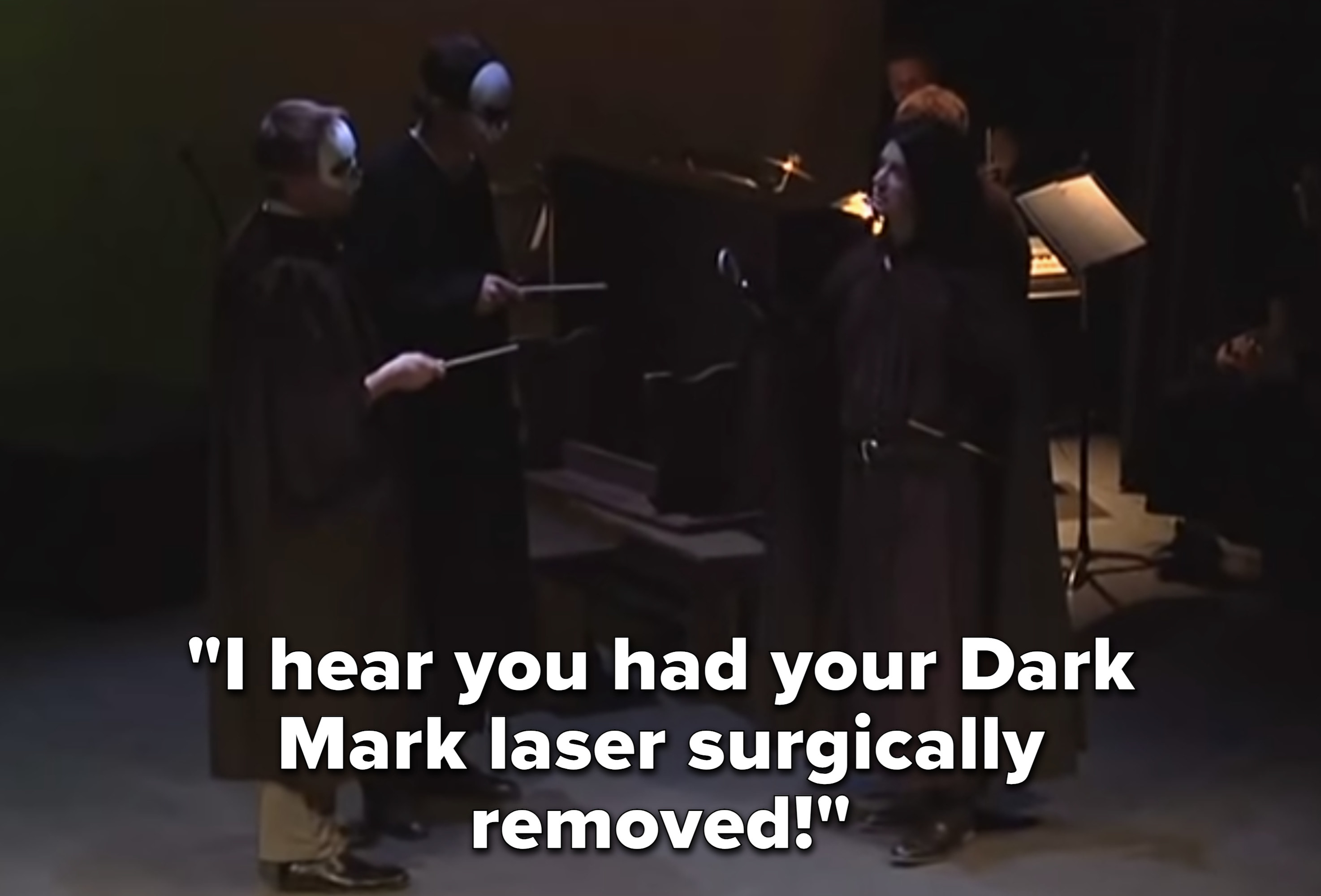 61.
When Malfoy defected to the dark side and tried to make his own Dark Mark: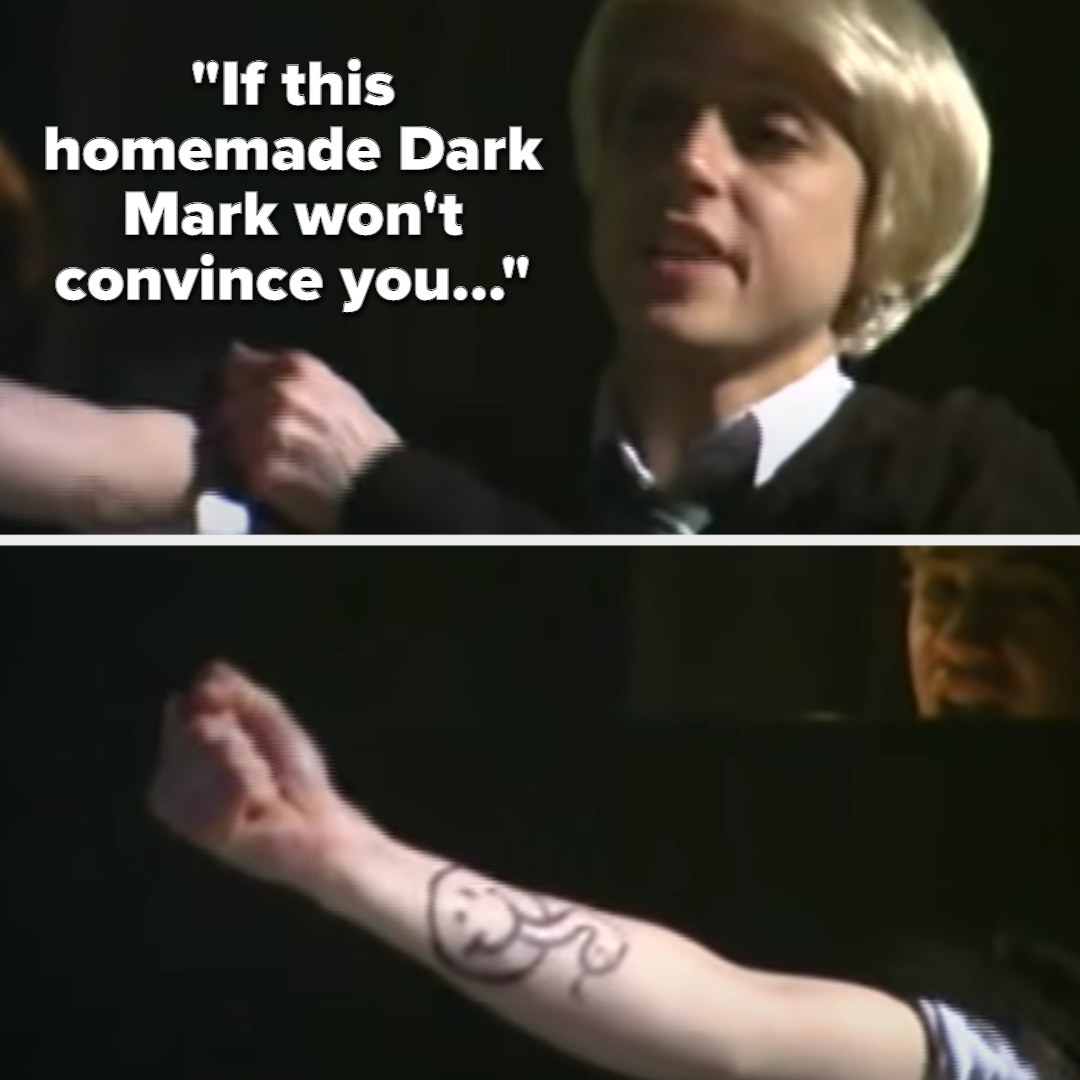 62.
When an Unbreakable Vow was literally just spitting on your hand and then shaking hands: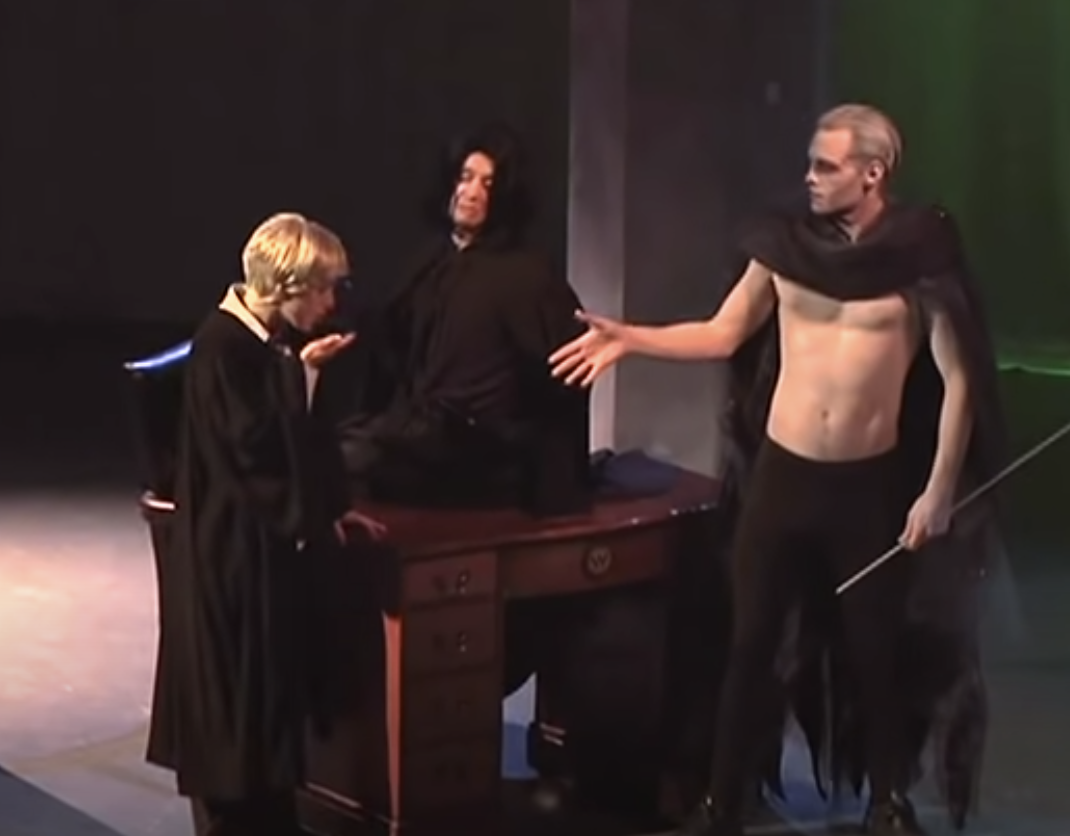 65.
When Harry and Dumbledore kept fighting over who loved Zac Efron the most: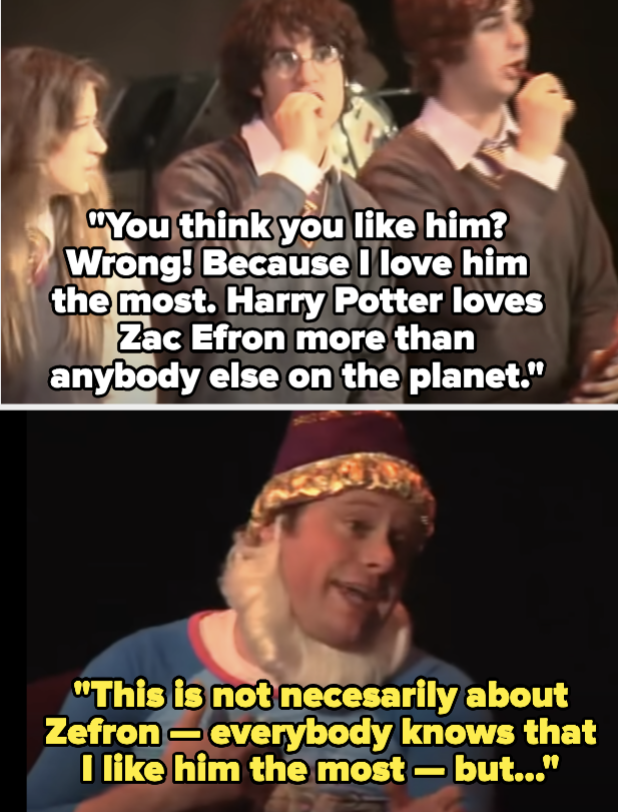 66.
When Harry called a horcrux-seeking medallion too convenient, and Dumbledore had this to say: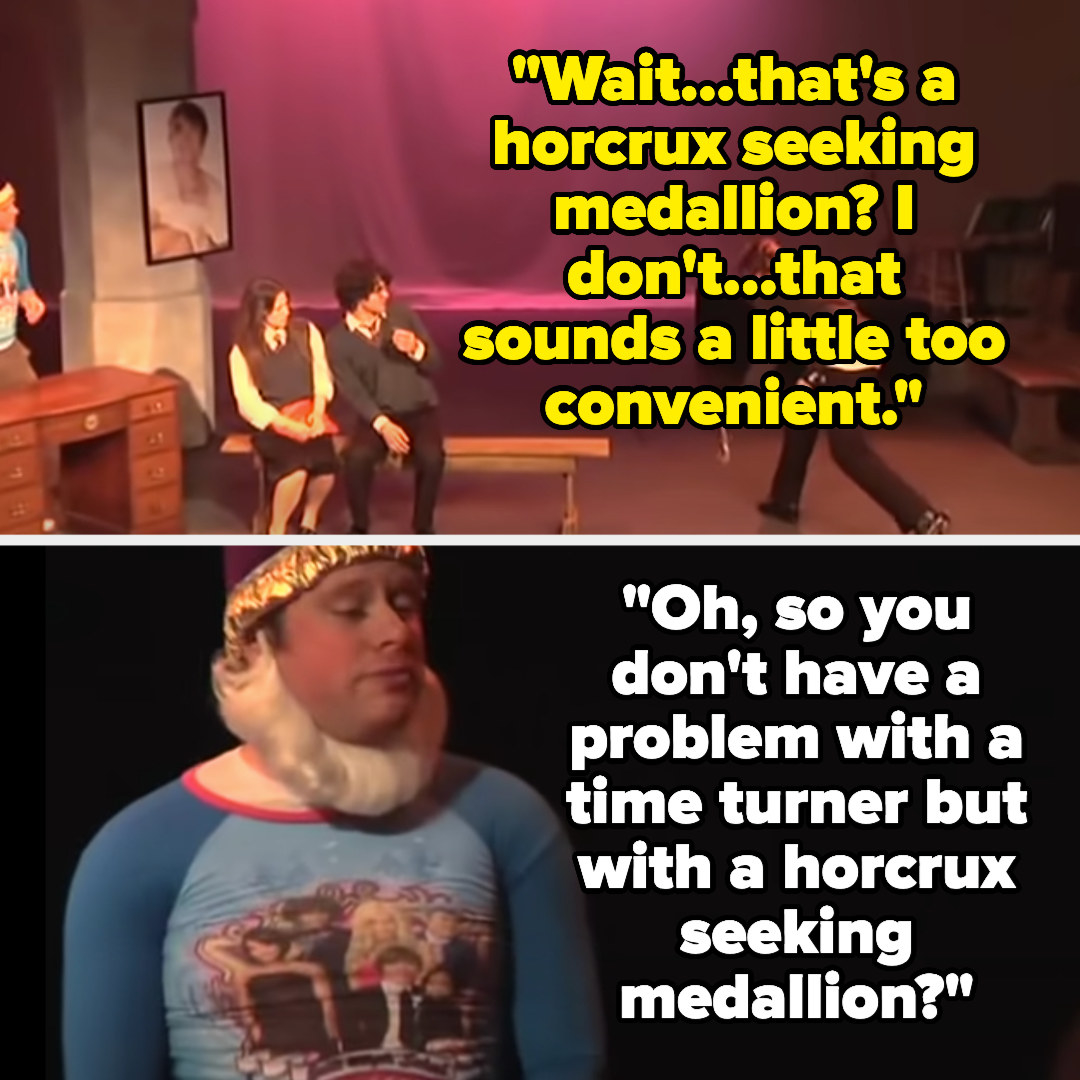 67.
When Dumbledore reminded the gang to stick together: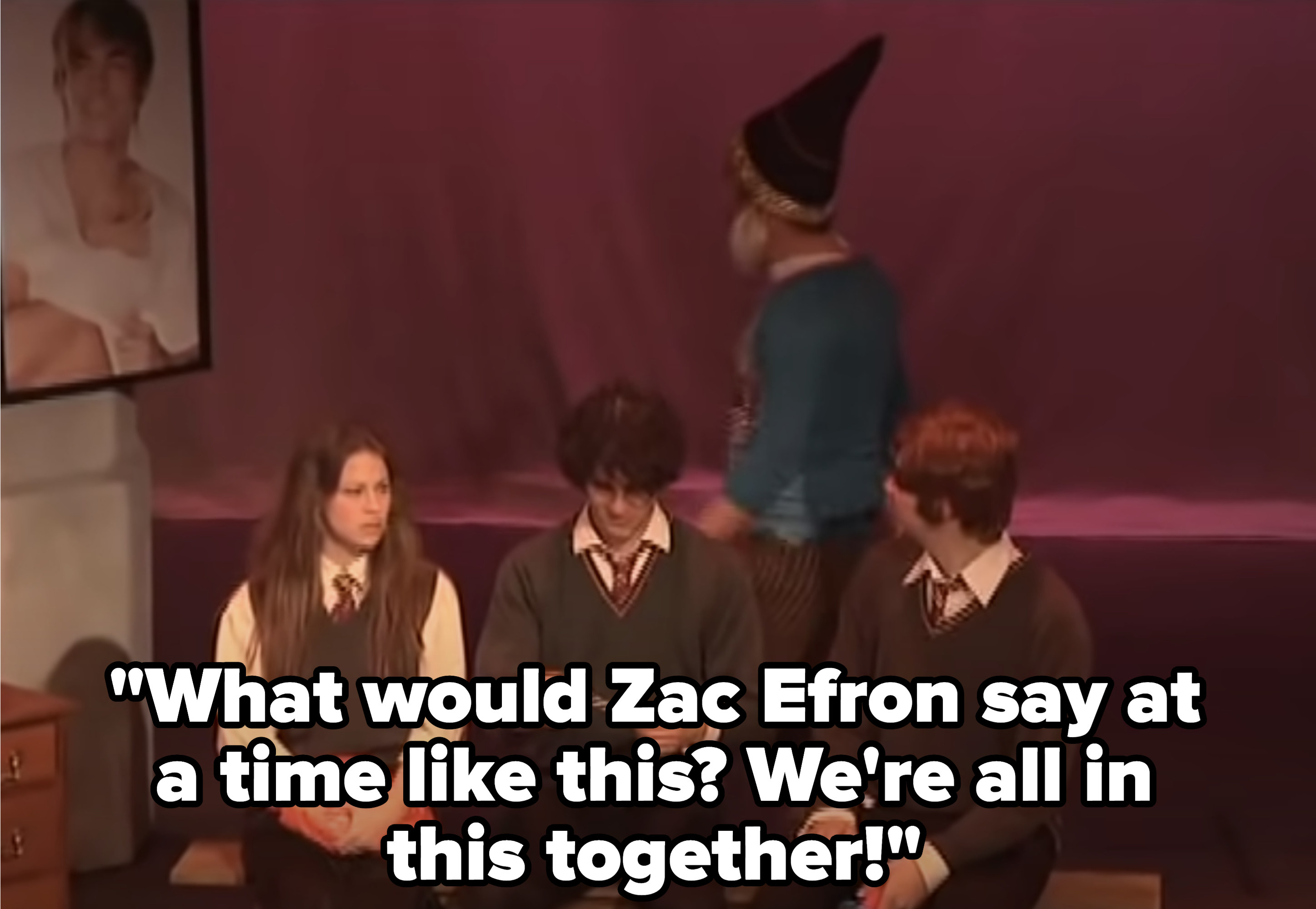 68.
When Harry gave away their position because he couldn't resist arguing once again that he loved Zefron the most: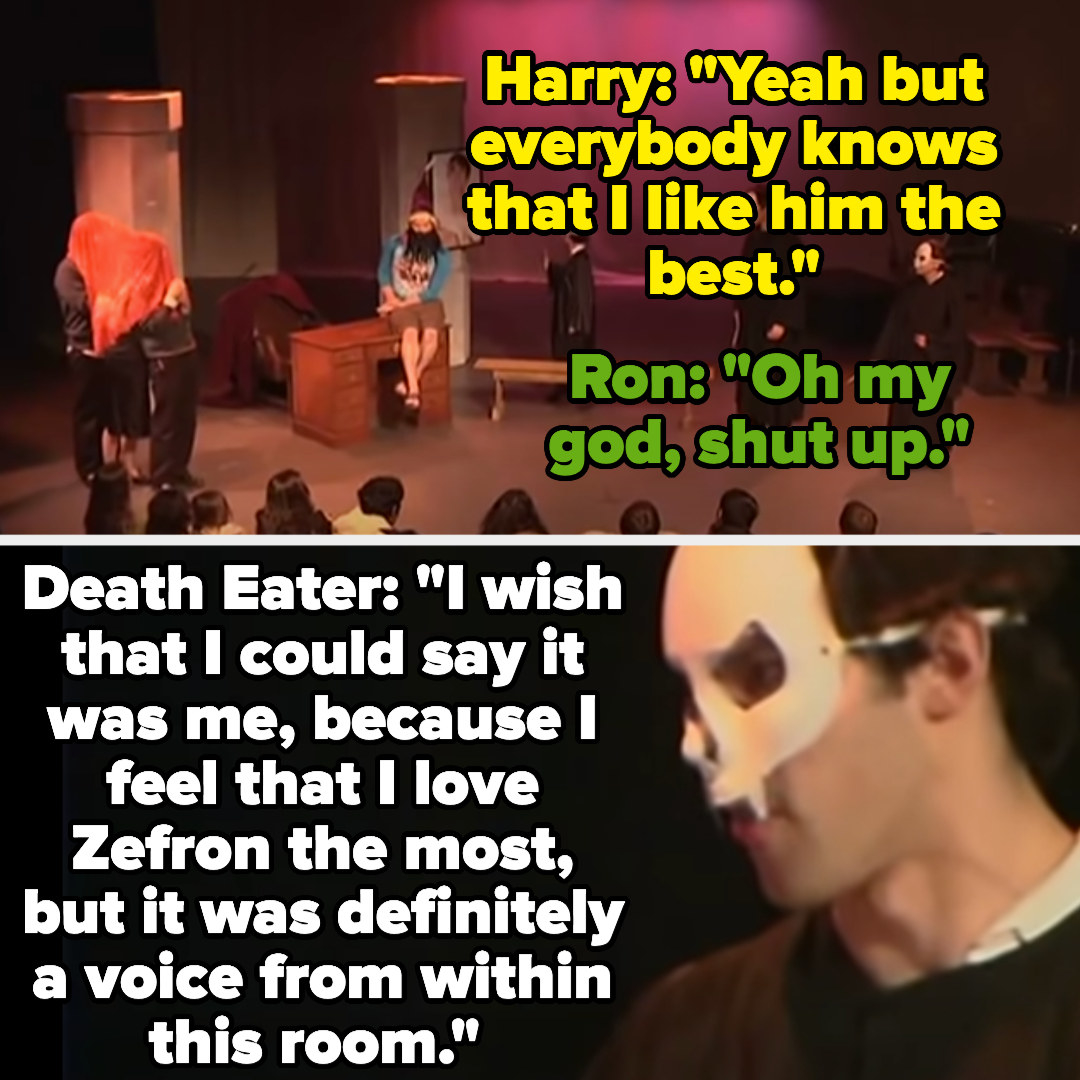 69.
When Snape chastised Malfoy for not killing Dumbledore and took points from Gryffindor: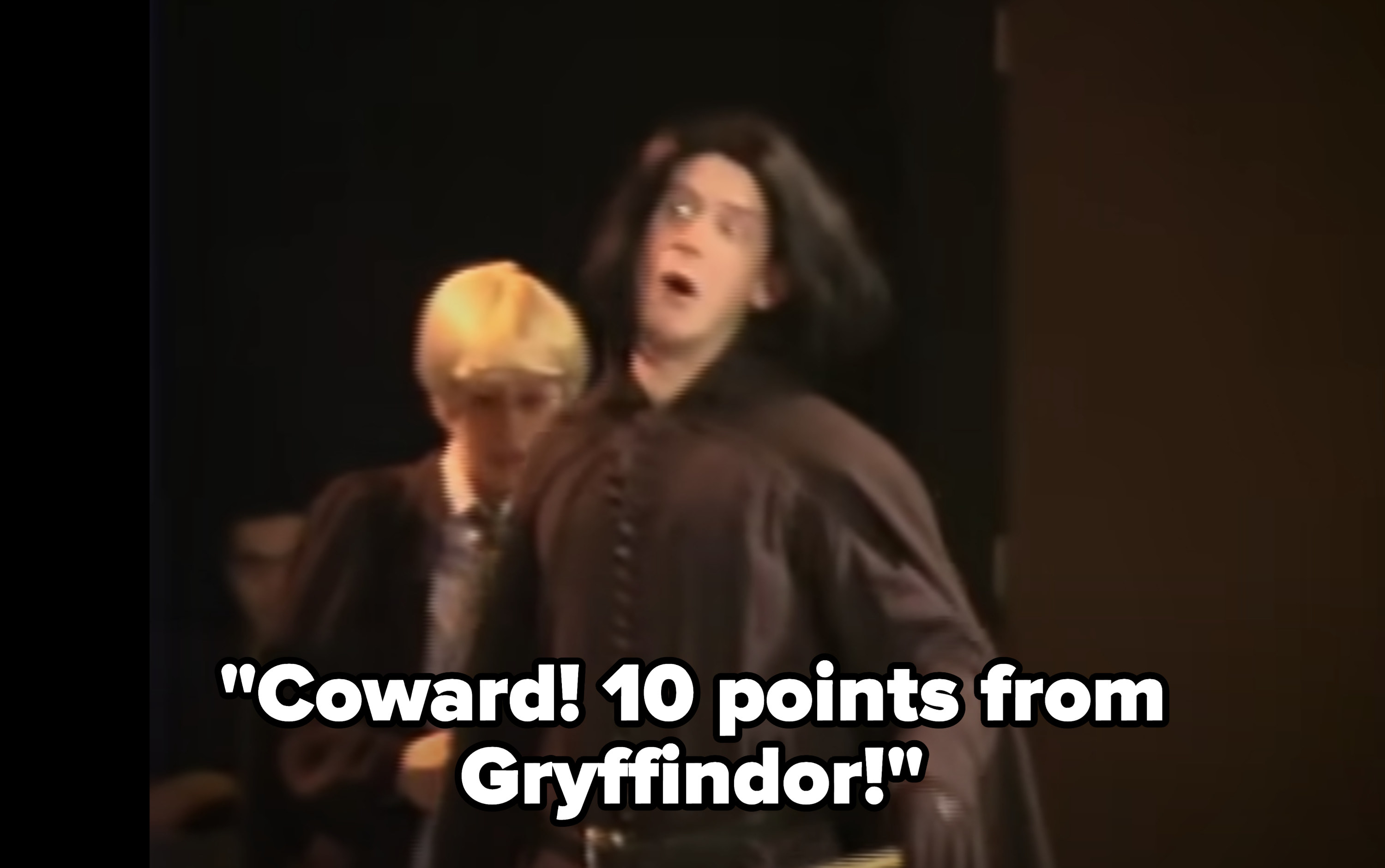 70.
When Fudge refused to believe Voldemort was back: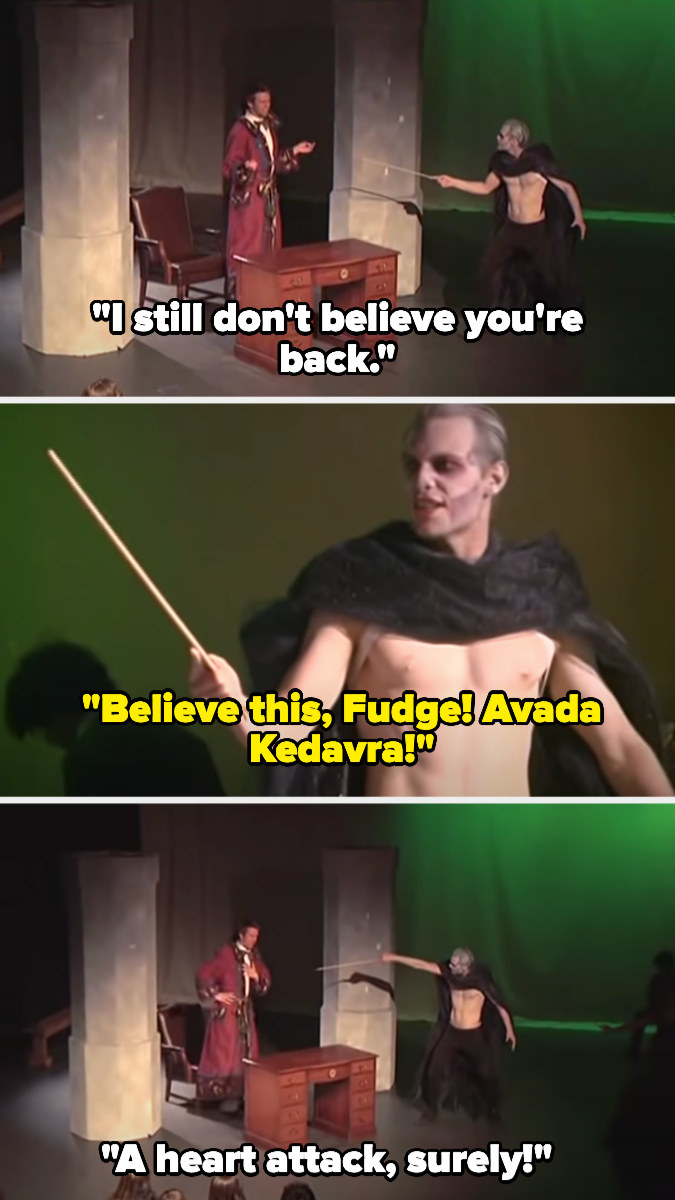 71.
When Voldemort had an interesting insult for Bellatrix when she called Quirrell a "peon":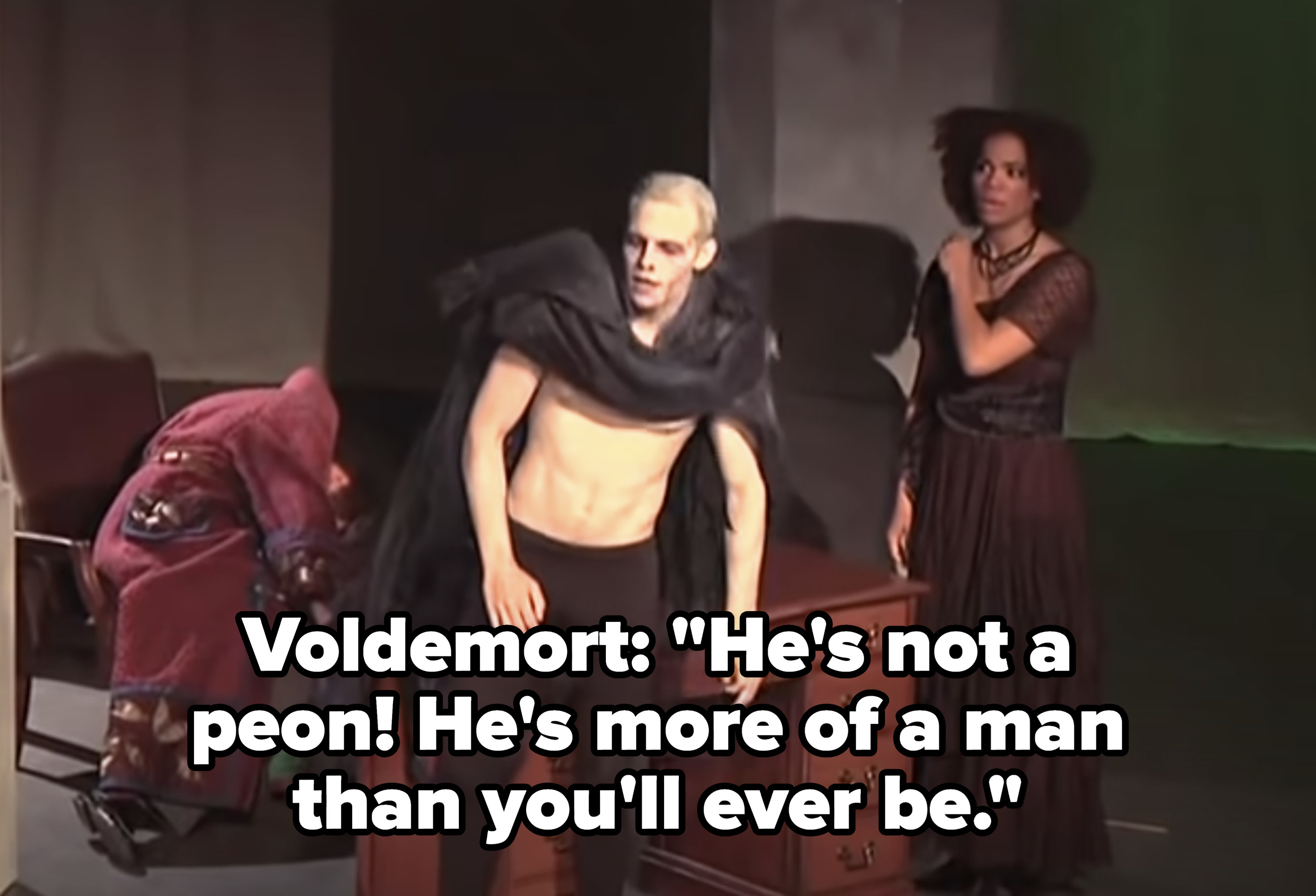 72.
When Harry said he was too young to deal with all this: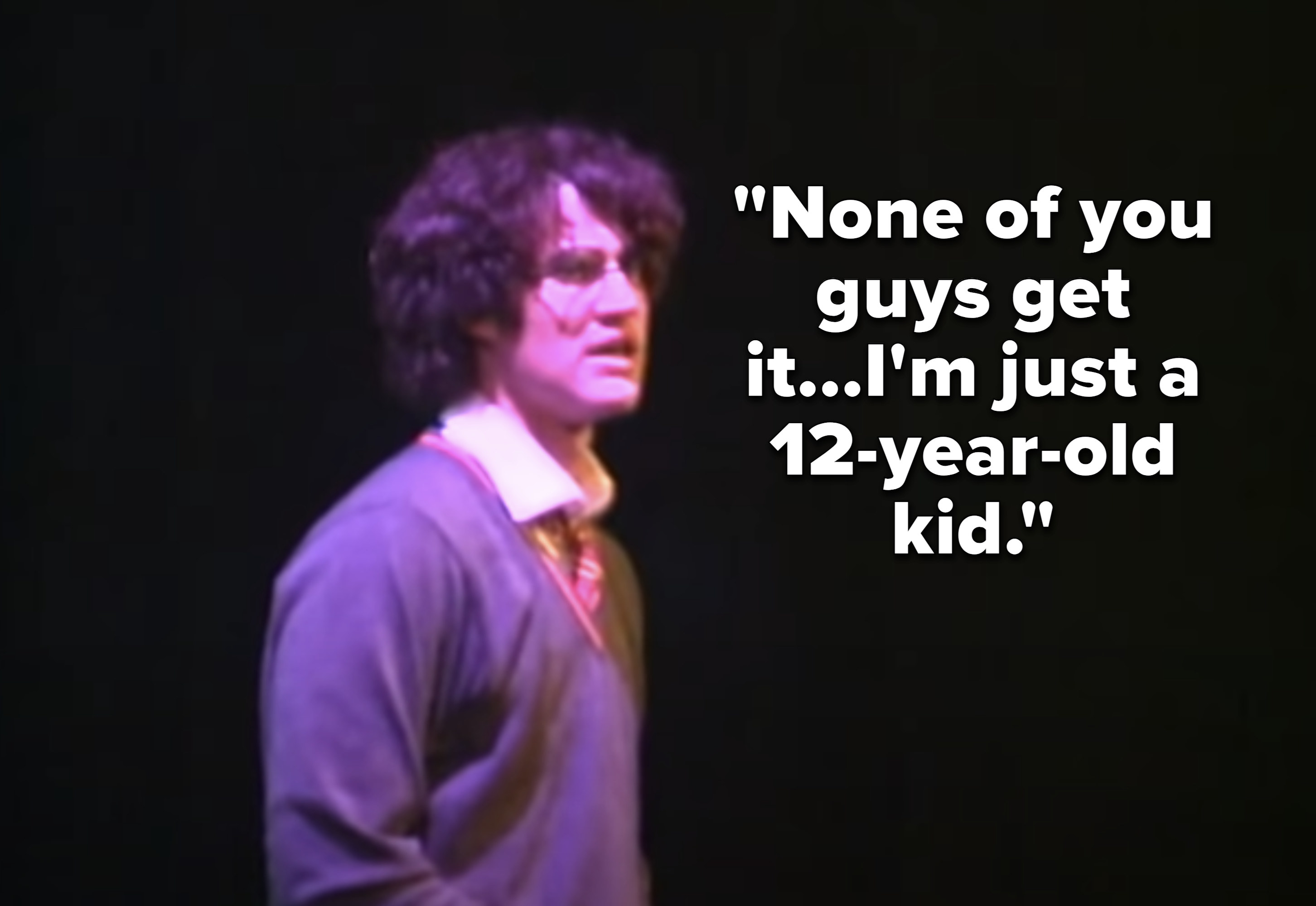 73.
When everyone finished "Not Alone," and Hermione wanted to move on: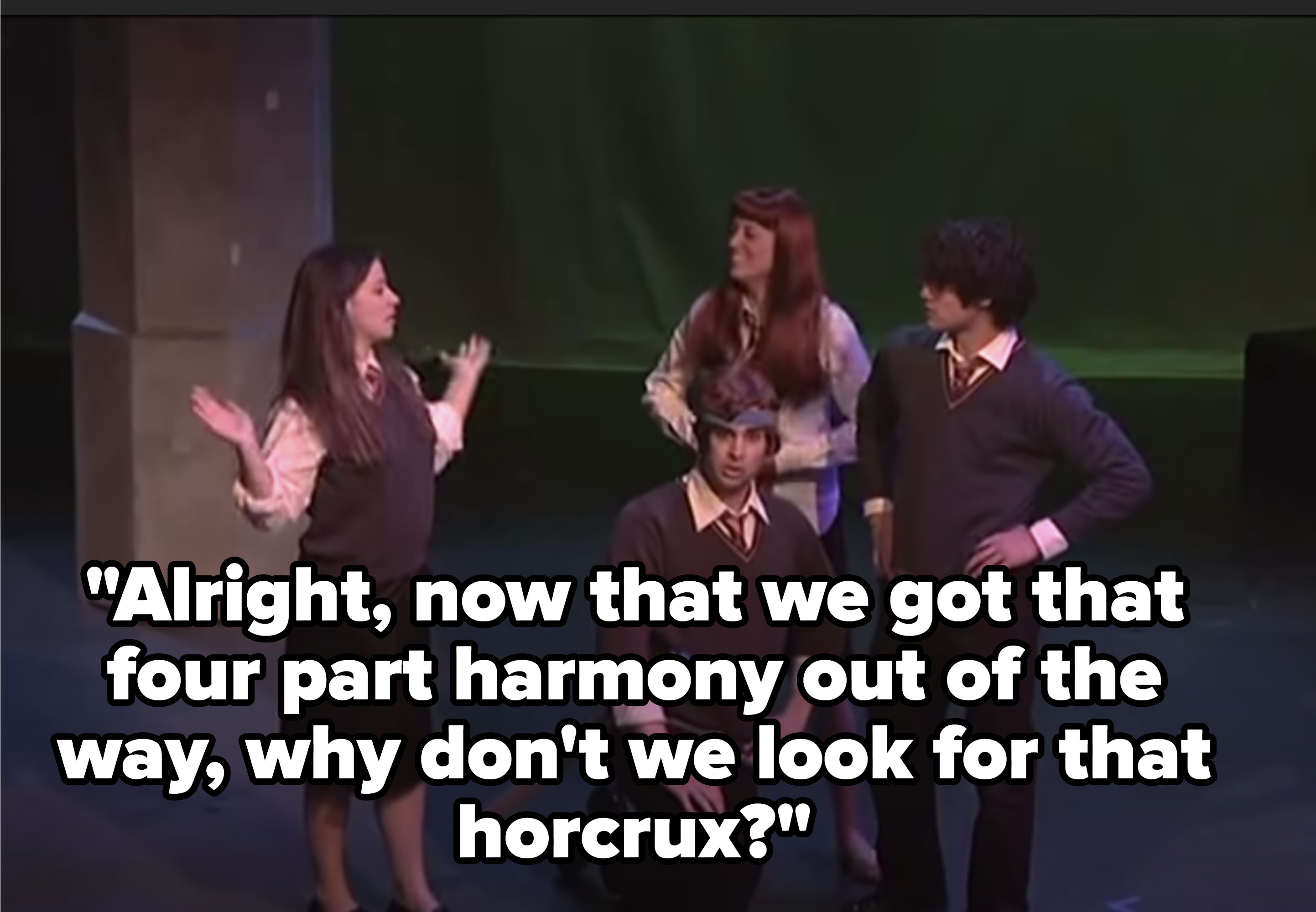 74.
When Ron brought up these ideas for hiding a horcrux that were all better than what Voldemort actually did in the books: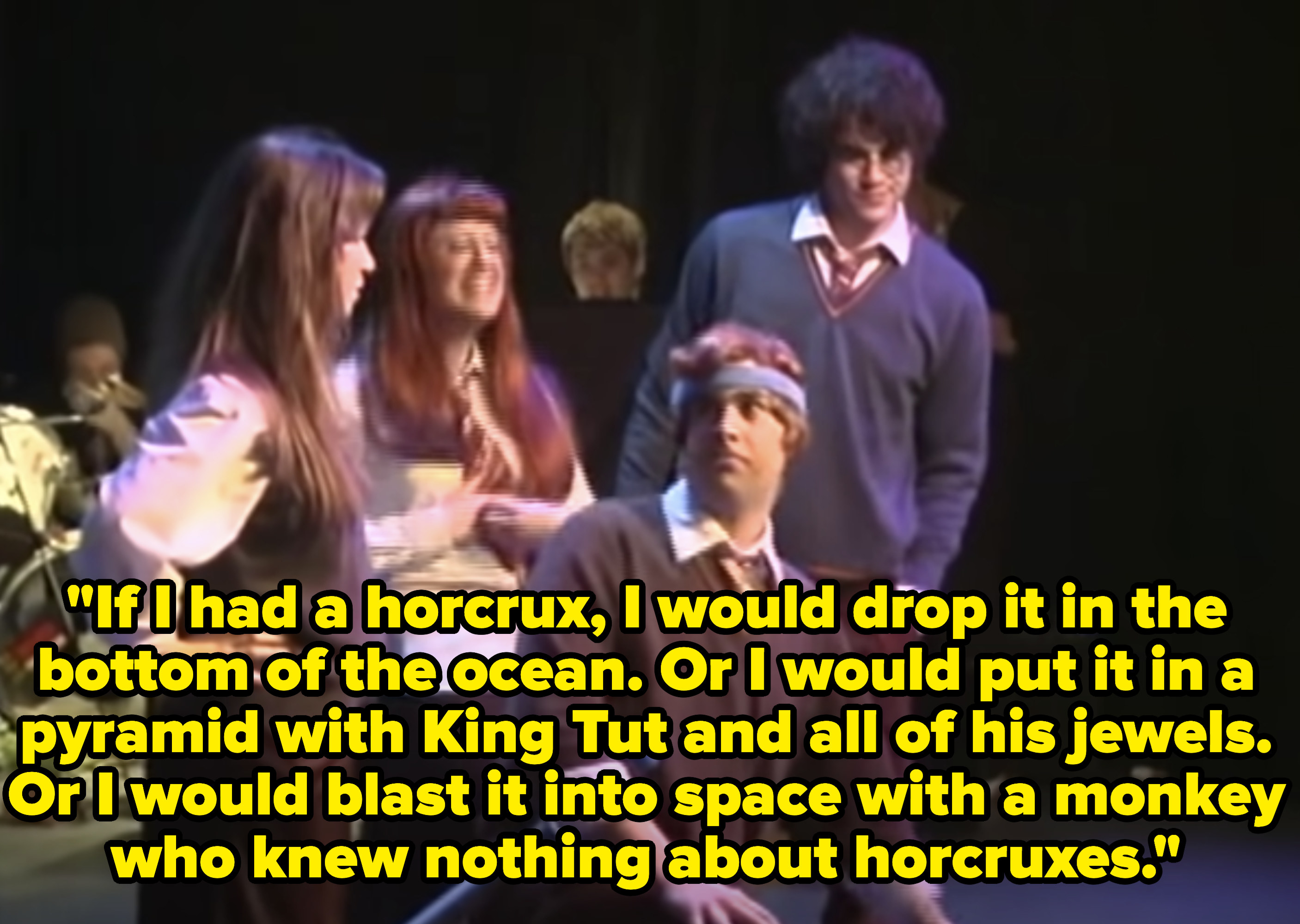 75.
When Hermione suggested basically the plot of the seventh Harry Potter book, and Harry called it dumb: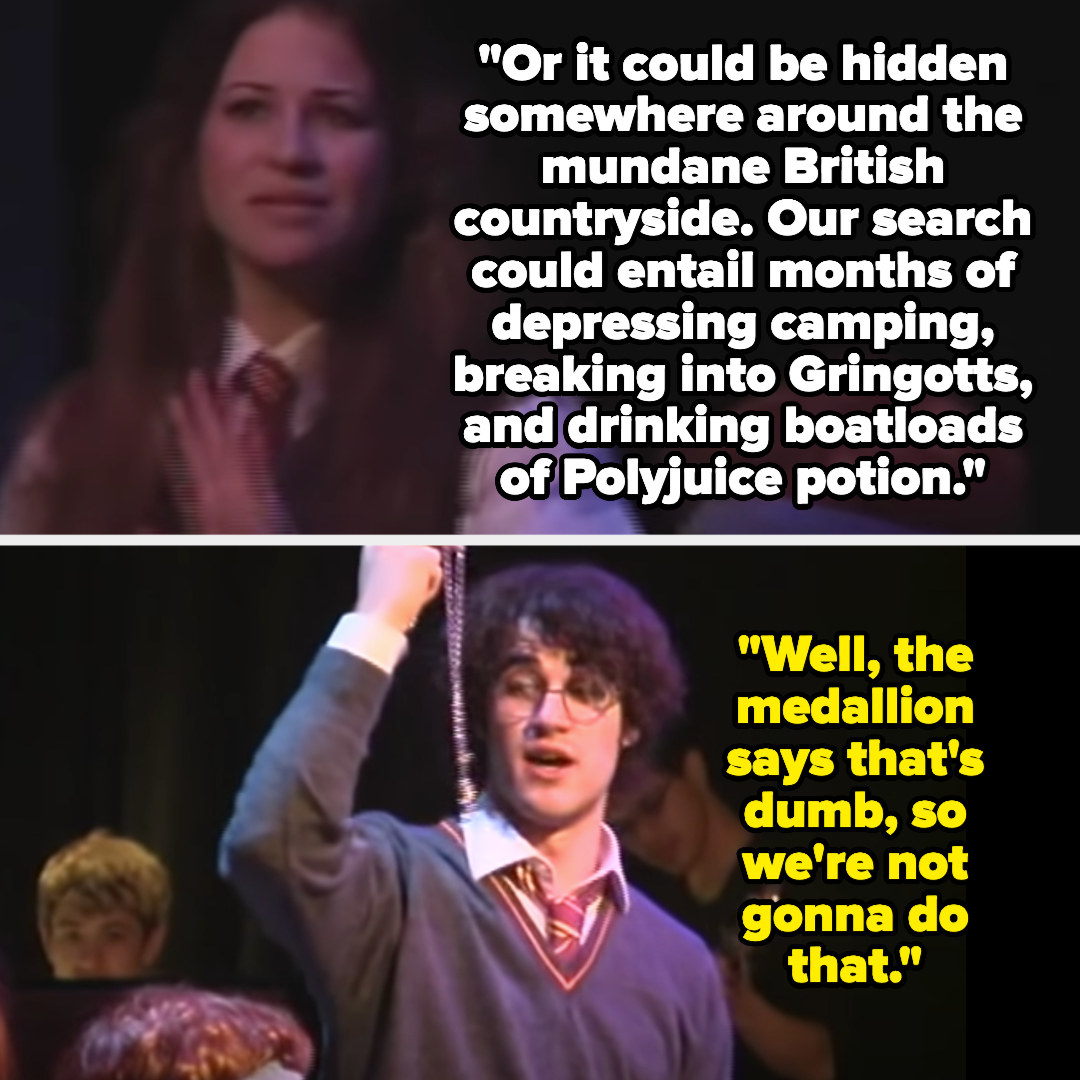 76.
When Malfoy came back to the good side and was a little jealous of not having a part in "Not Alone":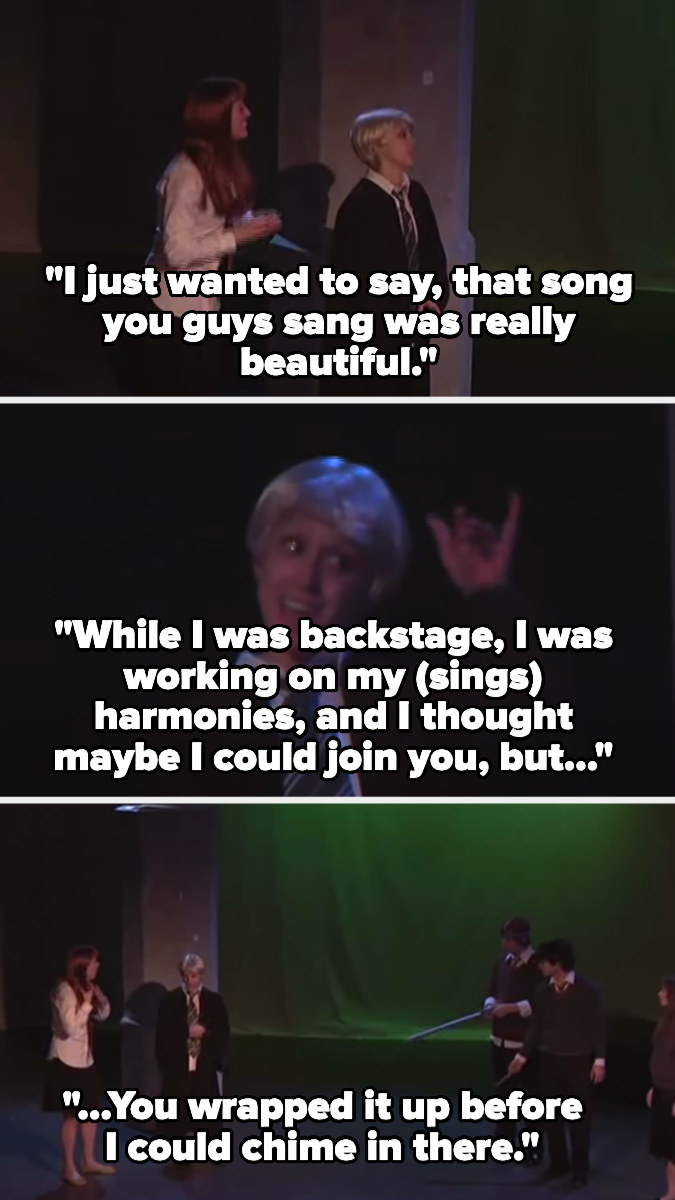 77.
When Malfoy tried to suggest that the Death Eaters getting into the castle wasn't his fault when it was literally the only reason they got in: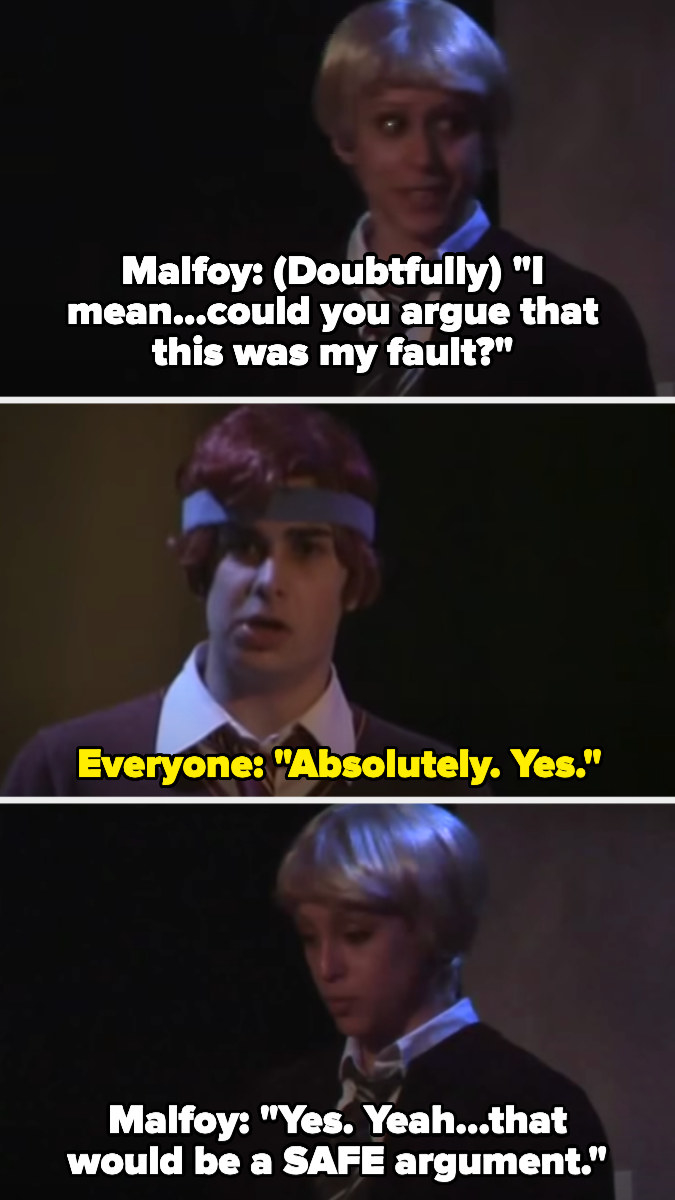 78.
When Harry gave Malfoy two options: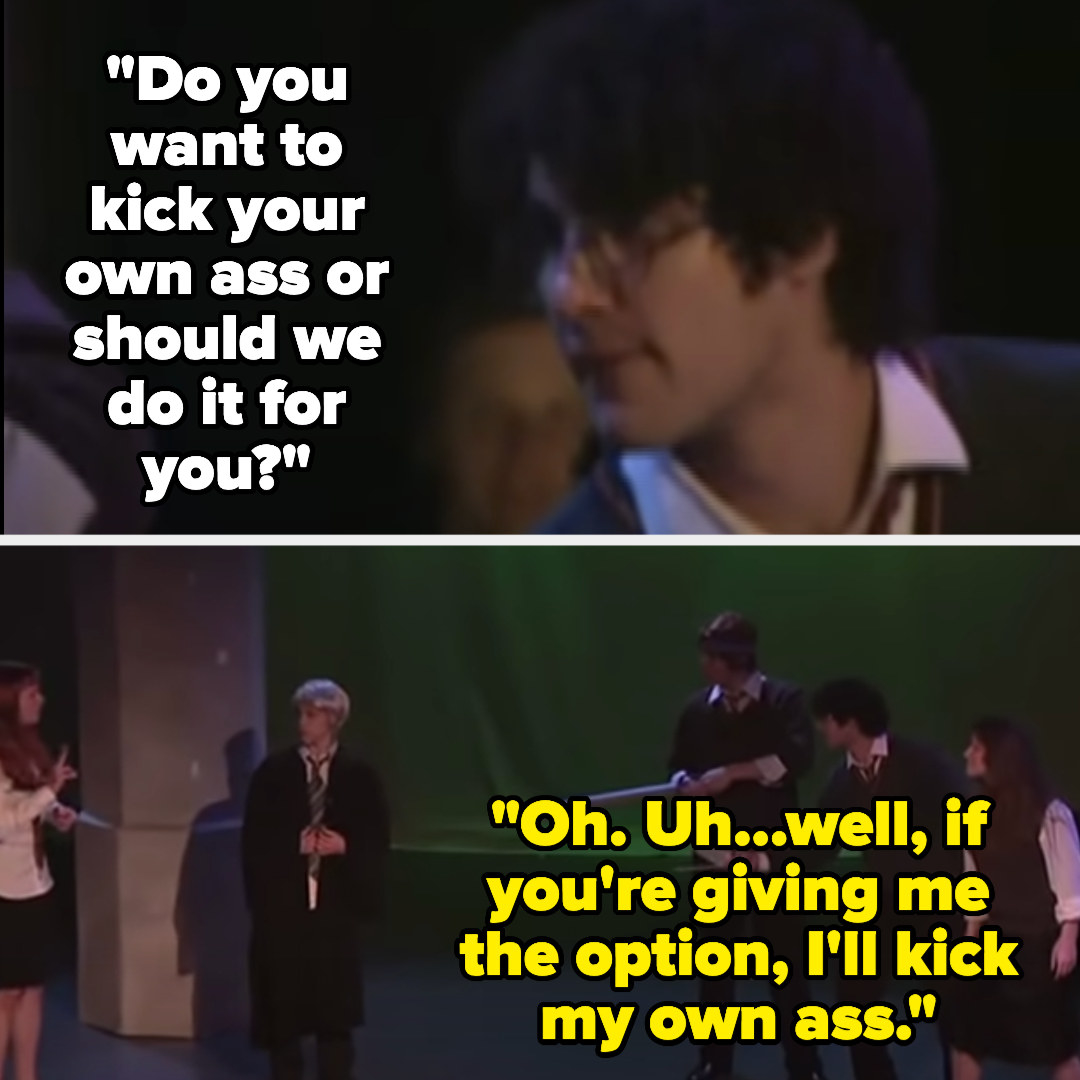 79.
When Hermione broke the fourth wall again: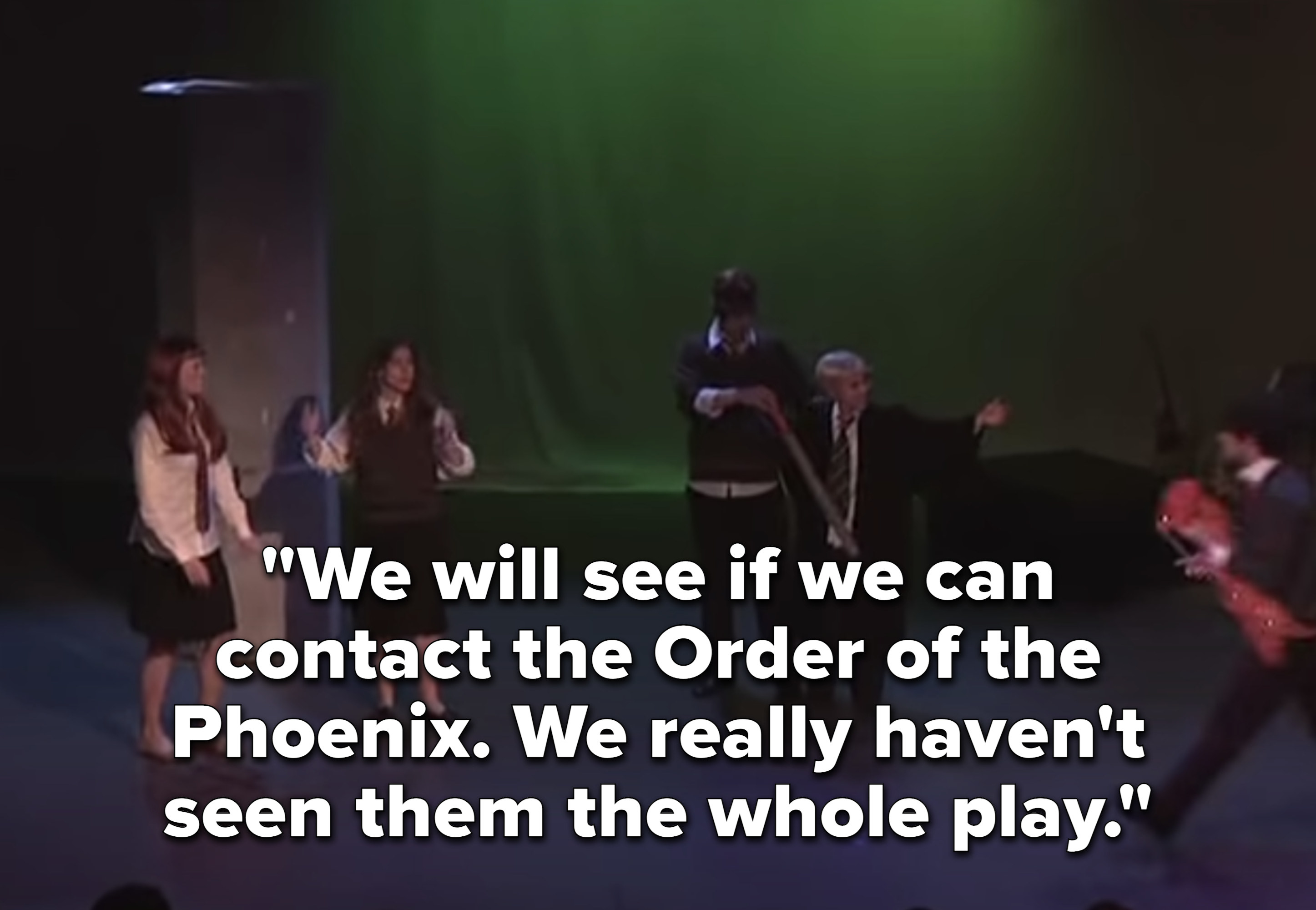 80.
And so did Ron: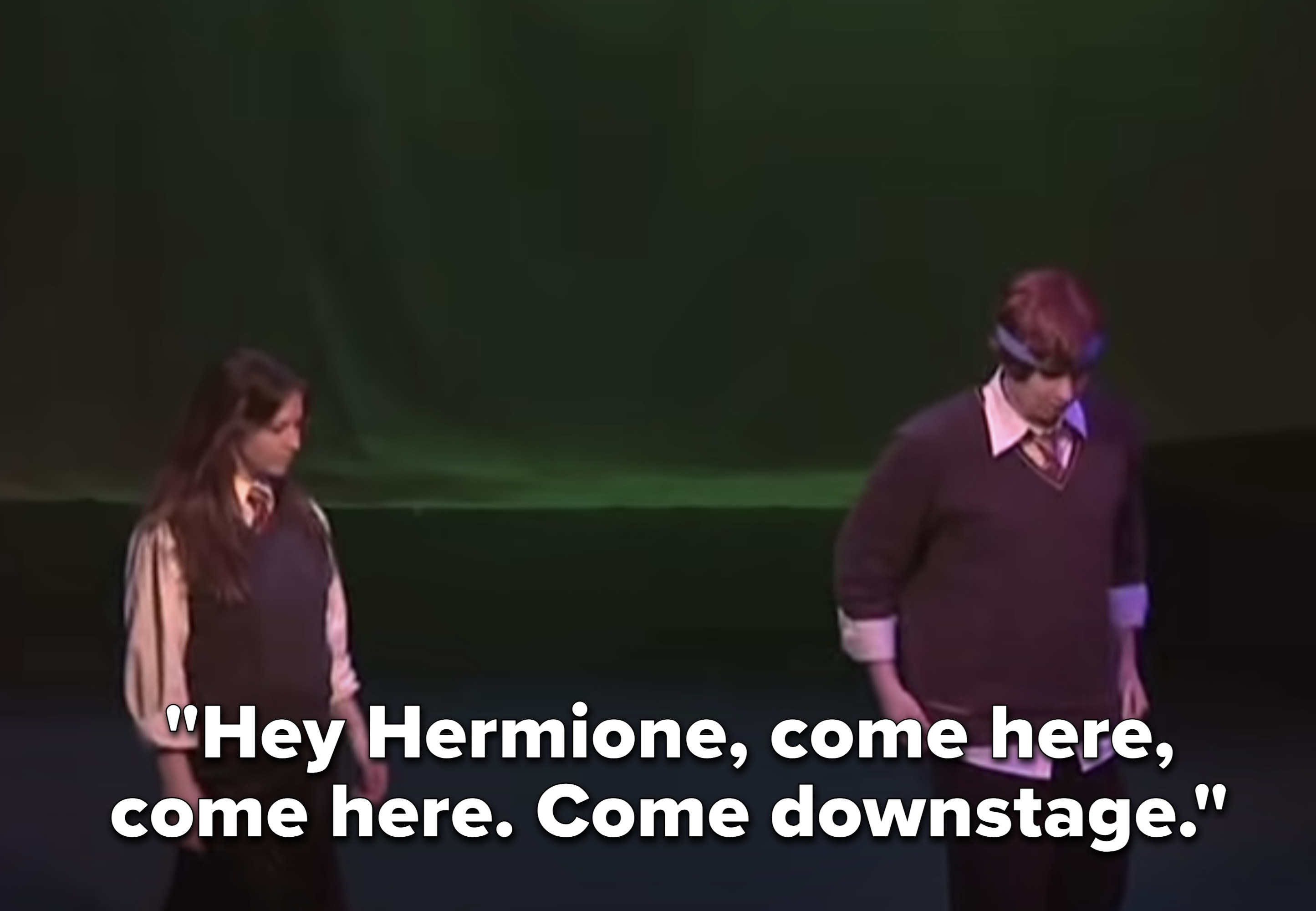 81.
When Ron got a big confidence boost after kissing Hermione: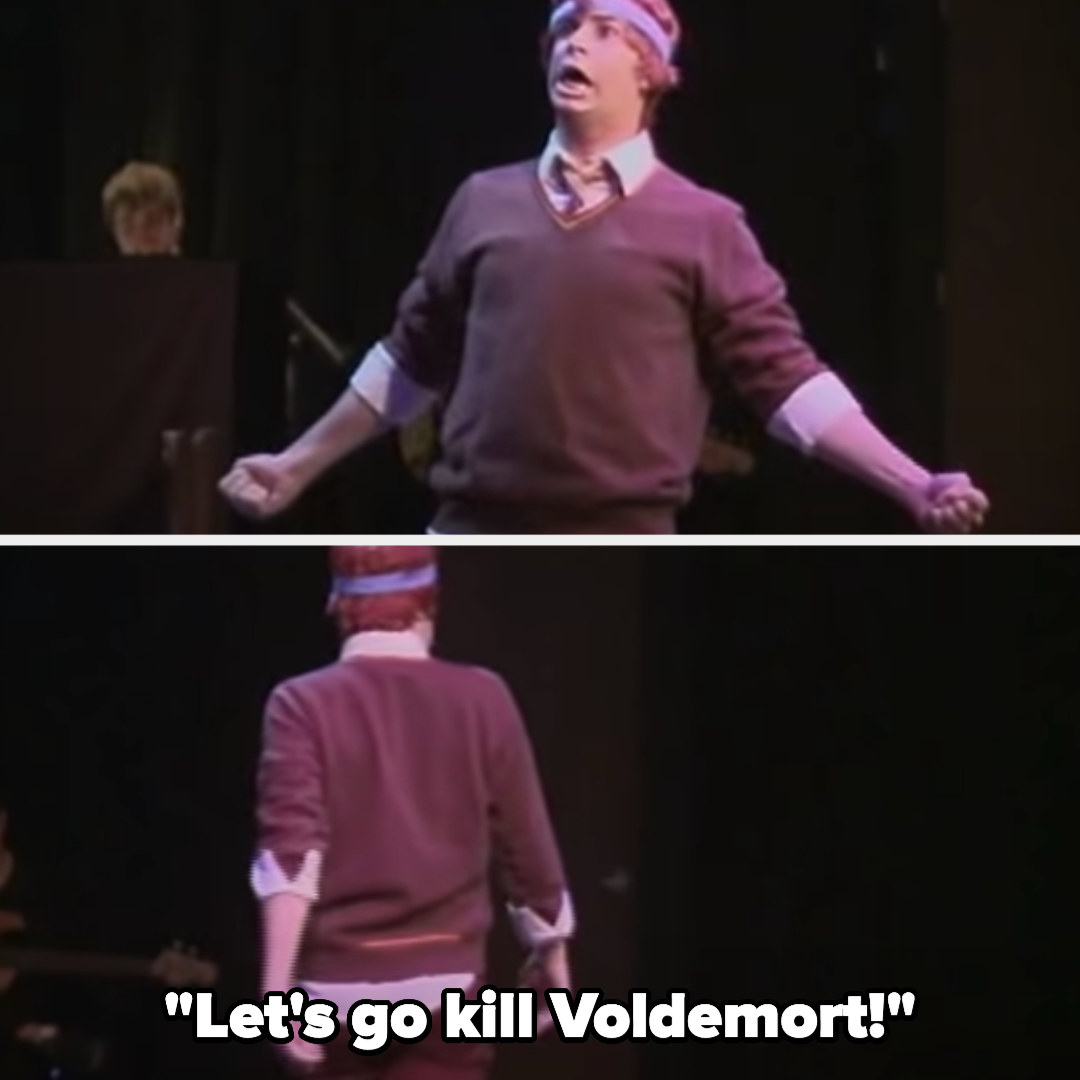 82.
When Harry refused to believe the Zefron poster was a horcrux: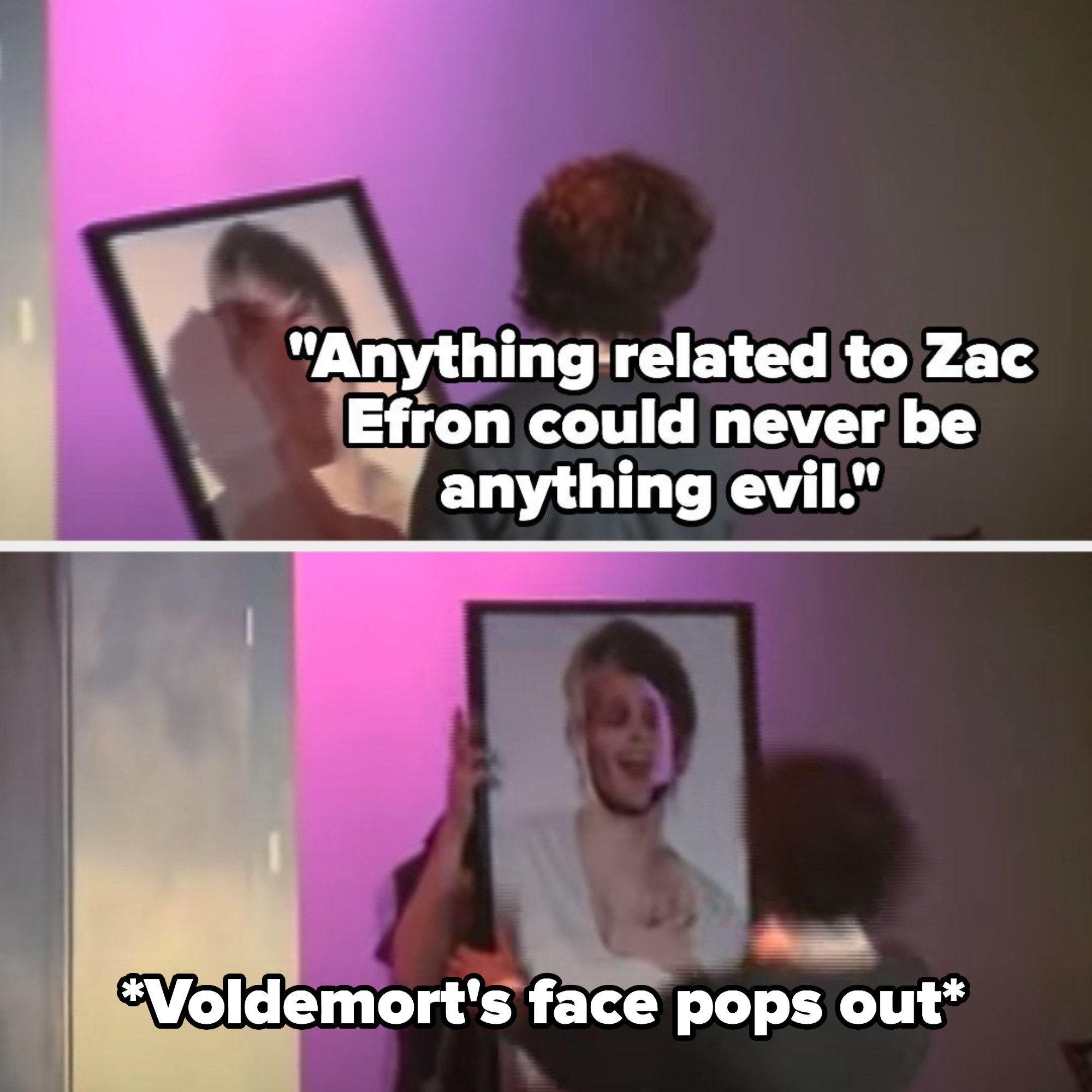 83.
When the horcrux quoted High School Musical: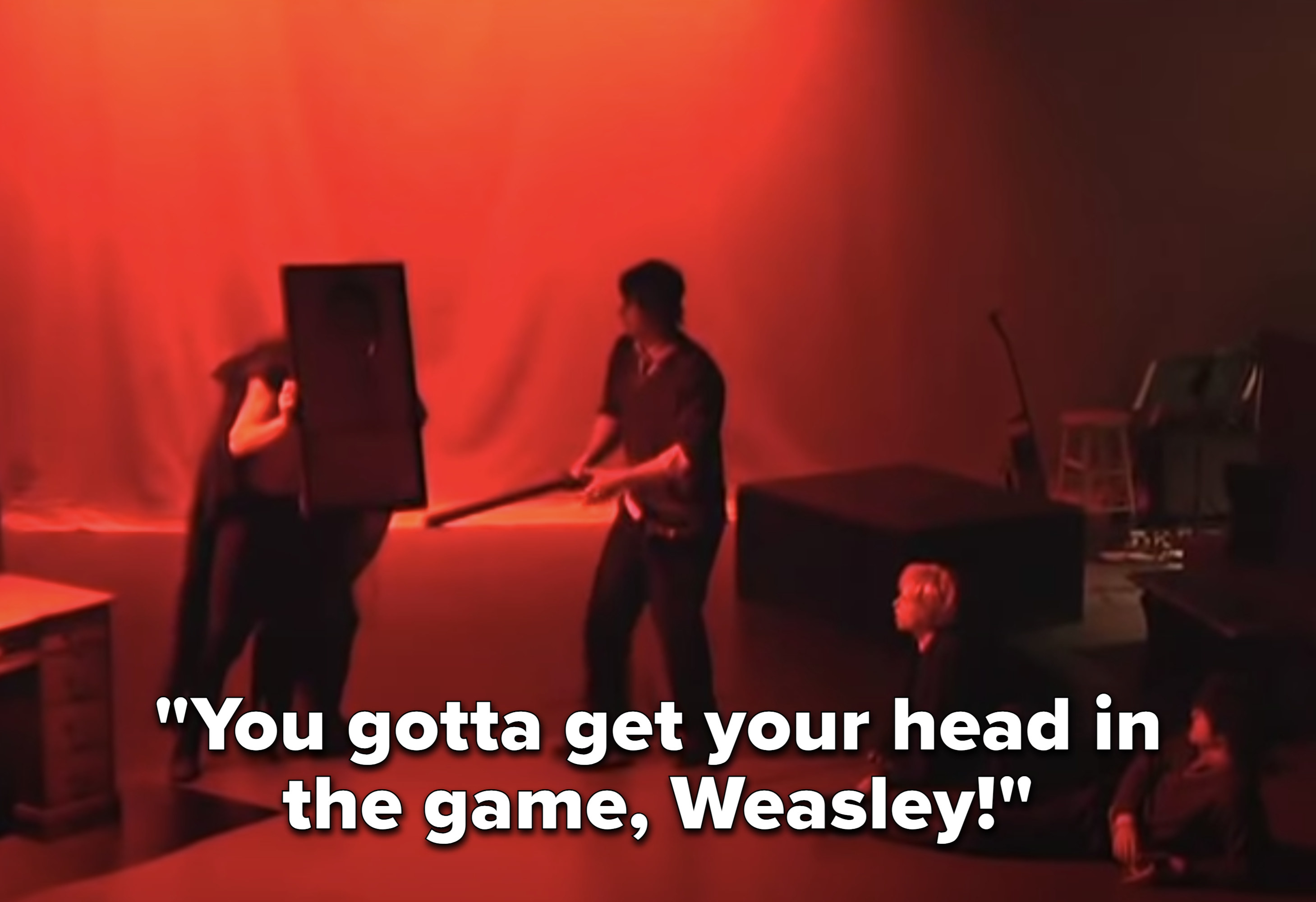 84.
When Mrs. Weasley showed up to defeat the Death Eaters and revealed some sad news:
85.
When Snape revealed there was a seventh horcrux, and Ron was worried: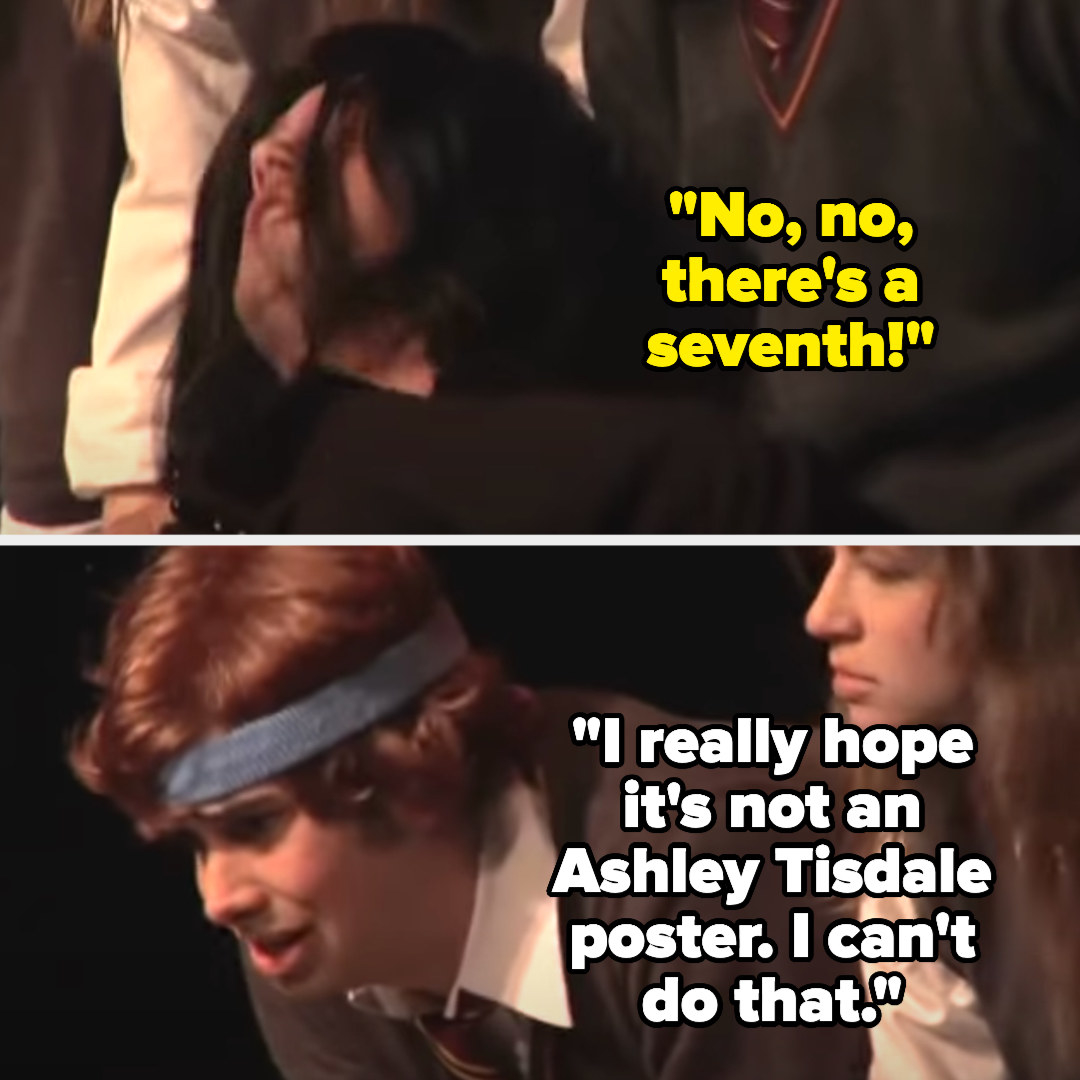 86.
When Harry went off to sacrifice himself and chose not to hold back his feelings: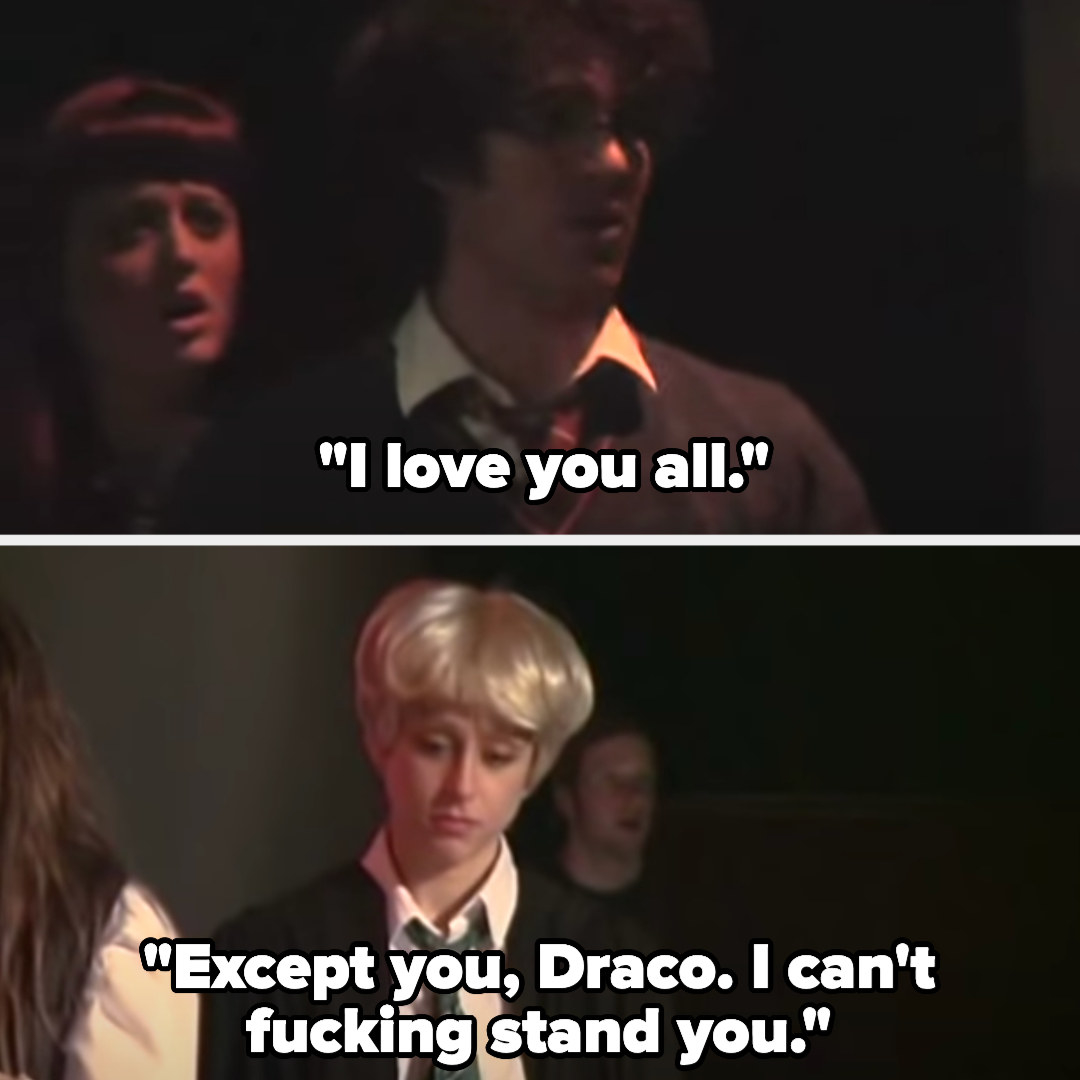 87.
When Voldemort wasn't satisfied after killing Harry: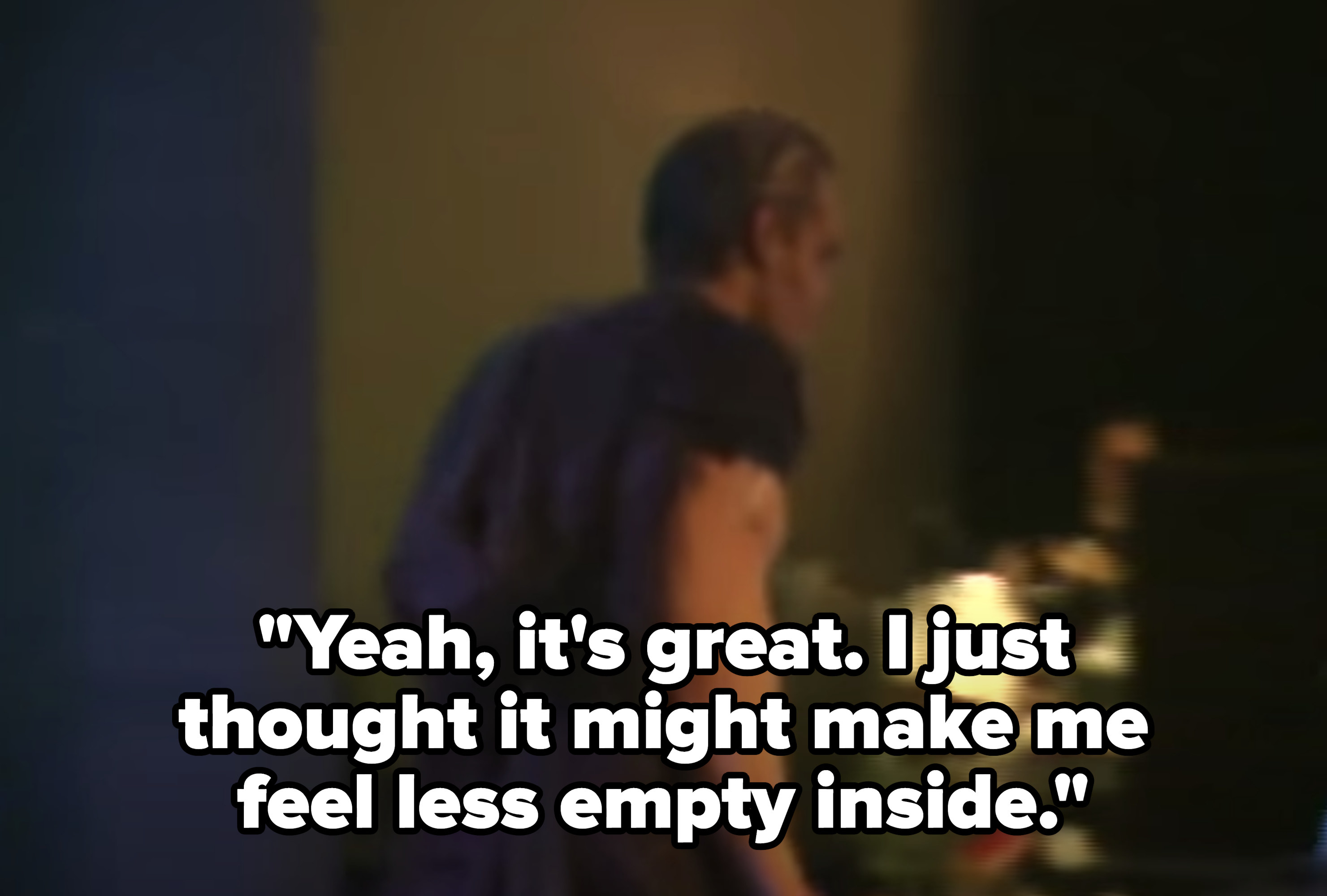 88.
When musical Dumbledore shaded book Dumbledore: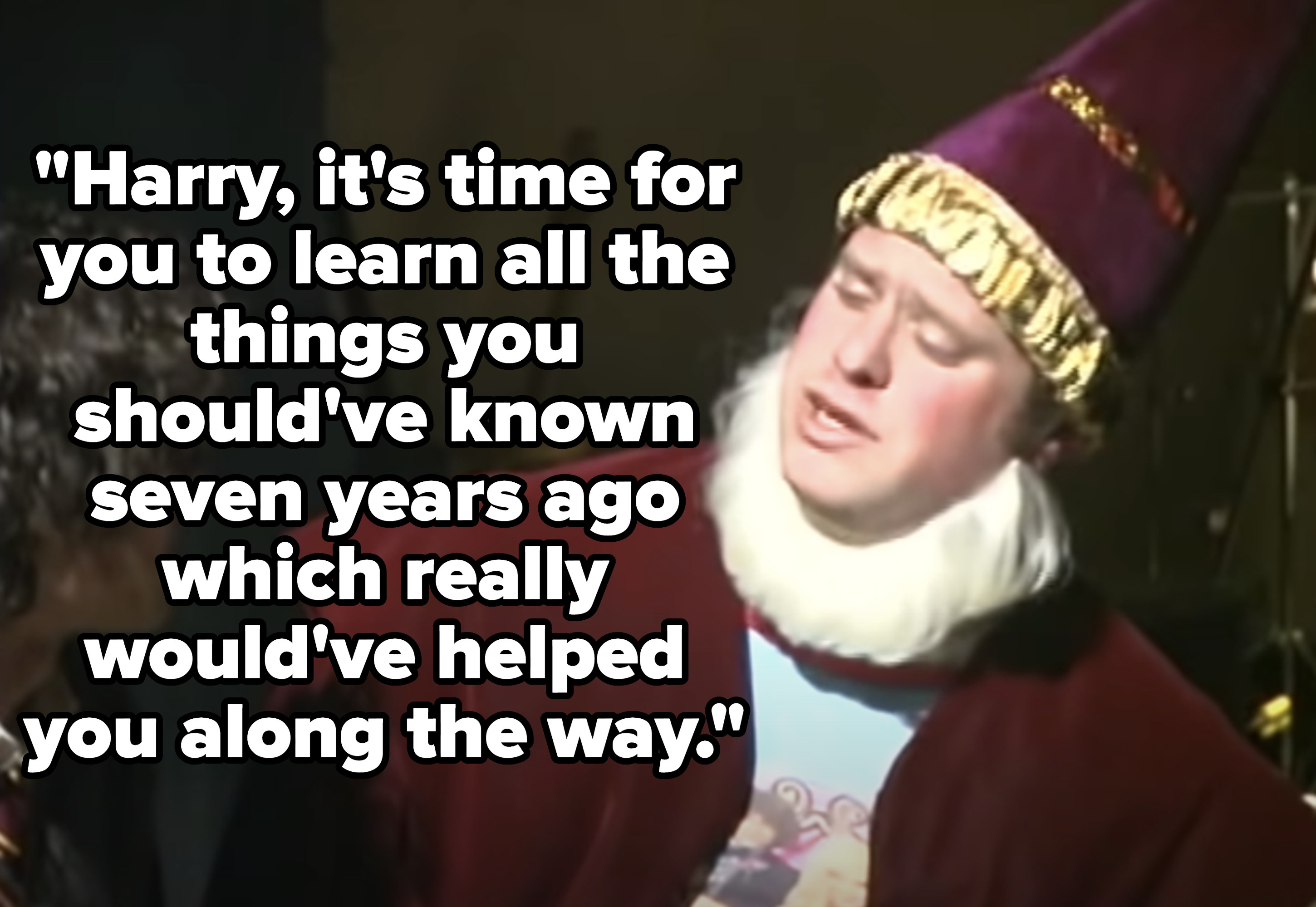 89.
When Harry had the chance to ask an all-knowing person a question, and decided to ask how Lost ended — but not even Dumbledore could answer that: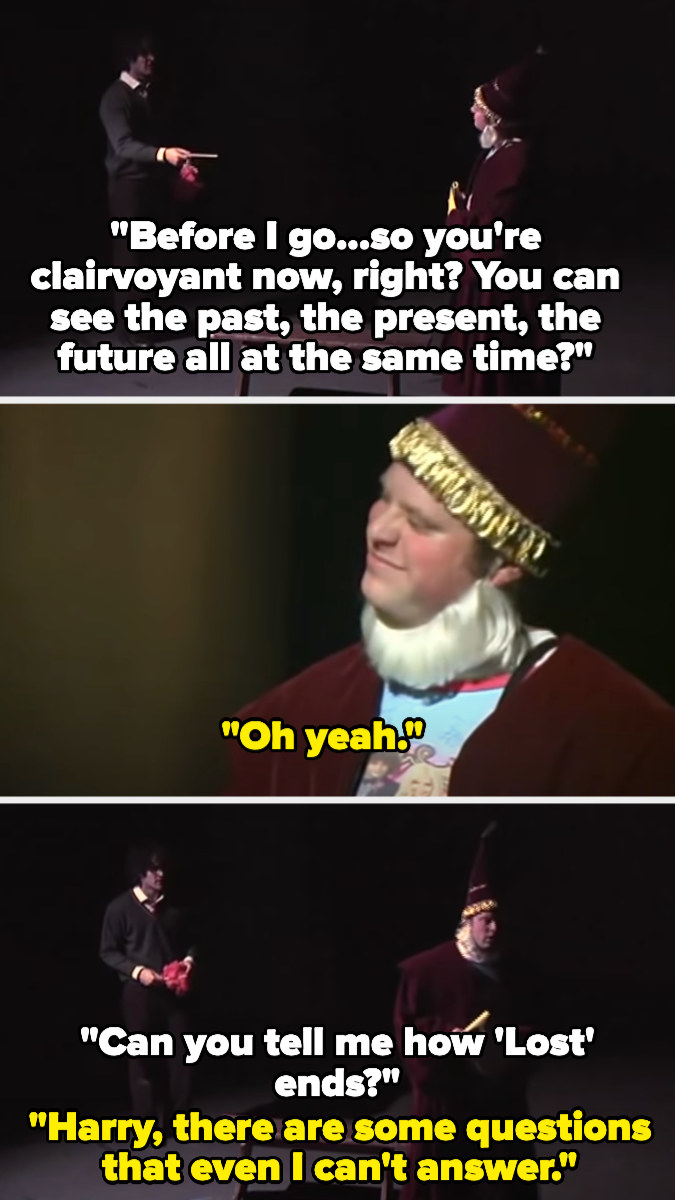 90.
When Malfoy was sick of being a good guy: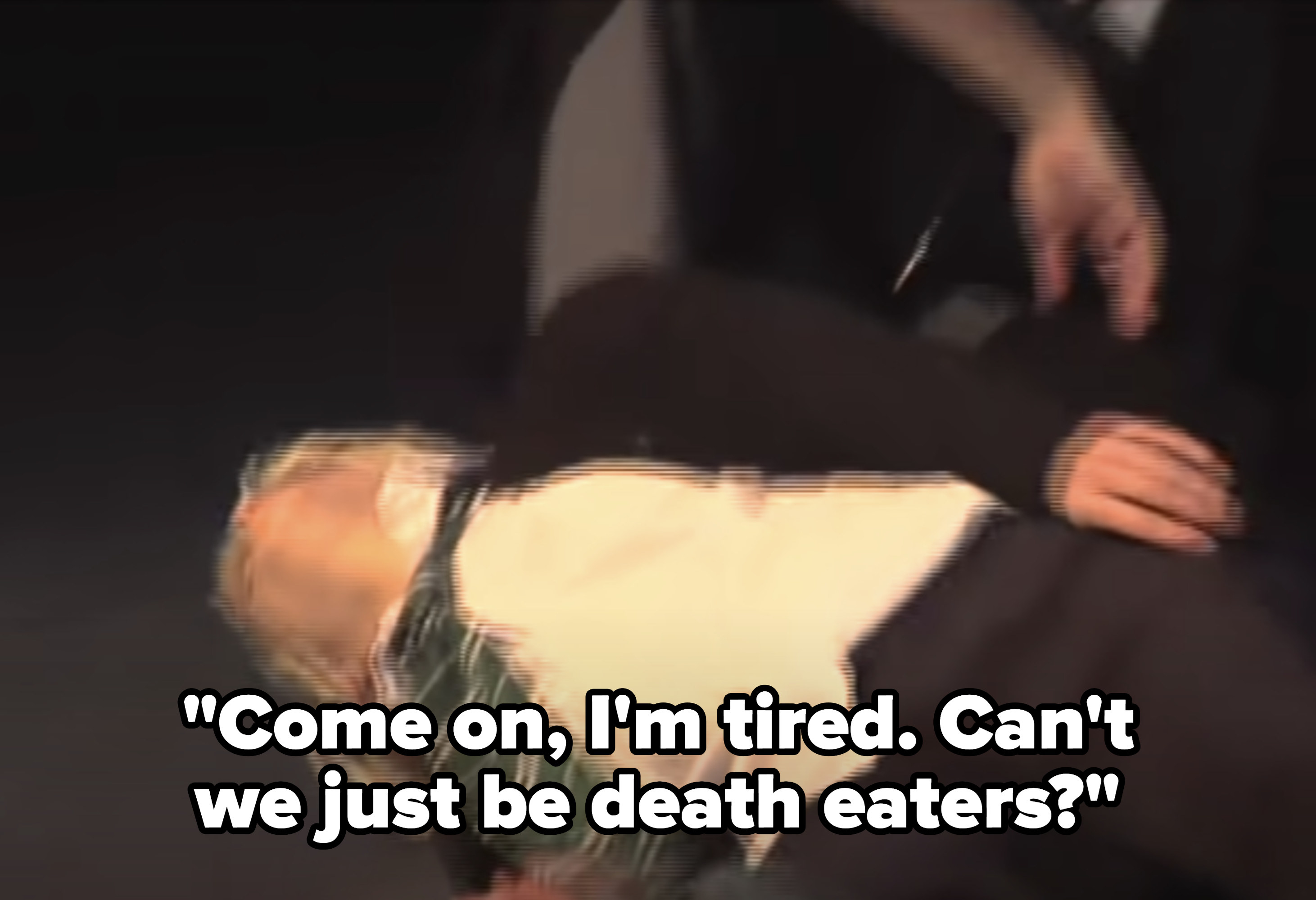 91.
When Ron was a little too eager to sacrifice himself for Harry: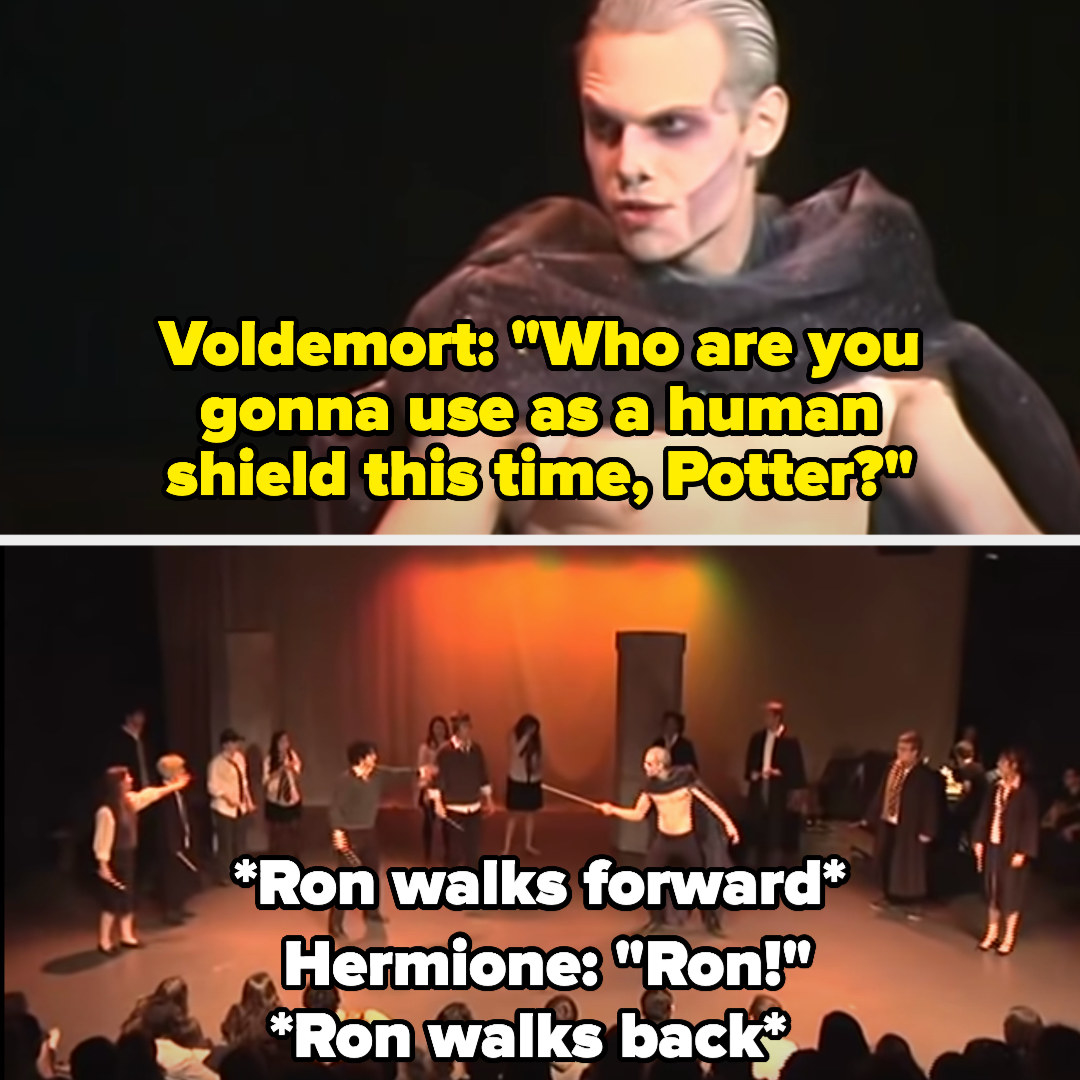 92.
When Voldemort got mad at the piano player for making him emotional: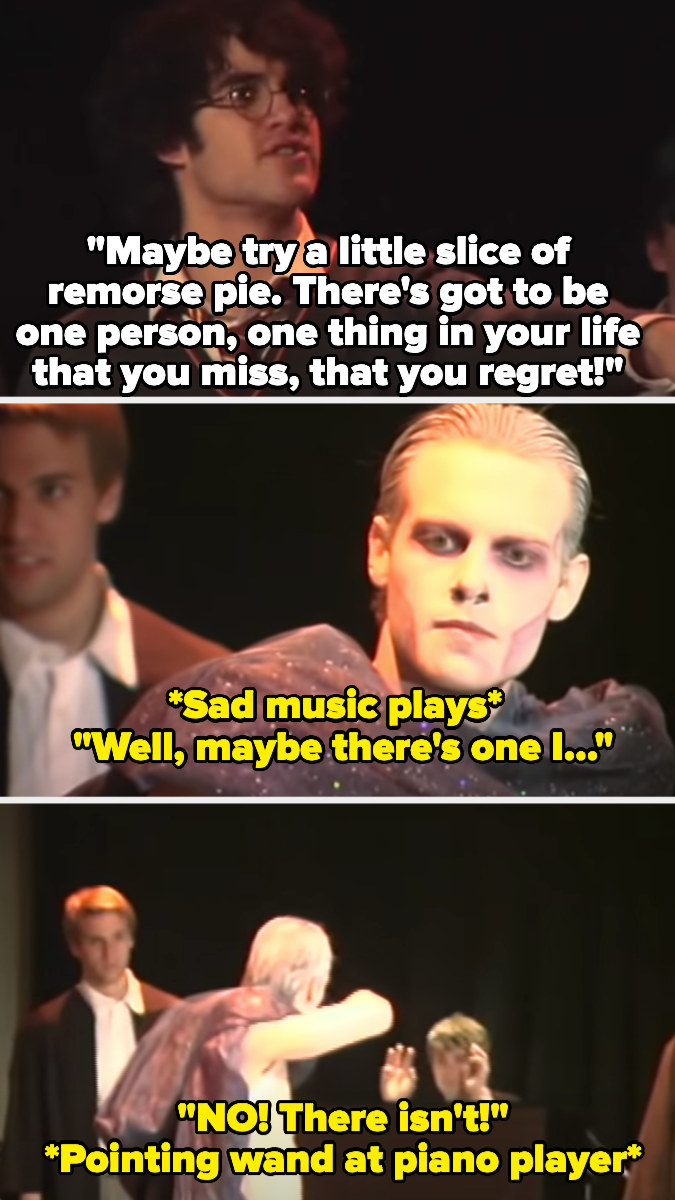 93.
And finally, when Voldemort had a sad realization: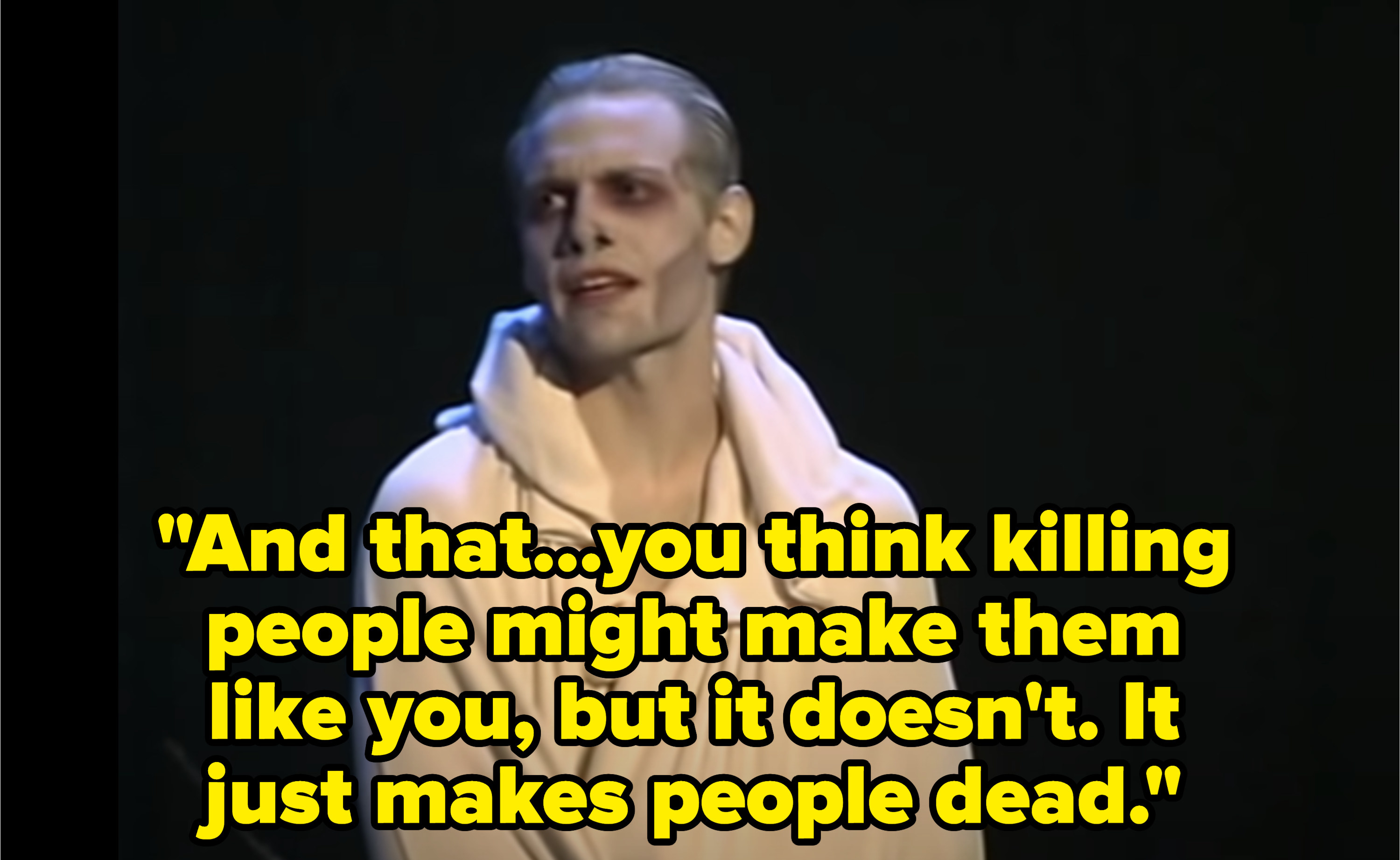 Did I miss any of your favorite moments? Let me know in the comments below!