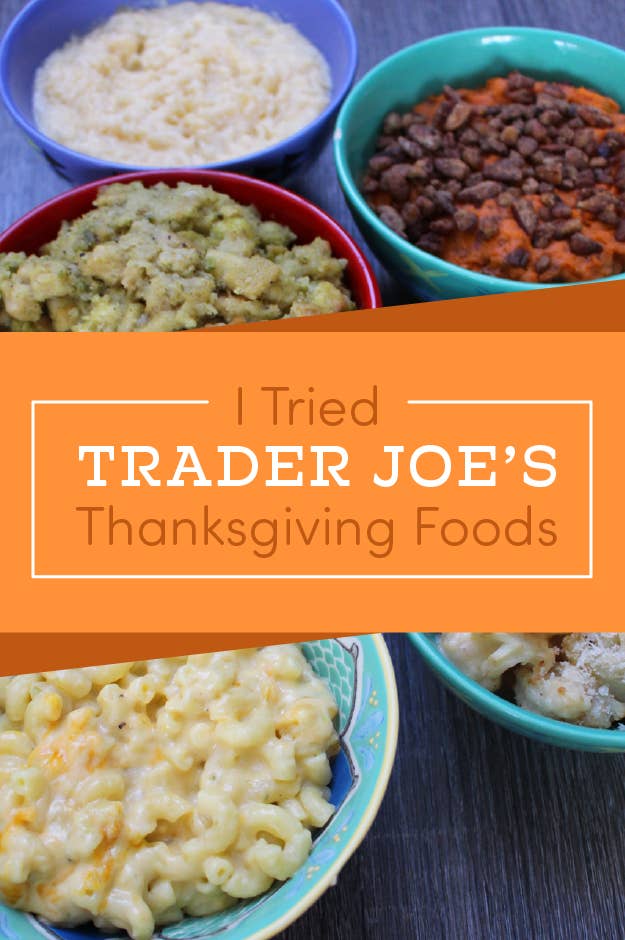 Confession: I'm obsessed with Trader Joe's. From their salad kits to their frozen meals, the aisles are full of creative and delicious gems. So with Thanksgiving right around the corner, I decided to try out some of TJ's best seasonal products.
I scanned the aisles for the best Thanksgiving finds, then cooked an entire holiday meal — from apps and turkey to sides and dessert — using nothing but pre-made dishes.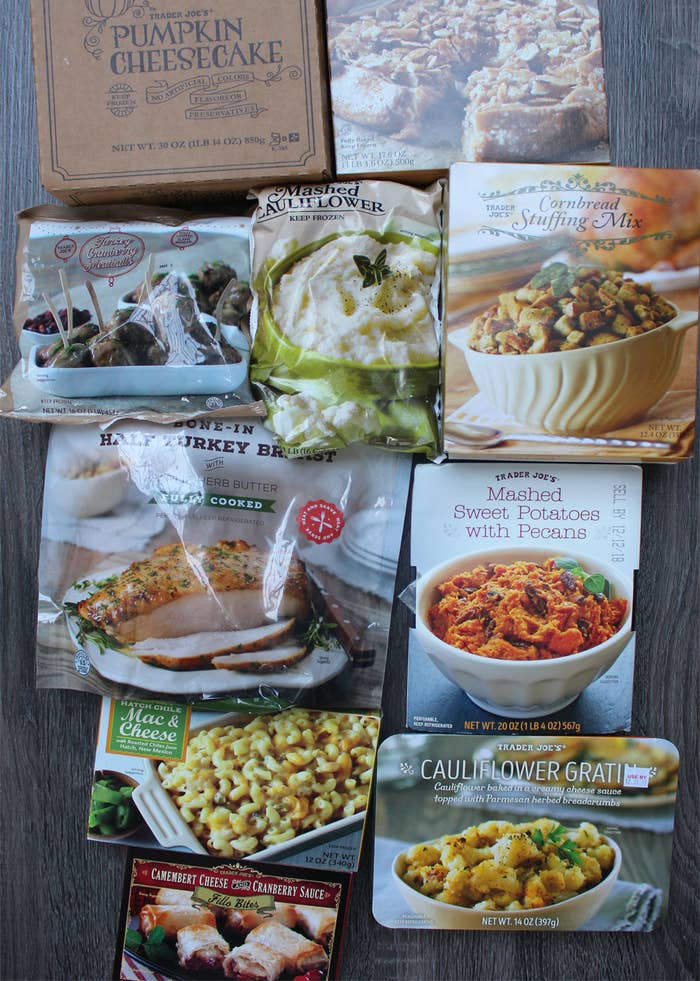 So, maybe you're not too keen on cooking or you're stuck hosting a last minute Thanksgiving. Perhaps you're just looking for a dish to contribute to a Friendsgiving pot luck.
Whatever the case, here are some of the best tried-and-true Thanksgiving products at Trader Joe's, and how you can use them to cook a complete, decadent, and seriously tasty holiday meal.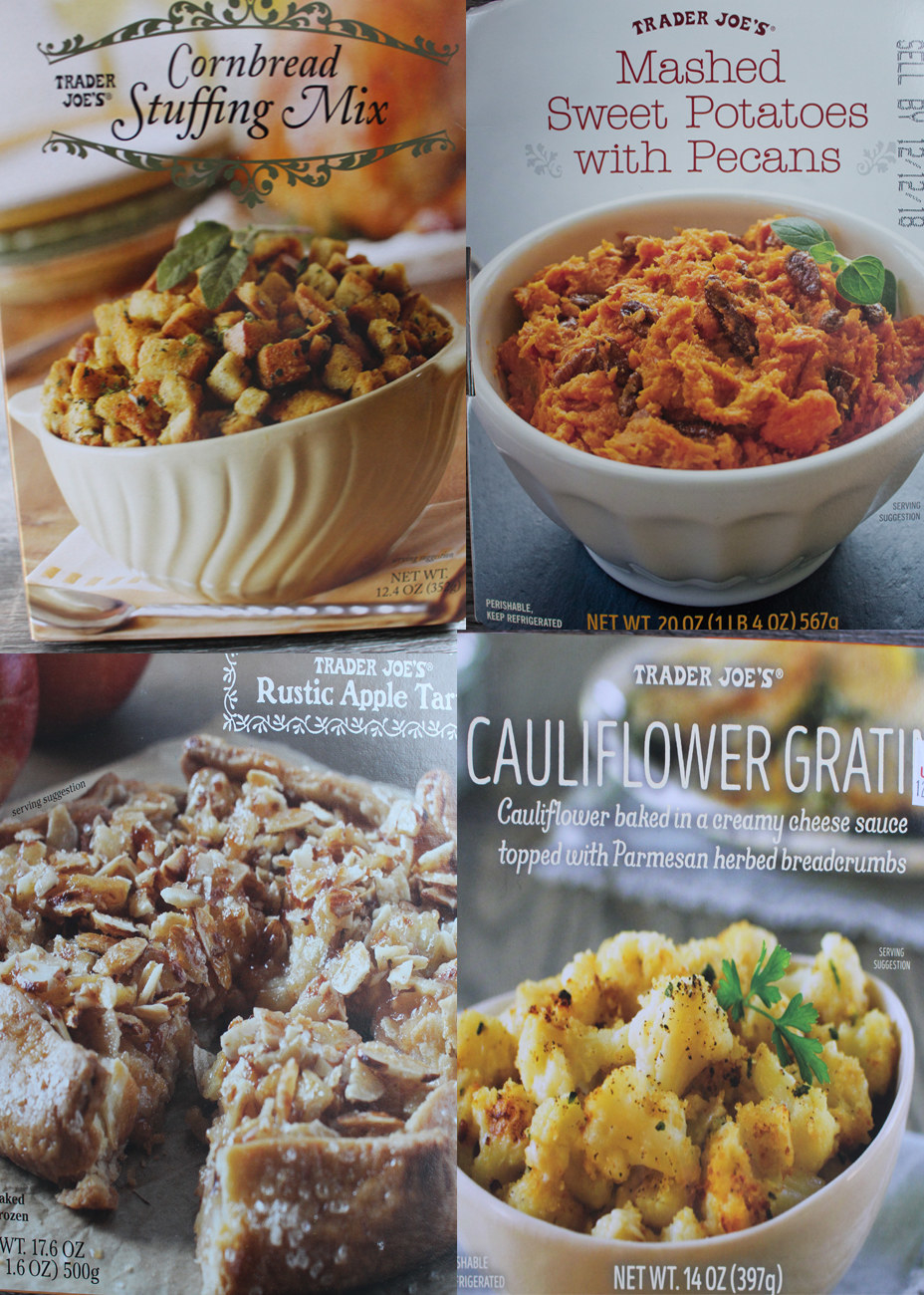 But first, a quick note: I bought one of every prepared food mentioned and my grocery bill was $40. This was the perfect amount to sufficiently feed four people (with some leftovers). Depending on the size of your party, I'd suggest buying more.

Trader Joe's has no shortage of pre-made party apps that will hold people over until dinnertime. I decided to go with turkey cranberry meatballs ($4.49) and camembert and cranberry sauce filo dough bites ($3.99), both of which can be found in the frozen aisle and feel super fall-y and festive.
Both of these apps were virtually impossible to mess up, and you could easily trick anyone into thinking they're homemade. The camembert bites were gooey and melty, and the meatballs had a slight sweet flavor from the cranberries that felt very festive and unique.

Everyone knows the side dishes are the best part of Thanksgiving dinner, right? Right. Luckily, Trader Joe's has a pretty insane lineup of pre-made sides.
Cornbread Stuffing Mix ($3.99)
For so little effort, this stuffing was delicious. And I liked that the box offers instructions for people who prefer their stuffing on the dryer or moister side.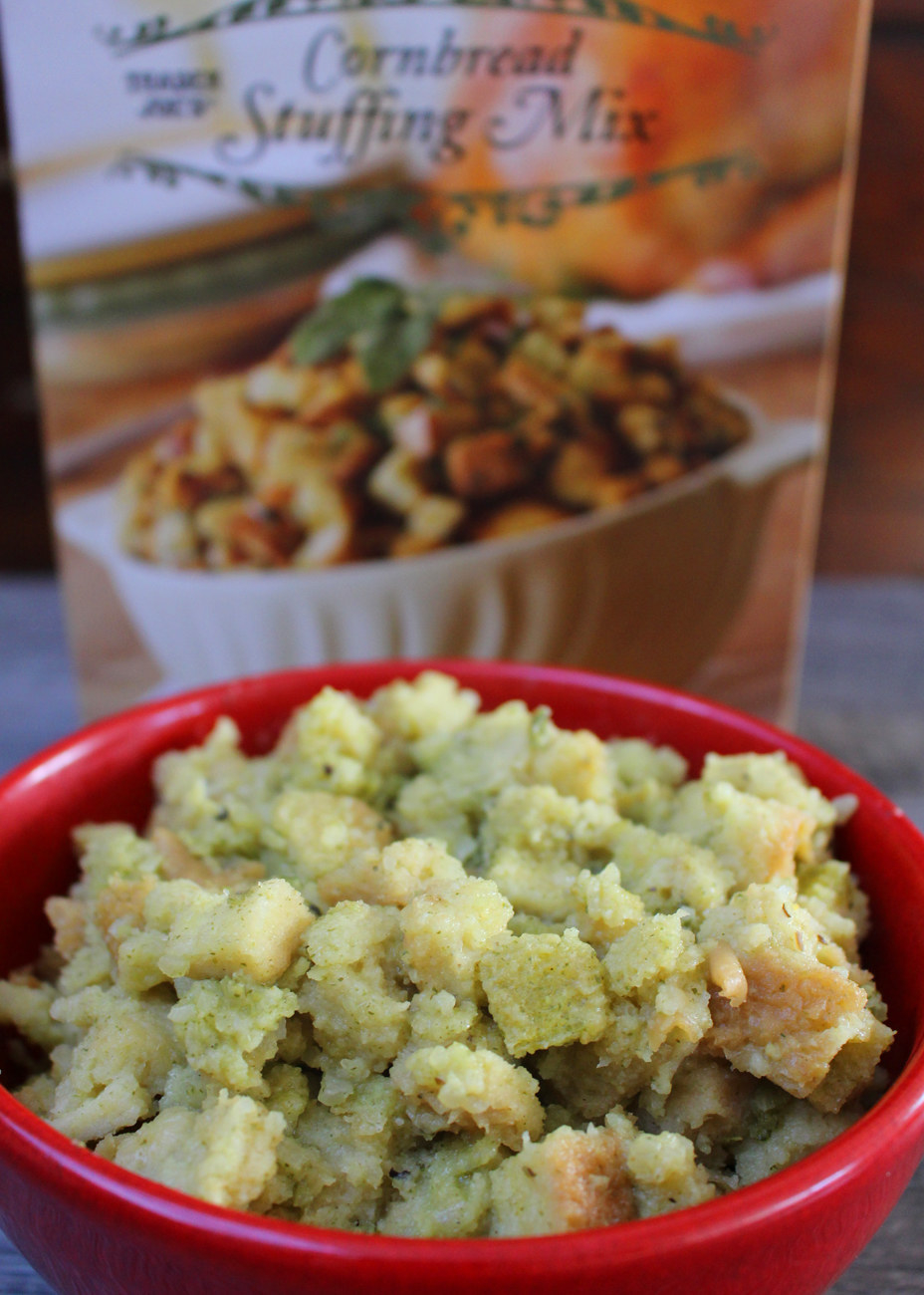 Cauliflower Gratin ($3.99)
Hatch Chile Mac 'n' Cheese
Mashed Sweet Potatoes with Maple Roasted Pecans ($4.99)
Mashed Cauliflower ($2.99)
The mashed cauliflower is a bit denser than your typical light and airy mashed potatoes, but it still tastes decadent and very creamy. You can also add a bit of shredded cheese to make it thicker.
I'd make any single one of these sides again. All tasted delicious, took almost no time to prepare, and tasted like they could've been homemade.
I'll be honest, I'm terrified of roasting turkey in my apartment. The last time I tried roasting a whole bird I set my smoke alarm off. Luckily, TJ's sells a bone-in, pre-brined half turkey breast ($6.99/lb).
It comes in a bag, covered in herb butter. All you have to do is heat it up while basting occasionally, let it sit, and then slice it. It's ready to eat in about 30 minutes flat.
Now I'll admit, I was pretty skeptical. But the turkey got crispy on the outside while staying super moist on the inside. The herb butter was also delicious.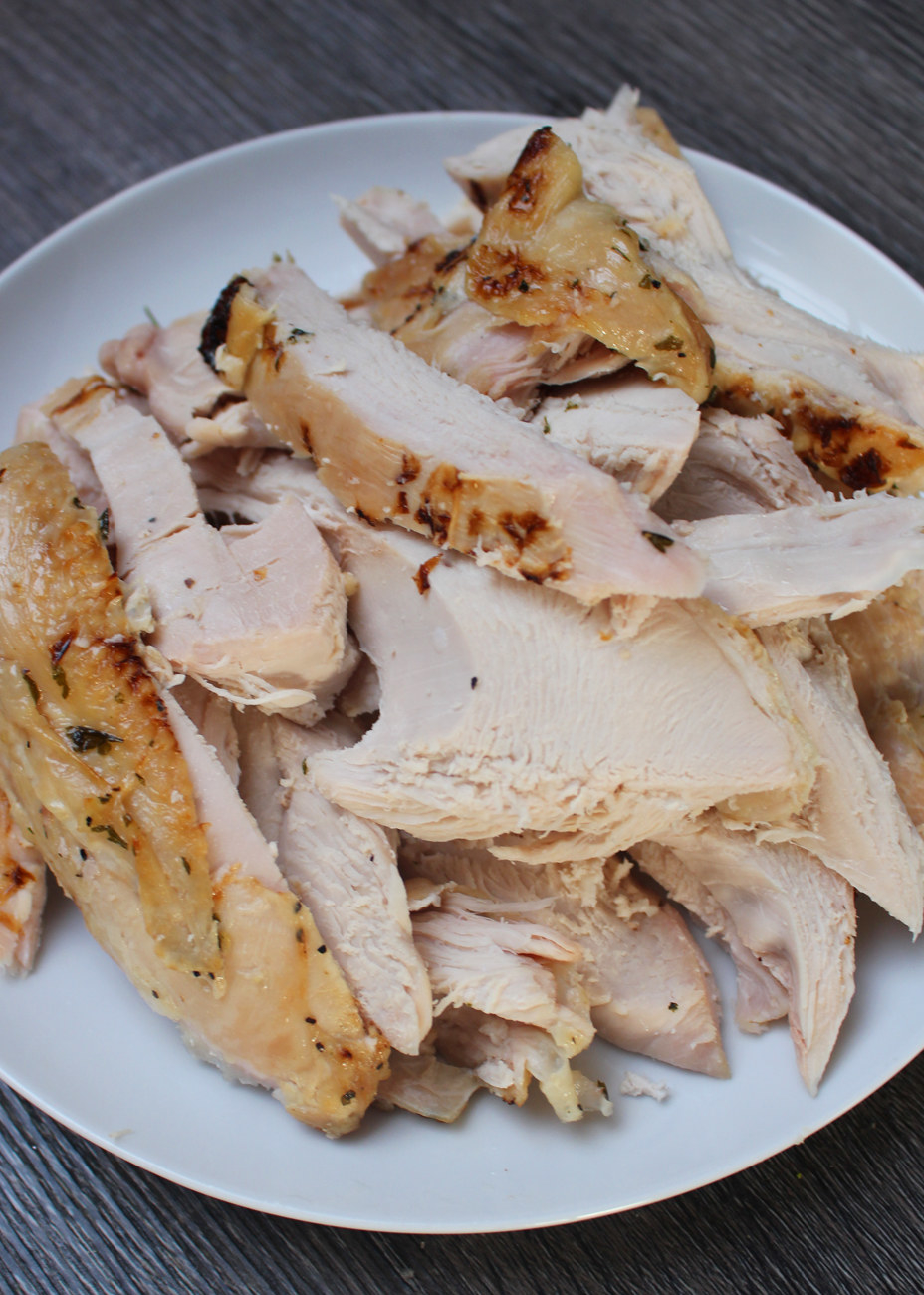 With the turkey fresh from the oven, Thanksgiving dinner is served.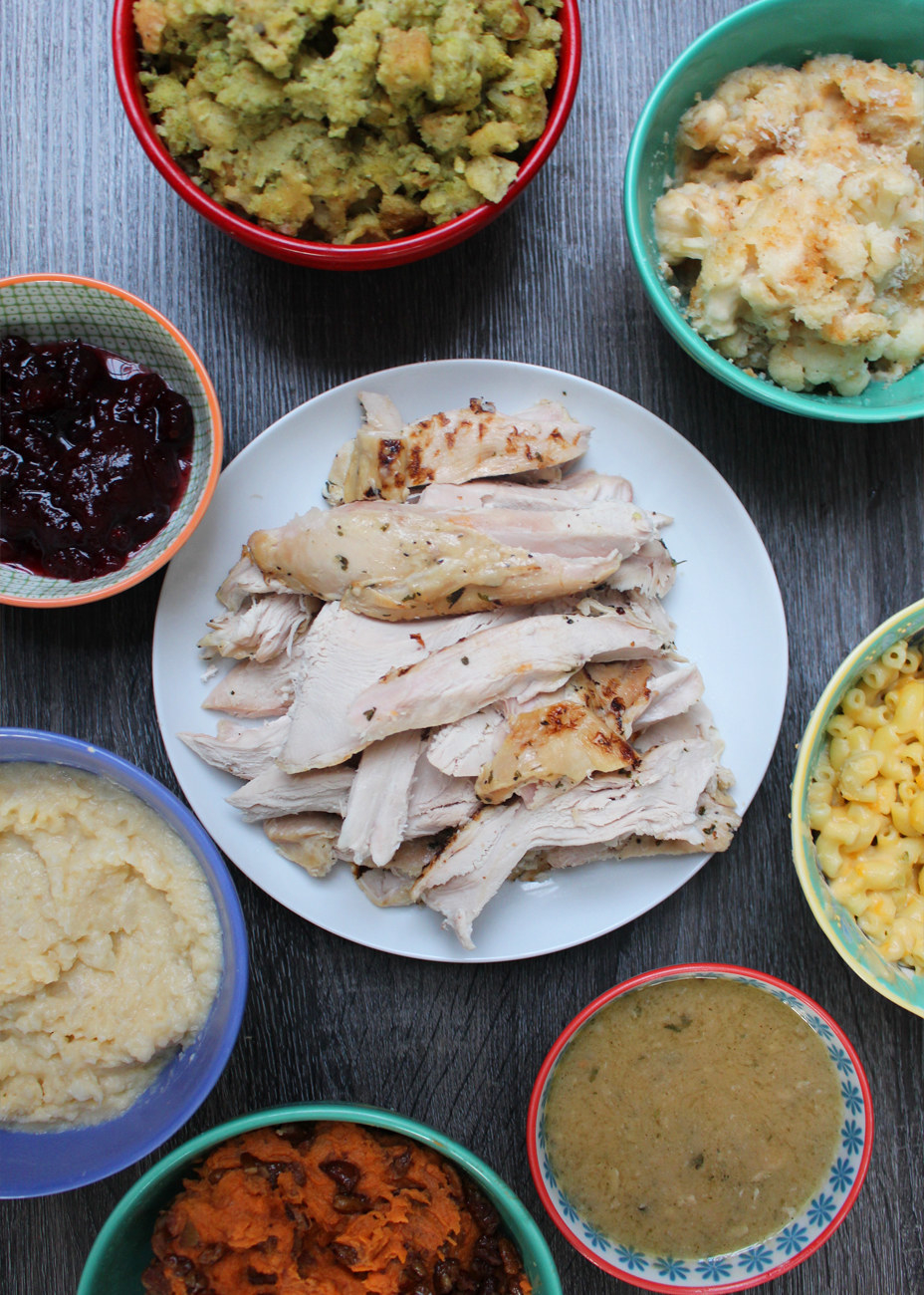 And you'd never know absolutely nothing was cooked from scratch.
Of course, I didn't forget about dessert, which is arguably the most important part of Thanksgiving. I always have a tough time choosing between apple and pumpkin, so I decided to get both.
Heat the apple tart in the oven for 20 minutes until it's warm throughout. The cheesecake just has to thaw. You can leave it in the fridge for four hours (or overnight), or to quickly thaw it, remove it from the box and leave it at room temperature for an hour.
TBH, the dessert was probably the highlight of the meal. Both tasted incredible, and there's no "baking" required. So thanks to Trader Joe's, you really can have your pie and eat it too.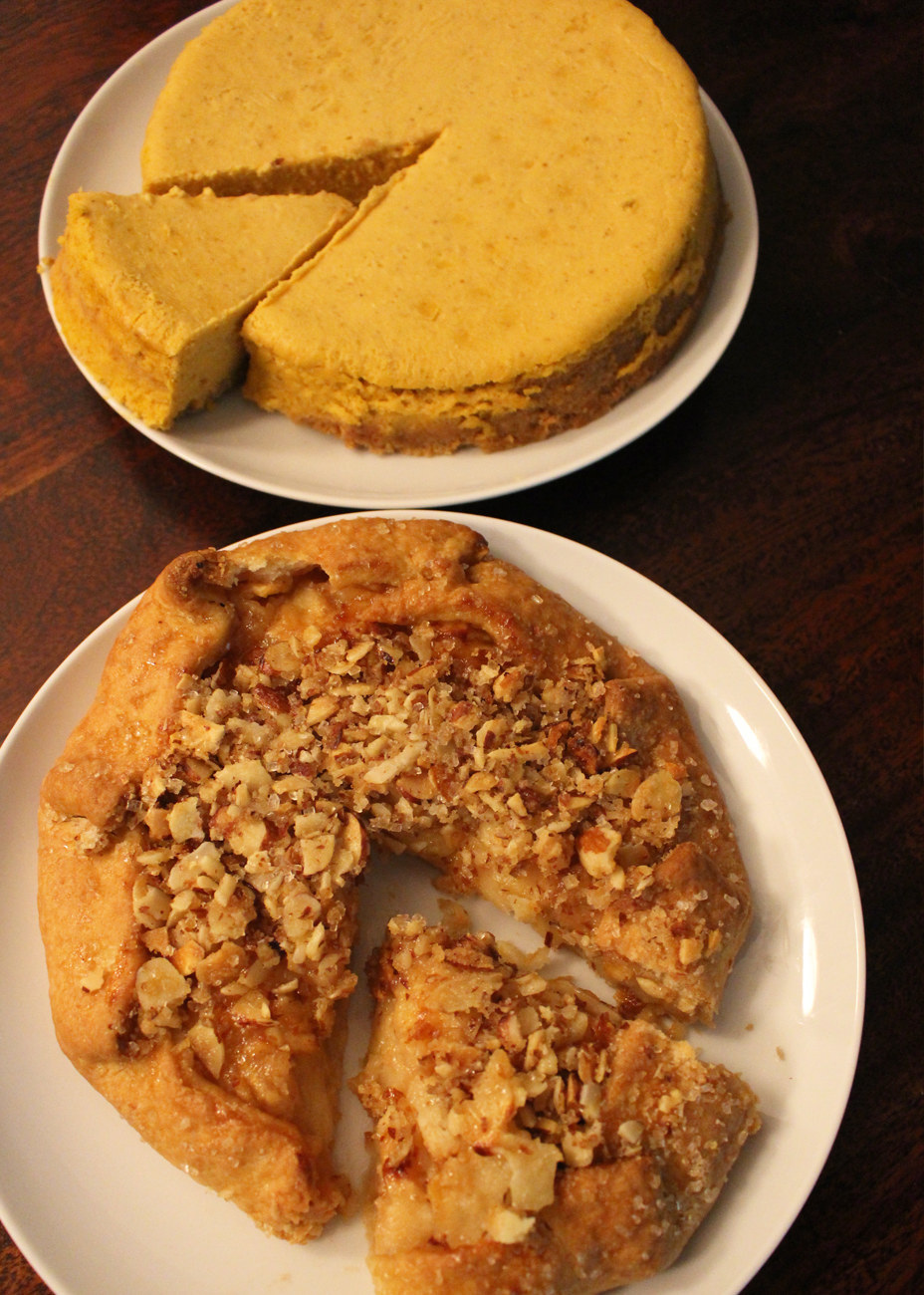 If you're looking for more Thanksgiving inspiration, check out Tasty's complete Thanksgiving coverage.