We hope you love the products we recommend! All of them were independently selected by our editors. Some may have been sent as samples, but all opinions and reviews are our own. Just so you know, BuzzFeed may collect a share of sales or other compensation from the links on this page if you decide to shop from them. Oh, and FYI — prices are accurate and items in stock as of time of publication.
Do you love yogurt? Well boy, do I have some news for you...
You can make your favorite breakfast from scratch using just two ingredients and a very simple gadget: my new obsession, the Euro Cuisine YM80 Yogurt Maker ($32.99 on Amazon).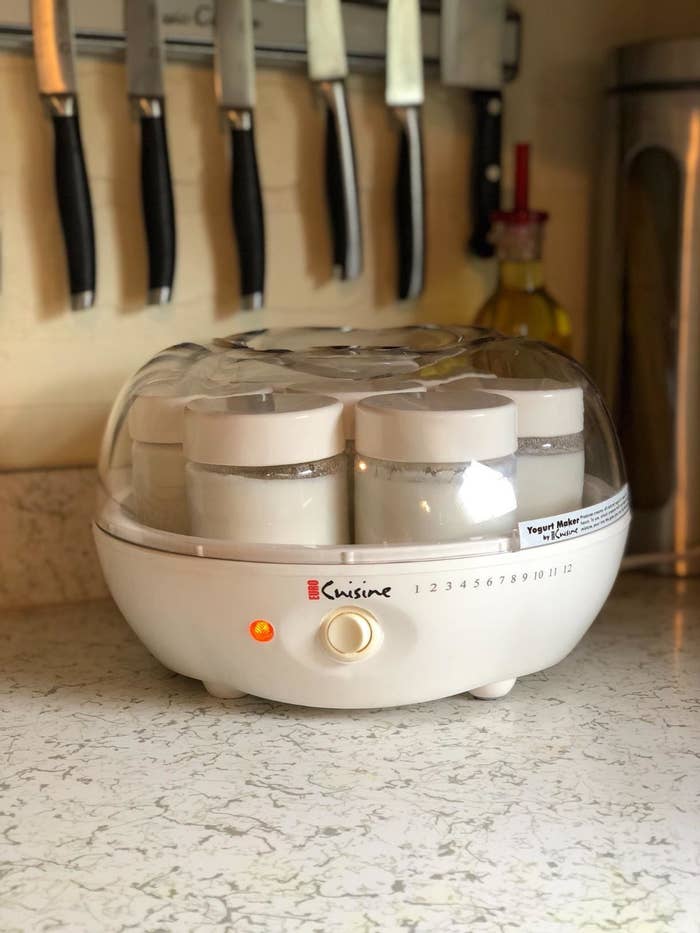 My mother kept talking about making her own yogurt, so I bought her the Euro Cuisine for Mother's Day. Since then, we've both been making our own homemade yogurt often using this simple and affordable gadget. Here's exactly how it works.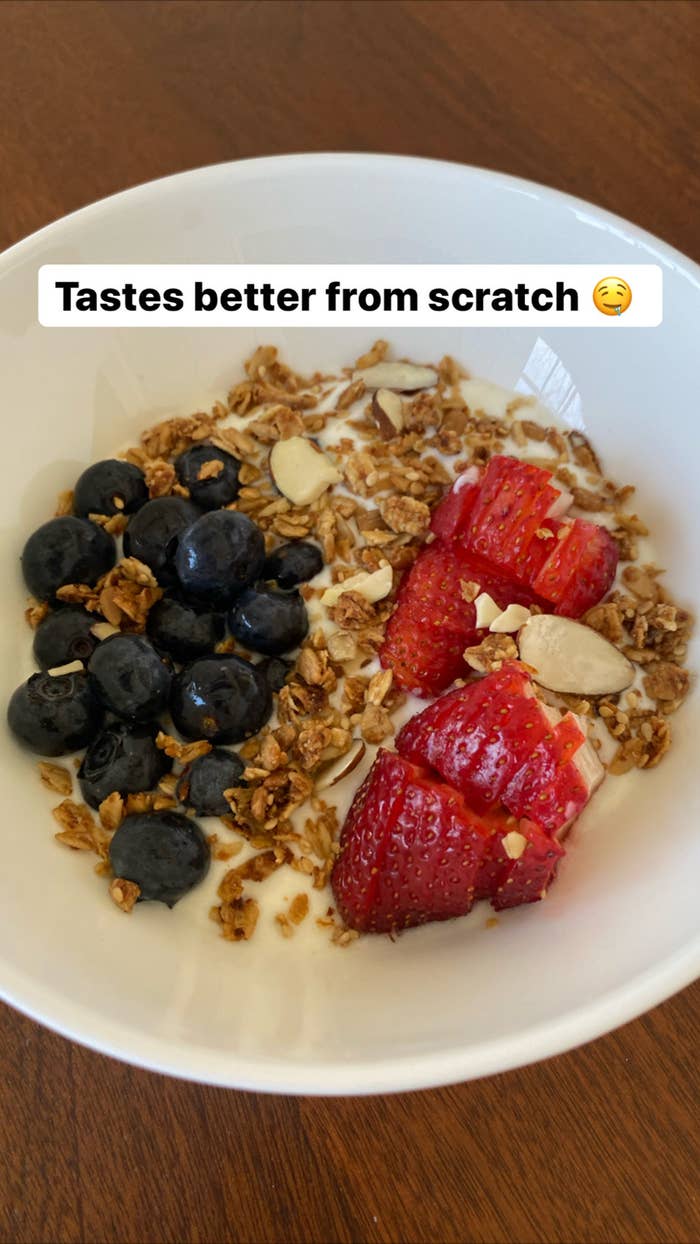 The only ingredients you need are milk (dairy or non-dairy) and any plain store-bought yogurt (you'll use a small amount of this yogurt as a starter culture). The type of milk and yogurt you use will determine the final taste and texture of your homemade yogurt.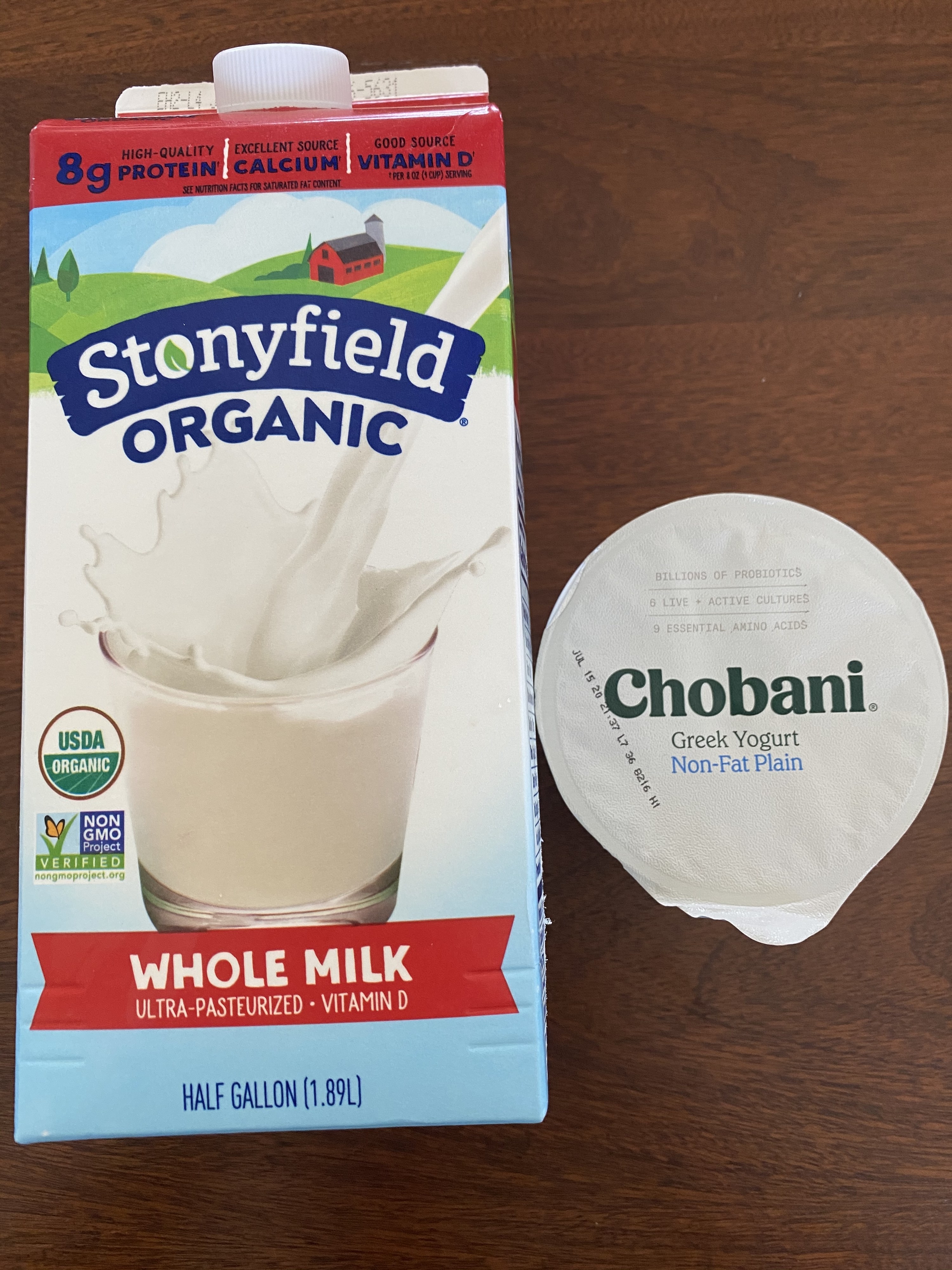 Start by pouring 42 ounces of milk into a large sauce pan. According to the yogurt maker's instructions, heat the milk until it reaches 180 degrees F. Having a liquid thermometer like this one ($12.99 on Amazon) is handy, but you can also just heat the milk until you see little bubbles forming on the sides.
TBH, I've never been able to get my yogurt past 160 degrees F, and it's always come out just fine.
Once the milk is heated, let it come to room temperature. Place about half a cup of the milk in a separate bowl and mix in 6 ounces of the store-bought yogurt until it's evenly combined. Then add the milky yogurt into the large saucepan of milk.
Next, pour the milk and yogurt starter culture mixture into the little glass jars. Then place the jars (without their lids) into the yogurt maker, place the top on the yogurt maker, and turn it on.
The yogurt maker cooks at a single temperature so there's no guessing. Use the fat content of your milk to determine how long it needs to cook. According to the yogurt maker's instructions, whole milk takes 8 hours, 2% takes 10 hours, and skim milk takes 12.
Once the yogurt has cooked, just turn off the yogurt maker, remove the jars, and place the lids on each. Place the little jars in the refrigerator so they can cool. In a few hours, you'll have delicious, creamy, made-from-scratch yogurt.
I personally like plain, Greek-style yogurt topped with granola and berries, but the yogurt maker contains instructions for making flavored yogurt with fresh fruit, preserved fruit, coffee, jam, and more.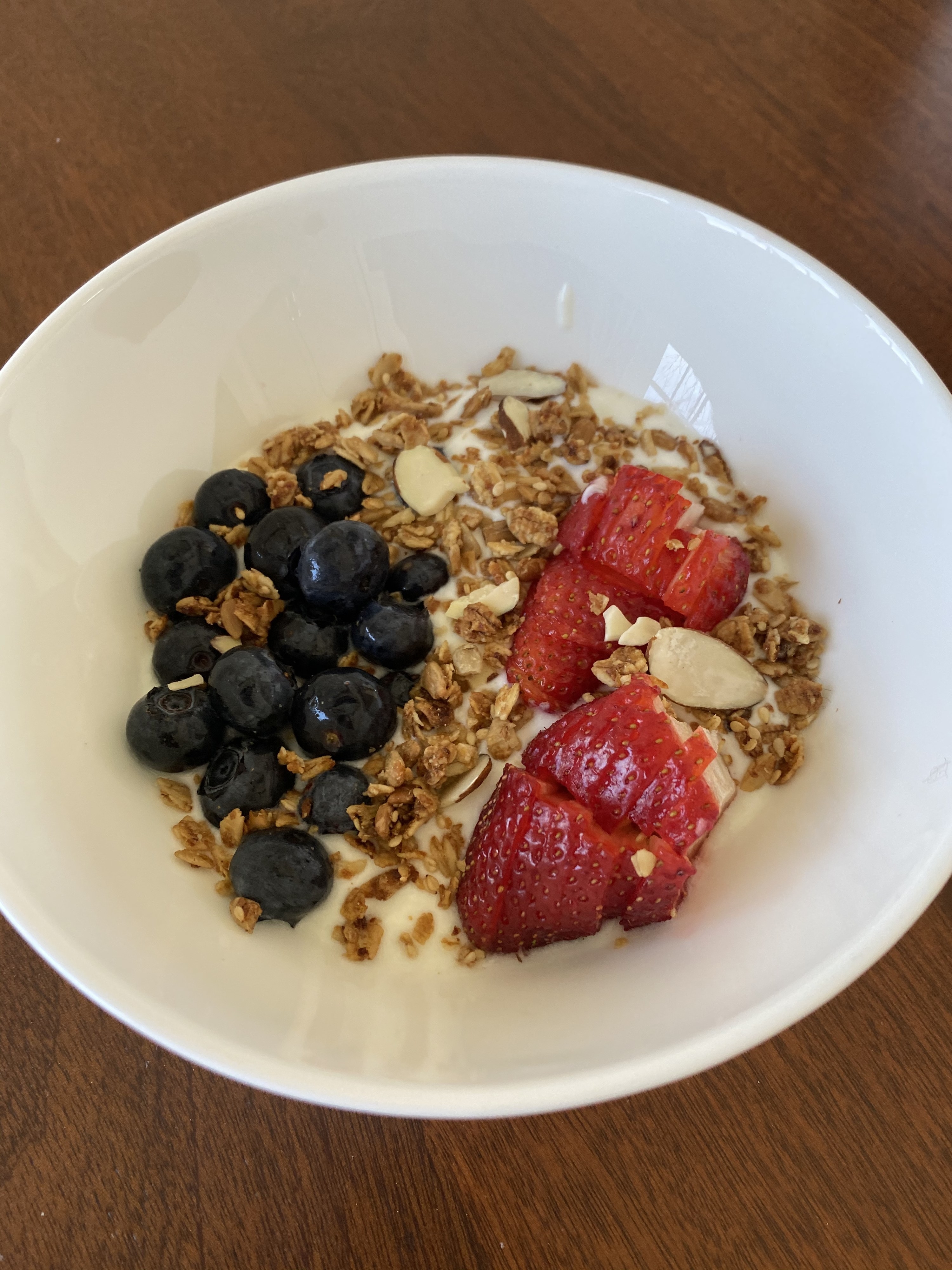 If you don't want to take my word for it, the Amazon reviews speak for themselves. The yogurt maker had 4.4 stars on over 2,400 customer reviews. Here's what some people are saying about it:
"The Euro Cuisine YM80 Yogurt Maker is my favorite appliance. It is so simple to use and the glass jars are very durable. I make my yogurt mix in the evening and let the machine do the work while I sleep. I've never had a bad batch of yogurt. The appliance is easy to store and makes no noise. The yogurt it makes is much healthier and yummier than store bought yogurt." —Molly Bowen
"Such a simple little yogurt maker, but it works great! Especially for the price, it's fantastic. The size of the yogurt jars are perfect for a serving of yogurt. The machine comes with recipes, which is awesome for someone new to yogurt making. The whole "timer" thing that's indicated isn't really a timer... or at least not how I've seen it work, so make sure to take note of that. However, since you normally have the yogurt culturing for some time anyway, I've found it's simplest just to make the yogurt before bed and let it culture overnight. It will be done in the morning and you can just put it in the fridge." Jillian Tetangco
Do you love online shopping? Join our Facebook group, BuzzFeed Buy Me That, to talk all about your favorite products, share photos, post discount codes, and ask the BuzzFeed Shopping team for recommendations!