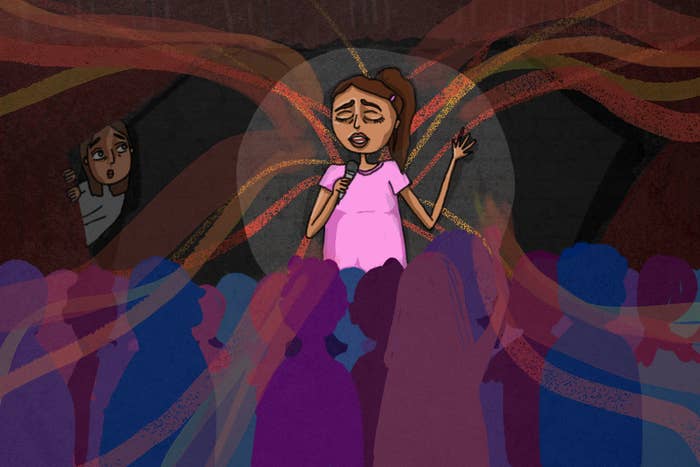 On Friday, President Trump signed an executive order barring Syrian refugees from entering the United States, along with a temporary ban on citizens of six other countries with a Muslim majority. Ever since, I've been thinking about the best version of America I have ever seen: a girl singing a song for a bunch of rowdy teenagers at a school assembly in 2013.
I used to work in the youth program at San Francisco's Arab Cultural and Community Center, a place that provided social services to mostly Yemeni and Syrian recent arrivals to the Bay Area. As part of the youth program, my friend Shiva ran clubs for Arab students in several of the public high schools around San Francisco. One day she invited me to come along and watch one of the clubs perform in a multicultural assembly at Mission High School, a public school that's one of the most diverse in the city, with less than 10% of its student body identifying as white.
The assembly was held in the school's beautiful and historic theater. As it began to fill, the place took on the slightly raucous atmosphere that school assemblies inevitably do.
As the students sat with their friends and called out to each other, I took my seat and felt a knot form in my stomach. Our Yemeni and Syrian kids were going to be doing a traditional Palestinian dance called dabke, led by several boisterous and confident students, which would definitely be a hit. But there was also going to be a performance by another of the kids in our youth program, a 14-year-old who we'll call Sara, who had only just arrived with her family from Syria.
Sara was shy, and didn't have very much English yet. But she had decided she wanted to sing a song by the Lebanese ultra-diva Fairuz, who at 81 years old is probably the most famous and beloved Arab singer alive today.
It's not easy to sing a song by Fairuz, or in fact to sing any classical Arabic song, which can require impeccable language skills and vocal control.
It's even less easy to stand up and do it in front of your cheering, jeering high school classmates.
It's even less easy still to do so when you don't really know any of them yet, or even how to speak to them, and nobody knows or understands this singer or this song that is incredibly important to you and your culture.
And the least easy thing of all is to do all of these things while being a refugee whose family had suffered incredible trauma in a war that had affected her parents, and herself, very deeply.
But she wanted to sing, so of course she was going to sing.
The assembly started. The lights went down in the auditorium and the students kind of, but not really, sat down and hushed up. Every act that came and went was met with loud cheering from the performer's friends and fellow members of whatever culture they were representing.
Eventually it was Sara's turn. She came out, tall for her age and with the lankiness of someone who's grown too fast to know what to do with her newfound height. She held a microphone and wore a timid smile.
Oh god, I thought. Oh god oh god oh god, just let it be fine. Let it all go well, and let it be over quickly.
She got to the center of the huge stage. Random students yelled out. I don't remember what they yelled — just the banal things that teenagers feel obliged to yell out when sitting in the darkness of an assembly with their friends.
And then she started to sing. If you listen to any Fairuz song on YouTube, you'll hear the style of singing, which involves long vocal passages with lots of ornamentation and vibrato. Her songs are about love and loss, and often about the pain of a homeland torn apart by war — Fairuz had remained in Lebanon for the entirety of its 15-year civil war.
So Sara stood there in front of a thousand of her peers, all by herself, sang a Fairuz song, and sounded totally wonderful. She could really sing. She was amazing.
And then, only a minute into her song, the microphone stopped working. Her voice cut out so that only a few people in the front might be able to hear her. Sara didn't realise what had happened, and kept singing, eyes closed, her free hand held out before her, twirling along to the song she loved so much. Because she didn't realise what had happened at first, she definitely didn't realise why, all of a sudden, everyone in the audience started laughing and shouting out.
A teacher hurried out from backstage and got Sara's attention, and she turned to him, confused, as he took the microphone away and tried to work out what had happened.
I put my face in my hands. It had been going so well, and it was so unfair that a kid so brave and talented was being plunged into the kind of childhood public embarrassment that people remember suddenly, before falling asleep, for years to come.
She had already started to awkwardly walk off stage when it started: a chant.
Oh fuck no, not a chant, anything but a chant, I thought, before the many voices had coalesced into one and I could make out the words:

"LET HER SING! LET HER SING!"
Students were getting out of their seats, climbing on top of them, pumping their fists in the air, laughing, cheering, and chanting louder and louder. At this point, I started to weep absurdly, and continued to do so as she came back out with a now-functioning microphone, smiled, and started over. The crowd went wild.
When she finished the end of her song, the kids were absolutely uncontrollable, whooping and cheering for this gangly teenage girl most had never met, from a place they knew nothing about, singing a song totally unlike anything they'd ever heard, in a language they could not understand. She beamed and left the stage to make way for the next kid, the next performance, and the next culture.
I can't think about this moment today without laughing and tearing up again. It was such a perfect expression of how teenagers, so prone to being dickheads when they want to be, can also make a decision to be better and kinder and more profoundly loving than anyone would expect.
Even though they were totally out of control, unruly in the darkness of the theater, they had decided in a moment of barely contained chaos to stick up for this nervous teen and her song. Given an easy chance to make fun of someone, or to ignore someone, or to just roll their eyes and chat with their friends, they stood up, while teachers tried and failed to get them to sit down and shut up, and were aggressively kind.
Syrian refugees are now indefinitely barred from entering the US, so I've been thinking about Sara a lot, and all of the other families we worked with, and feeling furious and disappointed and bewildered and ashamed all at once. But I also laugh and well up a bit whenever I remember that crowd of a thousand students chanting together at Mission High, in joyful support of a Syrian refugee singing a difficult song, a new immigrant just like they were once, or their parents or grandparents had been. It was the most wonderful version of America I have ever seen.
---