Hey there! My name's Hannah, and here I am with my parents, Glenn and Tonya.
Because of the pandemic, I have been given the gift of spending more time with my parents before moving several states away. They are very supportive of my creative career, so I decided to include them in one of my projects.
I got my parents to try some of my favorite (and most shameful) go-to drunk snacks from college. We are a family who appreciates our food and booze, and that's no secret. But, my parents and I have some varying tastes, so I thought it would be fun for all of us to have a few drinks and sample the snacks that got me through some of those wilder college nights.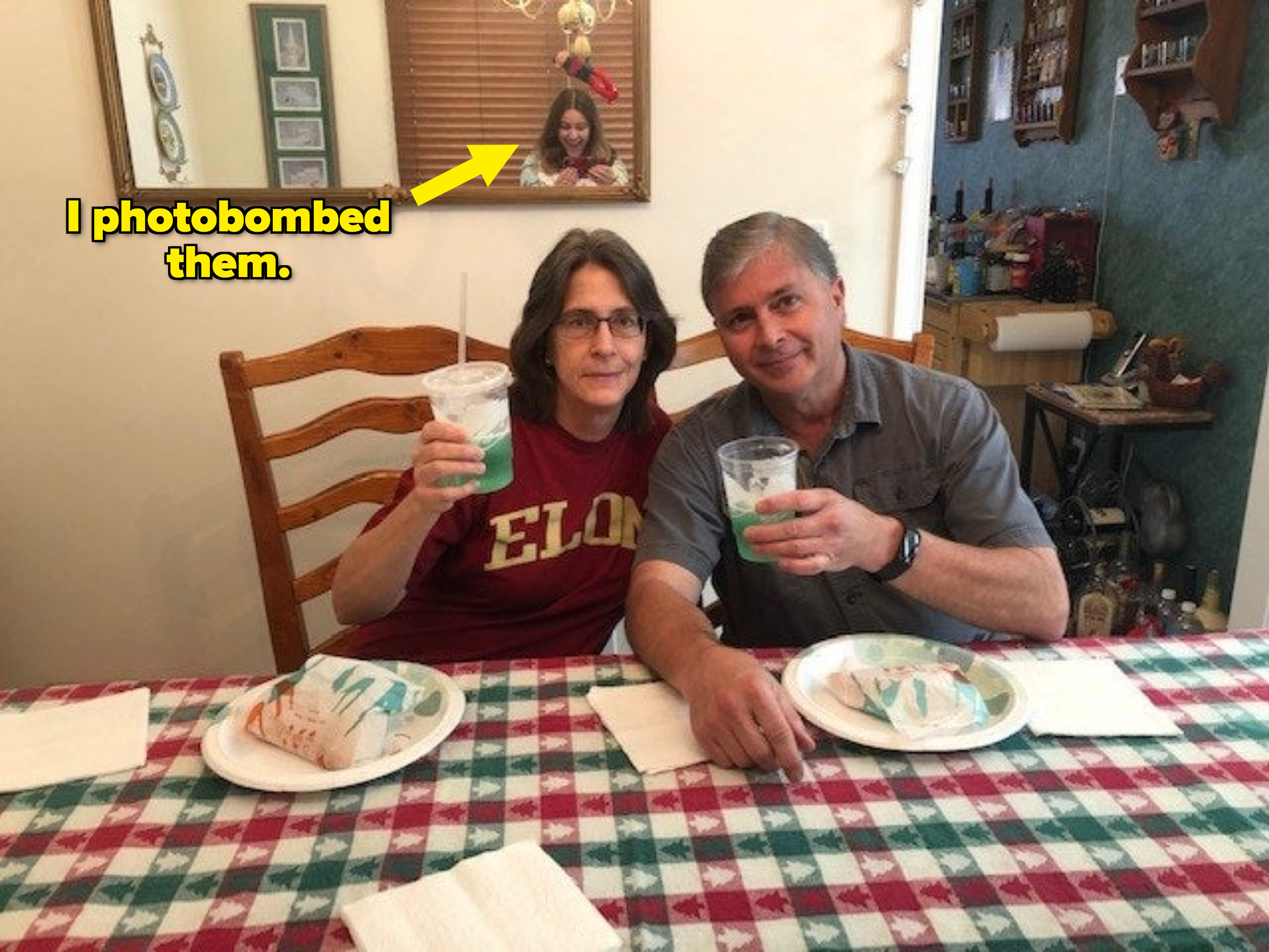 #1: Fried cheese curds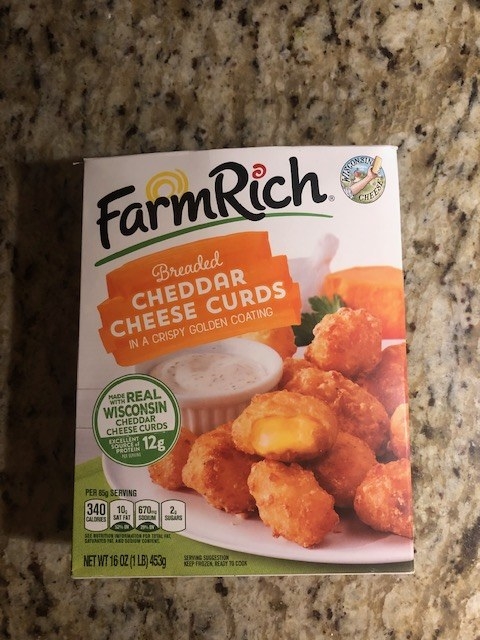 Fried cheese has always been there for me, even in my lowest moments. Whether in curd or stick form, I love it all.
I wanted to start them off with something pretty normal and tasty, so these fried bits of heaven were the perfect choice.
Dad: They do not squeak.
Mom: Because they're fried.
Dad: Yeah, I could eat these.
Mom: They'd be better with beer. (Note: I got her a beer.)
Mom's rating: 10/10
She added marinara dipping sauce to the side to give the snack more pizzazz.
Dad's rating: 8/10
Two points were deducted because they were fried, and he does not like pairing fried food with his wine.
They thought this was going to be a walk in the park. So, I stepped things up.
#2: Kraft Singles and dill pickles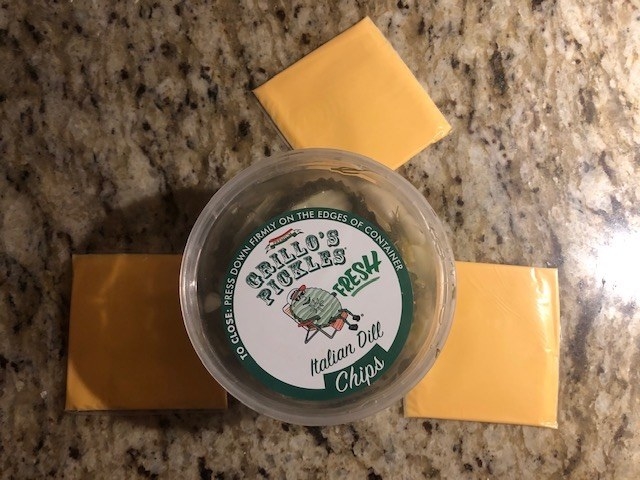 I will not pretend to be proud of this one. I guess you could call this my college student charcuterie board. Or, maybe we won't call it anything other than a mistake. But, I really love pickles. And sometimes, Kraft Singles are just ~there.~ So, this unusual combination was born.
Dad: That is nasty! Oh, god! *Coughs* I can't do it. I'd eat the pickles, but that cheese is disgusting.
Mom: The cheese is fine. Why is it disgusting?
Dad: It tastes like things I can't describe. I can't even watch you eat it.
Mom: Mmm, so good.
Mom's rating: 5/10
She said the snack paired well with beer, but it wasn't something she would choose to eat on her own.
Dad's rating: 1/10
He gave it one point because he liked the pickles.
Tensions were high after this controversial snack, so we moved on to something sweet.
#3: Waffles with cookie butter
You know how sometimes you really want to go to Waffle House or IHOP, but you also don't want to move? Yeah, that's where this idea came from. I thought, "What if my house was the Waffle House?"
Yay, something not heinous!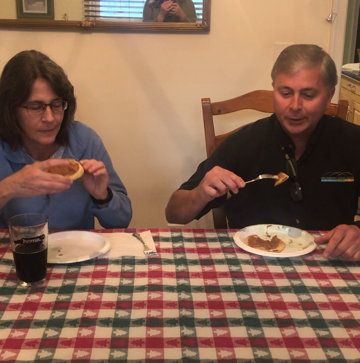 Mom: I don't know if this sounds too good after what we just ate.
Dad: Just imagine being 20 and going to IHOP in the middle of the night.
Mom: It's very yummy, but I don't know if I'd ever eat this after drinking. I think it would make you sick as hell.
Dad: Oh, that's thick like peanut butter. I mean, it tastes great.
Mom: Did you ever get sick after eating this?
Dad: Or do you just pass out from all the carbs?
Mom's rating: 2/10
As a regular snack, she said this was a 10/10. But, as a drunk snack, she said it would make her incredibly sick, so she had to deduct points.
Dad's rating: 7/10
This reminded him of his college days and going to IHOP at 2 a.m. I respect that.
We decided to divide our snacking into two days. Click here to view the TikTok of my parents sampling the snacks mentioned above!
#4: Doritos Locos Tacos and Baja Blasts with tequila
This is my all-time favorite drunk snack! I love Doritos Locos Tacos and will eat those bad boys sober any day of the week, but they hit a certain way after you've been drinking. I created the controversial tequila-infused Baja Blast during my senior year of college. I was like, "Hey, I have these two liquids in separate containers. What if they were in one container and I could drink them together?" Brilliant stuff, really.
Mom craved Taco Bell while she was pregnant with me, so she was ready for this one. Dad, on the other hand, will not touch most fast food, particularly Taco Bell. Watch his journey unfold here.
Dad: Is that sawdust?
Mom: It's really good.
Dad: Just, the texture of the meat. Come on.
Mom: No, it's very yummy. But, if you accidentally break your shell apart and see the meat, then they're not quite as yummy and appealing. I think it's more of a meat paste?
I certainly didn't forget about those tequila Baja Blasts!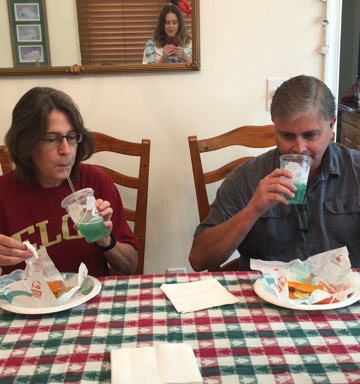 Mom: This will kill any of the germs we get from the meat paste. Oh, that was good!
Dad: *Sputtering* Tastes like chemicals! Like, cleaner. That is not a pleasant flavor. Windex!
Mom: Well, I don't know when you've had Windex.
Mom's rating: 8/10
She really enjoyed the experience, but wondered how I don't make myself sick with these snacks. A valid point.
Dad's rating: 2/10
He claimed he was already experiencing a stomach ache. A likely story.
#5: Pigs in a blanket with pub cheese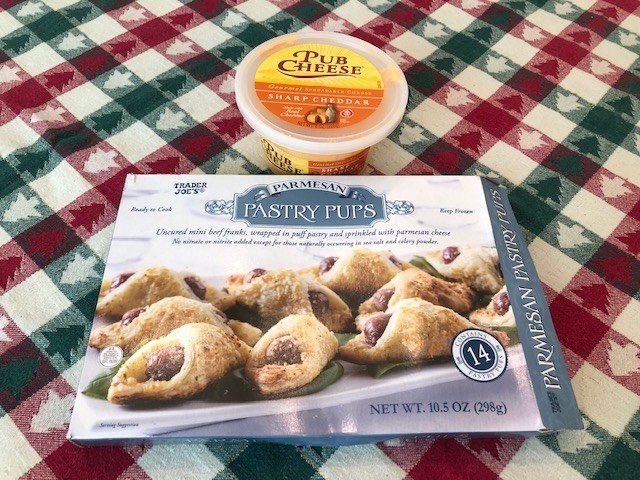 I discovered this lovely combination during a Super Bowl watch party! It's really not too funky or original, but after a few hard seltzers, it becomes the greatest thing in the world.
They were ready for this "experiment" to be over. Look at the disappointment in their eyes.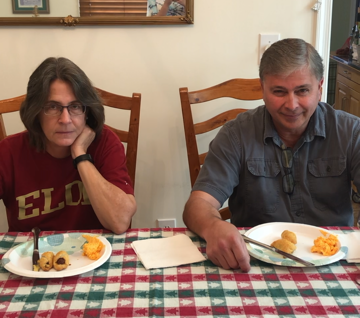 Dad: The cheese to wiener ratio is pretty huge here.
Mom: They taste like biscuits.
Dad: A little worried about the quality of the hotdog. Like, the little Vienna sausages you buy in liquid.
Mom: This is disgusting with the leftover Baja Blast.
Dad: Compared to the tacos, this is tolerable.
Mom: I would eat the tacos before I'd eat these.
Dad: No.
Mom's rating: 6/10
Overall, she was pretty neutral with this snack. For the future, she suggested mini corndogs instead.
Dad's rating: 7/10
He was just excited to eat something other than the Taco Bell. He did complain a lot about how much pub cheese I provided.
And just like that, they were done! Click here to view the TikTok of my parents sampling the last two drunk snacks! The Taco Bell footage is gold.
In conclusion, my parents are super cool and very good sports! Plus, I feel like we all learned something from this experience. I learned that my mom really doesn't like eating sweets if she's drinking, and that my dad is afraid of American cheese. Mom learned that she can absolutely stomach Doritos Locos Tacos, and Dad learned that I did not inherit his taste in fine wine or classy food pairings. Cheers!