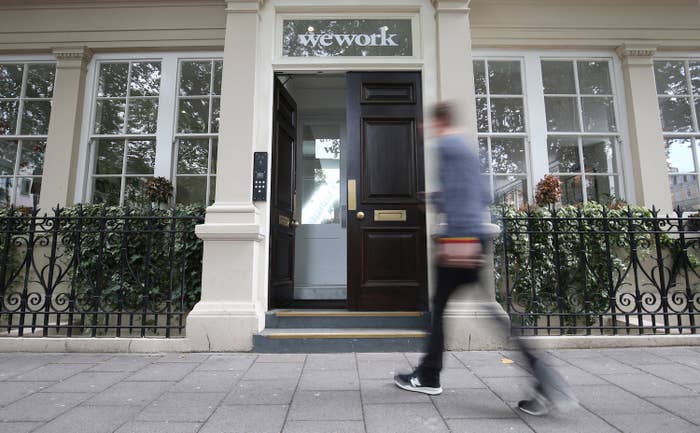 WeWork refused to allow a feminist group to host a fundraising event in London for a charity that helps women access abortions, saying it was "politically sensitive".

In email correspondence seen by BuzzFeed News, WeWork said it could not be seen to support "one side." Abortion has been legal in the UK in England, Wales, and Scotland for decades.
Verve, which hosts events where people can come together and discuss and learn about feminist issues, had planned to hold a drawing event to raise funds for the Abortion Support Network (ASN), a charity that provides information and financial assistance for women in Northern Ireland — the only part of the UK where abortion is not legal. The charity helps women to travel to Britain, as well as those from other countries such as Ireland and Malta.
"We will not be able to host this particular event — as WeWork is not a political organisation, we need to act cautiously in seemingly supporting one side of a politically sensitive issue," the email, sent to Verve's Erin Whiteley, said.
Whiteley, Verve's chief managing feminist, said she was "shocked and disappointed" by the US-based shared workspace company's decision. "WeWork sells itself as this hip, millennial, progressive space and this decision was quite the opposite," she said in an interview with BuzzFeed News.
Verve has previously hosted two fundraising events in WeWork spaces; one raising money for London-based charity Forward, which works to address issues including female genital mutilation and child marriage, and another in aid of global charity Partners in Health, which provides healthcare to people in poorer communities.
Whiteley said she decided to speak out about the issue as she believes WeWork was wrong to class abortion as a political issue when the procedure is legal in Britain.
"As an American, I've become a bit desensitised to this attack on a woman's right to choose," she said. "Every week I open an email or read in the news — it's Kentucky, or Alabama — politicians are trying to take this right away.
"But my husband said, 'you live in England, this has been legal here for 50 years, this isn't right.'"
Whiteley said that Verve has decided not to host events with WeWork in the future, as a result of the decision.
WeWork made headlines earlier this week when it delayed plans to go public after struggling to attract investors, in what the Financial Times described as an "embarrassing setback".
Verve is now hosting its September event at an alternative space.
ASN provides information, financial assistance and, where needed and when possible, accommodation for women who travel for abortion care. It is not a campaigning or lobbying organisation.
Ruth Taylor, chief executive of ASN, told BuzzFeed News that her initial shock and disappointment at WeWork's decision quickly turned to outrage.
"It showed a complete lack of understanding of abortion in the UK, and it was disappointing to have that realisation as well that people aren't aware that abortion is free, safe, and legal in the UK and has been for some time, and think it's still up for discussion, and that women's bodies and reproductive rights are politically sensitive," she said in a phone interview.
Taylor, who praised Verve for going public with the issue, said that classing abortion in the UK as a political issue also risked stigmatising those who have had abortions or may want or need them in future, which she said "isn't helpful" and also doesn't fit "with how [WeWork] want to be perceived."
Labour MP Stella Creasy said WeWork's decision, which she criticised, was part of "a worrying new trend" in the UK.
"For a private property company to try to silence those working with some of the most vulnerable women in our society to get them access to healthcare by refusing to let them host a fundraiser is a very worrying new trend here in the UK," she told BuzzFeed News.
"I hope those who may be thinking of renting property from this company are aware of their attitude towards the abortion rights of all women and will take their custom elsewhere to show they will stand up for human rights even if these landlords won't."
WeWork declined to comment due to the company being in a quiet period.