Schools In The UK Will Close From Friday As The Coronavirus Spreads
The government had faced mounting pressure to act after teachers and trade unions called for schools to be shut, and the Scottish and Welsh governments announced that their schools would be closing.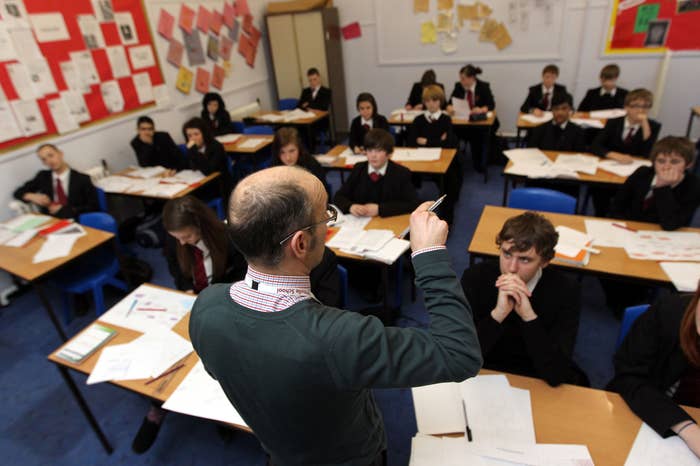 Schools in the UK will close from Friday, the government has announced, after repeated calls from teachers, parents, students, and trade unions not to keep them open amid the coronavirus outbreak.

Education secretary Gavin Williamson said a skeleton service would operate in some areas to cater for the children of key workers and the most vulnerable children.
The government was facing mounting pressure from teachers and unions to shut schools after the prime minister announced widespread social distancing measures on Monday, urging people to work from home, avoid using public transport, and cut down on contact with others.
The devolved governments of Scotland and Wales had already announced that their schools would close from Friday, piling further pressure on the UK government to do the same.
Northern Ireland also said that its schools would close to pupils immediately, and to teachers from Friday, leaving England at odds with the other three nations.
The education secretary said that schools would remain closed until further notice, but that those who are looking after children of key workers would continue to do so during the Easter holidays.
He told MPs that assessments and exams will not go ahead, and that the government will not be publishing performance tables for this academic year and will work with sector and Ofqual to ensure that children get the qualifications they need.
In a statement to the House of Commons, Williamson said: "We are facing increasingly extraordinary circumstances. I would like to once again express my extraordinary gratitude to staff in all our schools, colleges, nurseries and universities who have been doing so much.
"I know the situation has become increasingly challenging. I said before that if the science changed, such that keeping schools open would no longer be in the best interests of children and teachers, we would act. We are now at that stage.
"The spike of the virus is increasing at a faster pace than anticipated and it is crucial that we continue to consider the right measures to arrest this increase and to relieve the pressure on the health system.
"The public health benefits of schools remaining open as normal are shifting. It is also clear that schools are increasingly finding it difficult to continue as normal, as illness and self-isolation impacts on staffing levels and pupil attendance. I want to provide parents, students and staff with the certainty they need."
Williamson told MPs that schools would be given the flexibility to provide meals or vouchers to children eligible for free school meals during the closure.

Teachers across the UK told BuzzFeed News that they were already telling some year groups to stay away as they did not have the capacity to run a full timetable because of teachers who were either off sick or self-isolating.
Some schools had also told teachers who were particularly vulnerable, for example, due to long-term health conditions, not to come to work — a move endorsed by the teachers union the NEU (formerly the NUT).
Teachers have also reported half-empty classrooms, with some parents choosing to keep their children away from lessons.
The NEU had previously written to the prime minister urging him to take action.
The letter, accompanied by a video statement released to the public, came from joint general secretaries Mary Bousted and Kevin Courtney and said: "Given your failure to release modelling comparing different scenarios of school closures, we are now forced to call on you to close schools, at least for some time and at least in some areas.
"We know that very many of our members who aren't in the categories of heightened risk would be willing to volunteer to play a role in helping our society get through this crisis."
Earlier this week, teachers told BuzzFeed News that schools risked becoming a "breeding ground for the virus", as they were not being equipped with the appropriate resources to tackle the spread.
Teaching staff said that schools were unable to get hold of hand sanitiser, didn't have adequate hand-washing facilities, and did not have the budgets to pay for additional cleaning.
Students themselves had also called for schools to be shut, telling BuzzFeed News that it was "alarming" that they were being kept open. Parents also spoke of their fears of being fined if they pulled their children out of school to protect their families.
Williamson said he was expecting early years providers and sixth form and further education colleges to follow suit, along with the independent schools sector.

The government had said it was keeping schools open for a variety of reasons, including to ease frontline public service workers of caring responsibilities and because children are not known to be as susceptible to the illness.