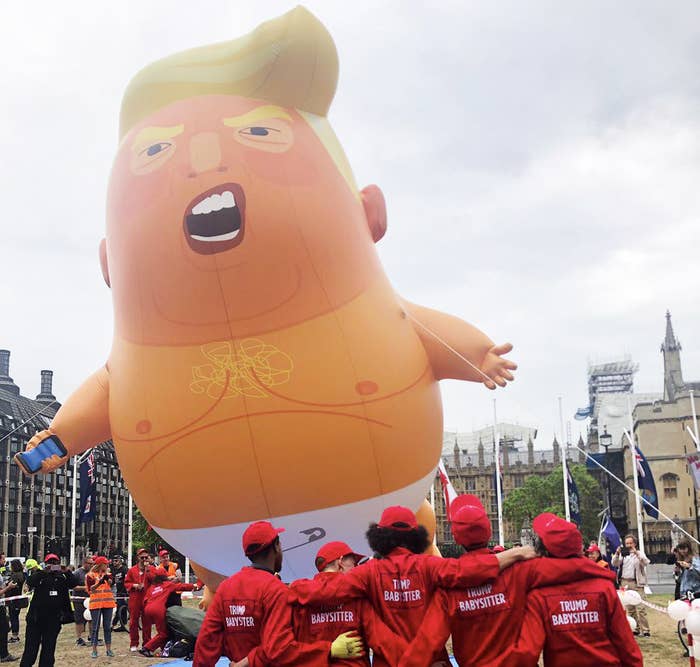 Protesters in London relaunched the giant Trump baby blimp on Tuesday in defiance of the US president's three-day state visit to the UK.
The 20-foot-high effigy, which first took to the capital's skyline during the president's working visit last year, was ceremoniously inflated with gallons of helium in Parliament Square ahead of planned demonstrations.
The balloon was designed and crowdfunded last year on the initiative of a group of protesters, dubbed "Trump babysitters". They raised a further £36,000 ($45,000) to relaunch it ahead of this week's visit.
"At the start of June the orange arch-bully of Mar-a-Lago, Donald Trump, will land his super-sized entourage in London for a three day visit. And this time he gets a horse & carriage: it's the first state visit for President Trump. Buck Pal must be stocking up on Big Macs as we speak," they wrote on their Crowdfunder page.
"Well, if Trump's back, then Trump Baby needs to be there to greet him. But for that we need your help again."
"Someone's woken me up," the protesters tweeted along with a photograph of the balloon's inflation.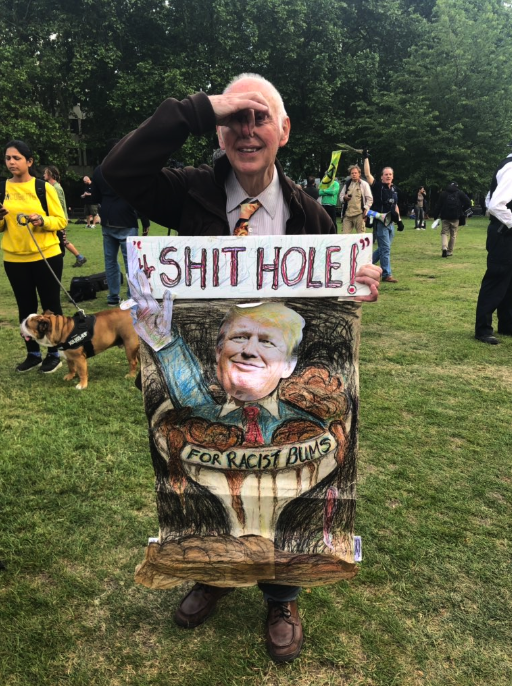 Tuesday's protests follow a small demonstration outside Buckingham Palace on Monday night, as Trump prepared to dine with the Queen. Holding a sign inspired by Trump's reference to African countries as "shit holes" last year, John Lloyd, 67, told BuzzFeed News he had been campaigning against the US president for "some time".

"We don't think he should be welcomed in this country," he told BuzzFeed News.

"He's the worst kind of racist and he's a danger to the world. He's a danger to America because of his intervention in the world and his determination that America should be top dog at everybody else's cost. It's the politics of the jungle."
Vivien Thomason, 59, a fashion consultant, described Trump as a "vile" misogynist, adding that the British government should not be encouraging him with a state visit.
"I feel really strongly that Trump is a force for evil in the world and he needs to be stopped," she told BuzzFeed News. "And people who do believe that need to make their thoughts known."
Some Trump supporters, too, turned out to welcome the US president. Mark Desmond, a driver from Essex said Donald Trump was a "strong leader" — the type he would like to see in the UK.

"He's obviously not got on with everybody, but not everyone gets on with everyone. He sets out what he wants to do with his country and he's doing things his way," he said.

"He's a strong leader and I think he'll continue to be, no matter what other people say they make if him."

William Bort, 64, from Luton and his friend claimed that people have been asking to have photos with their banner welcoming Trump.

"We felt that people who like Trump don't have their views expressed in the media," he said.
"I've liked him for a long time, he's not an ideologue, he's quite pragmatic, he's not easily played."
Permission for the blimp to be flown was given by the Greater London and the Civil Aviation Authority, with final sign-off from the Met Police. After the time restrictions imposed upon it had expired, the Trump blimp was deflated.