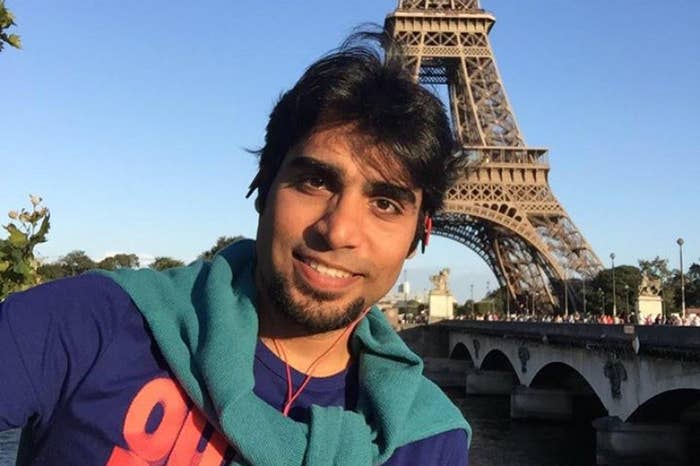 A PhD student who was offered a £46,000 internship with Microsoft was unable to take up the role and is due to be deported within weeks if he cannot raise enough money to pay off his university debts.
Fahad Ausaf Jafri has been forced to turn to a crowdfunding site in a bid to finance the final year of his course, after he fell behind on his fee payments.
The National Union of Students has said such a situation is not uncommon and is calling on the government to do more to protect international students who get into financial difficulties.
Jafri was studying computer science at King's College London, and says he has already spent £60,000 studying for an MSc and four years out of a five-year PhD in the UK.
He said he managed to get by for most of the course by relying on his savings and working for as many hours as he could. He worked full-time in the holidays and for 20 hours per week as a computer programmer – the maximum allowed under visa regulations – but fell behind on payments as he was not making enough money.
He told BuzzFeed News that he'd initially hoped to get funding to support himself throughout the course but found he was unable to secure it. He said he only found out that funding was available from the Engineering and Physical Sciences Research Council after it was too late to apply, and that university grants prioritised home and EU students first.
Jafri said he applied for various external funding grants, and although he was unsuccessful at first, he was eventually offered an internship worth £46,000 – plus an accommodation allowance – from computer giant Microsoft that would have allowed him to pay off his debts.
However, by this point he had been suspended by King's and his visa sponsorship had been revoked because he hadn't been able to pay his course fees. As a result, the university would not provide him with a letter of no objection, so he lost out on the place.
He still owes the whole of the previous year's fees of more than £19,000, as well as a nominal £350 for his write-up period. He said he had previously been suspended several times by the university over late payment of fees, but this time he has been unable to raise the required funds to clear the debt.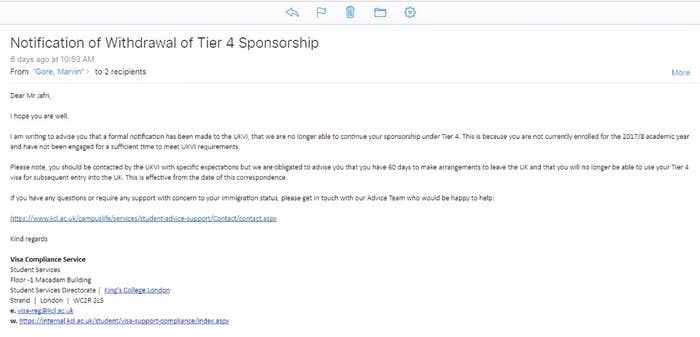 He wrote on his GoFundMe page: "My father passed away when I was 10-years-old and since then, my mother has struggled to provide a decent standard of living to her four children in Pakistan.

"I started working at a very young age and I've funded my entire higher education on my own throughout, but this time I'm finding it extremely difficult to pay my dues."
He told BuzzFeed News: "When I started my PhD I was hoping to get funding, which I couldn't arrange so was self-funded for the past three years and through the summer I worked full time. Last year I did an internship and was working 20 hours a week as a computer programmer. I was able to submit my fees with a little delay, but this time I was not able to pay my fees in time so college suspended me."
Jafri was recently told that he had 60 days to leave the country, as he is no longer enrolled as a student at the university. He is also no longer able to work without a visa.
He said that if he has to leave the UK it would take "a lifetime" for him to save up the money to start a new PhD, as computer programmers in Pakistan only earn around £500 per month.

Now his only hope is for him to raise enough money to pay off his debt to the university, which would allow him to reenroll and finish his PhD by writing up his research.
He told BuzzFeed News: "It's extremely important for me [to raise the money]. I'm in my fifth year and I've already paid more than £60,000 in fees from my own pocket. If I had to go to back to Pakistan it would take a lifetime to gather this money.

"I'm just nine months away from finishing. I'm trying to arrange the funds, and [King's] have told me if I'm able to clear my dues they will support my visa application again, but I need to have all the money in my account by August 19."
The NUS's international students officer Yinbo Yu said Jafri's situation was not uncommon, and that the NUS had consistently called on universities to do more to help international students in financial hardship.
He told BuzzFeed News that while universities have a legal obligation to help home students who get into financial hardship, there is no such requirement to help international students.
"These are the kinds of stories we hear quite regularly about international students," he said. "The current state [of funding] is disastrous for international students. One of the things we've been calling for in every meeting we have with MPs, in every election manifesto, is that the government needs to put in place a student protection scheme for international students."
He said that only around 65% of universities have voluntary schemes in place to help international students, and that most of the grants available through these only amount to £1,000 or £2,000 so would not help students in serious financial difficulties.
Yu said other countries, such as Australia and Singapore, operate tuition fee protection schemes that allow students to continue studying if they run into financial difficulty.

"That's why we look to other countries," Yu said. "You should have the right to be able to access the rest of your course and complete your education. That's something that were are consistently calling for, and will continue to campaign for."
A university spokesperson said: "We are aware that a former postgraduate student, who is not currently enrolled at King's, is hoping to raise funds online to support their visa application and participation in an internship. It would not, however, be appropriate to discuss the specific details.
"Under UKVI [UK Visas and Immigration] regulations, individuals wishing to undertake internships must be enrolled as a student at a university. We offer free and impartial advice and guidance on immigration matters to current and prospective students and their immediate dependants as well as careers and employability advice, welfare and support and have been in discussions with this individual to help them find a solution."