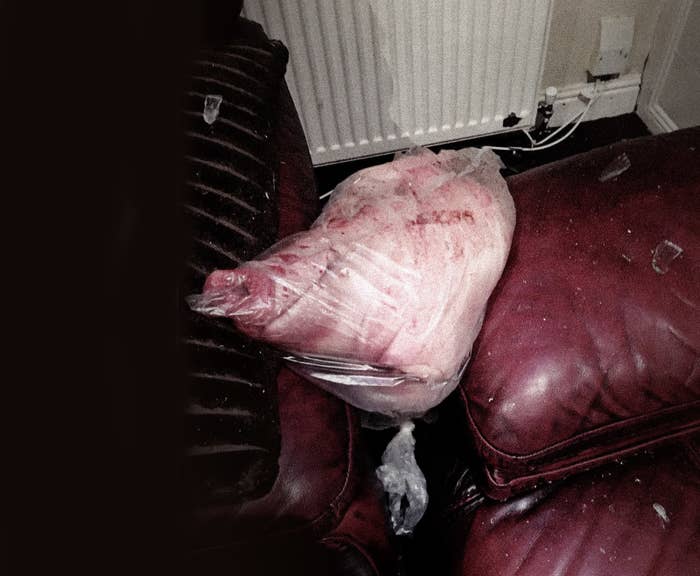 A father whose home was targeted by someone who threw a pig's head through a window in an apparent anti-Muslim hate crime has said his children have been asking difficult questions about why their family was singled out.

The severed head narrowly missed the two children, who were in the living room when a man hurled part of a concrete slab through the window of the home in Oldham, Greater Manchester, before throwing the head in after it.
Although no one was injured, the family, who are Muslim, have been left shaken by the incident, which happened at about 10pm on Saturday.
Ajaz Mahmood told BuzzFeed News he was at work at the restaurant he runs when he received a phone call from his wife, Ghazala Kauser, who he said was "hysterical".
After she told him the news, he said he jumped into his car and drove the short journey home.
"She was screaming, hysterical. I had to calm her down," he said. "She said somebody smashed the window. I put the phone down and raced home. I only realised when I got into my front room there was a pig's head there, wedged between the arms of the sofa, wrapped in plastic. I thought it was absolutely disgusting."
His son Hammas, 14, and his 6-year-old daughter Zeina were in the room at the time. Hammas was playing on the PlayStation, while his sister was sitting on the sofa when what police said was a brick and the animal's head came flying through the window.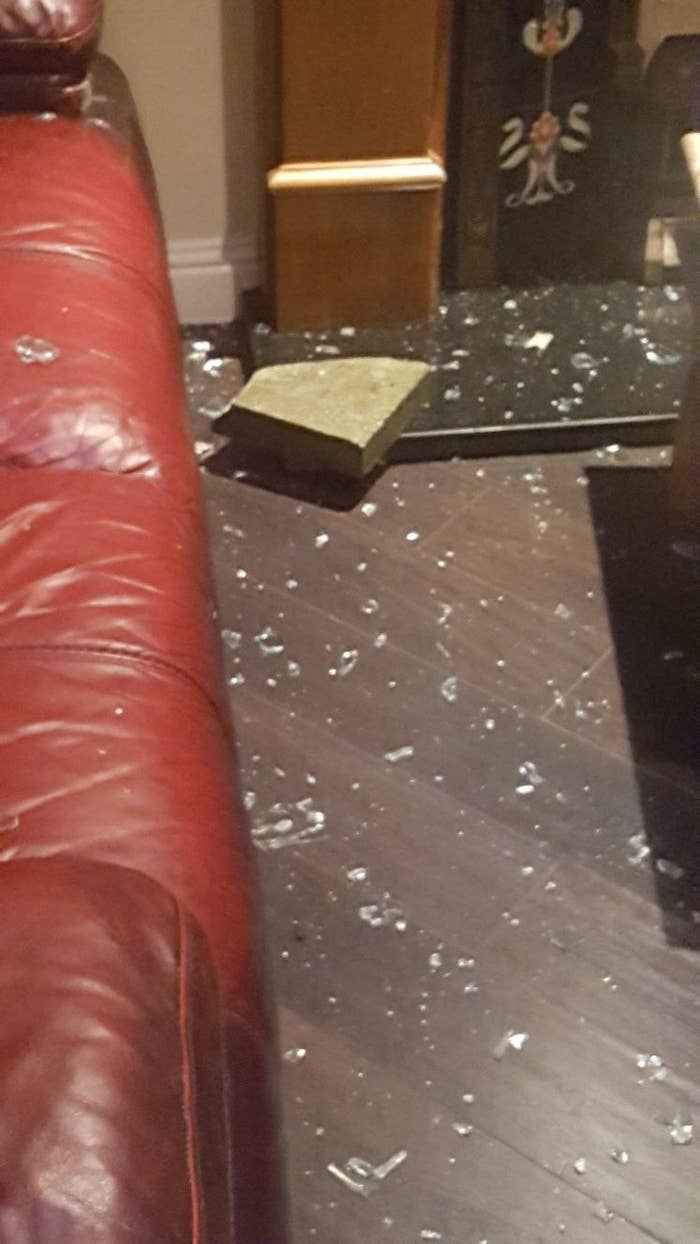 "My son and my daughter, she's only 6 years old, they were upset," he said. "They were frightened when the glass smashed and the concrete slab was thrown through the house, then the pig's head.

"I'm really shocked. My kids are my main priority," he added, saying he couldn't think of any reason why he had been targeted. "I can't think of a reason at all. I'm just a normal bloke who just goes to work, tries to look after his family. I've not got any enemies, I'm not overly religious.
"I'm shocked that somebody could throw a concrete slab – that could have hurt somebody really badly, knowing there could have been children in the house. That made me even more angry. People had not thought about the fact that there were kids there."
He also said the incident had led to his children asking uncomfortable questions about why the family had been targeted. "My daughter is only a child, she doesn't understand what's gone on," he said. "She's asking questions – why the window has been smashed, why that head has been thrown through. They're both asking questions. How do you explain that to a 6-year-old? What do you say to them? I told them they're just mindless people that have done that."
Mahmood said he now feels uncomfortable about leaving his family at home alone when he goes out to work. "When you're at work, when your kids and wife are at home, you feel vulnerable," he added.
Mahmood, who was born in Yorkshire, has lived in Oldham for almost three decades, and in the same house for the past 11 years without incident.
"I've never had an incident in that area. We've lived in the area for 28, 29 years," he said. "We had incidents in the late '80s, got the odd racial abuse, lads used to come from the estate and smashed a couple of windows, but after a few months it died away. We're in 2017; nobody tolerates that rubbish any more."
He said he had been heartened by the response from friends, relatives, and the local community, and had received a phone call from his son's headteacher, offering his support.
Police are treating the attack as a suspected hate crime. Between April and June this year there were 2,758 hate crimes and incidents reported to police in Greater Manchester. Race and/or religion was listed as a factor in 2,724 of these.
Fiyaz Mughal from hate crime monitoring project Tell MAMA, told BuzzFeed News: "These kind of criminal acts, which blatantly target individuals because of a part of their identity, in this case their Muslim identity, leave not only short-, medium-, and long-term impacts on the victims, they also create fear among those wider individuals who may be of the same religion in that area.

"This hate crime in particular is extremely personal given that the pork material was thrown into somebody's house, and we would hope that any sentencing of the perpetrator is severe and significant, given the personalised nature and also the wider impact on other Muslims in the area."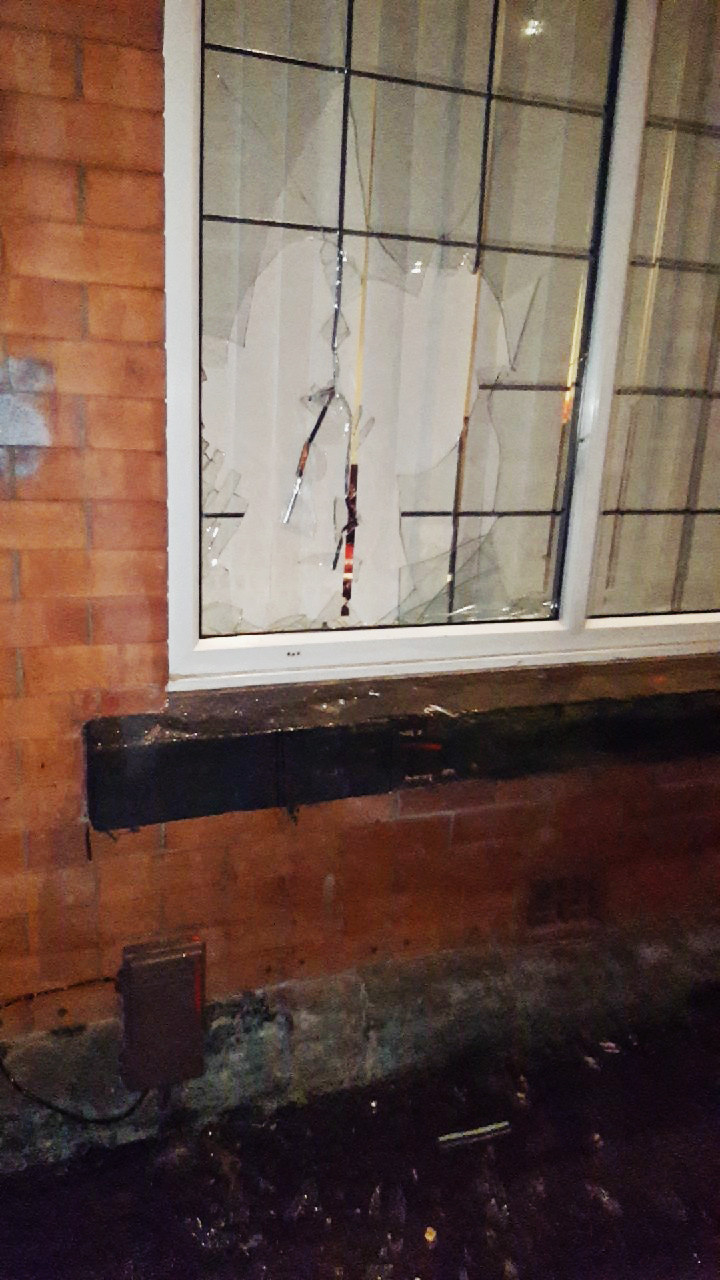 Mahmood said he was "really upset" that it took three hours for police to arrive at the address.
"They said they didn't consider it a priority," he said. "They'd been stripped of resources because of the Conservative party conference. I understand it's a Saturday night, but when somebody's being attacked in their own house... I was really angry and upset, but it gets you nowhere being angry and upset."
In response, a Greater Manchester police spokesperson said: "Due to a number of other ongoing incidents which required an immediate response, the report had to be assessed in accordance with threat, risk, and harm posed at the time.
"Officers attended at the earliest opportunity to speak to the family and a full investigation is underway."
Police inquiries so far have established that a Vauxhall Corsa pulled up near the house with three men inside. One of the men got out of the back seat and then threw the objects at the window, before running back to the car, which drove off.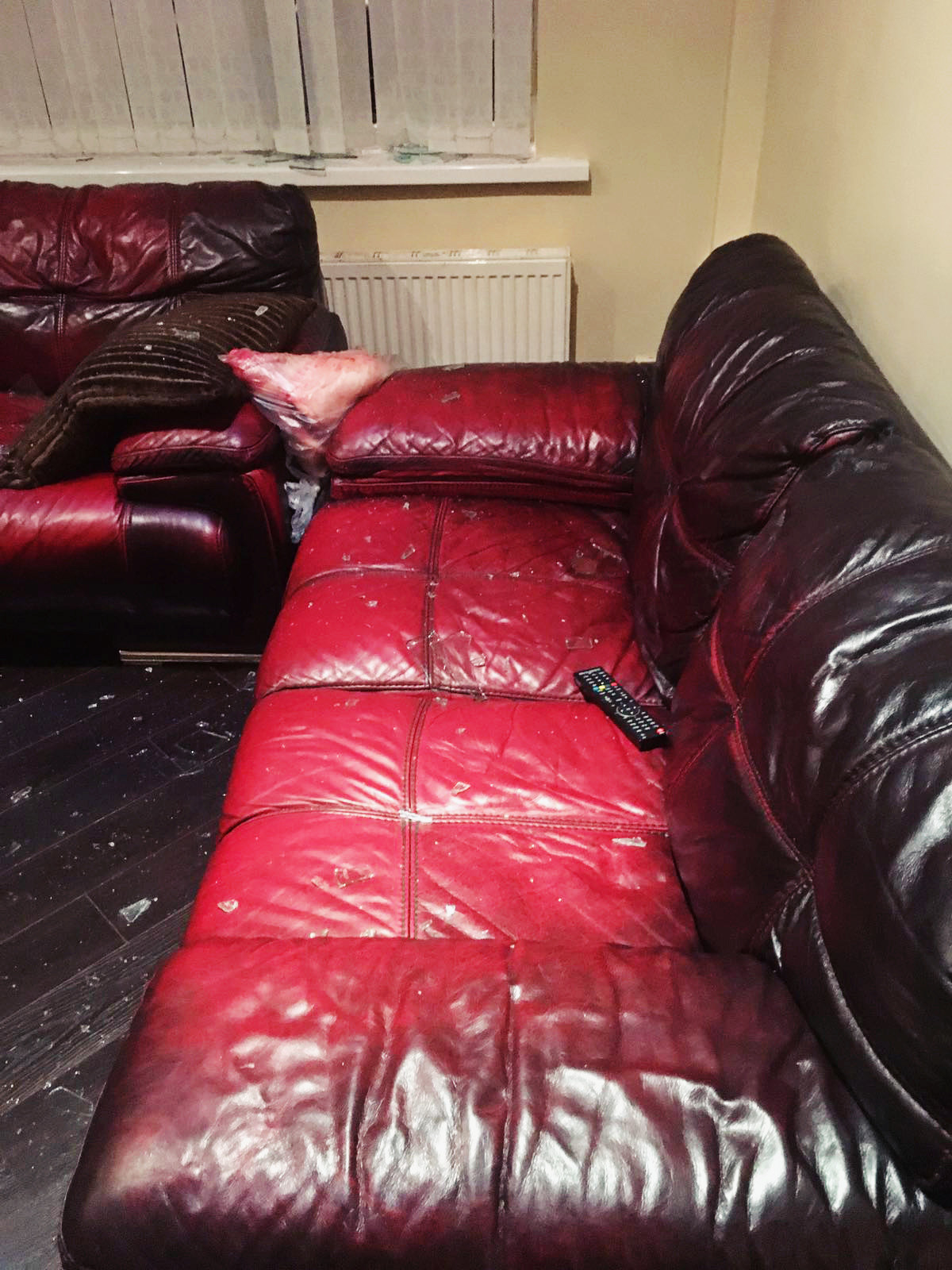 Police said the suspect was about 18 years old and was wearing a black hoodie that was pulled up over his head.
Detective Chief Inspector Chris Downey, from Oldham CID, said: "This was a disgusting act against an innocent family who have lived in this community for years and were enjoying being at home together on a quiet Saturday night.

"We are treating this appalling incident as a hate crime and are doing everything we can to find those responsible. No one should be made to feel scared in their own home.
"The family were extremely shook up by this and we have been out to see them to offer assurance that we will do everything in our power to track the offenders down."
DCI Downey thanked neighbours and the community for their support, and said officers and detectives had spoken to residents, carried out forensic work, and were reviewing CCTV, as well as continuing patrols in the area.
"I would ask anyone who knows anything about this attack to please call us," he added.
"Maybe you saw the car in the area around that time? Any information you have, even if you think it is just a tiny detail, could really help us."
Information can be passed on by calling 0161 856 8972 or Crimestoppers anonymously on 0800 555 111.