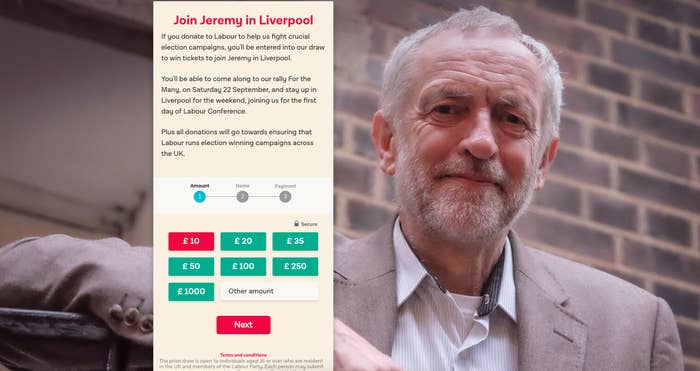 A competition to meet Jeremy Corbyn, which the Labour party is currently running online, appears to be in breach of the UK's gambling regulations.
An email was sent out to Labour members on Tuesday telling them that if they donated a minimum of £10 they would be entered into a draw to win a weekend at the party's annual conference in Liverpool, and the chance to meet Jeremy Corbyn backstage.
Under the UK's gambling laws, lotteries are strictly regulated. However, if organisers run a competition as a free draw — with an option to enter without paying — it is exempt from statutory control.

The email twice mentions donating in order to win the prize, and the website also says that the competition can be entered "if you donate", with a number of suggested amounts starting from £10.
It is only in the small print, in the terms and conditions at the bottom, that an option to enter for free is mentioned, which appears to fall foul of the strict regulations, which state that for a competition to be classed as a free draw, the unpaid option must be given equal prominence to the paid one.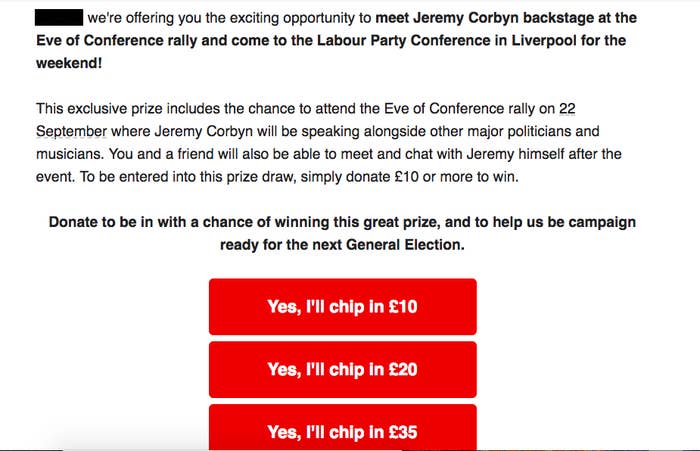 The email reads: "We're offering you the exciting opportunity to meet Jeremy Corbyn backstage at the Eve of Conference rally and come to the Labour Party Conference in Liverpool for the weekend!
"This exclusive prize includes the chance to attend the Eve of Conference rally on 22 September where Jeremy Corbyn will be speaking alongside other major politicians and musicians. You and a friend will also be able to meet and chat with Jeremy himself after the event. To be entered into this prize draw, simply donate £10 or more to win.
"If you donate to Labour to help us fight crucial election campaigns, you'll be entered into our draw to win tickets to join Jeremy in Liverpool."

Below are options to donate £10, £20, or £35 that link out to a website, which also says: "If you donate to Labour to help us fight crucial election campaigns, you'll be entered into our draw to win tickets to join Jeremy in Liverpool."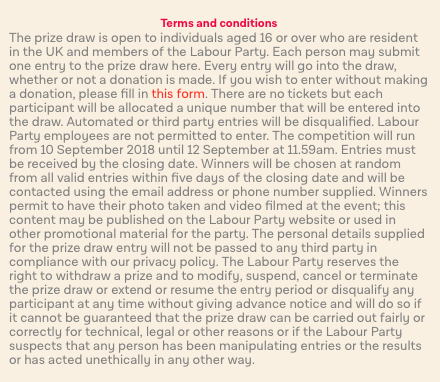 A spokesperson for the Gambling Commission said the regulator does not comment on individual cases.

However, the Commission's guidance says that a competition with a paid and unpaid entry route will not be classed as a lottery if "each individual who is eligible to participate has a choice whether to do so by paying or by sending a communication" and "the choice is publicised so that it is likely to come to the attention of all those intending to participate."
The guidance adds: "The Commission's view is that all choices of entry method (paid or unpaid) should be equally publicised together on the same page, and one should not be more or less prominent than the other."
If the conditions are not met for a free draw, then the competition could become an illegal lottery, the promotion of which is a criminal offence. Illegal lotteries carry penalties of a fine of up to £5,000 and imprisonment of up to 51 weeks.
The Gambling Commission may take action if it is made aware of competitions that are run in breach of the rules. The industry regulator was created by the last Labour government, under the 2005 Gambling Act.
Labour declined to comment on the competition.