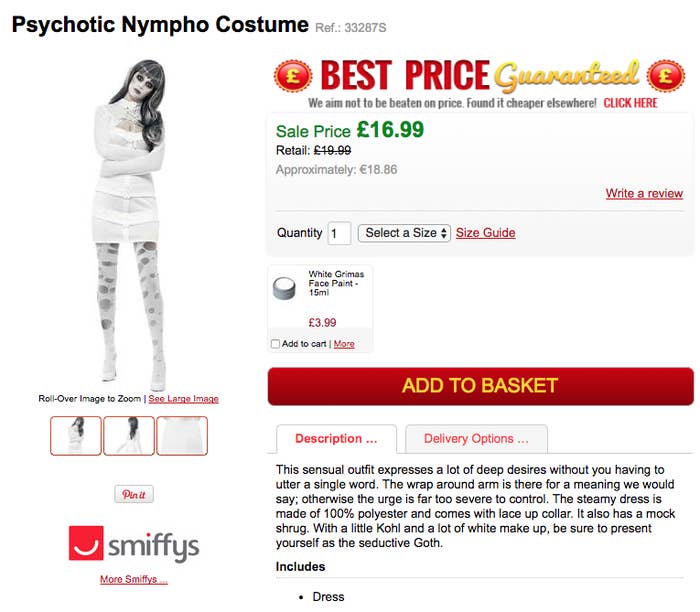 Mental health professionals have criticised a company for selling a "Psychotic Nympho" Halloween costume, years after many retailers pulled similar items from their shelves.

Fancy dress store Escapade, which has a large shop in Camden in north London as well as a website supplying to customers throughout the UK, has a selection of outfits available that have been called out for being sexist as well as stigmatising mental illnesses.
Escapade told BuzzFeed News it would carry on selling the costumes, saying there are "people who are scared of mentally ill people".
In previous years Tesco and Asda stopped selling similar costumes after facing a backlash, and the two supermarkets also pledged to make donations to mental health charity Mind. Online retail giant Amazon has also been criticised for selling "Insane Asylum" and "Mental Illness" costumes in the past.

The costumes on the Escapade website also include a "Psycho Nurse Sally" costume with a garter dress, a face mask, arm pieces, and a headband. The product description says: "Psycho Nurse Sally's treatment is to drive her patients insane."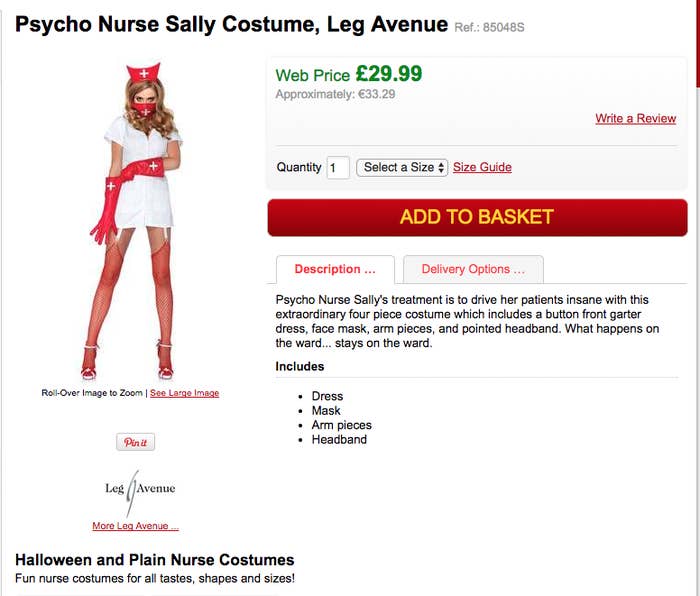 The "Psychotic Nympho" costume was described by the president of the Royal College of Psychiatrists, Wendy Burn, as "one of the worst I've seen." The outfit consists of a short white dress designed to look like a straitjacket.

A picture of the two costumes was first tweeted by Dr Tony Rao, associate registrar for public engagement at the Royal College of Psychiatrists, on Wednesday, which came shortly after World Mental Health Day.
He said: "This year's Halloween has far fewer offensive costumes but @Escapade_UK bucks the trend with not 1 but 2 of them."

Rao told BuzzFeed News: "Halloween is naturally an opportunity to dress up in costumes that capture the spirit of the occasion. But there comes a time when a line is crossed at the expense of exploiting stigmatising images of mental illness.
"As a society, we have made huge progress in portraying positive images of mental health. Sadly, this can easily be undone by promoting stereotypes that can be both damaging and demeaning to people with mental illness."
Several other mental health professionals responded to Rao's tweet with their own criticism of the outfits, including Burn, who said she didn't know how to stop these outfits being sold "except by contacting each offender". Another psychiatrist, Andrew Howe, has set up a petition calling for the costumes to be removed from sale.
Dr Thomas Lewis, a specialist registrar in psychiatry, also accused the company of misogyny, tweeting: "Not satisfied with solely stigmatising the mentally unwell, @Escapade_UK have added in a healthy dollop of sexism for this year's Halloween."
He told BuzzFeed News: "Sadly this is nothing new, and every year around Halloween we see myriad examples of inappropriate costumes that perpetuate the myth that psychiatric patients are dangerous and by extension mental illness is something to be feared.
"The use of the word 'psycho' to describe these costumes is particularly frustrating as it uses a psychiatric term (psychotic) in the pejorative, so stigma continues around diagnosing this illness and patients genuinely think they are terrible people when told they are suffering from a psychotic illnesses. As a doctor, I am in fact far more likely to be physically attacked on duty by a drunk person in A&E, which I have been, than by a psychiatric patient, which has never happened to me."
He added: "This year's example of the 'Psycho Nympho' costume demonstrates how this problem is not getting better and is actually becoming worse. It combines the already distasteful stigmatisation of mental health problems with overt sexism. The description is not only offensive, it is, to me, creepy, suggesting that a vulnerable unwell patient is actually really a mere sexual deviant who can be exploited for somebody else's pleasure.
"I would have assumed, wrongly, that stores would be able to see how problematic these costumes are, and in the week that hosts World Mental Health Day they should realise that this is not just 'banter', it's a slur on the 1 in 4 of us who will suffer from a mental health problem in our lifetime."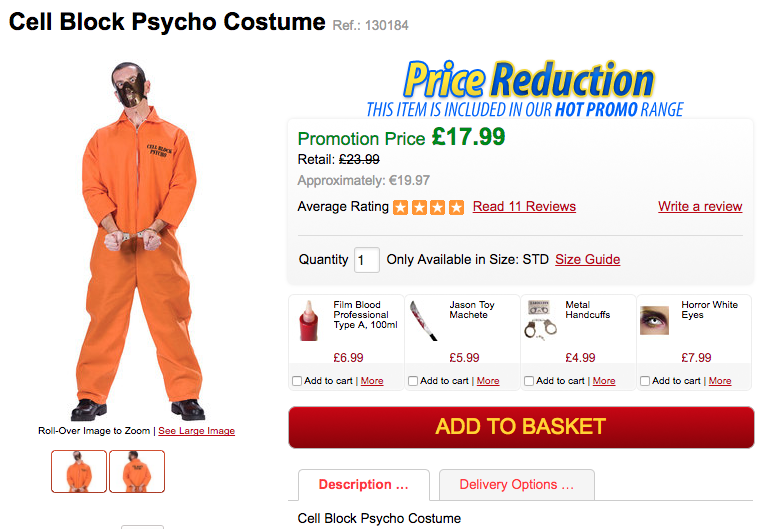 Andy Bell, deputy chief executive of the Centre for Mental Health charity, also responded to Rao on Twitter, saying: "It is so sad anyone thinks it's OK to make or sell products like these: sincerely hope they'll be withdrawn & no more go on sale."

Bell told BuzzFeed News: "Stereotypes about people with mental health problems, particularly people with serious mental illnesses who need to be treated in hospital, are extremely upsetting to individuals and perpetuate a notion that someone with a mental illness, an individual who's suffering, is somehow frightening, can be mocked, is abnormal. You wouldn't have a cancer patient outfit, so why would you have a mental health patient outfit?"
He said it was "still deeply worrying" that as Halloween is an opportunity to dress up as something scary that "someone with a mental illness is still someone we fear as a society".
He said he had noticed less similar costumes on sale in recent years, and put this down to "a lot of people putting in a lot of effort to change the way we think about mental health", including people who have suffered from mental health problems themselves calling out retailers on social media.
Bell said he hoped that the company would withdraw the costumes from sale, saying: "It's about sending a message to the people who are producing and selling these products. Anything that belittles or treats people with mental illness as being somehow different isn't something people find OK any more, it's generally not regarded as funny."
He added: "A few years ago this was normal, this was accepted, it wasn't particularly challenged. We don't thankfully make jokes about other groups of people who are stigmatised, but we're still doing that with people with mental illness, and not just here."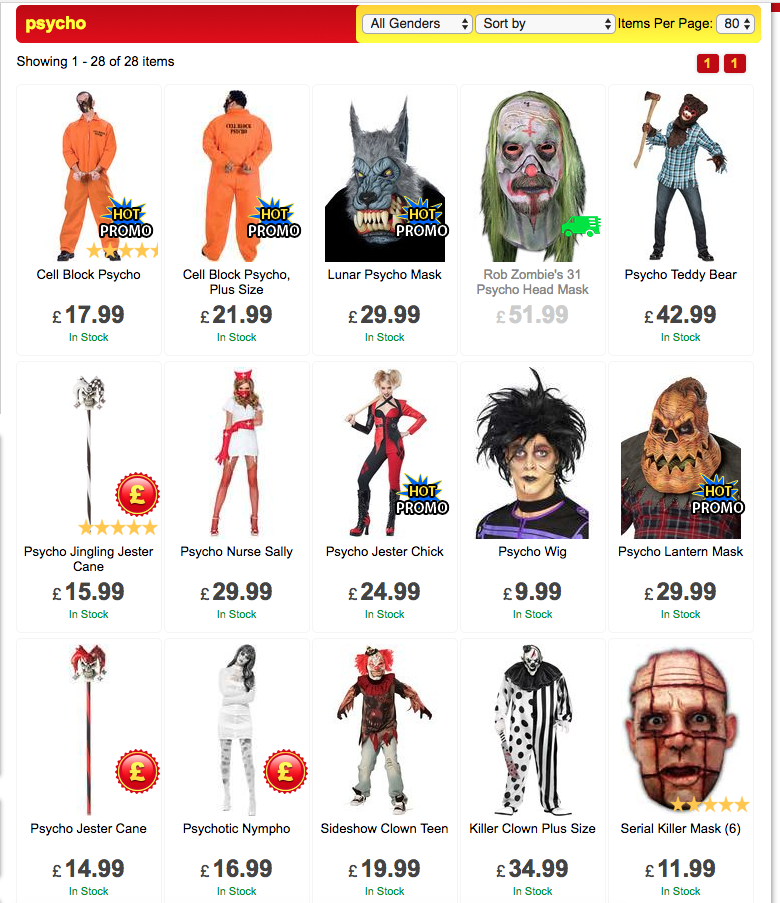 Other costumes for sale on the Escapade website on Thursday included a "Psycho Teddy Bear" shirt and mask, a "Cell Block Psycho" prisoner outfit, and a "Psycho Jester Chick" jumpsuit and jacket. On its website, Escapade describes itself as "London's favourite fancy dress store".
A spokesperson for the company said the costumes would not be withdrawn from sale.
They told BuzzFeed News: "At the end of the day it's a fancy dress costume, fancy dress costumes are about stereotypes. There's always going to be someone who complains."
When BuzzFeed News put the psychiatrists' comments about the outfits enforcing negative stereotypes to the spokesperson, and said that no other retailers appeared to be stocking similar products, they said "it makes no difference", adding: "It's exactly the same as selling a clown costume. There are people who are terrified of clowns and people who are scared of mentally ill people."