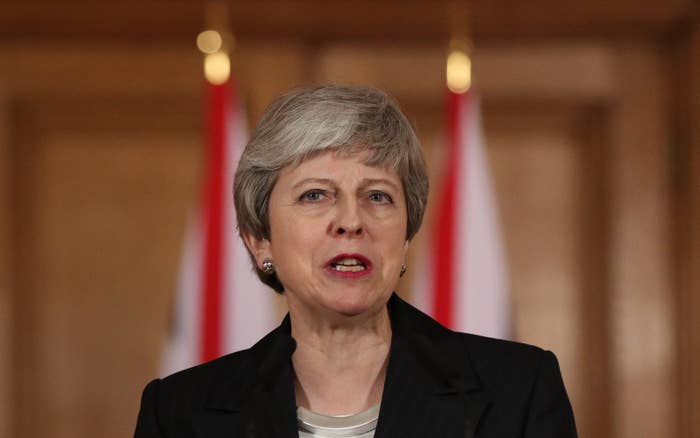 Theresa May has alienated the Labour MPs that Downing Street was hoping to woo to swing behind her deal by pitting the public against Parliament in an incendiary statement on Wednesday night.

MPs who are already facing abuse on social media and threats to their personal safety said the prime minister had put them at risk by blaming them for delays to Brexit.
Others said they would not be cowed into voting for her deal after she attempted to "stare down" MPs on national television.
Number 10 has been targeting Labour MPs in Leave-supporting seats in the hope of securing their votes to get the withdrawal agreement through the House of Commons at the third attempt next week.
On Wednesday, ahead of May's statement, a source close to the Labour whip's office had said that there were concerns that some of the party's MPs would break the whip and back May's deal in a last-minute vote to avoid a no-deal Brexit.
But on Thursday, as opinion on both sides of the House hardened against May, the same source said: "Her speech has shot her in the foot. Completely self-defeating."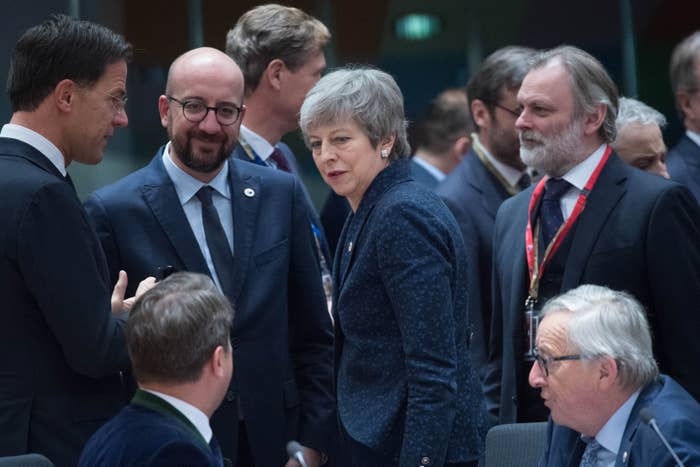 In her statement, May attempted to appeal directly to the public and blame Parliament for forcing a delay to Brexit. "Two years on, MPs have been unable to agree on a way to implement the UK's withdrawal," she said. "As a result, we will now not leave on time with a deal on 29 March. This delay is a matter of great personal regret for me.

"And of this I am absolutely sure: You, the public, have had enough. You're tired of the infighting, you're tired of the political games and the arcane procedural rows, tired of MPs talking about nothing else but Brexit when you have real concerns about our children's schools, our National Health Service, knife crime.
"You want this stage of the Brexit process to be over and done with. I agree. I am on your side. It is now time for MPs to decide."
Some MPs told BuzzFeed News that while they had toyed with the idea of voting for her deal, they now felt there was no point as it would be impossible it would be passed in the crunch vote next week. Others who were never planning to back the deal were still left angered by her latest move.
"She's made things much, much worse," Stalybridge MP Jonathan Reynolds told BuzzFeed News. "She has definitely caused real anger. Many MPs feel she has increased the risk to their personal safety."

When asked whether it had put MPs who were wavering off voting for her deal, he added: "I think so."
"PMQs, which was about the worst I've ever seen and made me angrier than I've ever been there, and then the statement have killed the limited prospect of a bigger number of Labour MPs voting for her deal," another MP said. "I didn't see the number rising beyond single figures anyway, and now she's made sure of it."
A third Labour MP told BuzzFeed News that, fearing a no-deal Brexit, they had considered voting for the deal but "it just looks like a lost cause after statement last night," with MPs on the Conservative benches also turning against her.
Another said it was "impossible" for May to reach a majority on a third vote as her speech had put paid to any good will that Parliament felt towards her.
"I was never intending to vote for her deal," Burnley MP Julie Cooper told BuzzFeed News. But, she added: "I thought her outburst last night showed how clueless she is: She needs the support of MPs to get her deal through so she publicly attacks them — definitely not a smart move."

Canterbury MP Rosie Duffield said she never would have voted for the deal, but criticised May for stoking tensions between parliamentarians and the public.
"I thought it was a truly irresponsible speech, especially in light of the current atmosphere where some — mostly women — MPs face so much abuse and vitriol," she told BuzzFeed News. "Brexit has become such an emotional and divisive issue, this kind of 'buck passing' by the PM fails to understand or address what the public and majority of MPs think."
Her colleague Anna McMorrin added: "May's rhetoric was something straight out of the Breitbart playbook. Very irresponsible and divisive given the climate and the hate and vitriol that is targeted towards MPs."
"She's had nearly three years to sort this mess out and we are days from crashing out with no deal," she added.
Another Labour MP, Bridget Phillipson, added: "It is highly irresponsible for a prime minister to act in this way and to fuel a narrative of betrayal. Throughout the Brexit negotiations, the prime minister refused to reach out to MPs across Parliament. Now she has the nerve to demand that we should just do as we are told by her."

Their comments echo those of MPs on Twitter immediately after May's speech was broadcast. Labour MP Wes Streeting wrote: "I've thought long and hard before saying this, but Theresa May knows that MPs across the House are subjected to death threats — some very credible. Her speech was incendiary and irresponsible. If any harm comes to any of us, she will have to accept her share of responsibility."
Jess Phillips, who once reported receiving 600 rape threats in a single night, shared Streeting's tweet and said she had that day been speaking to police about two separate threats against her.
Other MPs — on both sides of the House — said they would not be bullied into voting for the deal, as the PM attempts to "stare down" her parliamentary colleagues with Brexit looming large on the horizon.

"The prime minister appears to be in denial about who has been PM and lead negotiator these last three years," Bury North Labour MP James Frith told BuzzFeed News.

"In normal times her failure would have cost her her resignation at least three times.
"On each of those occasions — the loss of her majority at the General Election she called and her deal being historically defeated twice — were opportunities to change tack and take a different approach to reach agreement on a deal that has the support of the House and speaks to the country, but she refused to take it.
"Whilst this deal doesn't do right by Bury and Britain it won't have my support, no matter how much the PM stares down the camera at me and my colleagues."