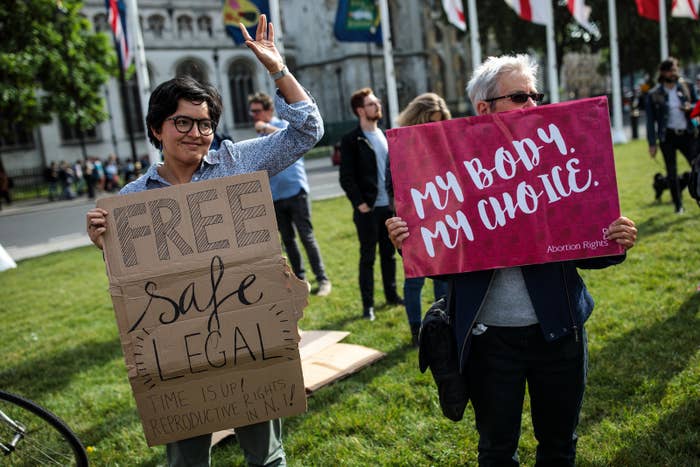 The UK's Supreme Court has concluded that Northern Ireland's highly restrictive abortion laws are incompatible with human rights legislation.

A majority of judges found that the laws contravene Article 8 of the European Convention on Human Rights, which provides a right to respect for one's private and family life.
However, the UK's highest court said it did not have the jurisdiction to strike down the law or make a declaration of incompatibility – an official ruling that UK law is in breach of human rights legislation – as the case had been brought by an organisation rather than someone who had been victimised by the law.
Lord Kerr told the court: "In the final result, therefore, by a majority of 5 to 2, this court has expressed the clear view that the law of Northern Ireland on abortion is incompatible with Article 8 of the Convention in relation to cases of fatal foetal abnormality and by a majority of 4 to 3 that it is also incompatible with that article in cases of rape and incest.
"It should be emphasised, of course, that these findings do not represent a binding decision of the court ... in other words the essential decision of the court is that the appeal is dismissed and no formal declaration of incompatibility has been made. But the comprehensive discussion in the judgments of the question of compatibility, although not in any sense binding, must nevertheless be worthy of close consideration by those in whose power it lies to decide whether the law should be altered."

Five of the seven judges making the ruling found the law as it stands was incompatible with human rights, while the two justices who did not subscribe to that view refrained from saying that the law was compatible, with one of the two, Lord Reed, saying: "It appears from the accounts of individual cases put forward in these proceedings that there is every reason to fear that violations of the convention rights will occur, if the arrangements in place in Northern Ireland remain as they are."

Abortion is illegal in almost all circumstances in Northern Ireland, permitted only when there is a direct threat to the life of the mother. The 1967 Abortion Act, which applies in England and Wales and allows termination in certain circumstances up to 24 weeks, does not extend to Northern Ireland.
In 2016 Northern Ireland Assembly members voted against proposals to allow terminations in cases of rape, incest, and foetal abnormality.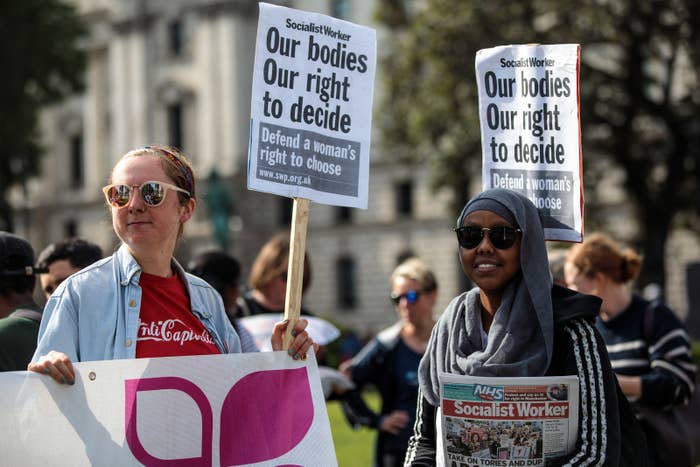 A landmark referendum in the Republic of Ireland last month repealed the Eighth Amendment to the Irish constitution, which gave the foetus and the mother equal right to life. However, campaigners in Northern Ireland have said they do not want a similar referendum.
Northern Ireland is part of the UK and does not have a written constitution, unlike Ireland where a referendum was needed to change the law. Campaigners instead want the UK government to legislate for change.

The Supreme Court judges considered only very specific circumstances – whether women's rights under Article 8 and Article 3 of the European Convention on Human Rights (ECHR) were being breached if they were made to carry pregnancies to term when they had been raped, in cases of incest, or where the foetus has a fatal abnormality.
Article 8 guarantees the right to respect for private and family life, and those who brought the original case said women seeking an abortion were being deprived of their rights to privacy and bodily autonomy. Article 3 says: "No one shall be subjected to torture or to inhuman or degrading treatment or punishment."
While the court could not issue a declaration of incompatibility, campaigners hope that the Supreme Court ruling that human rights are being breached will pave the way for abortion reform.
The end of a long legal battle
The ruling by the UK's highest court marks the end of a long legal battle, which began with a judicial review in 2015. This was brought by Northern Ireland Human Rights Commission (NIHRC), Amnesty International, and local woman Sarah Ewart, who had had to travel to England to terminate her pregnancy after being given a fatal foetal diagnosis.

They were initially successful when Mr Justice Horner, sitting at Belfast's High Court, said the human rights of women were being breached when they were made to continue pregnancies as victims of sexual crime or in cases of fatal foetal abnormality.
However, in June 2017, the Court of Appeal in Belfast overruled the decision, which was challenged by the Justice Department and the NI attorney general. The higher court decided it was up to the Northern Ireland Assembly, and not the courts, to decide on abortion law.
Lord Justice John Gillen said: "Abortion is a classic instance of the type of highly controversial issue touching on social, moral, and religious policies on which there is no consensus either in Europe or, for that matter, in this jurisdiction. Such an issue requires parliament to be allowed a wide margin of judgment."

In an unusual move, the Court of Appeal also said the case should go to the Supreme Court.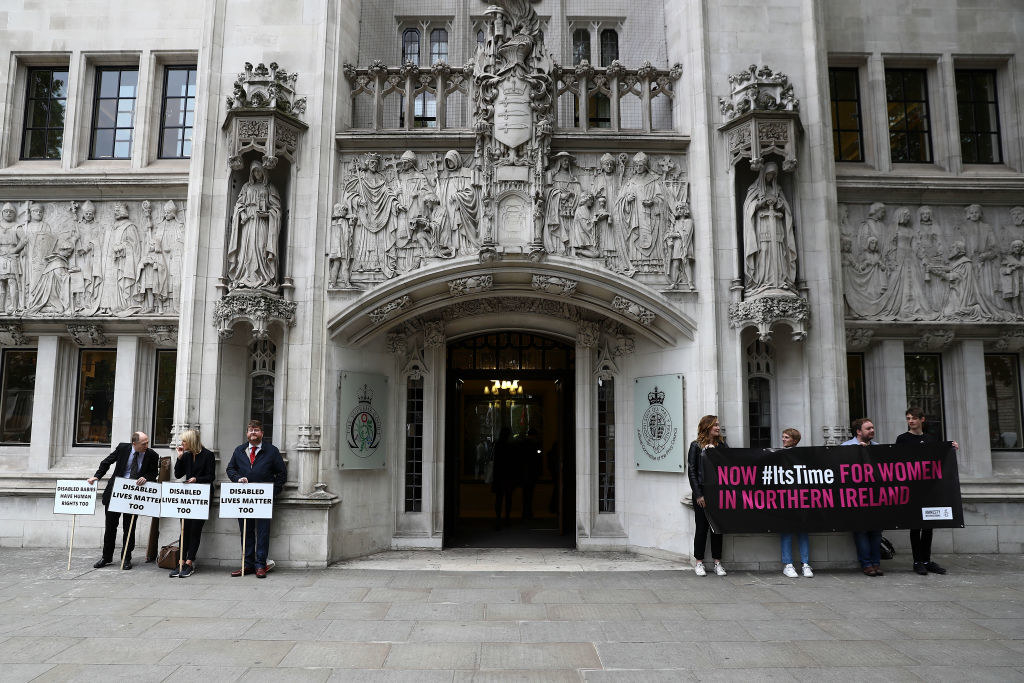 Declaration of incompatibility
The Supreme Court could have issued what is called a declaration of incompatibility, which means that UK law, as it stands, is incompatible with the ECHR, which is enshrined in UK law under the Human Rights Act 1998.
However, the case was brought by the NIHRC, and the court ruled that the organisation did not have the standing to do this, as the person bringing a case must be an "actual or potential victim of an unlawful act to which the proceedings relate".
In future, a similar case could be brought by a woman affected by Northern Ireland's laws, to seek a declaration of incompatibility.
If the court had issued a declaration of incompatibility, the law would remain the same until parliament legislates to change it.
The UK government had said it would not impose abortion on Northern Ireland
MPs and campaigners had hoped that the government might intervene to extend abortion rights to Northern Irish women, but secretary of state for Northern Ireland Karen Bradley said that Westminster would not intervene in matters that have been devolved to Stormont, where the NI Assembly sits.
"Abortion has been a devolved matter in Northern Ireland since it was created in 1921, and it would not be appropriate for Westminster to seek to impose its will or to be the arbiter of an issue that has long been devolved to the people of Northern Ireland," she told parliament on Tuesday.
"The government believe that the question of any future reform in Northern Ireland must be debated and decided by the people of Northern Ireland and their locally elected, and therefore accountable, politicians."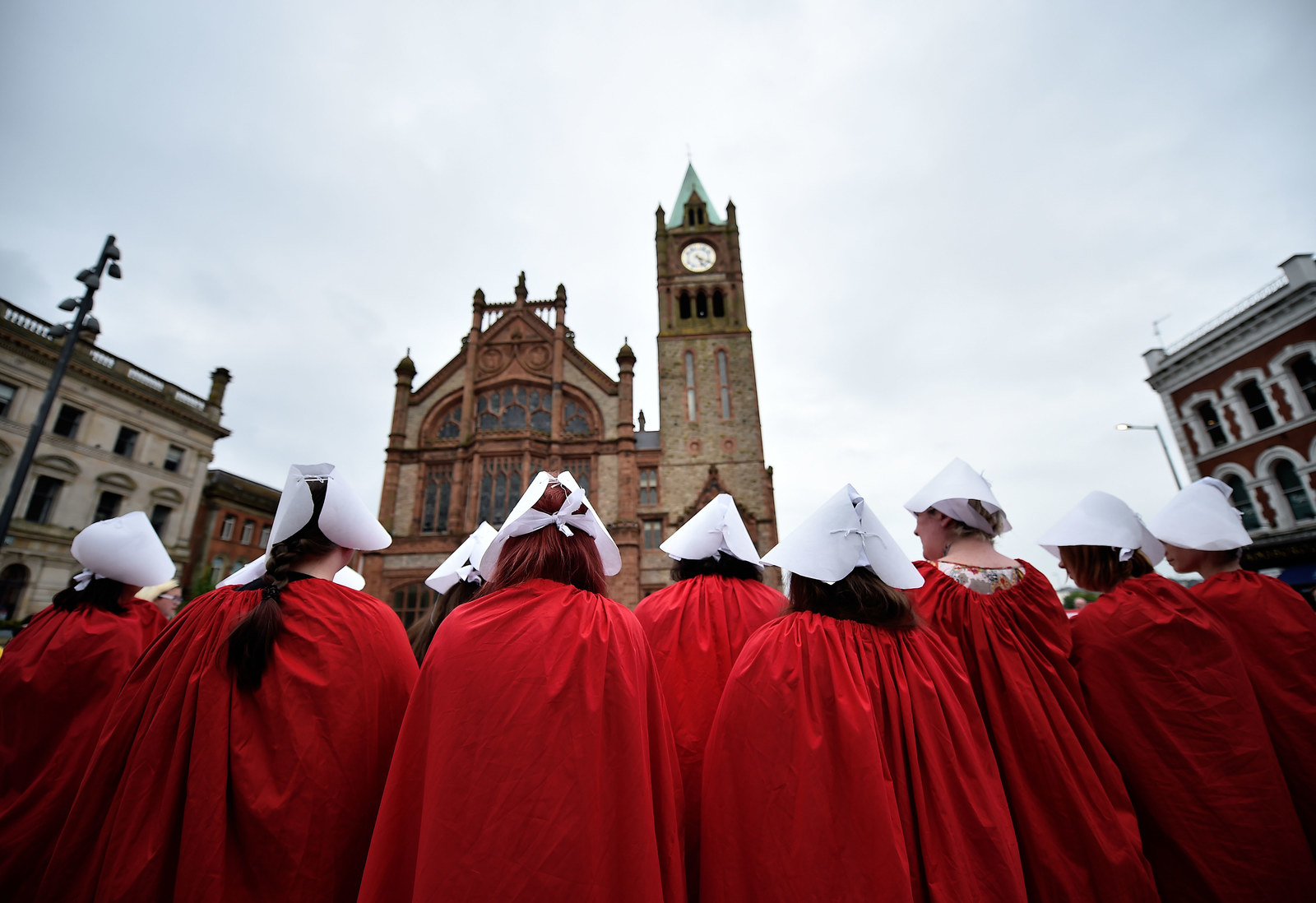 On Tuesday MPs from both sides of the Commons urged Westminster to intervene in extending abortions rights to women in Northern Ireland.

Her voice wavering, Conservative MP Heidi Allen was emotional as she spoke about her own termination, as she called on the government to act. "As a woman I have been there; I am making it my business," she said.
"I was ill when I made the incredibly hard decision to have a termination. I was having seizures every day. I was not able to control my own body, let alone care for a new life.
"Are people seriously telling me that, in a civilised world, rape, incest, or a foetus that is so sadly deformed it could never live are not sufficient grounds for a woman to have the power to decide for herself – that she should not make that decision? No. Enough."
Birmingham Yardley Labour MP Jess Phillips also spoke about her own termination a decade ago, and read out stories she had gathered over the past week from Northern Irish women, saying: "Today I am them."
But Northern Ireland doesn't have a functioning government
Theresa May's government has said that Northern Irish politicians must make decisions about devolved matters, but the Northern Ireland Assembly hasn't sat for more than a year.

The assembly, in Belfast, was set up following the Good Friday peace agreement. The agreement said that the Executive Committee would be a power-sharing government, representing both unionists and nationalists.
Power-sharing collapsed in January 2017 when Sinn Féin walked out in the wake of a failed renewable heating scheme scandal in which the ruling Democratic Unionist Party (DUP) was blamed for costing the taxpayer hundreds of millions of pounds.
Under the power-sharing agreement, DUP leader Arlene Foster lost the role of first minister with the departure of the deputy first minister, Martin McGuinness.

Talks to resume power-sharing have since failed, with both parties blaming the other for refusing to compromise. One sticking point is Sinn Féin's demand for the introduction of an Irish language act, which would give Irish equal status with English in Northern Ireland.

Meanwhile, civil servants have been making the day-to-day decisions – but no big legislative decisions, including those relating to health, can be made without an executive.
In parliament on Tuesday the secretary of state said: "The government's priority therefore remains to urgently reestablish strong and inclusive devolved government at the earliest opportunity."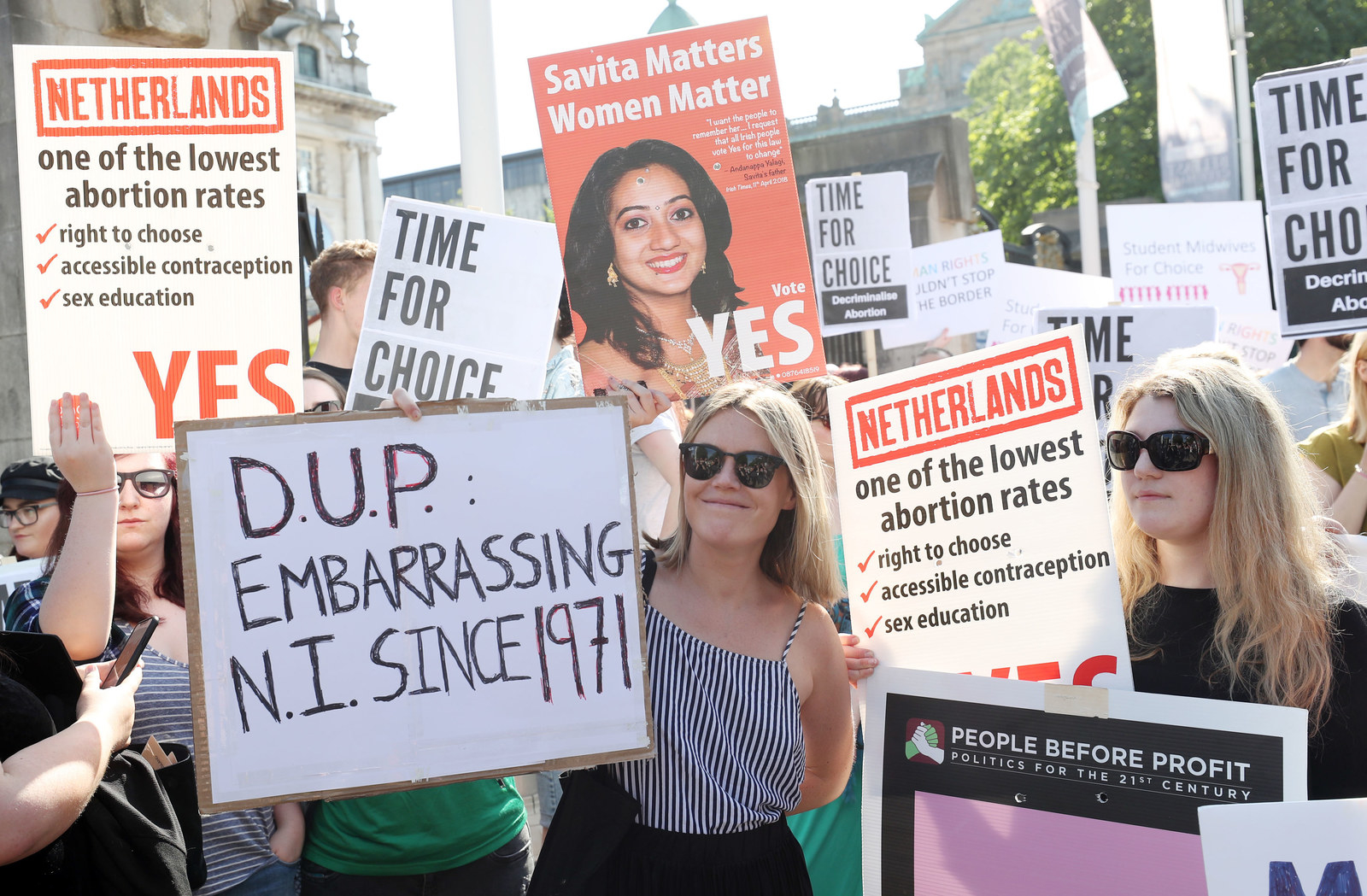 And human rights are not fully devolved to Northern Ireland
While health is fully devolved to Northern Ireland, human rights are generally devolved – but only within a strict framework.
The Northern Ireland Assembly must comply with the ECHR, and while it can choose to establish human rights requirements that go beyond that convention, it cannot choose to have fewer human rights.
This was established as part of the Good Friday Agreement, along with the creation of a Human Rights Commission. The safeguards put in place to ensure that all sections of the community are protected include "the European Convention on Human Rights (ECHR) and any Bill of Rights for Northern Ireland supplementing it, which neither the Assembly nor public bodies can infringe, together with a Human Rights Commission."
The NIHRC, which brought the judicial review, works to help ensure that the UK honours all of its international human rights obligations.
So what happens next?
Campaigners hope that the court's decision will put pressure on the government to extend abortion to Northern Ireland. Although the government has said it won't intervene, reform could still come from Westminster. Backbenchers or opposition MPs could table a private members' bill or an amendment to existing forthcoming legislation to bring about change.
Abortion laws are normally decided by a free vote in parliament, meaning MPs are not whipped to vote with their party, and several Conservative MPs have already voiced their frustration over the government's failure to act, suggesting they would vote for a legal change suggested by the opposition.
There is more than one way to achieve this: It could be done by extending the 1967 Abortion Act, or by overhauling the UK's abortion law completely.
Some MPs have suggested that abortion rights could be extended to women in Northern Ireland through an amendment to the Domestic Abuse Bill, when it comes before parliament in the autumn.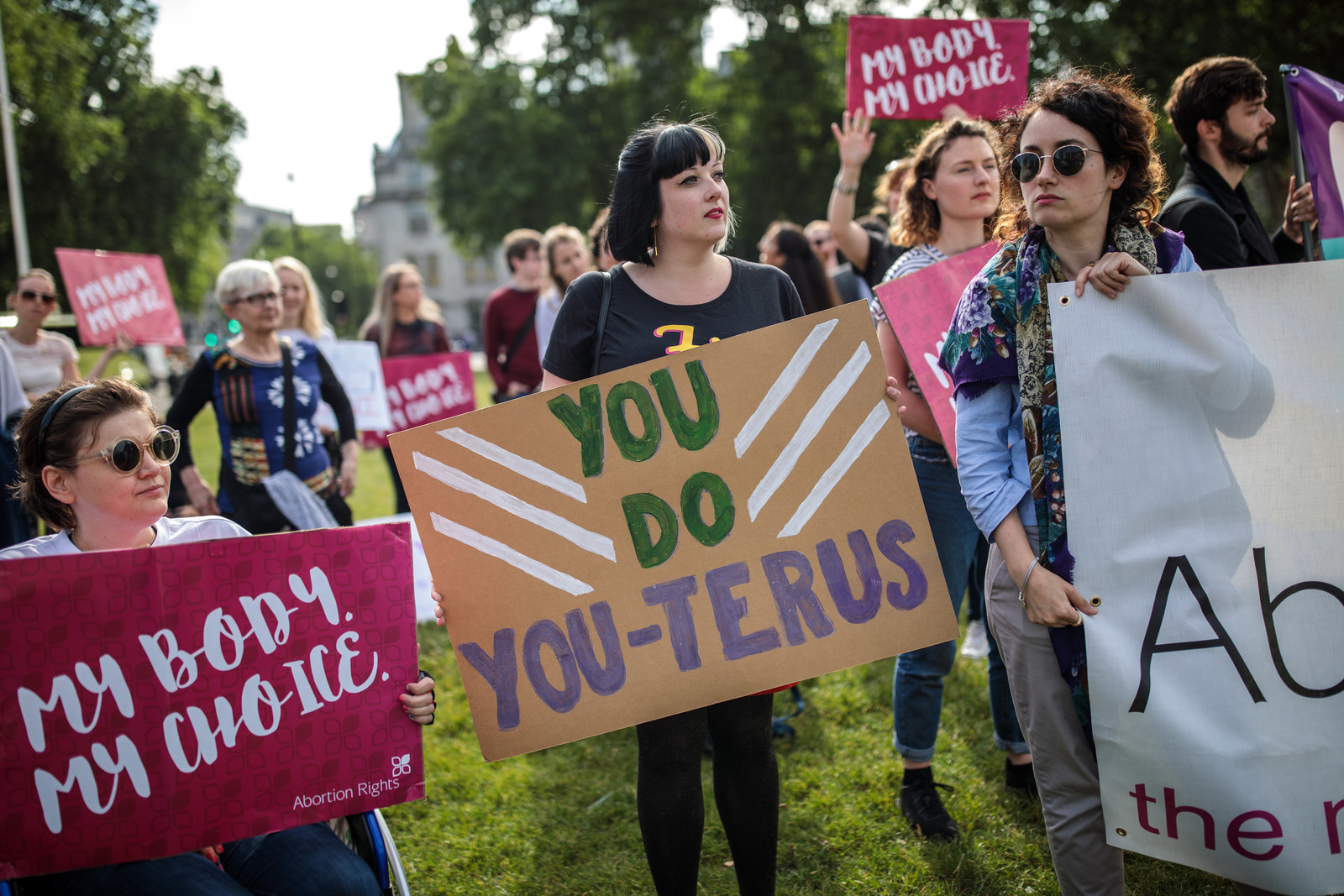 While the ruling today says only that human rights are being breached in certain very strict circumstances, the difficulty in proving, for example, that a pregnancy is a result of rape may mean that terminations are made available in more circumstances.
Stella Creasy, the MP who brought the debate to parliament on Tuesday, wants the government to repeal the historical criminal laws that currently cover abortion.
She told parliament: "The Offences Against the Person Act 1861 puts abortion in the same category as homicide, destroying or damaging a building with the use of gunpowder with the intent to murder, child stealing, rape, and defilement of women.
"We would like to repeal sections 58 and 59 of OAPA. Letting sections 58 and 59 stay on the statute book does not address many of the challenges that we see today in abortion provision."
She reminded MPs that the Infant Life (Preservation) Act 1929 would still have the power to criminalise abortions after 24 weeks of pregnancy.

Under the 1967 Abortion Act, which some people wanted extended to Northern Ireland, abortion is still covered by criminal law, but "a person shall not be guilty of an offence under the law relating to abortion when a pregnancy is terminated by a registered medical practitioner", and if two doctors agree that certain conditions have been met.
While it is unclear how – and indeed if – the government will act to change the law, those campaigning for abortion reform in Northern Ireland have welcomed the Supreme Court's decision.
Ruairi Rowan, a senior advocacy officer at the Family Planning Association, said: "For 30 years FPA have provided the only non-directive pregnancy choices counselling service in Northern Ireland and every day we see the impact that restrictive abortion law has on women and their families.
"In his judgment Lord Mance stated that the current 150-year-old law in Northern Ireland is 'untenable' and in need of 'radical reconsideration' due to the 'ongoing suffering' it causes. FPA strongly agree. The human rights of women in Northern Ireland can't be placed on hold and the UK government must urgently act on this ruling by bringing abortion law in Northern Ireland into the 21 st century."
Ann Furedi, chief executive of the British Pregnancy Advisory Service, added: "These findings clearly illustrate the need for urgent action. It is unthinkable that the government would compel a woman herself to bring a complaint before it was moved to act on the findings contained in this judgment.
"As a charity which cares for women from Northern Ireland in these circumstances, we know that the current system of exporting women to England for treatment is simply not good enough. Women need care at home, and they should not be forced to wait longer."