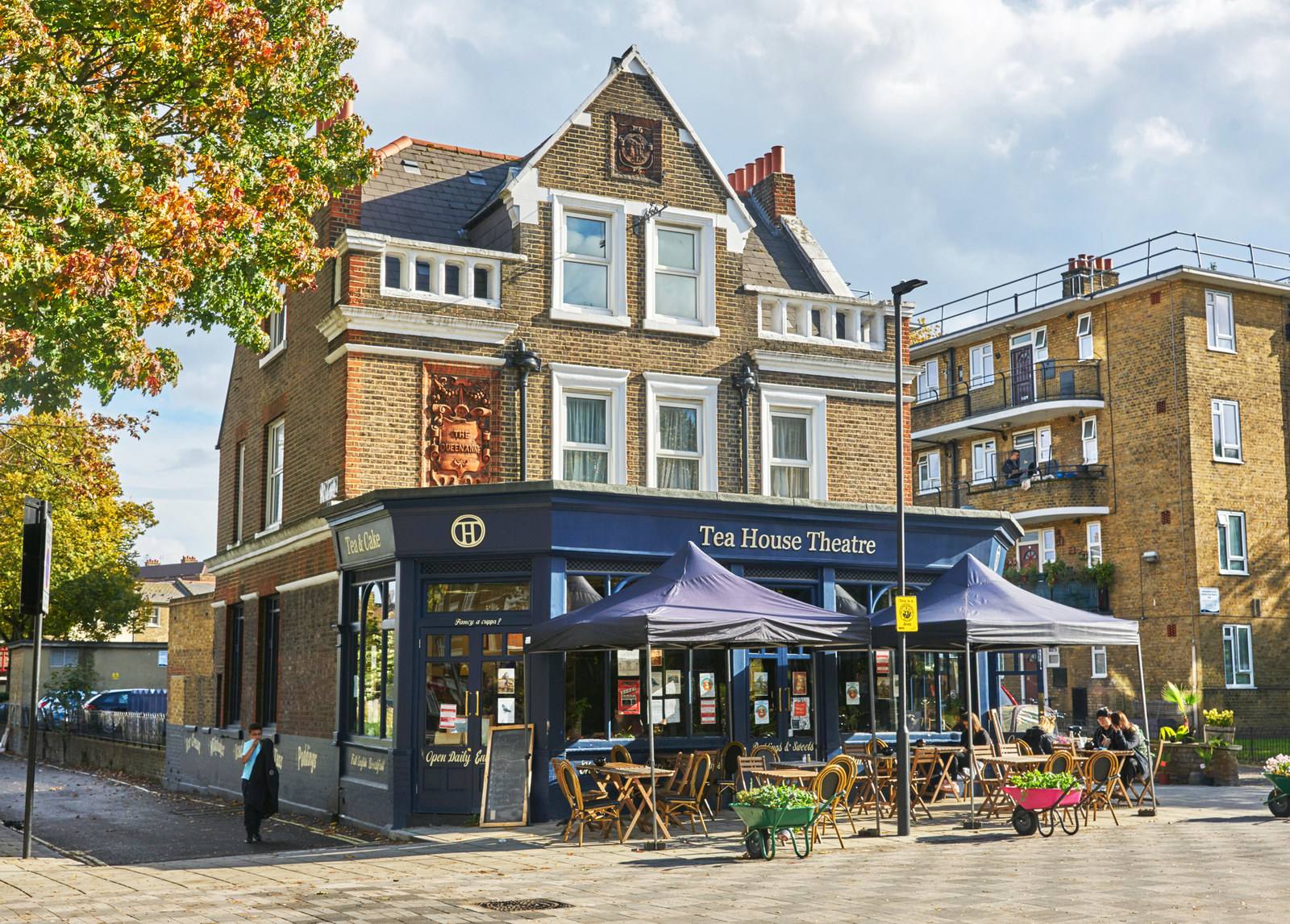 A London theatre has been criticised for posting a controversial job advert directly attacking "millennials" and saying the directors had "not been impressed so far" with the quality of applicants.

The full-time office administrator role at the Tea House Theatre in Vauxhall, south London, was advertised with a salary of £15,000 to £20,000 per year.
The advert has since been taken down from an Arts Council jobs website where it was posted, after the public body said it violated its terms and conditions by singling out a specific age group.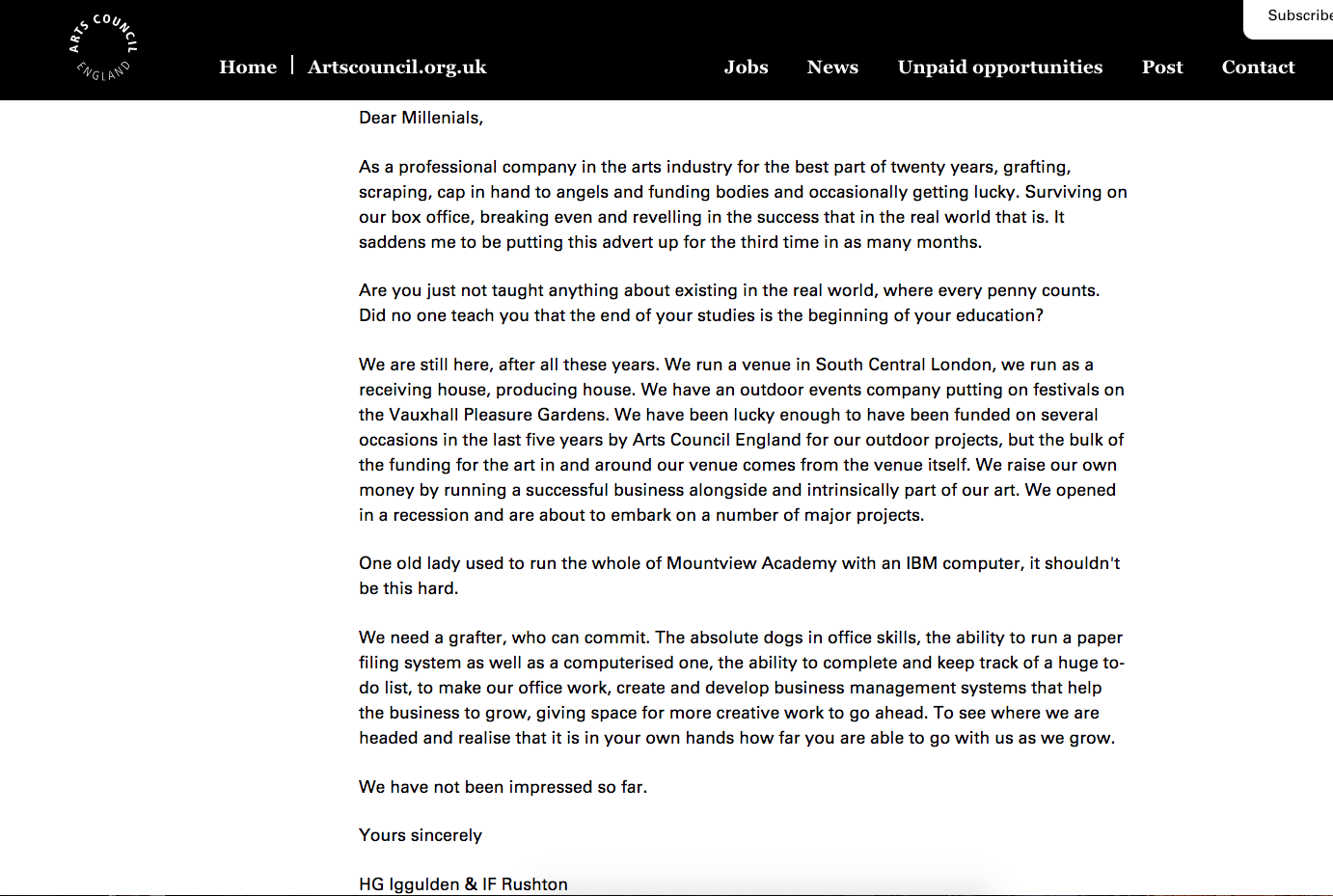 The advert began with "Dear Millenials" – with the word spelled incorrectly – and went on to say: "It saddens me to be putting this advert up for the third time in as many months.

"Are you just not taught anything about existing in the real world, where every penny counts. Did no one teach you that the end of your studies is the beginning of your education?"
It continued: "We need a grafter, who can commit. The absolute dogs in office skills, the ability to run a paper filing system as well as a computerised one, the ability to complete and keep track of a huge to-do list, to make our office work, create and develop business management systems that help the business to grow, giving space for more creative work to go ahead.
"To see where we are headed and realise that it is in your own hands how far you are able to go with us as we grow. We have not been impressed so far."
A link to the advert was shared on Twitter, where it was described as "snotty and patronising", "shameful and misjudged", and "absolutely hideous".
Miranda Debenham, 25, who now works for another theatre company, said she applied for the role back in February.
She says the company did not contact her after an interview either to let her know she had been turned down for the role or to offer any feedback.
"I wasn't surprised by their attitude and entitlement having been interviewed by them myself," she told BuzzFeed News.

"If I'm not what they wanted that's fine, but they had a full day of interviews – they can't all have been lazy. The amount of work they want done, the huge time commitment and low pay, means I'd be amazed if anyone was willing to put up with them for too long."
She also claimed that "at interview they emphasised that they would be rude, and angry or shouting, and that that was normal working practice for them. So I think when they say they need a grafter, what they actually mean is a slave."

Debenham added: "Also, they're targeting this at 'millennials', so they're probably echoing the general media assumption that young = lazy."
An earlier version of the advert posted at the start of this year was much more conventional:
"This is a combined arts position. You order the correct pencils and help create and design a month long festival and everything in between.
"You are also the face of the company during office hours, the first point of contact for new business, be it a table for two, a wedding, or a visiting theatre company. We are in a period of growth and need someone who can be as committed as the directors to the job at hand.
"This is an incredible opportunity for someone who really wishes to achieve their goals and prove themselves in the real world of arts management."
In a statement today, Arts Council England said: "Arts Jobs listings are created by our users who are subject to a number of terms and conditions.
"While we do have checks in place to stop spam or offensive content appearing, sometimes posts slip through the net. We have since removed this advert."
The Tea House Theatre has not responded to BuzzFeed's request for comment.