Sajid Javid Has Told Trump To Stop "Interfering" In UK Politics After More Sadiq Khan Tweets
But Jeremy Hunt has said he agreed with the US president "150%" that the London mayor has failed to tackle knife crime.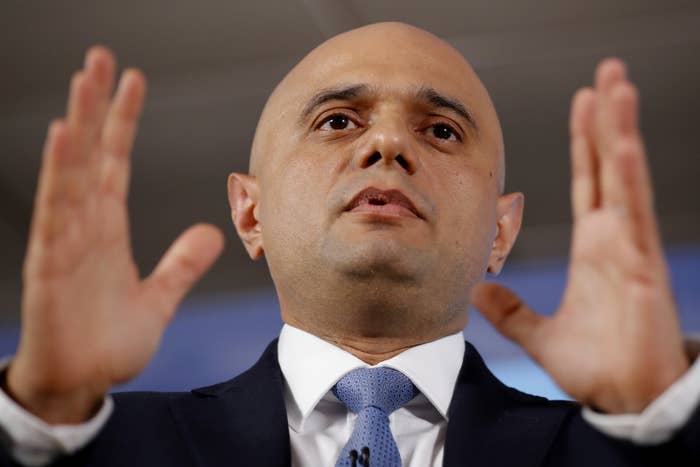 Sajid Javid has become the first Tory leadership candidate to condemn Donald Trump's attack on London mayor Sadiq Khan this weekend, saying he should stop "interfering" in UK politics.
The US president, however, won the backing of foreign secretary Jeremy Hunt, who said he agreed that Khan had failed to tackle knife crime.

On Saturday, Trump tweeted that Khan was a "disaster" as mayor and shared a tweet by the far-right British commentator Katie Hopkins in which she referred to recent knife crime in the capital and wrote "This is Khan's Londonistan". In another tweet, Trump labelled Khan "a national disgrace who is destroying the City of London".
Responding to a question from BuzzFeed News at a hustings for journalists in Westminster on Monday, Javid said: "I did see the tweet. I think President Trump should stick to domestic politics.
"It's unbecoming of the leader of such a great state to keep interfering in the domestic politics of another country," the home secretary said, adding: "The president is right to be concerned about serious violence, but he should be concerned about serious violence in his own country, which is more than 10 times higher than it is in the UK."
Last week, Javid spoke out about being the only holder of a great office of state not to be invited by Downing Street to the state banquet with Trump at Buckingham Palace.
Hunt distanced himself from Trump's language but said he agreed with the president about Khan's record on knife crime.
He told BuzzFeed News: "President Trump has his own style, and I wouldn't use those words myself.
"But the sentiment is enormous disappointment that we have a mayor of London who has completely failed to tackle knife crime and has spent more time on politics than the actual business of making Londoners safer, and in that I 150% agree with the president."
In a private conversation with former Tory party chairman Sayeeda Warsi later on Monday, Hunt clarified that he condemned Hopkins' views but did not directly criticise Trump.
Fellow leadership contender Rory Stewart declined to condemn Trump when asked by BuzzFeed News at the same event.

"I've been a professional diplomat all my life," he said. "I've spent a lot of time meeting world leaders and I feel very strongly that you should be firm, you should talk about your national interests, you should talk about it politely, you should talk about it very clearly, and you should do it privately."
Stewart later sent a tweet clarifying that he disagreed with the tweet shared by Trump, but again did not directly criticise the president.
But Brexiteer candidate Dominic Raab joined in the criticism, saying Trump's tweets were not "helpful or constructive".

"I'm proud to have a Muslim mayor of London and I'm proud to have a Muslim home secretary," he said.
Environment secretary Michael Gove said: "I think it's always a mistake to retweet anything Katie Hopkins tweets".

Frontrunner Boris Johnson refused to attend the hustings so did not face questions from reporters. His team did not respond to a request for comment.
On Monday, Downing Street declined to criticise Trump's tweet, arguing it was a "matter for the US".
This weekend, Labour leader Jeremy Corbyn blasted the tweets about Khan as "absolutely awful".
Speaking to Sky News, Khan accused Trump of "amplifying far-right activists" and being seen as a "poster boy for racists".
He added: "My concern isn't that he's obsessed with me; my concern is the amplification of a racist tweet that normalises racism — and that's wrong."
The Muslim Council of Britain strongly criticised both Hunt and Number 10 for their stance.
An MCB spokesperson said: "When facing Islamophobia, many Muslims are most hurt when others stand by and do nothing. Trump's endorsement of a bigot has nothing to do with the rising knife crime that we all are concerned about and everything to do with his divisive agenda.
"For Downing Street to refuse to comment and our foreign secretary and potentially future prime minister to agree with the 'sentiment' of this known Islamophobe without condemning the clear bigoted intent behind it is shocking.
"It is still further proof that Islamophobia is given a free pass at the highest echelons of the Conservative party."
Labour's shadow foreign secretary, Emily Thornberry, said Hunt's failure to condemn Trump was an "attempt to appeal to the worst instincts of his party members" in a bid to succeed in the leadership race.
She told BuzzFeed News: "Having shadowed Jeremy Hunt for almost a year, I have seen a man who can, at his best, be decent, reasonable, and constructive.
"But I'm afraid that in this latest desperate and shameful attempt to out-Johnson his rivals in the Tory leadership contest and appeal to the worst instincts of his party members, he has ended up endorsing the most blatant racism from Donald Trump and Katie Hopkins."