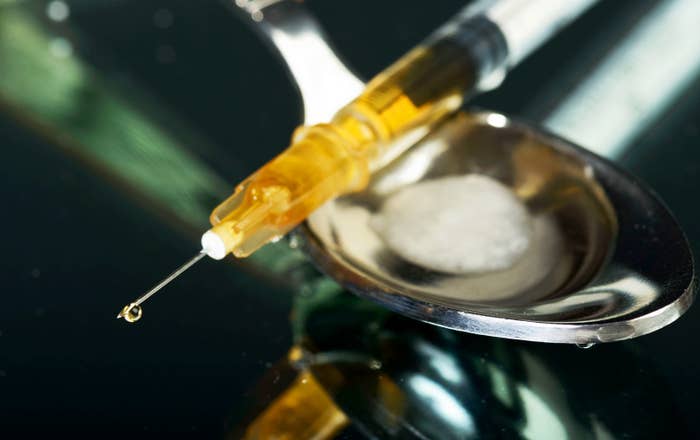 Drug deaths in England and Wales are at a record high, new figures released today have revealed.
The data from the Office for National Statistics showed that last year 3,744 deaths were attributed to legal and illegal drugs – the highest number since records began in 1993.
People in their forties have now overtaken those in their thirties as the group most likely to die from drug misuse, the statistics show, while men make up two-thirds of deaths.
Rosanna O'Connor, of Public Health England, said the deaths among older users could be linked to the so-called "Trainspotting generation", with older heroin users succumbing to their long-term addictions.
She said: "It is tragic that we are still seeing an increase in people dying from drug misuse, particularly among older heroin users.
"Many of these deaths can be explained as the Trainspotting generation, often with poor physical and mental health, sadly losing their battle with long-term addiction to drugs."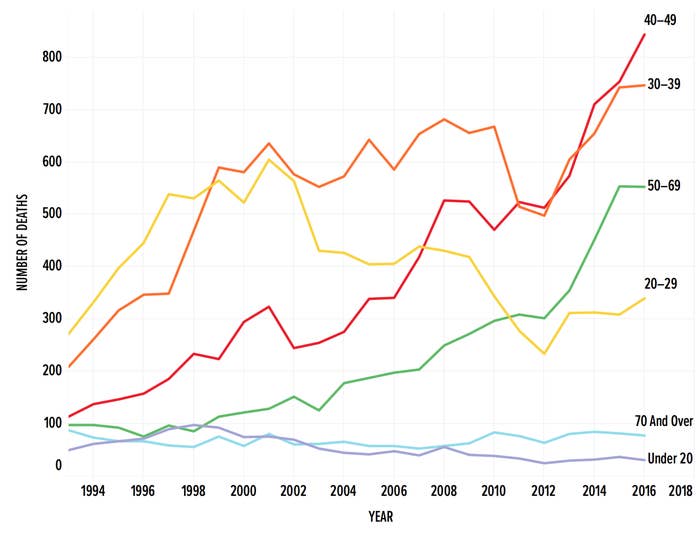 In 2016, 844 people aged between 40 and 49 died drug-related deaths, compared with 747 for 30-to-39-year-olds, and 340 for those aged 20 to 29, which was an increase of 31 on the previous year.
The biggest killer continues to be opiates, but deaths linked to cocaine saw a sharp rise, growing by 16% to 371. The ONS report said this could be linked to purer versions of the drug circulating on the market in 2016.
It said: "The National Crime Agency reports that there was a significant increase in both crack and powder cocaine purity at all levels in 2016, including user-level, which may partly explain the increase in deaths relating to cocaine."

The figures include accidents and deliberate drug overdoses, as well as deaths from drug abuse and drug dependence. Two-thirds of the deaths were due to drug misuse.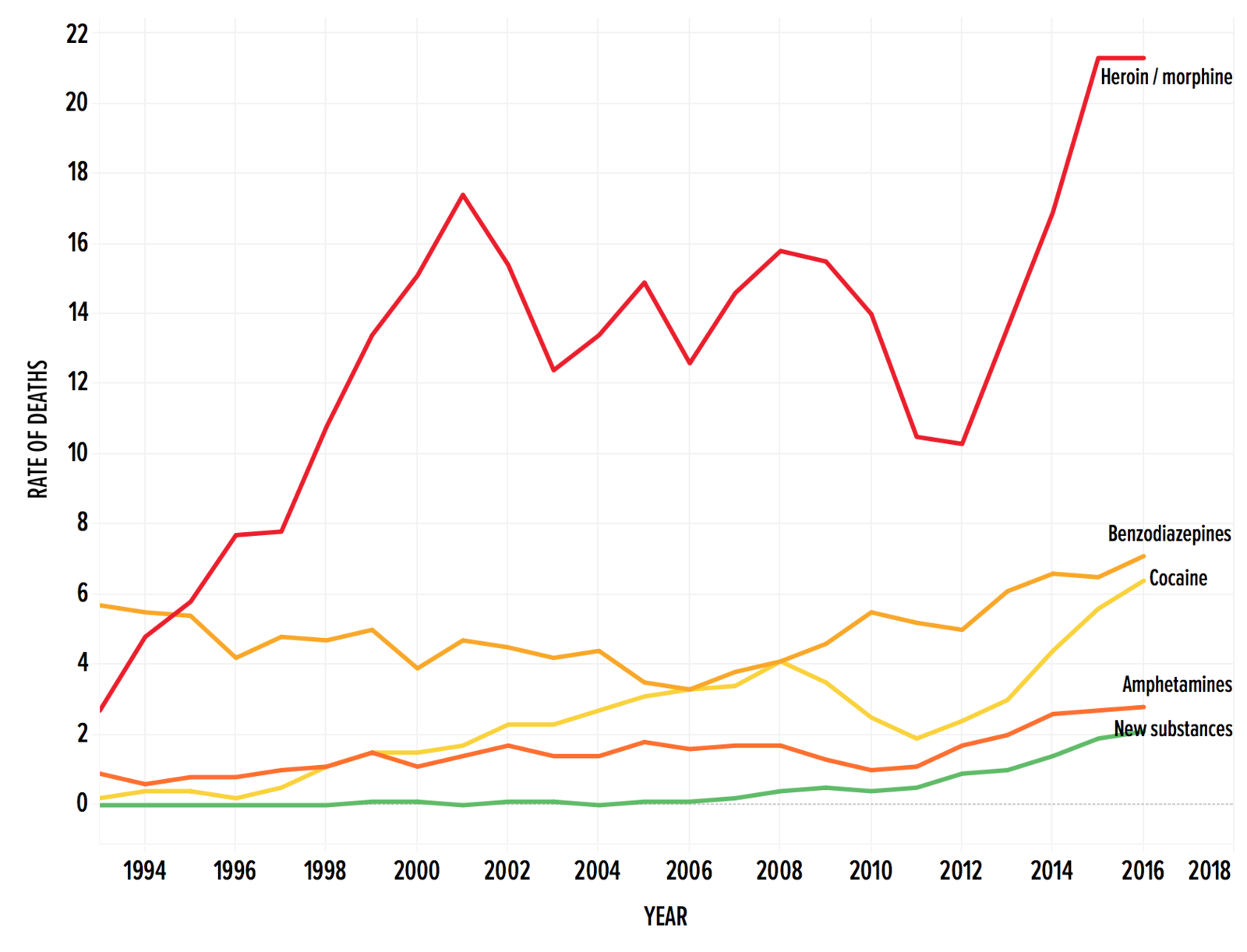 Meanwhile, separate figures released by the National Crime Agency yesterday revealed that since the end of last year, dozens of drug users have been killed by potent synthetic opioids, which are being mixed in with other drugs.
Fentanyl, prescribed as a painkiller for terminally ill patients, is an opiate approximately 50 times more potent than street heroin and 100 times more potent than morphine, and has been linked to at least 61 deaths since December last year.
In some cases, stronger analogues of the drug have been found to be responsible for deaths, including carfentanyl, which is 10,000 times stronger than heroin and has no legitimate use in humans, but is used as an elephant tranquilliser. The equivalent of a few grains of a typical heroin deal can constitute a lethal dose.
Although the drugs have been around for decades, police have seen an increase in deaths over the last eight months, mostly among heroin users.
Ian Cruxton, deputy director of the NCA, told a press conference: "The threat of synthetic opioids is not new. However, since December 2016, we have seen a number of drug-related deaths linked to fentanyl and carfentanyl.

"The NCA has been working with partners, both in the UK and overseas, to take action against those drug dealers who are playing Russian roulette with the lives of their customers by mixing synthetic opioids with heroin and other class A drugs."
He said that the results of toxicology tests were pending in around 70 other drug deaths, to determine whether fentanyl and its analogues had been responsible, adding that it was unclear whether users were deliberately taking fentanyl or whether they were taking it unknowingly when it was added to other drugs.
Cruxton said that deaths from fentanyl have been escalating for some time in the United States and Canada, where street heroin is typically of a lower purity than in the UK.
The NCA issued the warning as a fourth man was charged with importing, supplying, and exporting class A drugs following the arrest of three others in April. Kyle Enos, 25, from Maindee Parade, Gwent was arrested in May 2017 after officers identified him using the dark web to purchase fentanyl.

The other three men were arrested and charged with conspiracy to supply class A drugs after a drug factory in Morley, Leeds, was raided.

Those who have died range in ages from 20 to 66, police said, with 56 male victims and five female. The majority of deaths, roughly two-thirds, have occurred in the Humberside region and North, West, and South Yorkshire, with the remainder spread across 14 police regions, including Scotland, Wales, and Northern Ireland.
Pete Burkinshaw, alcohol and drug treatment and recovery lead at Public Health England said: "Following the recent tragic overdose deaths, primarily in Yorkshire and the Humber early in the year, involving heroin mixed with fentanyl, PHE has been urgently investigating how widespread the problem is.
"We have been working with drug testing labs and local drug services to get more information on confirmed and suspected cases.
"We do not have a full picture, but the deaths in Yorkshire do appear to have peaked earlier in the year and fallen since our national alert and, encouragingly, our investigations in other parts of the country suggest we are not seeing the feared sharp increase in overdoses."
He said PHE had put out a warning to alert users to the dangers, and that an antidote – naloxone – could be administered to reverse the effects of the potentially fatal drug.
Burkinshaw said: "The Local Government Association (LGA) has confirmed that the vast majority of local authorities do enable drug services to supply service users with an overdose antidote, naloxone. And encouragingly, most services can now provide this life-saving antidote to family members of heroin users.
"We are working with the LGA to increase the provision of naloxone to those at risk and not currently in treatment, including through hostels, outreach workers, needle exchanges, and drug users themselves."
Responding to Office for National Statistics data around the number of deaths related to drug poisoning in England and Wales in 2016, councillor Izzi Seccombe, chair of the Local Government Association's Community Wellbeing Board, said local authorities were also working to tackle the problem.
She said: "The record-high number of drug-related deaths is a major concern to councils and a worrying public health challenge. This is why 9 in 10 councils now provide take-home naloxone, to tackle overdoses and opiate-related deaths in their areas, which may be a contributing factor to the number of heroin-related deaths remaining stable in 2016.
"The biggest challenge we all face is an ageing cohort of drug users, who have not previously sought or had any treatment. As a result, they are prone to an accumulation of chronic physical and mental health conditions that make them more susceptible to dying through overdose."