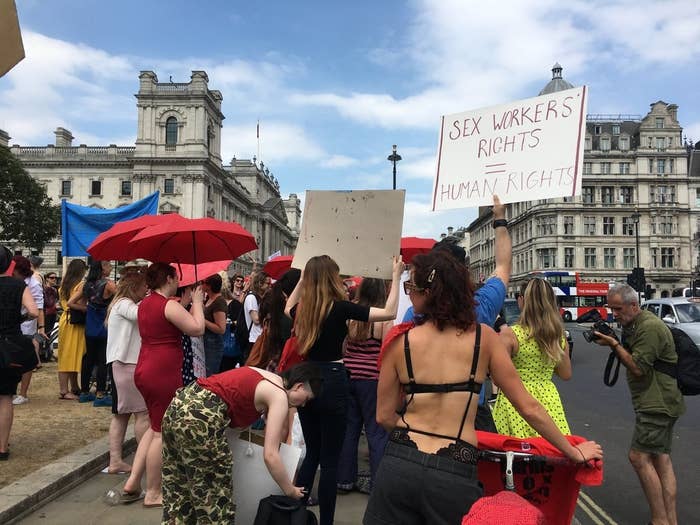 A group of MPs are pushing the government to do more to crack down on exploitation in sex work, and have said that online adverts for sex work should be banned.
However, sex workers have said that doing so will put their livelihoods and safety at risk, and that their voices are being ignored in the debate.

In a Westminster Hall debate brought by Rotherham MP Sarah Champion, which debated tackling demand for commercial sexual exploitation, MPs said that more needed to be done to end exploitation, and voiced their support for a range of proposals, including criminalising men who buy sex and banning online advertising for sex work.
Westminster Hall debates do not discuss legislation but give MPs the opportunity to debate an issue and to get a response from a government minister.
At present, the government has no plans to change the law around prostitution, while the Labour leader Jeremy Corbyn recently told Sky News that a model which "moves the blame and the responsibility onto those who are promoting the sex industry rather than those who are working in it" was a "direction we should think about going."
"Clearly this can't go on," Gavin Shuker, Labour MP and chair of the APPG on prostitution said. "Laws against commercial sexual exploitation are failing, they're failing to prevent trafficking, and they're failing to prevent pimps and those that profit [from the sale of sex]." He added that he was "growing increasingly frustrated" about a lack of action from political parties on the issue.

Shuker said that he viewed the buying of sex as a form of violence against women and girls, and called for the purchase of sex to be banned, saying the role of lawmakers was "to end commercial sexual exploitation, not to manage it."
He was backed by Champion, who said "there nearly always appears to be some sort of control involved" in the sale of sex, and that a ban on online advertising would help towards tackling trafficking and exploitation.
"No-one can give informed consent when they're inherently vulnerable or trapped in a cycle of abuse", she said, adding that looking for sex online is "quick, it's easy and it's highly profitable for the web companies."
However, sex workers and their supporters staged a protest ahead of the debate, saying MPs had failed to understand the issues they were facing.
"We feel completely erased by the proposals that Sarah Champion is putting forward," Molly Gerlach-Arthurs from sex worker advocacy group SWARM told BuzzFeed News. "They are completely at odds with everything we've been saying for so many years.
"We know that if Sarah Champion had spoken to a single sex worker, listened to any sex worker-led organisation in the UK, she would know that banning our advertising platform is just going to drive sex workers further underground, make it impossible for us to screen clients, it's going to kill people. It has killed people in the US. I don't understand why we're not being listened to on this."
In April, President Trump signed a bill, a mashup of the Stop Enabling Sex Traffickers Act, or SESTA, and the Fight Online Sex Trafficking Act, known as FOSTA, which gave law enforcement officials sweeping new powers to go after internet platforms used by traffickers, including making those platforms liable for the content that users publish. Sex workers say it has had devastating consequences for them.
Stacey Clare from the East London Strippers Collective told BuzzFeed News that "we fundamentally disagree with [calls to ban online advertising] because it won't lead to increased safety for trafficking victims."
She said: "All it really will do is push sex workers off the internet, and push sex work underground, and leave us more vulnerable, and ironically more likely to be coerced and trafficked."
She said the sex workers in the UK had mobilised after seeing the impact of FOSTA/SESTA in the US, adding: "We do not want that here, we will fight tooth and nail to make sure that does not happen here."
She also said that sex workers were competing with politicians in terms of public messaging. "We need to really get this narrative through that sex work is not trafficking and trafficking is not sex work", she said, "and to conflate those two is really dangerous and really unhelpful."
Niki Adams from the English Collective of Prostitutes agreed, telling BuzzFeed News: "If they banned online advertising for sex workers it would be an absolute disaster."
"It would mean that we could no longer advertise and work inside", she said, "and some of us would definitely be forced out onto the street where it's more dangerous.
"But also we would be pushed into the hands of more exploitative bosses, brothel owners and the like, we couldn't screen clients, it's a really crucial function of those online sites ... You feel some level of safety when you actually meet up, and all of that will be gone if they ban online ads."
A sex worker who took part in the protest told BuzzFeed News: "it would be an absolute nightmare" if online advertising were to be banned. While she described herself as "a very privileged sex worker," who no longer relied on online platforms, she said: "the people around me, my friends and loved ones, predominantly entirely rely on those platforms to advertise and to make a living.
"Most of them are single mothers", she added, "that's the main message we're getting out there today, they're mothers, they're queer, they're trans, they're people of colour, that's their main platform for making work happen, that's where their money comes from – if they don't have that they can't feed their children all of a sudden, they can't pay their rent all of a sudden, it's going to be devastating."
However, the Labour MPs advocating for changes to the law stood by their position. They were backed by colleagues from opposing parties, including Conservative Fiona Bruce, and the DUP's Jim Shannon, who said that Northern Ireland had led the way by criminalising buying sex in 2015, and that women and girls in England and Wales deserved the same.
Labour MP Jess Phillips, who read out explicit and degrading comments made by men who had bought sex to MPs gathered for the debate, told BuzzFeed News that there was "no evidence" that banning online advertising would put sex workers at risk.
"I have to take account of the most vulnerable women and the trafficked women", she added.
Champion agreed, saying she had spoken to "literally hundreds" of current and former sex workers.
"I fully respect their right to protest and understand the issues that they're raising", she said. "However, our focus has to be on the most vulnerable and exploited."
Shuker also said he had "spoken with those involved in selling sex even in the last couple of weeks", and added: "It's important that the voices of everyone involved are heard, not just those that are able to come out and protest today."
"Fundamentally the trafficking and exploitation that is ingrained in this trade is being driven by demand and it is an acceptable goal of public policy to seek to reduce it", he said.
A Home Office spokesperson said: "We are committed to protecting those selling sex from harm and enabling the police to target those who exploit vulnerable people involved in prostitution.
They added: "We recognise the need for research on the nature and prevalence of prostitution before considering any changes, which is why we have committed £150,000 to fund research into the subject, which is being undertaken by the University of Bristol."