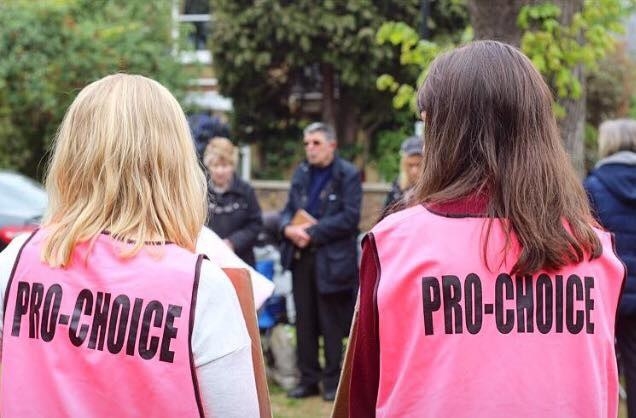 Dozens of MPs - including four party leaders - have signed a letter urging the government to introduce buffer zones around abortion clinics to prevent protesters from harassing women using their services.
Opposition leader Jeremy Corbyn is among those to have put his name to the letter, penned by Ealing MP Rupa Huq, who also raised the issue in parliament.
Earlier this month Ealing council took a groundbreaking vote to tackle harassment outside a local clinic by exploring the possibility of introducing a Public Space Protection Order (PSPO) that would prevent protests.
The clinic run by Marie Stopes, one of the UK's largest abortion providers, on Mattock Lane in Ealing, has been repeatedly targeted by anti-abortion groups, notably the Good Counsel Network.
Huq's letter has been signed by 112 other MPs from five political parties, including Lib Dem leader Vince Cable, Green Party co-leader Caroline Lucas, and SNP Westminster leader Ian Blackford.
Conservative MPs including Michael Fabricant and Sir Peter Bottomley have also joined the call for Home Secretary Amber Rudd to introduce buffer zones outside abortion clinics and pregnancy advice bureaux.
Writing today, the day before the anniversary of the 1967 Abortion Act becoming law, Huq said: "On the eve of the 50th Anniversary of partial legalisation of abortion in Great Britain, shockingly women daily face abuse when undergoing terminations. In my own constituency, there have been groups of people stood outside the clinic at Mattock Lane for the past 23 years – following women, calling them 'murderers', and telling them that if they 'change their lifestyles then they won't end up back here'.
"In my colleagues' constituencies they stand with oversized signs with distressing and graphic images of aborted foetuses, they film women entering and leaving clinics, and they distribute false medical information. In your own constituency, they livestreamed their actions during a protest near Hastings' abortion clinic.
"This is not a protest in the usual sense of the word. These people are not seeking to change the law – they are not campaigning to change the minds of our colleagues, or encourage parliament to review the legislation. Instead, they are targeting individual women who have come to a difficult decision and who are seeking to access lawful healthcare."
Campaigners have welcomed Huq's letter and backed the call from parliamentarians for the government to take action, saying "women are being harassed and intimidated on a daily basis".
Anna Veglio-White founder of campaign group Sister Supporter, told BuzzFeed News: "Obviously we're absolutely delighted and we were kind of hoping that the PSPO situation would lead to something like this, and it's happened very quickly.
"The zeitgeist is that no one wants to see harassment outside clinics and this is bringing it to the fore and making people take action. It's clearly a national issue - MPs from all over the country have signed this.
"And with everything that's happening in Northern Ireland - Northern Irish abortions will be funded even though women have to travel - there's a clear shift in attitudes. The vast, vast majority of the country would be completely in favour of this policy, so I do hope [the government] listen."
Katherine O'Brien, head of media and public policy at the British Pregnancy Advisory Service told BuzzFeed News: "We have been incredibly disappointed by the government's lack of action on anti-abortion clinic protests. Women are being harassed and intimidated on a daily basis when trying to access a legal healthcare service.
"It's hard to imagine that this behaviour would be ignored or permitted in any other circumstances. As a result of the government's intransigence, anti-abortion groups have become emboldened, and protests have intensified.
"This isn't about the rights and wrongs of abortion. This is about protecting women. There is clear cross-party support for buffer zones, and we hope the government will do the right thing and bring forward legislation as soon as possible."