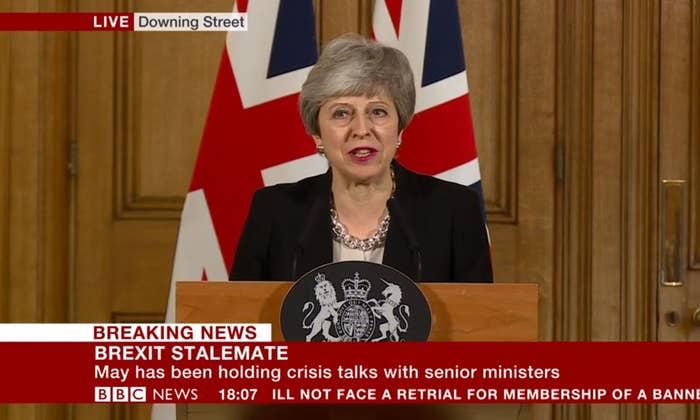 Theresa May has said she will seek another extension to Article 50 in order to attempt to agree a Brexit deal with Jeremy Corbyn on the future UK-EU relationship — suggesting for the first time that she may be willing to move her red lines and pivot to a softer Brexit.
In a televised statement in Downing Street following a marathon cabinet meeting lasting more than seven hours, the prime minister said she would only be seeking an extension until May 22 in order to agree a compromise with the Labour leader that could achieve a majority in Parliament.

"I've always been clear that we could make a success of no deal in the long term, but leaving with a deal is the best solution," May said.

The prime minister said that the withdrawal agreement was not up for negotiation, but that she planned to attempt to find a consensus on the UK's future relationship with the European Union.
If the two leaders are unable to agree a deal, they will come up with a range of options that will be put to Parliament in order to attempt to find a way forward, May added. "This debate, this division cannot drag on much longer," she said, adding that it was putting MPs under pressure and "doing damage to our politics."
By ruling out a longer extension — which means that the UK will not have to take part in the European Parliament elections — her hopes of avoiding no deal will rest on Labour MPs and on their leader Jeremy Corbyn. However, there are mere days to before Britain must decide whether or not it intends to participate in May's European Parliament elections.
Donald Tusk posted a gnomic tweet that suggested the extension would be granted.

May said that Parliament "can and must" find the compromises to deliver on the result of the EU referendum.

The short extension will also only be possible if the EU27 leaders agree to grant it at their upcoming summit on April 10 — just two days before the UK is scheduled to crash out without a deal.
"This is a decisive moment in the story of the islands and it requires national unity to deliver the national interest," she added.

All eyes will now be on the cabinet, as it has been suggested that missing a second EU exit date could prompt a fresh wave of resignations. However, by seeking a compromise position with Corbyn, May would avoid a long extension or a second referendum — two options that she has consistently said she is opposed to.