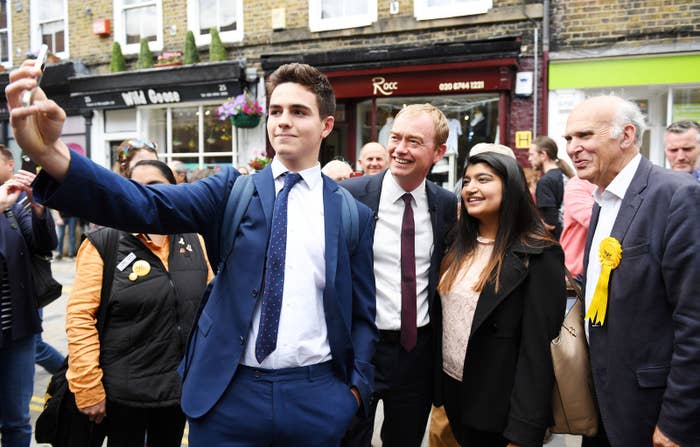 The Liberal Democrats scrapped their planned diversity criteria for candidate selection in European elections following complaints from white male members, BuzzFeed News has learned.

The party had previously told its EU hopefuls that lists of candidates selected to represent the Lib Dems must be representative of society, by ensuring they included women, people from black or minority ethnic backgrounds, LGBT people, and disabled people.
Today, the Liberal Democrats published lists of candidates, and while 46% candidates are women, with gender balance in all regions but one, some regions have no BAME candidates at all, and only one black candidate has been selected in the entire country.
Of the 65 candidates selected in England and Wales, seven are BAME, eight are LGBT+, and five are disabled, BuzzFeed News understands. Candidate lists have not yet been announced in Scotland.
MEPs are elected via a regional list system, whereby political parties put forward names of candidates in rank order, with seats allocated to parties in proportion to their share of the vote.

Detailed instructions were sent out via email to prospective candidates in each region saying what the list of Liberal Democrat candidates for their area should look like.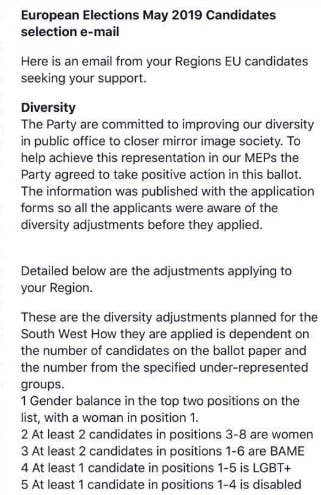 "The party are committed to improving our diversity in public office to closer mirror image society," the email read. "To help achieve this representation in our MEPs the Party agreed to take positive action in this ballot. The information was published with the application forms so all the applicants were aware of the diversity adjustments before they applied."

However, sources told BuzzFeed News that the Lib Dems scrapped diversity criteria across the country, following complaints and threats of legal action from white male members.

Sources said that at least one complaint came from the South West region. The Lib Dems had initially said that at least two candidates standing there should be BAME, but then went on to select five white candidates - three of them men.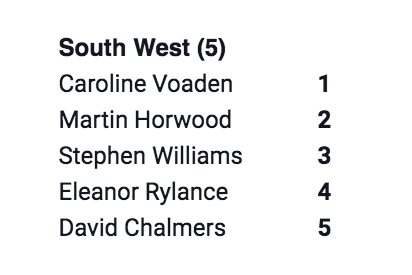 Last year, party leader Vince Cable criticised his own party for being "very male" and "very, very white", and pledged to end his party's "complacency" over diversity.

In the 2017 UK parliament election, just a third of elected Liberal Democrat MPs were women, lagging behind both Labour and the SNP, and Layla Moran, who is of Palestinian descent, is the party's only BAME MP.

Catherine Bearder is the party's only current MEP.
Should the UK take part in the European Parliament elections on May 23, the Lib Dems will be hoping to pick up votes from remain supporters who are disillusioned with the stance of the two main parties on Brexit.
"Vince Cable and the Liberal Democrat hierarchy should hang their heads in shame," Simon Woolley of Operation Black Vote told BuzzFeed News. "Vince Cable personally told me on a one-on-one podcast that he would spearhead diversity within the Lib Dems, and if he's failed at this critical juncture then his words are empty and meaningless, just like we've had over many years with Lib Dem leadership.
"He should hang his head in deep shame if he's capitulated on this promise."
"Of course it's disappointing," Frances Scott, founder of 50:50 parliament told BuzzFeed News. The organisation lobbies political parties to be more inclusive of women, and supports female candidates who want to stand for election.
Scott added: "Our parliament lacks legitimacy if it's not properly representative - most people are women we should have half the seats, of course this includes [the European Parliament].
"It's such a job. I'd applaud the Lib Dems for trying and it's a shame that they've had to buckle under pressure."
A Liberal Democrat spokesperson said: "The Liberal Democrats are fielding a strong field of diverse candidates for the European Elections – across England and Wales 50% of the top-listed candidates are women and 10% are BAME.
"Following a complaint about planned diversity arrangements, the party received legal advice and ruled to remove the planned provisions."