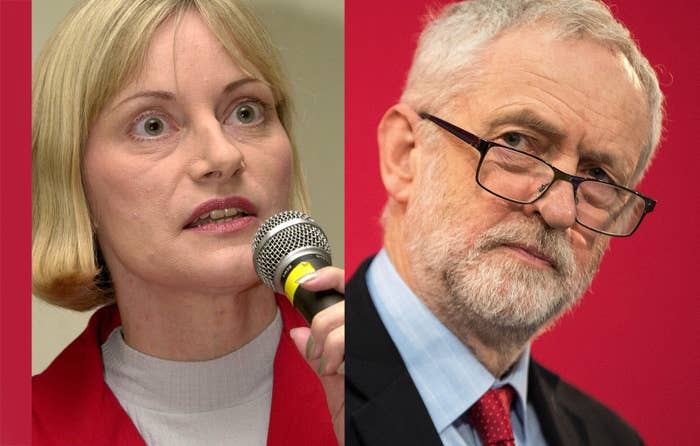 The leader of the Labour group on Peterborough council was shown an anti-Semitic Facebook post shared by a local member but nevertheless endorsed him to run as the party's candidate in a council election, BuzzFeed News can reveal.

Minutes of the Peterborough Local Campaign Forum on 9 November last year, seen by BuzzFeed News, show that Alan Bull was proposed by the local Labour leader Ed Murphy despite the fact that he and the other committee members had been shown the offensive material by a Labour party regional organiser.
The committee backed Bull's candidacy by six votes to four, with three abstentions, the minutes show.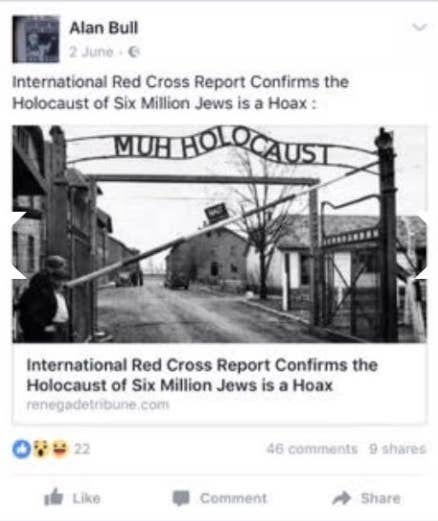 Bull is at the centre of the row that has engulfed Jeremy Corbyn over the party's failure to crack down on anti-Semitism among its members.

Bull was suspended from the party on Thursday last week after being linked to a number of anti-Semitic Facebook posts. In one, he shared an article which claimed that the Holocaust was a hoax. He told the BBC he reposted it on Facebook for the purpose of debate, but said he did not agree with its content.
Another post suggested former Labour politicians Robin Cook and John Smith had been killed by Mossad, the Israeli national intelligence agency.
Screenshots of Bull's Facebook page seen by BuzzFeed News show that at least three were public posts.
Following his suspension, Bull told the Peterborough Telegraph: "It is likely that the material obtained is a collection of doctored screenshots of 2-year-old private Facebook posts."

On Wednesday evening, the row escalated into a full-blown civil war inside Labour when the Corbynite chair of the party's internal disputes committee, Christine Shawcroft, was forced to resign after an email leaked to the Times revealed that she had argued against Bull's suspension. Shawcroft claimed the suspension was politically motivated, and was not about the anti-Semitism.
She said she had sent this email before being aware of the full information about this case. "Had I seen this image, I would not have requested that the decision to suspend him be re-considered. I am deeply sorry for having done so."
Shawcroft remains on the disputes committee, but not as the chair, and is also still a member of Labour's National Executive Committee.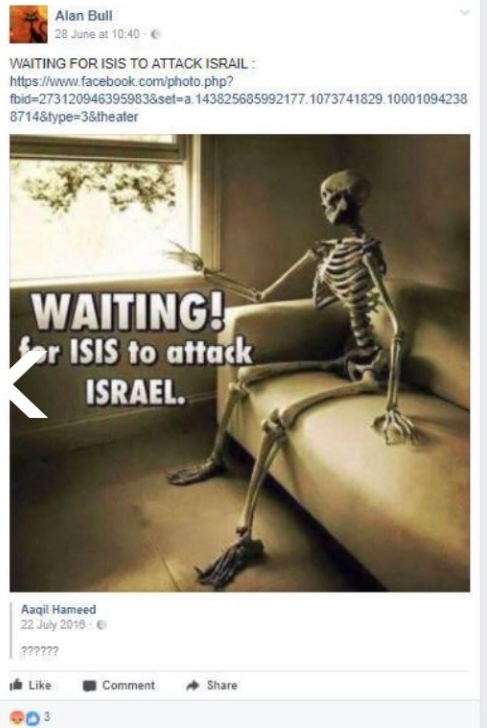 But the local party in Peterborough cannot offer this defence.
The minutes of the meeting at which Bull was proposed by Ed Murphy as the party's candidate in Stanground South Ward show that "the committee was shown evidence provided by TR [Teddy Ryan, named in the minutes as a Labour Party organiser] showing Facebook posts by Allan Bull who is currently under investigation by Region for breaching Labour Party rules on personal conduct. Concerns were raised that the posts could bring the party into disrepute."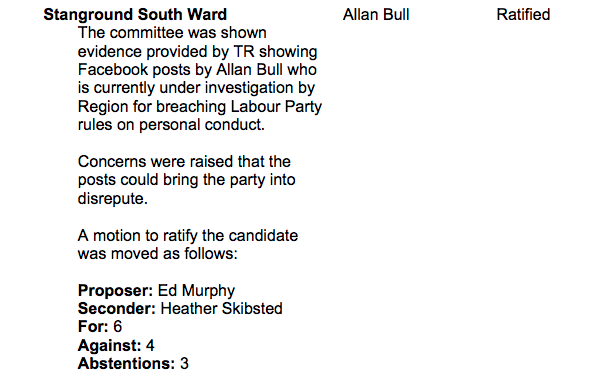 It is understood that the Labour Party has not received an official complaint about Murphy's conduct.

BuzzFeed News asked Murphy for comment on why he had endorsed Bull at the meeting after seeing the Facebook posts. At first, he questioned the authenticity of the minutes before saying he could not comment on internal Labour party matters.
He then said he had proposed a vote on Bull "because it needed to be decided", and declined to say whether he went on to vote for him or not. However, BuzzFeed News understands that Murphy did vote for Bull.
A Labour Party spokesperson said: "Alan Bull has been suspended from the Party pending investigation and is not a Labour council candidate.
"Labour takes all complaints of anti-Semitism extremely seriously, which are fully investigated and appropriate disciplinary action taken in line with our rules and procedures.
"Anti-Semitism has absolutely no place in the Party, and we are committed to challenging and campaigning against it all its forms."
CORRECTION
Robin Cook's name was misspelled in an earlier version of this post.