Labour is facing its most fraught annual conference in 15 years as a bitter row about the party's position on Brexit comes to a head in Liverpool this week.
After a summer on the back foot because of allegations of anti-Semitism, Jeremy Corbyn's party is braced for another explosive argument about their opposition to holding a second referendum on whether to leave the European Union. Many in the rank and file want to use this week's party conference to push for a change of policy — and insiders warn that the showdown could be the most rancorous since Labour was divided by the Iraq War.
Days after Theresa May's Brexit policy was humiliatingly rejected by EU leaders at a summit in Salzburg, Austria — setting off another round of bickering among Conservatives and a new debate about May's leadership — the Labour conference will make painfully obvious that the opposition, too, is struggling to come up with a coherent plan for leaving the union.
It won't just be the usual centrist, Remain-supporting MPs hammering away at their leader. The Brexit fissures run deep into Labour's Corbynite wing, dividing the trade unions and the members from whom the leader derives his power. How these dynamics play out in the next few days — and the decisions that Corbyn makes as a result — could have a significant impact on the final few months of the withdrawal process and the shape of Britain's future relationship with the EU.
But it's more than just a debate about Brexit policy, party insiders say.
The argument about the second referendum is indicative of a backroom struggle for control of Labour that has been building for months and, the insiders say, will profoundly affect the direction of the party's policies and its political decision-making.
"You've got four or five different camps pulling in different ways, on a lot of different issues," said one trade union source.
Media coverage of Labour tends to dwell on opposition to Corbyn from centrist MPs, but insiders say that it's the developing tensions on the left that are most worth watching.
Unions that tended to speak as one bloc under previous leaders are now increasingly fragmented, including on Brexit. On the other side, there's an increasingly assertive membership, led by the grassroots activists Momentum, who are pushing the party to become more radical than even Corbyn wants to be.
This is not to say Corbyn's leadership is at risk. In some ways, he has more say over the party than other Labour leaders ever had, with control of most of its internal levers. Most, if not all, of the competing players in this developing struggle are supportive of Corbyn himself, and broadly aligned with his political vision. But the new power dynamics are a headache for the Labour leader, and his inner circle have spent a lot of time in recent months working behind the scenes to manage the tensions.
The backroom fight is awkward at a time when some of Corbyn's lieutenants — notably the shadow chancellor John McDonnell — have been urging Labour to temper its radicalism to enhance its electoral appeal. Anticipating a general election if the Conservatives collapse because of Brexit, McDonnell has been trying to convince his colleagues that Labour now needs to project itself as a credible, united political alternative to the Tories.
Among those angling for influence over Corbyn are the major trade unions, which remain important players in his firmament. They're still a major source of funding for the party. And Corbyn himself, more than any other recent leader, is a staunch unionist.
None is more powerful than Unite. Its general secretary Len McCluskey is close to Corbyn and was crucial to Corbyn consolidating his position as leader. The union is a major financial contributor, giving more than £6.6 million to Labour since the start of last year. Its ties to the top of the party were cemented in April when Jennie Formby, Unite's political director, became Labour's general secretary. "Unite are obviously bigger than [other trade unions] and they do have a lot more influence," one union source said.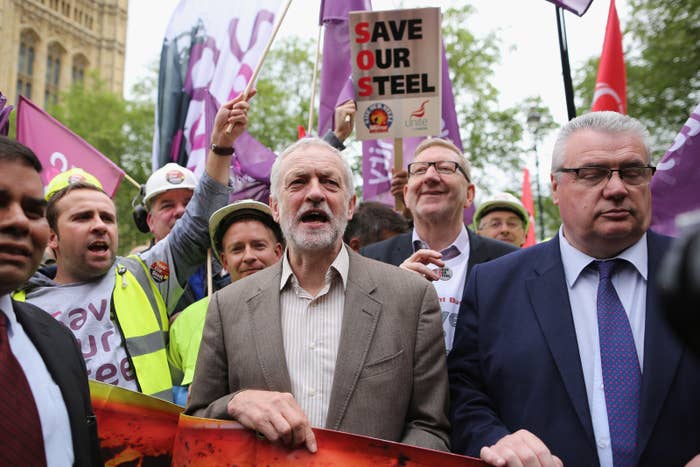 But increasingly the unions are divided on major questions of policy and politics. On Brexit, for example, Unite's leadership are strongly opposed to a second referendum, but GMB and others are lobbying the party to change its policy and support another vote.
More than that, the unions aren't the only source of Corbyn's power. Just as influential now is Momentum, the activist group founded by Jon Lansman. With 40,000 members, a formidable social media presence, and prominent champions such as the columnist Owen Jones, it provides much of the campaigning energy to the Corbyn movement and has been increasingly bold in its demands for radical action. Momentum will continue dragging the party's centre of political gravity to the left, insiders say, putting the unions in the strange position of being the moderating force in the party.
Balancing this tension will be a high-wire act that the leadership will find increasingly hard to pull off.
"Unions are coming to a slow realisation that they've created something that they now can't put back in its box," said one Labour source. "Momentum now act like a bratty child in the room — if they can't get their own way and get their own way immediately, they throw their toys out of the pram.
"That's a slightly bizarre position that they've got themselves into and now every year they have to accept quite a lot less power."
Speaking to BuzzFeed News, McDonnell downplayed talk of divisions. "I keep saying to people, 'Don't mistake democracy for division,' because the media seem to interpret every argument around policy … or performance as division," McDonnell said. "I don't think it is divisive, I think we've always been a party of a broad church, left, right, and centre, and that often involves discussions about policy getting heated at times, but that way actually we get better policy made."
A union source also minimised talk of conflicts, saying that trade unions had often disagreed politically in the past, but under Corbyn's leadership they now had the freedom to act as separate entities rather than a single bloc.
"Previously there was a very clear need for unions to always act together on every single issue," the source said, citing Tony Blair's years as leader. "Now there's been a shift where they're open to all trade unions I think what kind of starts to flow through is the different positions."
But multiple other sources insisted that the power struggle is real and significant.
It is the way of Labour's peculiar politics that its power struggles are often played out in seemingly impenetrable and arcane procedural debates, and so it will be at this year's party conference.
The first day, Sunday, will be dominated by a long session dedicated to internal party matters that party sources say will set the tone for the rest of the event. A so-called democracy review has been examining changes to the party's governance and is expected to make recommendations that will give more power to the party's members — strengthening Momentum's influence.
One dispute related to the future of the party's national policy forum, a representative group set up by Tony Blair which has long been criticised by those on the left. Momentum wanted to scrap it, but the unions pushed back, resulting in the proposals being shelved. Another split could come over measures to make it easier to deselect MPs, which would give more power to Momentum.
But it's the Brexit debate where the fight will be most passionate and divisive, the sources said.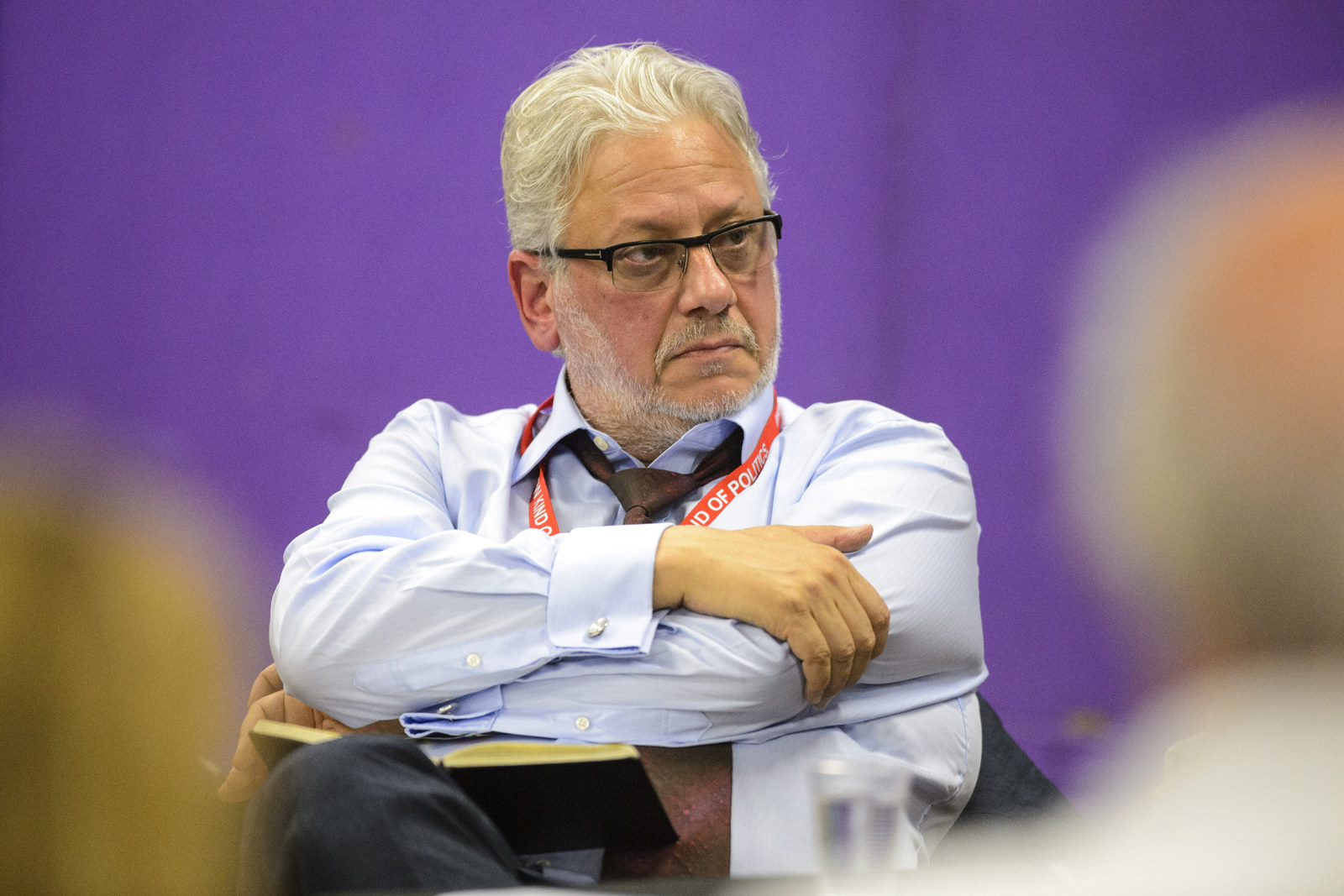 For months, Corbyn has been under pressure internally to drop his opposition to a second referendum. Anti-Brexit campaign groups such as People's Vote believe that getting the opposition party on board would ramp up the pressure on Theresa May to hold a national vote on the terms of her withdrawal deal, and could be decisive in reversing Brexit.

Corbyn and his closest allies — including McCluskey at Unite — are opposed to a second vote. People familiar with their thinking say this is partly because they fundamentally don't want Britain to stay in the EU, and see a second referendum as a step towards reversing Brexit. But there's a political calculation, too: Corbyn's team don't believe that backing a second referendum will win them many more votes in Remain-dominated areas, while it could cost support in areas that voted to Leave. Their preference is to have a general election if May's Brexit deal is rejected by parliament, which they're confident they'd win.
But, with many of the party's rank and file wanting to remain in the EU, the leadership have come under intense pressure to abandon their opposition to a second referendum. Thousands of Momentum members have called for a second vote, and there's strong grassroots support for it in some trade unions. Earlier this month, the GMB union officially endorsed a vote.
It will be hard for Corbyn to push back against Unite, one union source said, adding: "I don't think you can ever underestimate the importance of Unite and Unite figures within the Corbyn Labour Party political theatre."
Campaigners have sought to force the issue at conference, working with party delegates to put forward motions on the matter. Out of 183 motions put forward for conference, 123 are Brexit-related, and many of those are calling for a second referendum. Eight subjects will be chosen for debate on the conference floor — four chosen by CLPs and four by affiliates — and, given the sheer number of submissions on Brexit, it is almost certain to be one of those selected for debate.
Some involved in the process say they expected the leadership to try to circumvent a big public debate by getting the party's National Executive Committee to issue a statement setting out a position that would effectively take precedence.
Two well-connected sources said there have been discussions between Corbyn's team and the major unions about such a statement in recent weeks. One of the sources even named some of the individuals in Corbyn's team that had been involved in these talks. They discussed issuing a statement that would reject Theresa May's Brexit proposal as failing to meet Labour's criteria and committing to a "popular vote" on the deal. This, the insiders said, would placate those calling for a second referendum, by technically leaving it on the table, but without binding their hands. The party's preference would still be to have a general election.
The political fallout from such a move could be huge, several other sources said. Party members would be furious party establishment try to bypass them on such a crucial issue. David Lammy, the MP for Tottenham, an outspoken campaigner for a second referendum, told BuzzFeed News it would be a "betrayal of our membership".
"It would also appear ludicrous to the rest of country," Lammy said. "Brexit is the biggest issue of our time."
Another Labour MP said that the dozens of constituency parties who put forward motions "deserve to be heard," and that any attempt to avoid a debate "would be a real kick in the teeth for members, many of whom are Jeremy's most loyal supporters".
However, Labour aides insisted there have not been any such discussions and flatly ruled out an NEC statement that would circumvent a proper Brexit debate.
"There is no NEC statement on Brexit and no plans for one," a Labour spokesperson told BuzzFeed News on Friday.
Tony Martin, chair of the Burnley constituency Labour party, and a county councillor in Lancashire, told BuzzFeed News that it would have been a mistake for the party to try to bypass a debate.
"It's also an absolute gift to the the press," he said. "The story will then be that Labour's running away from Brexit. Whether we're for it or against it or can't make our minds up.
"If it had been under Tony Blair's they probably would have fudged it to death, but after all these years of Corbyn and them saying it's important that conference is the supreme body, that it must be done here, it would make him look like a hypocrite. But the situation is: If you come out as Remain you lose, if you come out as Brexit you lose, because the country is so divided."