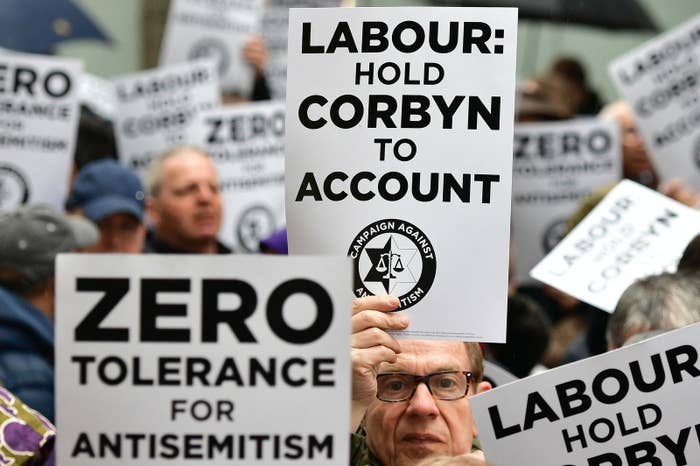 The Labour party's disciplinary process has again been called into question after the party's ruling body, the National Executive Committee (NEC), decided not to delegate decisions to an independent body in the same week that an NEC member's brother was suspended locally over alleged anti-Semitic posts.

Majid Dar, a councillor in Manchester, was suspended from the local Labour group over social media posts. It is understood the Labour party is investigating the matter, but a spokesperson would not confirm whether he had been suspended by the national party, despite repeated requests for clarification from BuzzFeed News.
His sister, Yasmine Dar, is a member of Labour's NEC, the governing body, which on Monday decided it would retain control of disciplinary matters rather than delegating them to an external, independent body.
There has been no formal recognition that Dar will not preside on her own brother's case. However, BuzzFeed News understands there are measures in place to safeguard against NEC members sitting on panels where there could be a conflict of interest.

However, the Jewish Labour Movement (JLM) has criticized the NEC's decision not to outsource complaints to an independent group, saying that the party leadership had "let political friends off the hook," and demanded assurances that this would not happen in Dar's case.

"Given the abuses of the system we've seen over the past three years, you can take nothing for granted," a spokesperson for the Jewish Labour Movement told BuzzFeed News.
"You would expect that an NEC member to recuse themselves from complaints involving friends, family and their factional allies. This test has been failed time and time again.
"We need urgent clarity that this will be the case here, as all too often, the party leadership have intervened to ensure that their political friends are let off the hook."
Euan Philipps, a spokesperson for campaign group Labour Against Antisemitism, also said that he had concerns that NEC members may intervene to protect "factional comrades," and expressed concerns about Dar's case coming before the NEC.
He told BuzzFeed News: "Its absolutely right that Councillor Majid Dar has been suspended by the Labour group for allegedly posting antisemitic materials on social media, and we now demand his swift expulsion as a demonstration that anti-Jewish racism is not to be tolerated.
"However, given Labour's track record on dealing with similar cases we have little faith that the necessary action will be taken. This is potentially a situation that exemplifies the inadequacy of self-regulation of racism by a party that is already under investigation by the Equalities and Human Rights Commission."
Philipps continued: "According to Labour's own figures (which we dispute) first six months of 2019 Labour expelled only eight members for antisemitism out of 625 reports — a rate of just 1.28%. The same people responsible for that lack of action are now being placed in charge of all disciplinary decisions.
"Our concern is that when Councillor Dar does face his disciplinary panel, one of those sitting in judgement on his case might be his own sister, NEC member Yasmine Dar. Is she going to vote to expel her own brother? Will her factional comrades?
"If senior Labour leaders like Jeremy Corbyn and Jennie Formby want to be taken seriously then they need to move quickly and ensure the removal of Councillor Dar. Otherwise accusations of institutional racism will continue to drag down the entire Labour movement."
Dar has denied that his own posts were anti-Semitic, but apologised for not deleting comments that had been left on his Facebook page.

He told BuzzFeed News: "These comments were in 2012 and 2014, which was seven and five years ago. I wasn't a Labour member or a councillor back then. My comments, my understanding, are not antisemitic. People who have commented on my postings, they weren't moderated, they weren't deleted. That's a problem, I see, what was wrong with my posting.
"Other people's comments might have been antisemitic, what you have to remember, it was the time of the 2014 massacre by the Israeli forces and the Israeli government, that's when people were posting things like that, to say that you need to stop murdering kids ... All I said was Israeli needs to stop murdering kids and women, I didn't say anything anti-Jewish, or anti Israeli.
"Seven years ago Facebook wasn't as popular on your phone and instantly getting messages, responses, notifications to people leaving messages. I would have deleted it, I didn't see that, I don't remember them, that's something that I would apologise on, it's wrong, obviously it's one of those things I didn't know back then, I am apologetic."
A Labour party spokesperson said: "The Labour Party takes all complaints of antisemitism extremely seriously and we are committed to challenging and campaigning against it in all its forms.
"All complaints about antisemitism are fully investigated in line with our rules and procedures and any appropriate disciplinary action is taken. We cannot comment on individual cases."