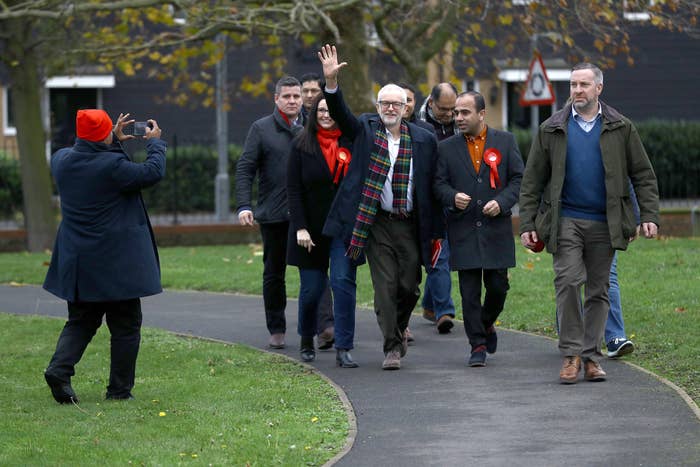 Labour activists running defensive campaigns in marginal seats are furious the party is pumping resources into trying to win seats from the Conservatives and under-resourcing campaigns that are trying to defend fragile Labour majorities.

In the North West of England there has been a huge push in seats including chairman of the 1922 committee Graham Brady's Altrincham and Sale West seat, which he won in 2017 with a majority of almost 6,500 votes; and in Bolton West, which has a Conservative majority of less than 1,000 but, according to activists, still looks like an unlikely win for Labour.
However, Wednesday night's MRP poll from YouGov appeared to vindicate the complaints of those running under-resourced defensive campaigns – suggesting that Labour stands to lose to the Conservatives in marginal seats up and down the country.

The fact the poll put the Tories ahead in Leigh, which Labour has held since 1922, came as a shock to some observers, but not to local activists, who have seen resources diverted to other Conservative-held Greater Manchester seats.

"We've seen it coming," one told BuzzFeed News. "The party have an attack strategy, 300 volunteers in Bolton West, which we're looking to lose badly anyway; zero in Leigh," on local activist told BuzzFeed News.
"Every local campaign would love extra help. But the party should be thinking strategically about how to deliver the best overall result available nationally. Regionally there's no realistic Labour gain and several potential Labour losses. That was the case before this poll came out, and still is."
"It's a huge problem," another senior Labour figure in the North West told BuzzFeed News. "There are literally hundreds out in Altrincham and Sale West while YouGov says we're losing Leigh, Bury South, [and it's] too close to call in Bury North and Worsley & Eccles."

According to the BBC, as a result of its own polling, which predicted similar losses, Labour has pivoted to focus more on campaigning in leave-supporting areas, but activists in five such marginal seats in the North West told BuzzFeed News that they were not aware of any offers of further support.

An activist in another Labour-held marginal seat, which many locally fear losing, said that not only have they not had any offers of help from volunteers, but that members of the local party have been campaigning elsewhere in Conservative-held seats instead.

One campaign manager, who is trying to retain another North West seat with a small Labour majority, voiced similar frustrations telling BuzzFeed News: "I'm running a campaign in a battleground marginal the party must hold on to which YouGov shows as a toss up and we're lucky to have 20 people across a weekend.
"Meanwhile in seats we are never going to win like Altrincham I see 200 people out. It's incredibly frustrating and disheartening. There's no thought to where people are needed and no support for seats we need to hold which at present we won't."
Nationally, Labour – often with the help of Momentum – has also been sending armies of volunteers into seats like Chingford and Uxbridge in a bid to take out big Conservative names like Iain Duncan-Smith, and the prime minister.

The picture that activists in the North West describe has also been replicated in other parts of the country, where some activists say Labour and Momentum are not making judgements based on which seats are the most important electorally.
"In London it has been really obvious that seats are prioritised not by how winnable they are but by the candidate," one activist told BuzzFeed News. "Ali Milani in Uxbridge and Faiza Shaheen in Chingford are the favourites of the Corbynites.
"From their selections in 2018 they have had so many visits from prominent politicians, media personalities like Owen Jones, and big campaign days organised by Momentum... lots of canvasses by London Young Labour and London uni Labour Clubs.
"This was okay in early 2018 but the closer it gets to the election the more ridiculous it gets. They are not going to win, not with how Labour is polling. Even in the short campaign they have received a huge amount of resources and volunteers. I've heard that frequently Faiza has received too many volunteers and that some have had to be sent home.
"Chipping Barnet on the other hand is hyper-marginal, majority of 353 and one of the few places we could actually gain. It's had no resources in comparison to Chingford and Uxbridge, very few volunteers, hardly any celebrity visits... It's got slightly better recently, but Chipping should have always been number one in London.
"Everyone from HQ to activists seem to care far more about canvassing for Corbynites than the candidates who could actually win or who are at risk of losing."

Momentum denied that Corbyn-supporting candidates were being prioritised by its volunteers, and pointed to its campaign map, which directs activists to nearby marginals. The Labour Party had not responded to a request for comment at the time of publication.