Keir Starmer Has Been Elected Leader Of The Labour Party
Angela Rayner has been named deputy leader after the results of both contests were announced.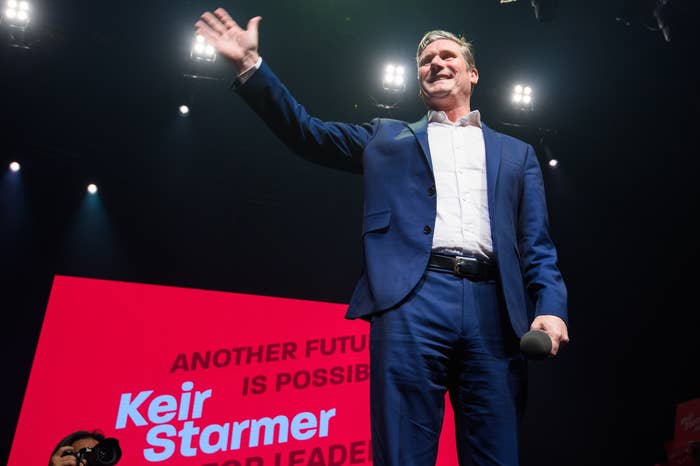 Keir Starmer has been announced as the new leader of the Labour party, after he secured victory in the contest with 56.2% of votes.
Starmer replaces Jeremy Corbyn as leader of the opposition, who resigned after Labour suffered its worst election defeat in decades in December. The monthslong contest was marred early on by allegations of foul play, before being overshadowed by the outbreak of the coronavirus pandemic.

Corbyn-loyalist Rebecca Long-Bailey came second in the contest, which is run under an alternative vote system, with 27.6% of the vote. Wigan MP Lisa Nandy was in third with 16.2%. Starmer passed the 50% threshold to secure victory in the first round.
Long-Bailey had been an early favourite to win the leadership contest, but Starmer bypassed her to take the lead before polls had even opened. He won the support of 374 constituency Labour Parties (CLPs) as well as a large number of trade unions and affiliates, including two of the largest unions: Unison and Usdaw.

Long-Bailey won the support of 163 CLPs and the backing of unions including the giant Unite, while Nandy secured the support of the GMB and a significant Jewish Labour Movement nomination, but only 72 CLPs.
In a statement released after the results were announced, Starmer said it was "the honour and the privilege of my life to be elected as leader of the Labour Party."
He added: "It's a huge responsibility and whether we voted for this government or not, we all rely on it to get this right. That's why in the national interest the Labour Party will play its full part.
"Under my leadership we will engage constructively with the Government, not opposition for opposition's sake. Not scoring party political points or making impossible demands. But with the courage to support where that's the right thing to do."
Shadow education secretary Angela Rayner was victorious in the deputy leadership contest, triggered by former deputy Tom Watson's resignation as parliament dissolved for the general election.
She won with 52.6% of the vote, after three rounds of transfers, beating off competition from A&E doctor and Tooting MP Rosena Allin-Khan, who came second, Labour's only Scottish MP and centrist favourite Ian Murray, who was in fourth place, and fellow shadow cabinet members Richard Burgon and Dawn Butler, who came third and fifth respectively.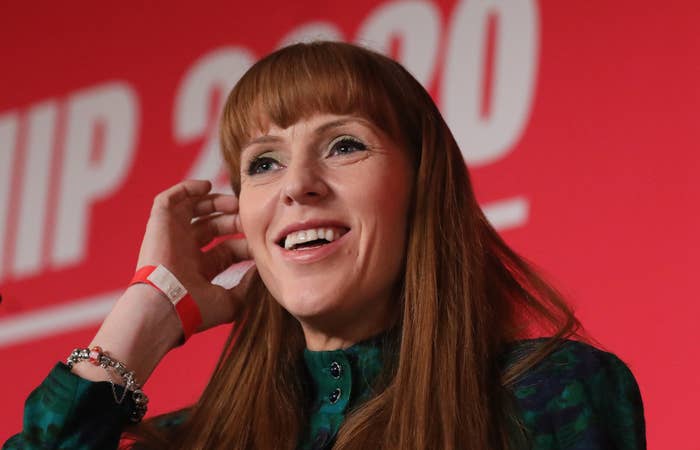 In a statement, Rayner said: "Things have dramatically changed in our country in recent months but our values remain the same, and more important than ever.

"Those are the values we will reflect in our actions as an opposition and a movement — standing up for our public services, for our workers and carers, and for a society in which people work together and look after one another.
"Together, we must rebuild and reconnect with communities right across Britain who need our support now, more than ever before."
Commenting on the result, left-wing campaign group Momentum said it will play will "play a new role".
"We'll hold Keir to account and make sure he keeps his promises, champion big ideas like the Green New Deal, build the power of Labour members and do everything we can to get a Labour government elected," it said in a statement.
Mike Katz, national chair of the Jewish Labour Movement, said the "change of leadership must mark a turning point for Labour in its relationship with the Jewish community."
"The past five years have without doubt been one of the darkest times for Jewish Labour members and supporters," he said. "We will dare to be optimistic that the Party can once again be safe place for Jews, but we are equally clear that this is just the beginning of that process."

Labour had originally planned to announce the winner of the contest at a special conference in London, but due to the coronavirus outbreak, the results were posted online instead. The outbreak also saw the candidates dramatically scale back their campaigns, cancelling public events and suspending phone-banking even before stricter social-distancing measures were introduced.

Starmer has a tough task ahead in uniting a divided Labour Party, while also leading the opposition in a time of national crisis. The government is coming under fire for its failure to provide adequate PPE to NHS staff on the frontline of the coronavirus crisis, and repeatedly faces criticism for struggling to increase testing capacity.
On Saturday morning, prime minister Boris Johnson called on all party leaders to work together during the crisis.
Outgoing leader Corbyn, the shock winner of the 2015 leadership contest, who took the Labour Party dramatically to the left, has left a deeply divided party. While he earned the devotion of a large section of the party membership — many of whom joined either to vote for him or since he took the helm, he was unpopular with the general public.

In the 2019 General Election, the party was eventually abandoned by tens of thousands of former voters in its traditional northern heartlands.
Under Corbyn's leadership, the party has also been deeply embroiled in an anti-Semitism scandal, which has culminated in an investigation by the Equality and Human Rights Commission.

Starmer, a former director of public prosecutions and current Holborn and St Pancras MP, has kept his cards close to his chest during the campaign, winning support from both the left and right of the party, including heavyweights ex-Corbyn aide and ex-Momentum boss Laura Parker and former prime minister Gordon Brown.
With his victory, Labour will undoubtedly face criticism for electing another male leader, and another London MP — particularly when appealing to voters in the former "Red Wall" is more important than ever. However, the biggest challenge for Starmer will undoubtedly be to stem dissension with his ranks and please — and unite — opposing wings of the Labour party.
Overcoming Boris Johnson's huge 80-seat majority will be another huge task, but as Britain is likely years out from an election, Starmer will be able to spend some time getting his own house in order first.
Starmer is expected to select his shadow cabinet within the coming days — and his appointments are likely to give the clearest insight yet as to the direction in which he intends to take party forward.