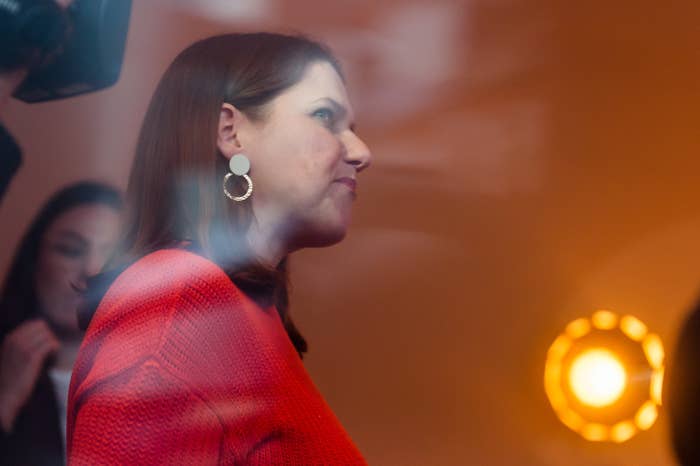 Liberal Democrat leader Jo Swinson has narrowly lost her parliamentary seat to the Scottish National Party in a shock result that will be a hammer blow to her party.
She lost her 5,339 majority in East Dunbartonshire, by just 149 votes. She held the seat for 10 years until 2015, before she lost it to the SNP, and then regained it in 2017.
The SNP has swept to victory in Scotland, on course to take almost all of the seats up for grabs north of the border.

Swinson has been the Liberal Democrat leader for less than six months. She took over from Vince Cable in July after winning by a clear margin over leadership rival — and current deputy — Ed Davey.
The Lib Dems are projected to make one net gain in December's election, which Labour leader Jeremy Corbyn agreed to only after Swinson suggested she would back Boris Johnson's election bid.
It puts the party in a worse position than it was in before the election, when it had more than 20 MPs after taking in defectors from both Labour and the Conservatives.
Swinson was a minister during the Conservative-Lib Dem coalition government - a role that came back to haunt her during the campaign.
The Lib Dems' pledge to revoke Article 50 and effectively cancel Brexit — without a public vote — proved unpopular even with remainers. They adopted the position at this year's annual conference in September, under Swinson's leadership.
Early in the campaign, it looked like the Lib Dems were not likely to make the gains they were hoping for, despite presenting themselves as the party of remainers in England.
The so-called "remain alliance" where Change UK, Plaid Cymru, and the Green Party agreed not to stand candidates, also does not seem to have much to help the Lib Dems.
Swinson, now 39, was the youngest MP in the House when she was first elected to the Commons and was the first person born in the 1980s to be elected to Parliament.
Under her leadership, the party's membership rose to a record high of more than 115,000, dubbed the "Swinson Surge," but this failed to translate to votes at the ballot box.

Speaking at the count, she said: "Some will be celebrating the wave of nationalism that is sweeping on both sides of the border.
"For millions of people in our country, these results will bring dread and dismay and people are looking for hope.
"I still believe that we as a country can be warm and generous, inclusive and open, and that by working together with our closest neighbours we will achieve so much more."