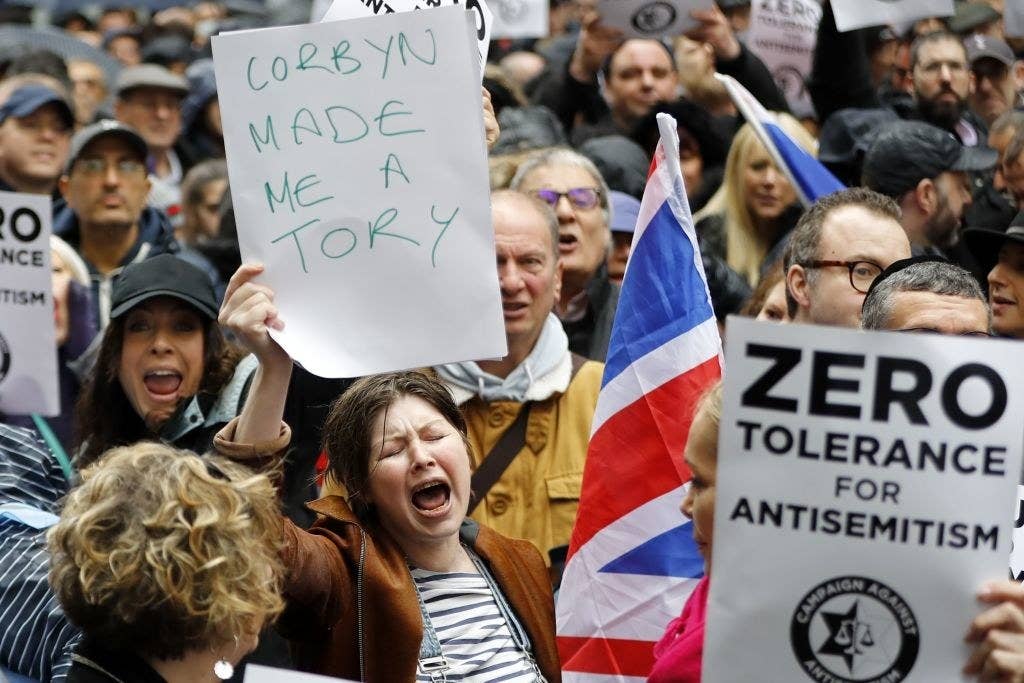 The shoppers trickling out of the large kosher supermarket and the bakery next door in Prestwich, north Manchester, aren't enthused about the upcoming general election and don't want to talk about it. The few that do only seem to hold firm opinions about Labour. The Jewish community's antipathy towards Jeremy Corbyn's party is clear.

Ian, who only wanted to give his first name, said that the most important issue to him at this election was "absolutely antisemitism." He will be voting, but hasn't decided who for yet – and when asked whether he is thinking about voting Labour, he replied: "absolutely not."
Joseph, who also only wanted to give his first name, said he would "probably" be voting Conservative. "There's only two runners in the whole election," he said, "and to be honest not as a Jew, but just as a normal person, I would never… I know no-one that [would] go for Jeremy Corbyn. Everyone knows who he is and that's that."
"The question is," he added, "is how he even got to become leader, I don't understand it."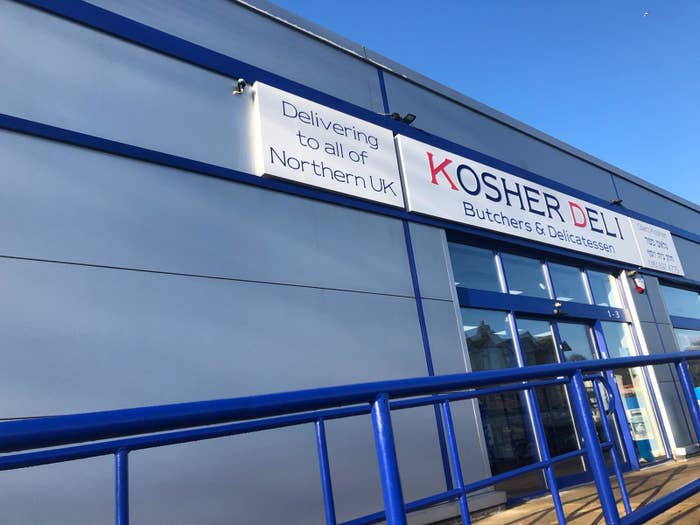 Members of the community told BuzzFeed News they felt the hostility on their part was matched by a similar lack of enthusiasm from Labour to campaign in Jewish areas. They felt the party has given up on any hope of attracting Jewish votes, and is trying to win elections by boosting its support in other areas instead.
"I've not seen campaigners for the Labour Party in Jewish areas," Binyomin Gilbert, the Manchester-based Programme Manager for Campaign Against Antisemitism (CAA) told BuzzFeed News over coffee in a kosher restaurant in the constituency.
Labour candidate Lucy Burke has confirmed her attendance at a hustings at a synagogue later this month, but beyond that, Gilbert said he was aware of no other plans. Burke, for her part, told BuzzFeed News: "I was selected just a few weeks ago and engaging with members of the local Jewish community, including through outreach work with synagogues and speaking to the local Jewish media, is a top priority for me and my team. We are ready to begin rebuilding relationships."
But Gilbert was unconvinced: "If I was a Labour campaigner I'd be worried to campaign in this area," he told BuzzFeed News. "What do you say if you're a Labour campaigner, what do you say to Jewish people who tell you they're afraid of a Labour government? You can't dismiss those fears, and I don't think they would have much impact."
During Tuesday night's leaders' debate, Corbyn said the party had "investigated every single case" of antisemitism. His claim was met with outrage – the national secretary of the Jewish Labour Movement accused him of lying and said there were "at least 130 outstanding antisemitism cases, some dating back years." A Labour spokesperson said that "all cases are investigated," suggesting some were still ongoing.

Regardless of the accuracy of Corbyn's statement, the furore was yet another blow for Jewish perceptions of the Labour leader – the latest of many. All those who BuzzFeed News spoke to were in agreement that without a change of leadership, Jewish voters were unlikely to come back to the party.
It could hurt Labour come polling day: there are five seats where, according to the most recent census data, more than 10% of the electorate identify as Jewish. Four are in north London, and the fifth is here: Bury South.
According to a research briefing published by the Institute for Jewish Policy Research ahead of the 2015 general election, Bury South is home to just under 10,000 Jews, who make up 10.2% of the electorate. The Labour majority of 5,965 votes, while not insignificant, is smaller than the total number of Jewish votes in the constituency.
"Within the Manchester community, the Labour vote has pretty much collapsed," Gilbert told BuzzFeed News. "That's already been clear from local election results over the last few years. The Conservatives in these wards have found that their popularity has boomed."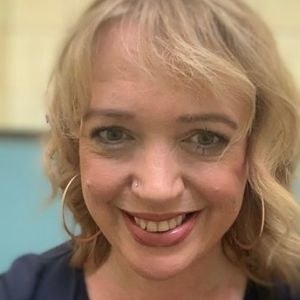 Adam Cailler, a journalist with the Jewish Telegraph, who lives in the constituency, also said he had seen little effort from Labour to engage with the Jewish community, and no effort to engage with his newspaper – but said that Labour canvassers had twice visited his house, which is in a non-Jewish area of the constituency.
In terms of engagement with the wider Jewish community, he said he'd seen "absolutely nothing whatsoever. Nothing special anyway."
"I just don't think they know how to or what to do," he told BuzzFeed News. "I think a lot of the campaigners are scared of what reaction they'll get, genuinely.
"If you were a Labour campaigner, would you knock on a Jewish doorstep if you saw a mezuzah on a door, would you say 'I'll willingly knock on that door?' No. I think they're fearful of it to be fair."
Burke's office declined a meeting with BuzzFeed News, but in a statement, she said: "I'm proud to have been selected as the parliamentary candidate for Bury South, a constituency with one of the largest and most thriving Jewish communities in the country.
"I fully understand the deep pain and hurt felt locally by the Jewish community, who have historically found their natural home in the Labour Party, and I am determined to do everything I can to rebuild bridges and heal wounds."
In Cailler's opinion, the Jewish vote in Prestwich "definitely", has the ability to swing the vote in the seat "because it's sizeable." He added: "It's sizeable enough to have influence, which is why I'm surprised Labour haven't really tried to do anything."

At the last local elections in May, Kersal ward, just over the border from Prestwich in Salford, saw the Conservative vote share rise to 56%, up by 13 points since 2015. Labour's support in the ward, which is around 40% Jewish, has collapsed over the same period, freefalling by 23 points, to 25%.

Raphi Bloom, the co-chair of North West Friends of Israel, told BuzzFeed News that both in this constituency, and four hours down the M1 in Finchley, Jewish votes could be crucial. "I think you only have to look at the figures to see that," he said.
"They are very, very important. You've seen it in a way in Golders Green too. You've got a great Conservative MP there [Mike Freer], very supportive of Israel, very supportive of the Jewish community, and all of a sudden Luciana Berger's there as a Liberal Democrat, and I get that that constituency is a remain constituency, and she's polling over 50%, and that's more of a predominantly Jewish constituency than Bury South is."
But locals were also keen to stress that the Jewish community does not form a unanimous voting bloc, and that antisemitism isn't the only issue that Jewish voters care about; like everyone else, they will take a view on a range of issues, from Brexit to the NHS to the economy.
Johnny Weinberg, director of operations for the Manchester-based We Stand Together community cohesion campaign, told BuzzFeed News the vote would likely fragment as a result.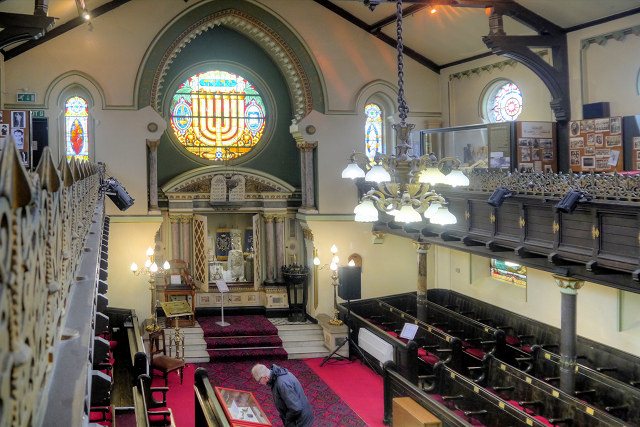 "I think that general elections aren't about single issues," he said. "Once people have got over the fact that there's a problem, the vast majority of people, Jewish people, will see that as a major issue, will start to see that as okay, what's the best thing for us? All those other issues. And if they've rejected the Labour Party they will decide exactly where they want to be."
Gilbert likewise anticipated that at this election the Jewish vote will "scatter in different directions"; some might vote Conservative, he says, while some lifelong Labour supporters might vote Lib Dem, or not vote at all.
Across the country, Gilbert says, there are only "three subsections [of the Jewish community] that still support Labour"; members of the Jewish Labour Movement, who according to the group's policy will "vote for the right Labour people", Jewish Voice for Labour and other similar groups "which don't represent what the vast majority of British Jews feel on any issue," and some members of the Haredi community "who will support Labour because of concerns about Ofsted."
One local rabbi, who BuzzFeed News agreed not to name, is a lifelong Labour supporter, but for the first time, will not vote Labour on December 12.
He did vote Labour in 2017, but he said that back then, the Jewish former Labour MP Ivan Lewis (now running as an independent) was the candidate, and Labour's antisemitism problem didn't seem quite so bad. "What a lot of people did, they voted for him because it was him, not because it was Labour," the rabbi said. "He's been a marvellous constituency MP for the last 22 years."
He added: "I think that if he'd been in the Labour Party now, less people would vote for him, because whatever his merits are, the fact is that [Labour's antisemitism problem] is perceived to be much worse now than it was before."
As a lifelong Labour voter, the rabbi said he found it difficult that he could no longer give his support to the party that he has backed for so many years. "Religion and your Jewish ethnicity should not be part of this at all," he added. "I never considered when I voted for Ivan or all the times before, I never considered that there was an issue, who should I vote for because they're antisemitic or not antisemitic, or pro-Israel or anti, it wasn't even an issue.
"It was very simple, it was voting on the basis of what you believed was best for Britain… and now all of a sudden we've been pushed into a situation where we have to deal with this issue, and it shouldn't be like that."
In the election in 2017, Ivan Lewis increased his majority by around 1,000 votes. Although some members of the community were uncomfortable with Corbyn's leadership, Lewis was popular locally.

However, the following November, he was suspended from the Labour Party over allegations of sexual harassment, first reported by BuzzFeed News. He denied the allegations, but quit the party over antisemitism more than a year later, before an investigation into his conduct was completed.
Lewis said he also thinks that he stands a real chance here. "It's a very interesting constituency," he said. "I think it's genuinely a three-way fight, and I think any political party that spins… that they know the outcome is not telling the truth. I think there's a lot of spinning going on.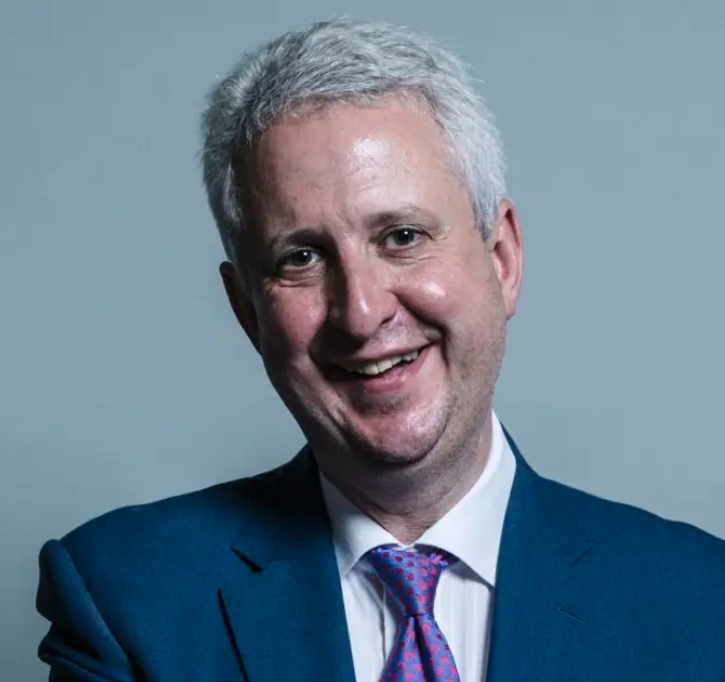 "I think the message that… if the vote is split it will allow Labour to win, I think that's a very deliberate message, designed to achieve a deliberate effect. I don't think there's any evidence for it. I don't think we can call it."
Lewis also thinks that antisemitism is a huge issue here, and anticipates that less than 5% of the Jewish community will vote for Labour - and he thinks that living alongside Jewish people will also put many voters in the constituency but outside of the community off backing his former party. These former Labour voters, who may be ideologically opposed to the Tories, is who he is hoping to pick up support from.
"A big factor is the Labour Party is undoubtedly hemorrhaging votes because of Corbyn's leadership," he said, "and I think people who live in and around Jewish communities who are not Jewish themselves are more likely to be extremely concerned about the way their Jewish neighbours and friends feel about the Labour Party, than maybe if you were living in an area where there wasn't a large Jewish population."
Addressing the sexual harassment allegations made against him, Lewis said: "I have no way of knowing how that will play out amongst voters, but most people feel that everybody is entitled to fair process, to due process, both in the court of public opinion and in any disciplinary process, and frankly I've had neither."
He hit out at the Labour Party, suggesting that his case had been deliberately delayed until Corbyn loyalists had control of the party's National Constitutional Committee, which dealt with disciplinary cases.
"I wanted to leave the Labour Party sometime earlier, they chose to keep me suspended for a year… They never once questioned me about the allegations that were made, and as far as I'm concerned that process that they embarked upon was unfortunately highly politically-motived."
A Labour Party source told BuzzFeed News: "Many Jewish Labour members expressed outraged over Ivan Lewis's decision to quit the Labour Party amidst a live investigation into allegations of sexual harassment against him. Bury South will be well served by Lucy, who is committed to rebuilding the trust of the local Jewish community."
"The Jewish community tend here to be pragmatic with their vote," Gilbert said, adding that Jewish voters had united in 2015 to back candidates who could beat UKIP. Ultimately, he went on, there was "recognition among many people" that Labour would likely take Bury South. Cailler disagreed. He felt that Labour's chances of winning the seat weren't great - and predicted they may even come third. He thought that Boris Johnson's party will take the seat in December.

"2017 was easier for Jewish people to vote then because it was Ivan," Cailler told BuzzFeed News, "and he'd been in the seat already for 20-odd years, and he didn't really have any controversy around him at that point.
"Now it's very difficult, because obviously everything that's gone on with Ivan with the sexual harassment stuff that suddenly disappeared. Yes, he's no longer Labour, but he seems to be thinking that people are going to still vote for him regardless because he's Ivan Lewis, and I really don't think they will.
"I really think that the Conservative guy, Christian Wakeman, I think he's got a very good chance of getting in. I just think it's very difficult this time compared to last time, very difficult."
Bloom has a different prediction for this seat. He thinks there's a chance that Lewis could retain it as an independent.
"I think he's got a very good chance of winning the seat," Bloom added, "but I think a lot of it is down to whether the Jewish community back him wholeheartedly, or whether they feel that a vote for him will split the Tory vote and allow Labour to take the seat, and that is where a lot of people are wavering. They're not sure yet."
Gilbert also thinks that some of Labour's former supporters will back Lewis, explaining that the incumbent has made efforts to engage with the Jewish community, which he thinks will be rewarded at the ballot box.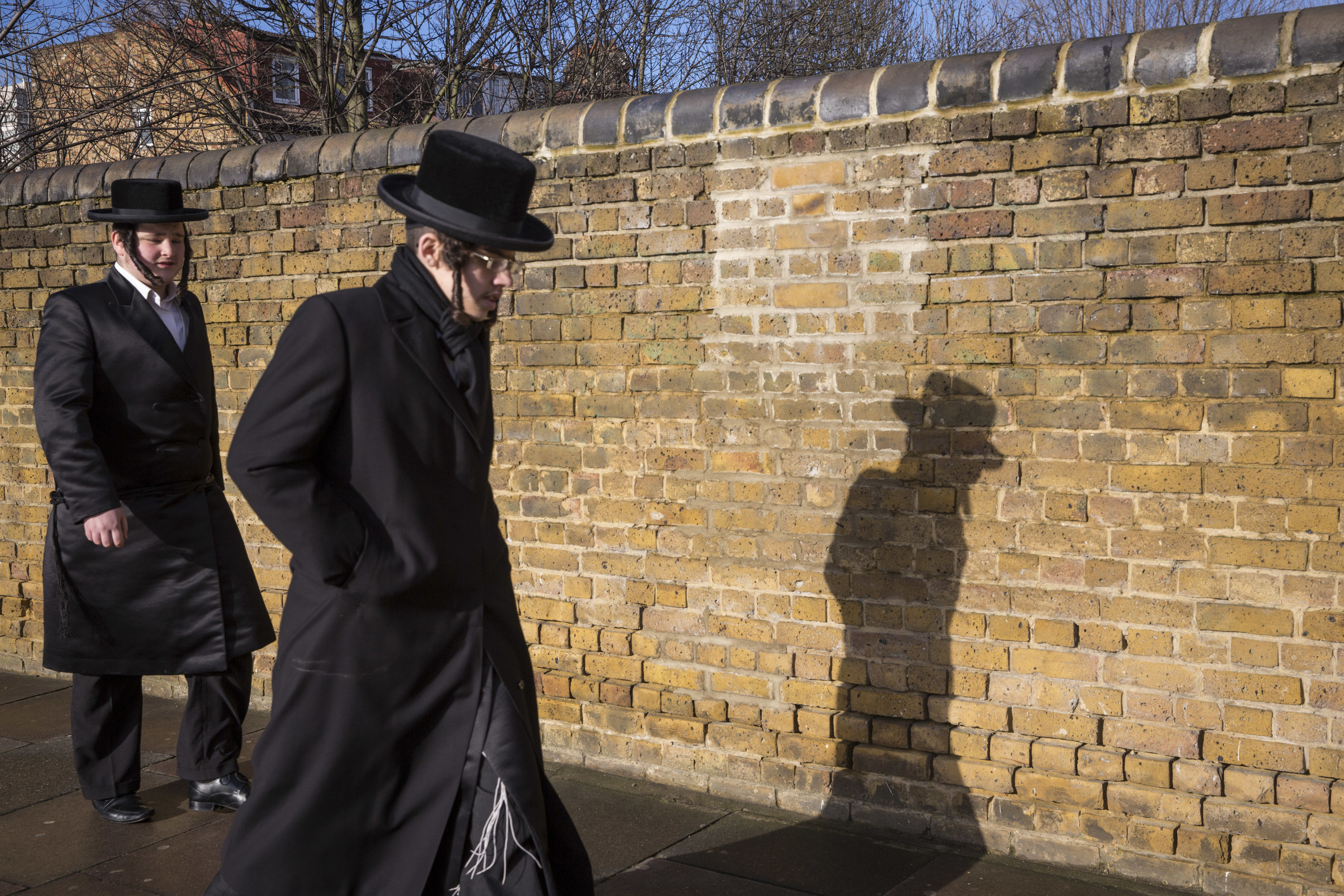 "He could win it," he said. "He's been the local MP for a long time, people know him, he's had his issues and he's worked hard to redeem himself in one way or another over the last few years, and he's been very strong on local issues."
"Within the Jewish community he has really made a big effort to be more involved in the community within the last few months," he added. "He wore a kippah in parliament and that made a big symbolic gesture to the community that he is genuinely speaking as a Jewish person, and they related to him with that. I think he was the first MP ever to wear a kippah in parliament, it was a big deal."
The other question that many in Bury South seemed divided on was how many Jewish voters had already abandoned Labour at the time of the last election. There were concerns right from when Corbyn entered the leadership race, Gilbert said, which many in the Jewish community were aware of, but the media really began to pay attention from the beginning of 2018.
At the 2017 election, there were already signs that Jewish voters were beginning to abandon Labour; research from Professors Sir John Curtice, Stephen Fisher and Rob Ford, and postdoctoral researcher Patrick English found that the average increase in support for Labour in these five constituencies was almost three points behind the national average.
Bloom thinks that many in the Jewish community had already abandoned Labour long before the party started really hitting the headlines over antisemitism. "Without a shadow of a doubt," he told BuzzFeed News. "A bit like the rest of the country, 75 - 80% of people [in Bury] wouldn't have touched Labour back then." At this election, he thinks it has gone up again. "I wouldn't say 100%, he said, "but I'd say now it's probably 98%."
Weinberg, a former chair of the Greater Manchester Jewish Representative Council and former co-chair of the local Muslim-Jewish Forum, cautioned against Labour's antisemitism problem being judged in isolation on the current political landscape.

"By the same token you could ask similar questions in terms of some Conservatives," he said, "and some of the quite appalling things they've said, including the leader of their party when he's talked about Muslim women looking like letterboxes, which is wholly inappropriate and incredibly offensive, and he's never apologised for that.
"It's not so simple to say it's all one way. Politicians need to be far more circumspect when they talk about faith groups and other groups in our society."
But he added: "I think it's perfectly fair to say that the Labour Party has failed certainly at the least to calm the concerns of the Jewish community. That's a total failure. That's a difficult way back for them."
Bloom agreed. "It's a bit like turkeys voting for Christmas…" He said, "It's a bit like candles voting for Chanukah; it's just not going to happen.
"If the Labour Party wants to win the Jewish vote back, they have to get rid of Jeremy Corbyn and they have to eradicate antisemitism in the party, and they've shown no inclination to do that."