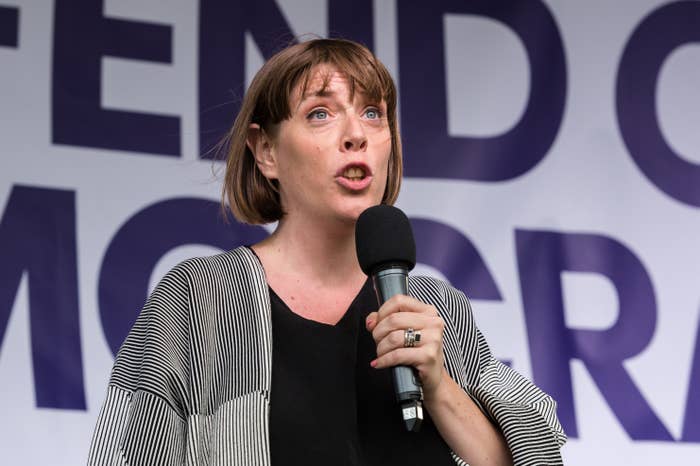 An MP who voiced fears in the House of Commons that prime minister Boris Johnson's language was putting women MPs at risk has been forced to shut her constituency office after a man was arrested on suspicion of a public order offence less than 24 hours later.
The man was arrested on Thursday afternoon at the constituency office of Birmingham Yardley MP Jess Phillips, West Midlands police said.
Her Labour colleague, Bridgend MP Madeleine Moon, interrupted proceedings in the Commons to say: "I've just had a message from one of our female colleagues whose office has been attacked and had to be closed down by the police because a demonstrator shouted 'fascist'.
"Can I just say that on Twitter a senior government source has warned that 'abuse of MPs will get worse if they pursue a second referendum, what do they think is going to happen?' Is this not language that is causing risk and danger on a daily basis to us all?"
Shadow cabinet office minister Cat Smith, who was speaking in the chamber at the time, responded by saying: "I am chilled and shocked by what my honourable friend has just informed the house."
On Wednesday evening, after a fractious debate in Parliament, Phillips told BuzzFeed News: "Boris Johnson has decided that the way to win is the only way he knows how...not with intelligence and strategy but with playground name-calling and inflammatory language.
"Unlike him, I don't have a security detail so I hope he knows that dangerous language leads to death threats. I doubt he cares."
The prime minister was criticised by MPs from across the House of Commons and accused of putting their lives in danger, after he referred to Hilary Benn's bill that attempts to prevent a no-deal exit from the EU as the "Surrender Act" and claimed that delivering Brexit was "the best way to honour the memory" of the murdered MP Jo Cox.
Phillips posted a series of tweets detailing her fears for her own safety on Wednesday, including a picture of a typed threat that she said came to her constituency office this week, which read: "It was rather prophetic that Boris Johnson should say 'I would rather be found dead in a ditch.' That is what will happen to those who do not deliver Brexit."
Earlier on Thursday, Phillips asked an Urgent Question in the chamber, asking that Johnson "reflect on his language and his role as prime minister to create a safe environment both in our country and in our country's Parliament."
She added: "What I want answers to today is, when there is a clear strategy to divide, the use of language yesterday and over the past few weeks, such as the Surrender Bill, such as invoking the war, such as talking about betrayal and treachery — it has clearly been tested and workshopped and worked up, and it is entirely designed to inflame hatred and division."
West Midlands Police said in a statement: "Police were called to reports of a disturbance outside an address on Yardley Road, Acocks Green, Birmingham just before 2.25pm this afternoon.
"A 36-year-old man has been arrested on suspicion of a public order offence and possession of cannabis. He has been taken into custody and will be questioned in due course."