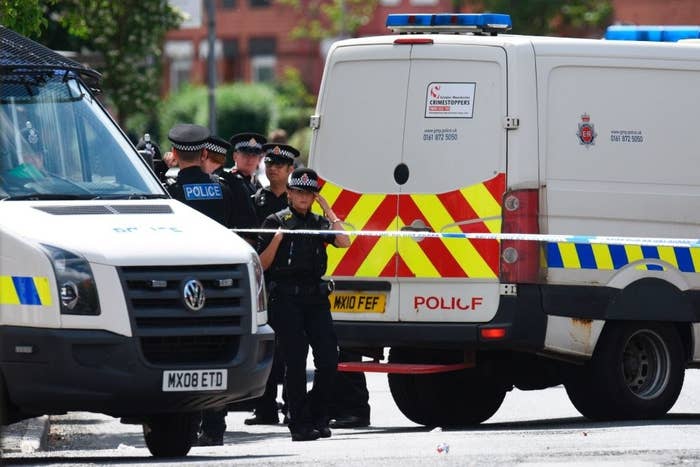 It's been more than two weeks since Salman Abedi attacked the Manchester Arena, and as yet nobody else has been charged in connection with the bombing. Police are still working to gather evidence, and nine men remain in custody for questioning.

With just 14 days to charge suspects arrested under the Terrorism Act, police will be eager to close the net as quickly as possible. This is what we know about the investigation so far:
Most of the people arrested have since been released without charge
In the days following the attack, police executed a series of warrants across Greater Manchester and made a number of arrests.
The operation also extended beyond the city, and arrests were made in Nuneaton in the West Midlands and Shoreham-by-Sea on the Sussex coast. A takeaway was also searched in St Helens in Merseyside, as were student halls in Chester.
As it stands, 21 people in total have been arrested in connection with the investigation, of whom 12 have since been released without charge.
Under Terrorism Act legislation, suspects cannot be bailed, but can be rearrested if new information comes to light.
Early on in the investigation a 34-year-old woman was arrested in Blackley, north Manchester, and soon after released without charge, while a 16-year-old boy arrested in Withington, south Manchester, was also released shortly afterwards.

On 30 May, eight days after the bombing, three more people were released without charge – two men aged 20 and 24 from Fallowfield in south Manchester, believed to be Abedi's cousins, and a 37-year-old man from Blackley.
After the trio were released Detective Chief Superintendent Russ Jackson, head of the North West Counter Terrorism Unit, said: "The release of some people can be expected in investigations of this nature as we corroborate accounts that have been provided."
The other men who have since been released without charge include two brothers aged 20 and 22 who were arrested in Cheetham Hill in north Manchester the weekend after the attack; a 33-year-old man who was detained when police swooped on a Wigan street two days after the arena bombing; a 23-year-old man who was arrested in Sussex; a 21-year-old detained in Nuneaton; and an 18-year-old who was arrested in Fallowfield.
On Monday, a 23-year-old man, believed to be Abedi's brother, was also released without charge. He was arrested the day after the attack in a dramatic police siege outside a Morrisons supermarket in a Chorlton, south Manchester.
Here is a map of arrests and searches (tap the dots for more information):
...but police have just made three more arrests
On Tuesday night police made another arrest at London's Heathrow Airport. The 38-year-old man was detained on suspicion of offences contrary to the Terrorism Act, and remains in custody.
In a statement, police said: "The arrest was planned beforehand and there was no direct threat to the airport."
Officers also made a second arrest overnight on Tuesday, at an address in Harpurhey, north Manchester.
Police executed a warrant and detained a 20-year-old man on suspicion of offences contrary to the Terrorism Act.
On Wednesday evening, a third man was arrested after he voluntarily presented himself at North Manchester Police Station. The 20-year-old was arrested on suspicion of offences contrary to the Terrorism Act and remains in custody.
The six other people who remain in custody also include: a 44-year-old man who was arrested the Friday after the attack on a bus in Rusholme, south Manchester; a 30-year-old arrested in Moss Side, also south Manchester, who was arrested on the same day; a 19-year-old man arrested in Gorton, east Manchester two days later; a 25-year-old man arrested in Old Trafford, south west of the city centre, the same day; a 24-year-old man arrested in Rusholme on Friday; and a 20-year-old man arrested in Cheetham Hill on Saturday.
Officers are still trying to work out who was helping Abedi
Detectives continue to appeal to the public for information, and have released CCTV images of Abedi taken on the night of the attack and separate footage gathered of him in the days leading up to the bombing.
Officers have also released pictures of the bomber pulling a large blue suitcase through Manchester city centre. Police said they have been released all of the images in a bid to establish the terrorist's last movements and work out who was helping him prepare for the attack.
In a statement on Tuesday, DCS Jackson said: "The inquiry is making significant progress, we have made more arrests and have corroborated the accounts of some people we have released.
"We know Abedi bought some of the parts of the device after landing back in the UK and although his final acts on the night seem to have been alone, this doesn't mean that he did not have support in planning this attack, and it is vital that we exhaust all our lines of inquiry to establish how this was planned and understand how others might have been involved.
"We also appeal to anyone who knew Abedi or his close associates to come forward. This information could be vital in piecing together what happened.
"Although it is positive that we are making significant progress, we still need you to help us build a picture of exactly what led to this atrocity."
Detectives have found the car that Abedi was using
On Friday police put a cordon in place outside Devell House in Rusholme, south Manchester, close to a property in Banff Road that is being searched by police.
Outside the building they seized a car, a white "old-style" Nissan Micra with an R registration plate. Abedi had been seen making repeated trips to and from it in the days leading up to the bombing.

Police believe he was taking items from the car to help assemble the device.
DCS Jackson said: "The car was sold by a previous keeper on 13 April 2017."
"Abedi left the country on 15 April and it is vital that we understand what happened to this car during these few days between 13 and 15 April.
"We need to know who was in the car and where the car went. You may have seen the car and not realised at the time but it could have stopped at a newsagents or a supermarket – did you see the car and its occupants during these dates?"
They also found "significant forensic evidence" inside the car
Police said they found "significant forensic evidence" inside the vehicle, and are appealing for information about a holdall.
Officers have released pictures of both the car that Abedi was seen using and the red and black bag that was found inside, and have asked the public to come forward with information about these items.
Police have not revealed what was found inside the bag.
DCS Jackson added: "'Forensic examination has uncovered significant evidence inside. We now need any information you might have about this holdall.
"Did you see someone in the Rusholme area with this holdall or recognise the one on the photo?"
Officers have now finished searching some of the properties
Police have been carrying out detailed searches at a dozen locations across Greater Manchester, and they are now starting to come to an end.
People living in Springfield Street in Wigan, a town to the west of the city centre, were asked to leave their homes twice in the days after the attack as the bomb squad turned up to examine items that were potentially of interest to police.
On Tuesday officers said they had finished searching the property.
Police have also finished searching one of the properties that were raided in Cheetham Hill - a house in Brideoak Street where officers carried out a controlled explosion the weekend after the bombing.
On Wednesday, police said they had completed searches at two addresses, which both began on the Sunday after the attack. Officers said they have finished their investigations at an address in Searby Road in Gorton, and a property in Grandale Street in Rusholme.
In all instances cordons have been lifted.

Many of Abedi's victims are still in hospital
On Friday, the inquests into the deaths of 22 people killed by Abedi will open, presided over by Nigel Meadows, senior coroner for the City of Manchester. He is expected to adjourn the inquests until police have completed their investigations.
An inquest into Abedi's death will be held separately, and the details have yet to be confirmed.

On Monday morning, the first of the victims' funerals took place, as 14-year-old Eilidh MacLeod was laid to rest on the Scottish island of Barra.
Dozens more people who were injured by Abedi remain in hospital, some with serious injuries. In the immediate aftermath of the attack 116 people were taken to hospital for treatment, but more than half of them have since been discharged. For many of those still in hospital, their recovery could take years.
Anyone with information that could help police should call the Anti-Terrorist Hotline in confidence on 0800 789321. Any images or footage that could assist the investigation should be uploaded to Ukpoliceimageappeal.co.uk or Ukpoliceimageappeal.com.