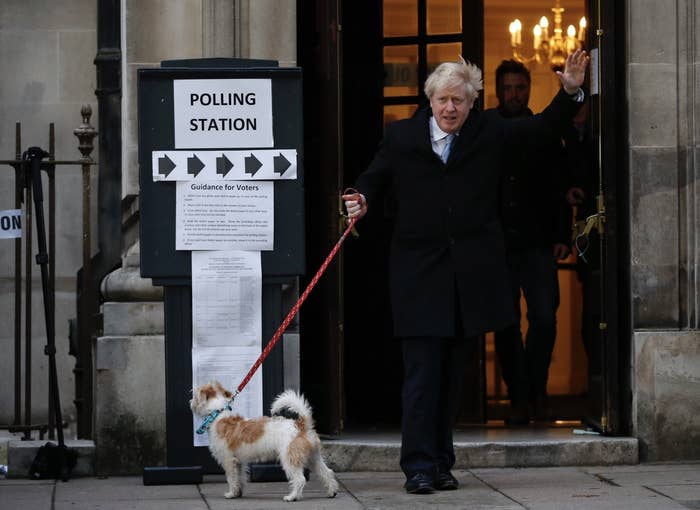 The Conservatives are predicted to sweep to victory, with a clear parliamentary majority in the general election, returning Boris Johnson to Downing Street as prime minister and setting the UK on course to leave the European Union at the end of next month.
They will gain a majority of 86 votes, according to tonight's exit poll. His party is predicted to gain more than 50 seats with 368, while Labour's numbers in Parliament will reduce to 191.
The SNP are predicted to make record gains, picking up an extra 20 seats on their 2017 performance and taking almost all of the 59 seats in Scotland. The Liberal Democrats are on 13 seats.
Labour is predicted to make heavy losses in England, with senior party figures pointing the finger at Brexit.
"I think that's hit us hard," shadow chancellor John McDonnell told Andrew Neil, adding that the party had struggled to successfully appeal to both leave and remain voters.
The projected Conservative majority will be the largest since Margaret Thatcher was in government, and it would be the worst Labour performance in decades.

This week, BuzzFeed News heard from Labour candidates and voters in its traditional heartlands who said the party was struggling to retain its traditional supporter base due to a combination of factors, including Brexit and the sense among some voters that it had abandoned the working class.

The election — the third in less than five years — has been dominated by Brexit, with Johnson focussing on his aim to "get Brexit done" and Labour promising another referendum on a renegotiated deal.

The electoral balance shifted heavily in the Tories' favour after Brexit party leader Nigel Farage announced the party would not be standing in seats won by a Conservative at the 2017 general election.