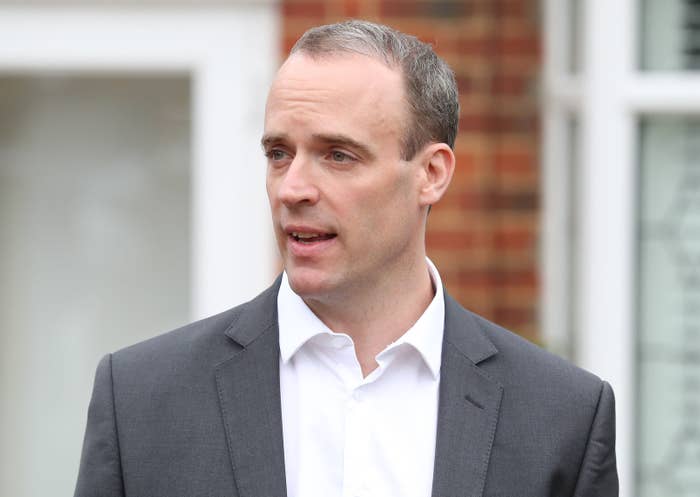 The standout moment of Dominic Raab's short tenure as Brexit secretary may well be his admission that he "hadn't quite understood" how important the Dover–Calais crossing was to the UK's trade in goods.
Now a possible explanation for this gap in his knowledge has emerged. Via a written parliamentary question, Labour has established that Raab, who quit his cabinet post last week over Theresa May's Brexit deal, never visited the port of Dover during his four months in the role.
Shadow Brexit minister Jenny Chapman told BuzzFeed News that Raab's failure to visit the country's most important port showed that he "hadn't even bothered to try and learn" the basics of Brexit.
In response, the Brexiteer former minister said that while he had not visited Dover during his time overseeing Britain's withdrawal from the EU, he had met in August with French port authorities and Eurotunnel officials to discuss the issue of Dover–Calais trade.

His admission at a technology conference earlier this month that he had not understood the importance of Dover–Calais sparked widespread astonishment and ridicule.
"I hadn't quite understood the full extent of this but if you look at the UK and look at how we trade in goods, we are particularly reliant on the Dover–Calais crossing," he said.
Raab's opponents turned on him after he exposed the gap in his knowledge, including Conservative Remainer and former cabinet minister Nicky Morgan, who tweeted: "Gulp #enoughsaid."
In its written question, Labour asked the then–secretary of state for exiting the European Union how many official visits he has made to the port of Dover since July 2018.
In response, the Brexit minister Chris Heaton-Harris said: "The former Secretary of State did not visit the Port of Dover.

"Ministers in the Department for Exiting the EU with responsibility for ports visited the Port of Dover twice this year," Heaton-Harris added. "Former Minister Suella Braverman on the 14th May and Chris Heaton-Harris on the 24th August.
"DExEU ministers have visited 19 ports to date as part of a wider programme of engagement carried out by other Government ministers and officials to ports around the United Kingdom."
Labour's Chapman told BuzzFeed News: "It's little wonder Dominic Raab didn't know the basics of Brexit when he hadn't even been bothered to try and learn them.

"British jobs, businesses and the economy are dependent on easy trade through the Dover–Calais crossing. That's why Labour has long advocated a comprehensive customs union and a strong single market deal after we leave the EU.
"Now the former Brexit Secretary has a little more time on his hands I hope he gets down to Dover and tries to finally understand the complexities of leaving the EU."
Raab told BuzzFeed News: "On top of regular briefings by UK officials, I met with French port authorities and Eurotunnel officials in August to discuss how we could mitigate any risks of friction hampering the flow of goods and people.
"It was invaluable in showing how we can avoid disruption at the border, if there is the requisite grip and political will right across the government."