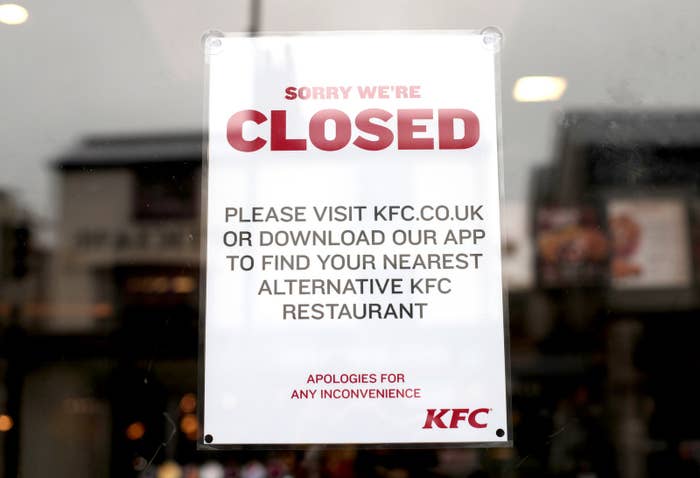 KFC staff have been forced to seek out chicken from local butchers after an issue with the fast food chain's delivery company meant restaurants have run out of the crucial stock.

A representative for KFC approached a butcher shop in Harlesden, northwest London, asking to buy all of its chicken, a source told BuzzFeed News. It is understood the shop refused the request.
On Sunday, KFC workers were seen carrying black bags, alleged to contain raw chicken, into a restaurant in Erith, Kent, through a backdoor.
A spokesperson for KFC said: "When it comes to the safe handling and transport of food, we have strict policies in place, so we're investigating this urgently and will take any necessary steps."
The company's website says: "We ensure that all of our chicken meets independently assured animal welfare and food safety standards, all the way from farm to fingers."
The mass chicken shortage forced KFC to close more than half of its 900 UK outlets after the company switched from using food distribution firm Bidvest Logistics to DHL.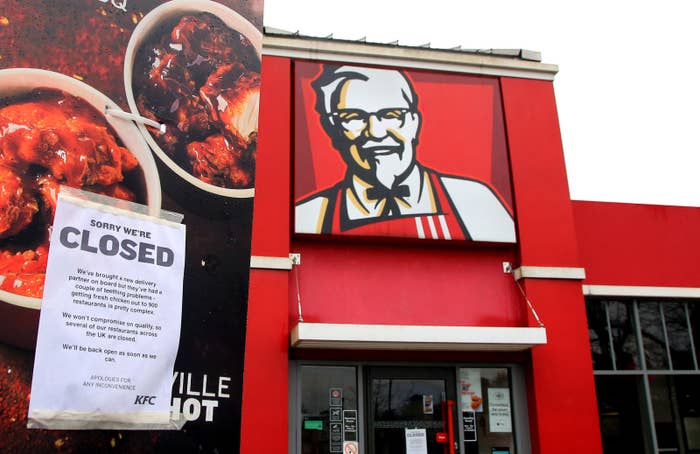 Many KFC stores are expected to be closed for the remainder of the week. In a statement, KFC said it expected the number of closures to "reduce" over the coming days.

Mick Rix, national officer for trade union GMB, which represents workers from both Bidvest and KFC, said the union had warned that switching the contract would have consequences for the chain.

He said: "We tried to warn KFC this decision would have consequences – well now the chickens are coming home to roost.
"Bidvest are specialists – a food distribution firm with years of experience. DHL are scratching around for any work they can get, and undercut them.
"It's an absolute cock up. KFC are left with hundreds of restaurants closed while DHL try and run the whole operation out of one distribution centre – where conditions are an utter shambles."
One former Bidvest worker told BuzzFeed News that staff were told in October that they would be made redundant, several months before they worked their final day on February 13.
He said: "They've known for about a year that they had the contract, we'd known for a while that we'd lost it.

"KFC they've left us three times, we've had the exact same thing with Burger King as well, because they want to save the money they've gone to DHL.

"DHL have undercut Bidvest but they've not got in place what they need to in time. I've heard that they're still building the distribution centre, because they're all running out of one distribution centre."

He said that Bidvest had several depots, including ones in Scotland and Manchester.

"They've got 900 stores — to run that from one distribution centre just seems impossible to me," he added.

John Boulter, managing director of Retail DHL, said: "DHL regrets the interruption of supply and is working diligently to rectify the situation by working with KFC and other partners involved in the supply chain.
"The reasons for this unforeseen interruption of this complex service are being worked on with a goal to return to normal service levels as soon as possible. With the help of our partner QSL, we are committed to step by step improvements to allow KFC to re-open its stores over the coming days.
"Whilst we are not the only party responsible for the supply chain to KFC, we do apologise for the inconvenience and disappointment caused to KFC and their customers by this incident."
A KFC spokesperson said: "We anticipate the number of closures will reduce today and over the coming days as our teams work flat out all hours to clear the backlog.
"Each day more deliveries are being made, however, we expect the disruption to some restaurants to continue over the remainder of the week, meaning some will be closed and others operating with a reduced menu or shortened hours.

Responding to a press request from a journalist on Twitter, KFC's previous distributors Bidvest Logistics said they wished KFC all the best "in their future endeavours".